Should I Switch from iPhone to Google Pixel? Do This in an Easy Manner
Should I switch from iPhone to Google Pixel? You have such a question because you have witnessed someone switch from iPhone to Google Pixel, making you feel moved. But at the same time, you are afraid that this decision will be hasty and reckless. If this is the case, then you have come to the right place. This article will discuss Google's latest 5G mobile phone, Google Pixel 5, and help you analyze whether the switch from iPhone to Pixel is really worth it. Besides, we will also introduce three reliable methods of switching from iPhone to Pixel.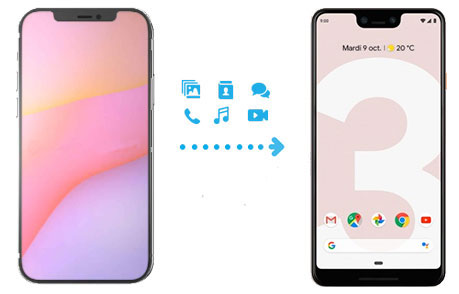 Part 1: Should I Switch from iPhone to Google Pixel
What's The Google Pixel?
Pixel refers to the Pixel series of mobile phones officially launched by Google on October 5, 2016. The biggest feature of this machine is the first mobile phone equipped with "Google Assistant" and will be deeply integrated with cloud computing. Google said it would provide free cloud space for new Pixel phones to store users' photos and videos, and even provides consumers with unlimited online pictures and video resources. Google Pixel also has a powerful camera function. Google claims that the Pixel camera is the best of all Google phones that have been released.
So far, Google Pixel has launched Google Pixel, Google Pixel XL, Google Pixel 2, Google Pixel 2XL, Google Pixel 3, Google Pixel 3 XL, Google Pixel 3a, Google Pixel 3a XL, Google Pixel 4, Google Pixel 4 XL, and the latest Google Pixel 4a, which was released on August 3, 2020.
Now we introduce the Google Pixel 4a in detail.
Appearance: It has a 5.81-inch display. The front lens is placed on the upper left, and the main lens at the rear is a square camera protrusion, but it is only a single lens design. There is a fingerprint recognition device on the rear.
Configuration: It is equipped with an eight-core Qualcomm Snapdragon 730 processor and Titan M security chip, 6GB RAM, 12 million pixel single lens, 128GB storage space and a 3140mAh battery.
System: Pixel 4a has some Android native system functions, such as the new Google Assistant experience that was first launched with Pixel 4. Google promises that Pixel 4a will support three years of updates.
Things You Should Know Before Switching from iPhone to Pixel
After understanding Google Pixel, you may be determined to switch from iPhone to Pixel. But before that, there are some things you have to consider first.
1. You need to resynchronize your critical data
iPhone users often synchronize some important data, such as calendar events, contacts, photos, etc., with iCloud. Then after changing to Google Pixel, if you don't want to lose this data, you have to re-sync the content. When setting up your new Google Pixel, you need to set up a Google account, and then you can freely use Google cloud-based apps, such as Gmail, Contacts, Docs, Drive, etc. You can synchronize some iCloud content with your Google account, thus saving you a lot of time without having to re-enter a lot of information.
2. You may need to repurchase your apps
iOS and Android are two completely different mobile operating systems, and App Store and Google Play Store are also completely different entities. If you have purchased some paid apps on the App Store, these apps can no longer be accessed and used on Android phones. In other words, if you want to continue to use these paid apps, you need to go to the Google Play Store to repurchase them.
3. Remember to disable iMessage
iMessage is a communication app on iOS devices. When you are connected to the Internet, you can send messages to other iPhones via iMessage. This is very different from traditional SMS text messaging. As long as you enable iMessage on your iPhone, even if you don't use the device anymore, many messages will be routed via that service. Therefore, when you switch from iPhone to Google Pixel, please remember to turn off iMessage. At the same time, disable FaceTime. (Want to see how to delete iMessage on iPhone?)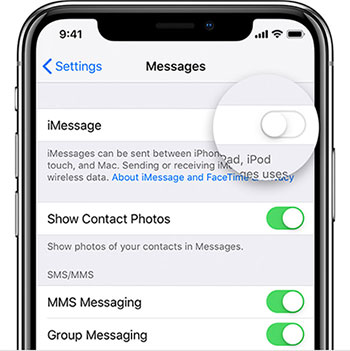 You May Interested in:
Part 2: Switching from iPhone to Google Pixel with Transfer for Mobile
After switching from iPhone to Pixel 3/3a/4/4a/5, then you need to consider how to transfer data from iPhone to Google Pixel. If you want to finish it in a one-stop solution, then you can draw support from a powerful phone to phone data transfer tool named MobiKin Transfer for Mobile (Win and Mac). With it, you can transfer almost all files from iPhone to Google Pixel in just one-click.
Major functions of MobiKin Transfer for Mobile:
Transfer from iPhone to Pixel with no data loss.
Transfer almost everything, including contacts, text messages, music, pictures, videos, books, call logs, notes and more.
Migrate data between Android devices, between iOS devices, from Android to iDevices and vice versa.
A trustworthy brand, guarantees safety and puts respect for user privacy first.
Work properly on various Android and iOS devices, such as iPhone 14/13/12/11 Pro (Max)/X/XR/XS (Max), iPhone SE/8/7/6/5, iPad/iPod, and Google Pixel 7/6/5/5a/4/4a/4XL/3/3a/3XL/2, etc.
Here's how to use Mobile for Transfer program for moving from iPhone to Pixel:
Step 1. Connect two phones to computer
Get the Transfer for Mobile program downloaded and installed on your computer. Then open it and connect your iPhone and Pixel devices to the computer via USB cables. You will get a simple and intuitive interface, as the image demonstrated below: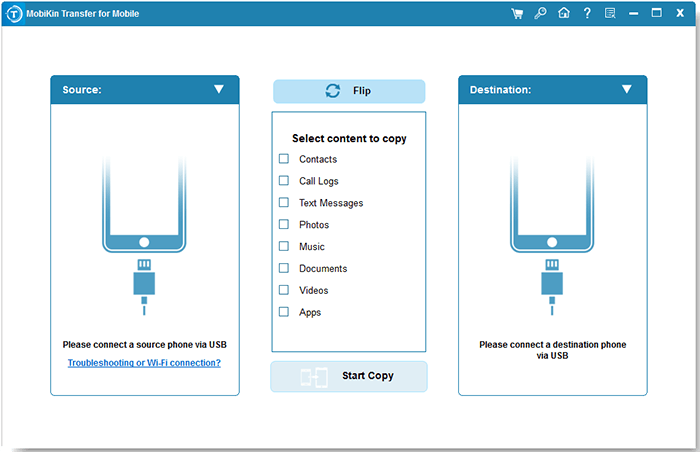 Note: you may need to turn on USB debugging on Google phone, and follow the prompts to make the phones identified by computer.
Step 2. Choose your needed data for transfer
Since we are transferring data from iPhone to Pixel, make sure the iPhone is in Source device position. The software will scan through the iPhone and show you all of the data on the iPhone that can be transferred. You can tick the box next to the data type that you want to transfer.
Data will be transferred from source device to destination device. Therefore, if you find the source device on the screen isn't your iPhone, simply tap the "Flip" option to switch their positions.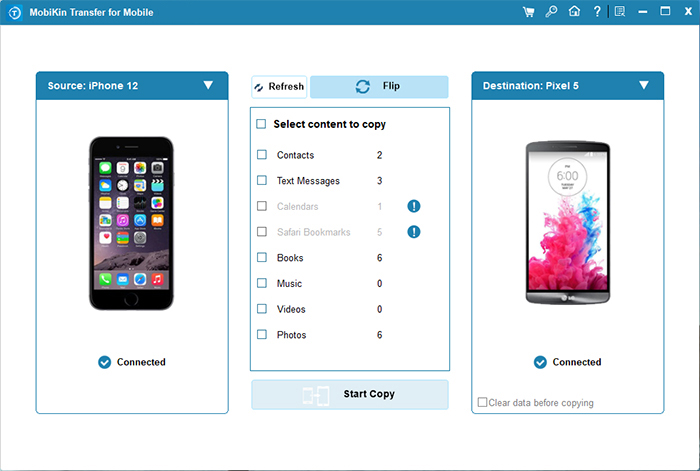 Step 3. Transfer data from iPhone to Pixel
Lastly, tap on the "Start Copy" button to begin the data transfer from iPhone to Google Pixel. And after the transferring process is finished, you can check the transferred data on your Google Pixel to see if they are all here.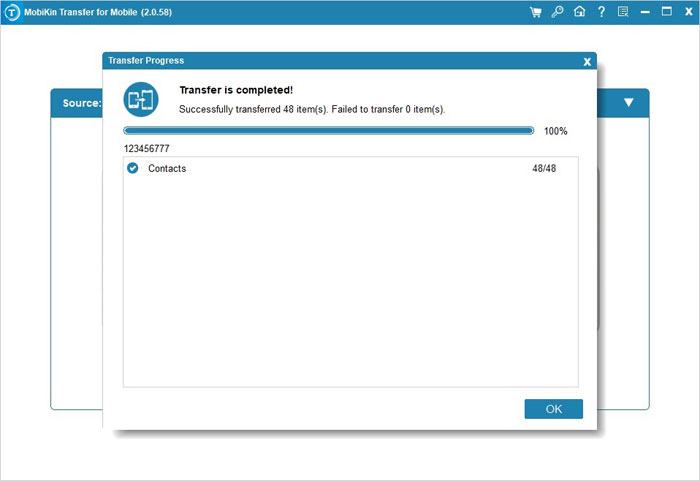 Part 3: Transfer Data from iPhone to Pixel Using Google Drive
If you have Google Drive app installed on your iPhone, you can back up the data, such as calendars, contacts, photos and videos from iPhone to Google Drive, then log in to the same Google account on your Google Pixel and sync data from Google Drive to the Pixel device.
Below is how to transfer data from iPhone to Google Pixel with Google Drive:
On your iPhone, download Google Drive app from the App Store. Run it and log in with your Google account. Then head over to "Menu" > "Settings" > "Backup" to upload iPhone data to Google Drive.
Next, select the data types you want to transfer and click "Start Backup" to begin the backup process.
When the backup process completes, turn to your Google Pixel phone, go to "Settings" > "Accounts" > "Add Account" to add the same Google account information you used on your iPhone (see how to add a Google account on Android here). Next, you'll be able to access the backup list.
Choose the data you need and restore them to your Google Pixel phone.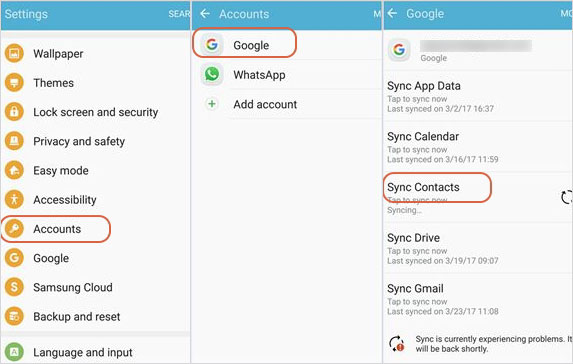 Further Reading:
Part 4: Moving from iPhone to Pixel via Quick Switch Adapter
You can also apply to Google Quick Switch Adapter to transfer data from iPhone to Pixel after setup. Please make sure your iPhone is running iOS 8 or later, and the Pixel battery is charged to at least 50%.
Steps of switching from iPhone to Pixel 7/6/5/4/4a/3/2 by using Google Quick Switch Adapter:
Turn on your iPhone and tap "Settings" > "Messages".
Turn off the iMessage feature by tapping or sliding the switch to make the button all white.
Tap on the "Start" button and follow the on-screen instructions until you see the "Copy apps & data" screen. Here, tap "Next" to transfer your content.
Plug one end of the cable into your iPhone and the other into your Google Pixel phone.
Follow the on-screen instructions and sign in to your Google account or create a new one.
From the "Choose what to copy" screen, select the file types you want to transfer and then touch the "Copy" option.
Tap "Continue" to set up your phone or skip over to set it up later.
The transfer process will be completed when you see the "Your phone's almost ready" screen. Then, you can disconnect the cable.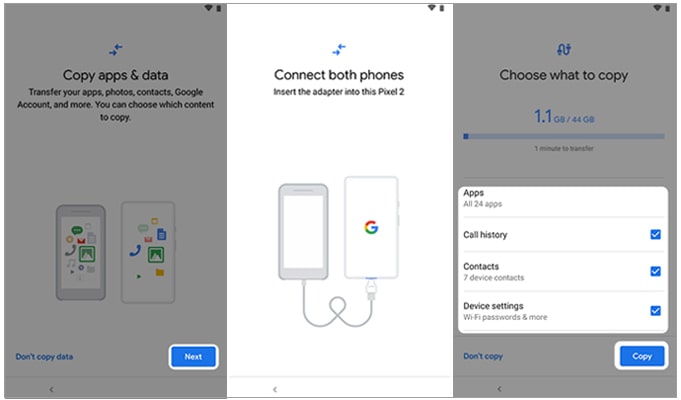 Ending Words
Okay, now about whether you should switch from iPhone to Pixel, and how to switch, you should have the answer. If you finally decide to transfer from iPhone to Google Pixel, you can use MobiKin Transfer for Mobile to simplify the entire transfer process. With the help of this software, you can have all your important data on your new Pixel phone with a simple click of the mouse.
Related Articles:
6 Optimal Options to Transfer Phone Number to New iPhone 15/14/13/12/11/X
iPhone to Xiaomi Transfer: Transfer iPhone Data to Xiaomi Mi/Note/Redmi
Top 5 Ways on How to Transfer Contacts from iPhone to Android
How to Sync Contacts from iPhone to iPad? 4 Ways for You!
How to Transfer Photos from iPhone to Samsung? [9 Ways]