How to Export Android Contacts to Excel CSV/XLS Formats Rapidly
"I'm trying to export contacts list from my Galaxy to CSV format so that I can view them on my computer freely. However, I can't find any number on my mobile after connecting it to a PC, what's wrong with my phone? How to export Android contacts to Excel? Any tips?"
An increasing number of additional features have been added to new coming smartphones. Well, no matter how powerful an Android phone is, the most used and vital data could undoubtedly be contacts, right? As the number of contacts grows, the items may become messy or even lost in unexpected scenarios.
Now, more and more users wish to export Android contacts to CSV file as an editable, readable yet printable files on a computer. That is why we write this article here to tell you how to back up Android contacts in Excel CSV/XLS format easily.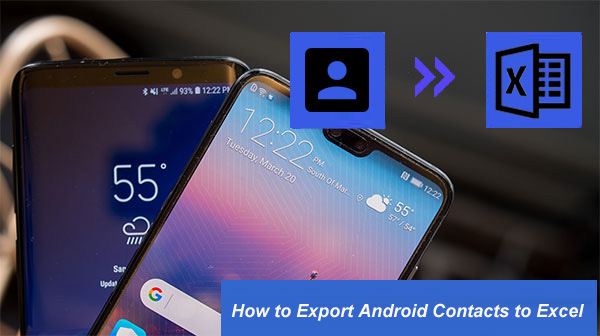 Method 1: How to Export Android Contacts to Excel via Assistant for Android
To achieve the objective, the first thing you have to do is to find a viable Android contact export program as the helper. Today, we'll let you know the most reliable method - using MobiKin Assistant for Android (Win and Mac). It could be an impeccable 3rd-party Android desktop manager program, allowing you to export and save Android contacts to the computer in various formats selectively. After that, you'll be free to view and edit them, or import the file to other Android phones with ease.
More features about MobiKin Assistant for Android:
Export Android phone contacts to PC/Mac and save them as VCF, HTML, CSV, BAK, Outlook, or XML format.
The exported contacts will be clearly classified into info like name, phone number, email address, home address, company's name, and more.
Back up and restore Android data, retaining its original quality.
Support processing data like contacts, call logs, text messages, photos, videos, music, documents, apps, etc.
Easy to operate, green interface, and fast transfer.
It never tampers with your privacy.
Compatible with overall Android phones and tablets, covering Samsung, Huawei, Sony, Xiaomi, Motorola, LG, HTC, Vivo, OPPO, Google, etc.
How to export Android phone contacts to Excel with Assistant for Android? Before the task, you need to download and follow the easy wizard to install Assistant for Android on your computer.
Step 1. Connect your Android phone to a computer
Link your Android phone to a computer via a USB cable. Launch the program, and then you can see its primary window. Now, you need to switch on USB debugging on the Android device to have the phone recognized.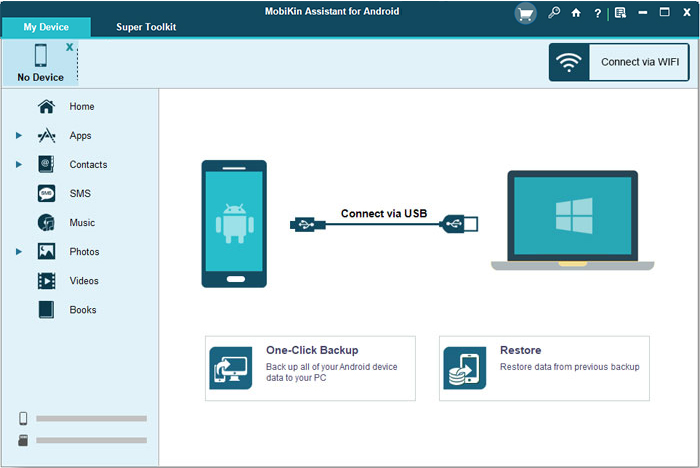 Step 2. Preview and choose the contacts to export
Soon, all file types on your phone will be categorized on the left panel. Here, you ought to click Contacts > All Contacts, and then the software will load all your Android contacts and list them in the right column.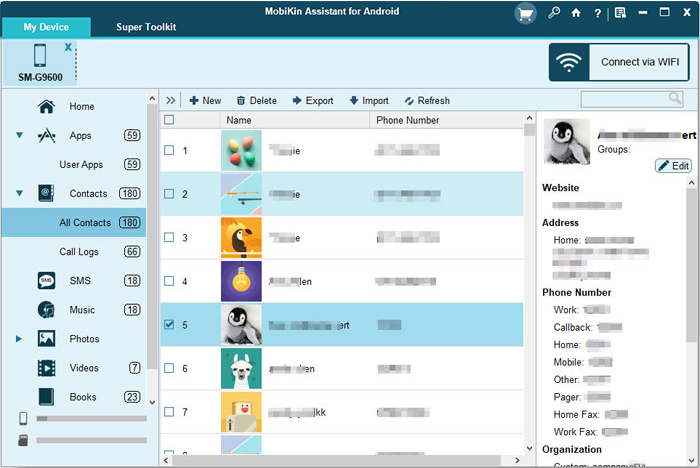 Step 3. Start to export Android contacts
Mark the contacts you wish to export. Next, hit Export > Export to CSV to save the chosen items on your PC/Mac. Here, you're also allowed to add, delete, or import Android contacts on your computer at will.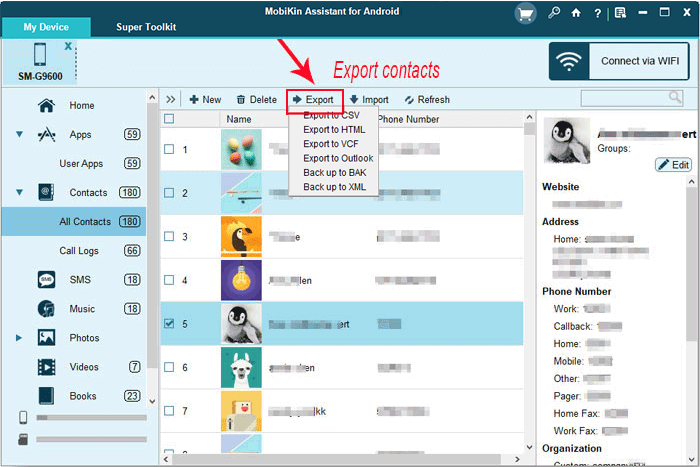 Once done, you can check your exported contacts with detailed classification on your computer without a hitch.
You May Also Like:
Method 2: How to Export Android Contacts to Excel with Contact to Excel App
Contact to Excel: It is an app that can export Android contacts to CSV file (or PDF, VCF) in Excel. What you need to do is just downloading and installing it on your Android device. Then, it'll read the contact info on your phone and list them on its main screen. Next, just go to Settings, select the file export format, and follow the guide on the screen to export them on your Android storage. It also helps import contacts from Excel with XLSX format to Android phones. Yet you cannot avail it to move contacts in PDF, VCF, or CSV formats to Android.
Contact Backup: Excel and Email (C2X): It can read all the details of your Android contacts, convert them into a concise Excel file, and you can get all contacts in your mailbox. But its trial version does not offer the contact import service.
However, using third-party app is not that good. For instance, they can only store the exported files in the memory of your Android phone, or in your mailbox, not on computer directly, which is not safe and not conducive to previewing, editing, etc. And neither of them can import contacts in PDF, VCF or CSV to Android.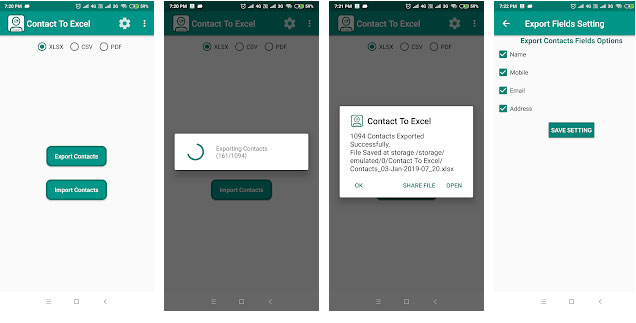 Method 3: How to Export Contacts from Android to Excel Using Gmail
If your Android phone was in sync with your Gmail/Google account, you could do the task in this way as well. Specifically, you ought to sync Android contacts to Gmail first before importing the contacts as an Excel file. Next, you'll be allowed to export the file in your required format.
How to export contacts from Android to Excel using Gmail?
Step 1. On the Android device, navigate to Contacts > Menu and choose the option to merge with your Gmail account. After that, your device is associated with the chosen Gmail profile.
Step 2. Next, press "Sync Now" to sync your Android contacts to the linked Gmail account.
Note: Alternatively, you can go to App Drawer > Settings > enable "Accounts and Sync" > choose the Gmail profile > turn on the "Sync Contacts" button.
Step 3. Go back to the "Menu" option and choose More > Contacts > More > Export. This will import your Android contacts as an Excel file.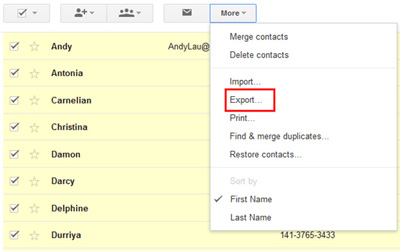 Step 4. To export contacts selectively, you should choose the desired contacts from the right screen and tap on More > Export.
Step 5. Or you can select the radio icon under the "Export Contacts" wizard and export all contacts by hitting "All Contacts".
Step 6. Choose the export format as you like. You can choose by referring to the specific purpose of each option and then click "Export". At last, you'll create the Excel file with all the contacts from this Android device.
However, this method is a bit complicated, and you can only choose to export into two formats: CSV and vCard.
Can't Miss:
Extra Tip: How to Import Excel Contacts to Android Phone
Firstly, you need to convert Excel contacts into CSV format. To do this, just open Excel workbook with your contacts in it. Then, go to File > save as > choose .csv file as the format you want to save. Next, opt for the target location you'd like to get them stored and click on "Save".
After converting Android exported contacts to CSV, you can import the Excel to your Android phone whenever needed. Here's how:
1. On your PC, log in to your Gmail/Google account from the Gmail webpage. Then, click on Gmail > Contacts to choose your desired contacts from the drop-down menu.
2. Tap on More > Import > File from the next page to locate your SCV file. Choose the file and go for Open > Import to upload CSV to your Gmail account.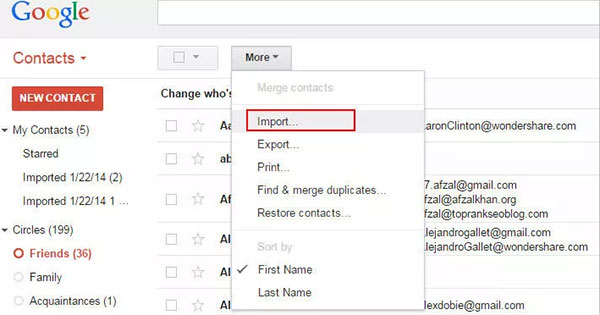 3. Finally, log in to your Google account on Android and head to Settings > Accounts & sync. Subsequently, select Sync Contacts > Sync now to import the CSV file to this Android device. When completed, all the Excel contacts will be moved to your Android device.
After that, you can download the CSV Viewer app from the Play Store to get into the device storage directory and view the imported CSV files.
Words in the End
As we can see intuitively from the above, among all the methods, it is the most convenient way to do the task with MobiKin Assistant for Android because the program makes it easy for you to do the following:
You can quickly export Android contacts to your wanted format and categorize the details clearly.
The exported content is directly stored on a PC/Mac, which greatly facilitates your future use, such as for backup, viewing, modifying, printing, etc. This will free you from a lot of tedious jobs.
It can help you do additional work, including managing Android SMS, music, photos, apps, etc.
Finally, if you think this page is helpful to you, please share it with more folks.
Related Articles:
How to Import CSV Contacts to Android Phones with Simple Clicks?
[4 Great Ways] How to Transfer Contacts from Computer to Android?
3 Ways to Recover Deleted Contacts from Android (#1 is Awesome)
3 Methods to Export Contacts from iPhone to Excel or A CSV File
How to Transfer CSV from PC to iPhone? Solutions are Here!
Top 5 Ways on How to Transfer Contacts from iPhone to Android