Android Phone Makes No Sound? Here are Solutions!
Q: Why is there no sound coming out of the speaker?
When I try and watch a video on my phone, there is no sound coming out of the speaker. What can I do to fix this? I really would like to hear my friends singing happy birthday to me.
It must be nettlesome and tantalising that the mobile phone becomes mute especially when you are trying to listen to some important or interesting voicemail messages or videos, right? But just calm down when you hear nothing from the device cause it is not a serious issue as you think. On the contrary, you can go with the means in this article to fix Android phone no sound issue easily.
The Android Phone Thinks I Have Headphones Plugged But I Don't
Have you met the situation like this: a headphone icon display on the device but you do not plug in any headphone? If you have, your Android phone is probably stuck in the headphone mode. In this case, you are unable to hear anything from the phone unless you plug in the headphones. You can deal with this issue by several small tips:
- Turn up the volume: Press the Volume Up button of your Android phone to increase the volume and let it exit the mute mode.
- Re-plug the headphones: You can plug the headphone in and out for several times and then reboot your phone to see whether the headphone icon disappears from the screen.
- Clear headphone jack: The headphone jack might be covered with dust or dirt so you can use Q-tips to clean the holes. After finishing the cleaning, you can play a song to check the Android speaker.
- Restart the device: Just long press the Power button to turn off your mobile phone and wait several minutes. Then reboot your phone to help the device to refresh and fix software errors.
- Factory reset Android phone: Another option is to backup the important files on your phone and then go to Settings> Backup & Reset> Factory Data Reset> Reset Phone to erase all the settings on your device.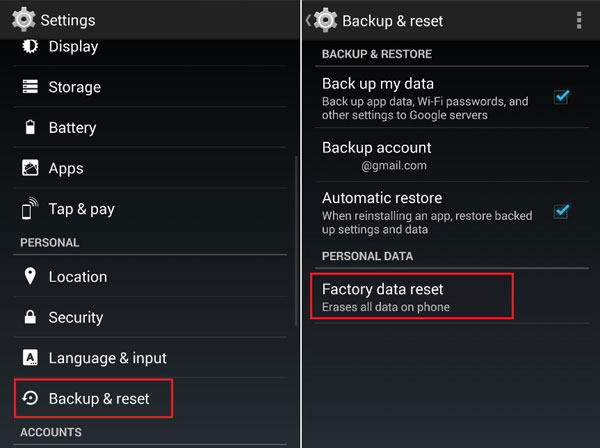 These methods also can be applied to fix the opposite problem: the speaker works well but you cannot get any sound from headphones. Except that, you can use a new set of headphone to solve the issue as well.
The Speaker on Android Stops Working Suddenly
The second situation we mentioned here is that the phone makes no sound at all. That means you cannot hear any ringing, music, notification alert and other sounds from your phone. This might be caused by a hardware issue. To confirm that, you can test the external and internal speakers of your phone with the help of Device Diagnostic Tool.
Notice: The following guidance is based on Samsung device so if you are using other Android model, you need to search for the detailed tutorial to test the speaker on your phone.
- Dialing "*#7353#" to enter the Device Diagnostic Tool menu.
- For testing the external speaker, you need to tap on Speaker. If it is working fine, you will hear a loud music coming from your phone. Then click Speaker again to silent the phone.
- To check the internal speaker, you can tap on Melody and then there will be music coming from earpiece if it works well.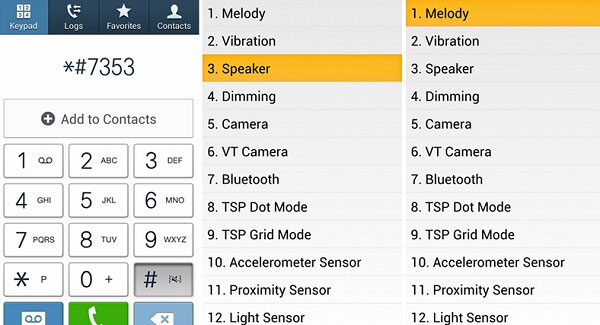 If your device passes the test, that means there is nothing wrong with the hardware and you can use the skills below to fix the software issue:
- Reboot your Android phone: Just restart your phone as usual to refresh the device.
- Disable Bluetooth on your phone: Sometimes the Bluetooth feature would result in the speaker problem so here you are able to navigate to Settings> Bluetooth to switch off the feature to settle the problem.
- Factory reset your phone: This could be a mighty way to solve most Android software issues.
But if your Android phone does not pass the test, it would be a hardware issue. In this case, you'd better send it to repair center to fix it.
The Device Mutes Automatically
Users also complain that the Android phone mutes automatically when they are making a phone call or it turns into silent or vibrant mode even though they have set the device into answer ring pattern. This case might be caused by some third-party applications or useless caches so you have two methods to solve this problem.
- Check the applications in Safe Mode: To enter the Safe Mode, you need to turn off your phone at first. Then hold down the Power key once again until the mobile phone asks you whether you want to enter Safe Mode. Tap on OK and then your phone will be booted into Safe Mode. After entering the Safe Mode, you can check of your phone mutes itself. If not, that means the speaker issue is caused by third-party applications so you need to find out the App that you have installed recently and then remove it.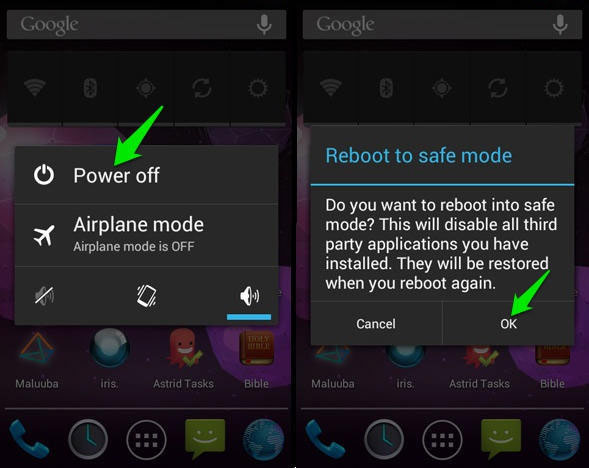 - Wipe cache partition: To begin this process, you have to enter the Recovery Mode on your Android. Then in the Recovery Mode, you can use Volume Down button to select Wipe Cache Partition option from the menu and press Power button to confirm that. Once the wiping process ends, you need to choose Reboot system now to restart your phone.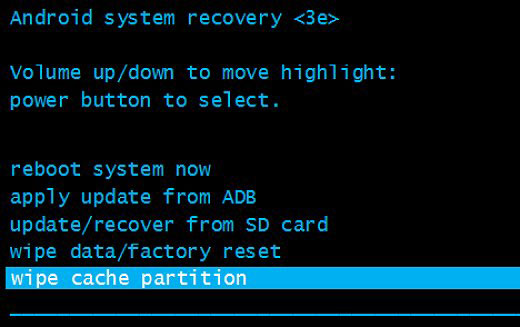 Normally, these two ways can solve the Android phone no sound issue effectively.
Receive No Sound When Connect to Bluetooth Speaker
Another common situation is that users fail to receive sounds when they connect the device to Bluetooth speaker. While you face this issue, you can:
- Enable the Bluetooth feature on your phone: Firstly, check if the Bluetooth speaker/handset works on other phone or other Bluetooth device works on your phone. If they are, you need to pair the Bluetooth handsets or speaker to your phone once again. Then go to Settings> Bluetooth and double click on the Byte Headset icon and then tap on Listen to music.
Now you are supposed to get sounds from Bluetooth speaker. If not, you need to turn to professional and ask them to fix the error.
Related Articles:
My Android Stuck on Boot Screen, How to Fix It?
How to Fix Android Blue Screen of Death?
iPhone Keeps Turning Off Randomly? 3 Ways to Fix it!
How to Fix Android/RCA/Samsung Tablet White Screen of Death in Minutes?
Full Guide on How to Fix Android System Crash Issue
Getting Android Blue Screen of Death on My Device, How Do I Fix It?