How to Group (Mass) Texting from PC/Mac Computer?
Some companies, community groups, political avenues and other institutions use group texting as one of their channels of official communication. They may do so if they want to communicate to a large group of people. Individuals may also have been exposed to group texting probably because of the following reasons. First of all, it is convenient. Group texting has gained popularity because of its simplicity. There are no special skills required as all you need to do is to connect your phone to the computer and launch the software that will facilitate the sending. In the second place, it is affordable since it's a package. In a company set up, group texting may be used as a marketing strategy as this cannot be compared to the cost that would be incurred if they opted for advertisements through the media.
You may also want to know:
How to Add Contacts to Android Phone?
Samsung Contacts Backup - How to Backup Contacts on Samsung?
Since sending group texts can bring us so much convenience, how we can effortlessly group texting from computer? At some point in our lives, we crave for software that will be an all-in-one package to meet our cropping technological needs. MobiKin Assistant for Android or Assistant for Android (Mac Version) happens to be the long-awaited software as it is a one-stop software which is fully equipped to deal with the Android phone/tablet media (photos, videos and music), the contacts, text messages, and even the apps of your choice in a central place from your PC or Mac. This software has all the required functions for sustaining and managing your Android device system. Now, we can also use it to send and receive text messages on computer directly, and most of all, sending group text messages on computer can be done with only 1 click.
The following tutorial will show you how to use the Assistant for Android to do mass texting on computer in details. The program supports almost all Android devices, such as Samsung, HTC, Google Nexus, LG, Sony, Motorola, Huawei, ZTE, Lenovo, etc. Just feel free to download the trial version of the program via the download buttons below. Windows users choose the Win version and Mac users choose the Mac version.
How to Send Group SMS from Computer with 1 Click?
Step 1. Install and run Assistant for Android
Connect your Android phone to the computer using a USB cable and wait until the system detects your phone as a removable storage device. Install and launch the earlier downloaded MobiKin Assistant for Android. It detects your Android phone automatically.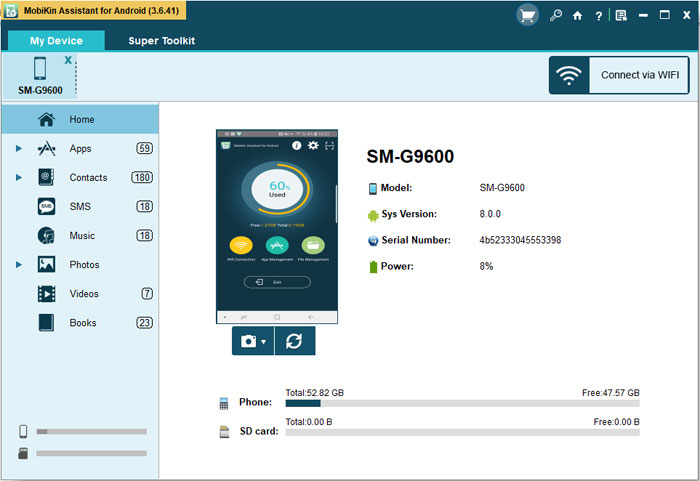 Tips: if you haven't enabled the USB debugging on your phone, the Android data managing tool will be failed to detect your phone. Therefore, you have to follow the instructions below to open USB debugging on your phone.
For Android 2.3 or older, Go: "Settings" < Click "Applications" < Click "Development" < Check "USB debugging".
For Android 3.0 to 4.1: Enter "Settings" < Click "Developer options" < Check "USB debugging".
For Android 4.2 or newer: Enter "Settings" < Click "About Phone" < Tap "Build number" for several times until getting a note "You are under developer mode" < Back to "Settings" < Click "Developer options" < Check "USB debugging"
Step 2. Enter SMS management window
After all, your files have been displayed on the left sidebar, select SMS and you will be able to view the SMS window. Go for the option displayed as NEW from which you will have a texting box displayed as recipient where you can add all the contacts you want to send the message to. Slightly below the recipient box, you have space where you can type your message.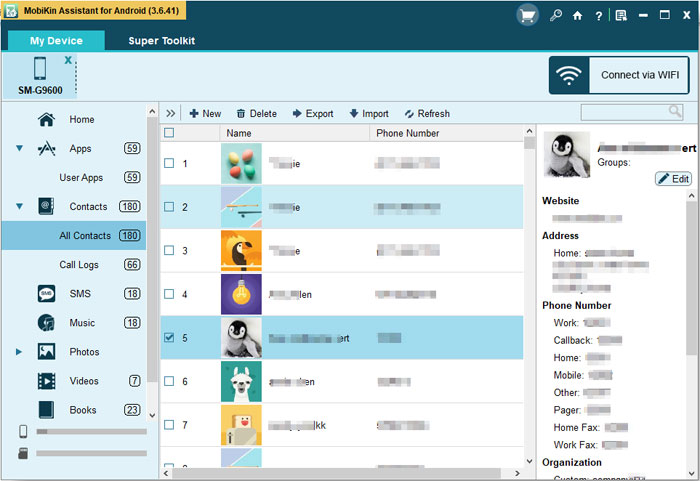 Step 3. Start to send the group messages on computer
Confirm that you have selected the intended recipients and have to type a complete message. You can now click on the send button, and you will have sent the message to all the target phones. This will be safe a lot of time.
Ending Words
That's all about How to Use MobiKin Assistant for Android to group texting from computer Android or iPhone. Owning this software will greatly improve the efficiency of your mobile phone use.
Related Articles:
How to Edit Samsung Contacts on PC or Mac
How to Transfer Contacts to Nexus 10/9/7/6/5/6P/5X
How to Permanently Erase SIM Card from Android Phone
3 Easy Ways to Recover Deleted Files from Android in 2023
Ultimate Guide on How to Transfer Contacts from Android to Android