The Best Android SMS Manager Helps You Manage Android Messages Easily
Like to or need to communicate with others via text message? Then you need a powerful Android SMS manager program to be your assistant - a good SMS manager for Android can help you to transfer, delete, and send messages more effortlessly and effectively. And here, MobiKin Assistant for Android is a good option for you. With it, you are able to manage the text messages on your Android device with simple clicks. Let's have a brief look of this software!
The Introduction of the Android SMS Manager - Assistant for Android
MobiKin Assistant for Android is a desktop program designed for Android users. It aims to help its users manage their phone data more easily and expediently. With it, you can manage all the files on your mobile phone without any hassle, including contacts, text messages, call logs, music, videos, photos, applications and so on. If you are using an Android device, you cannot miss this powerful tool.
There are two versions available - Win and Mac. You can choose the one you need and click the corresponding icon below to download and install it.
How to Manage the Android Text Messages with the Tool
Once the program is properly installed, you can start using it. And certainly, to smoothly manage your phone by using it, you should build a connection between your device and computer and make the connected phone be recognized. To complete that, you can launch the program and connect your Android phone to computer via Wi-Fi or USB cable. Then you can go with the prompts on the screen to accomplish the recognition process. When your mobile phone is successfully detected, you will get the following interface: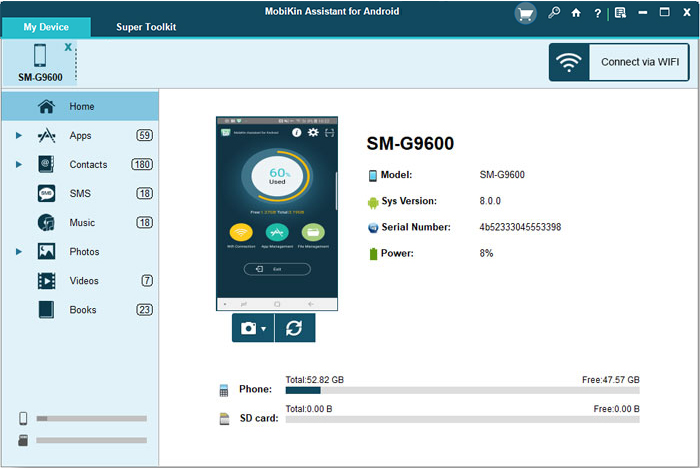 And now, you can start to manage your messages on computer without restriction.
1. Access, Search & View the Messages
First of all, you can tap the "SMS" option located in the left panel of the main interface. Then all the text conversations on your phone will be displayed in the right panel. Here, you can key in one or two keywords in the searching box so you can find the wanted conversations quickly and view them easily. When you receive, send or delete a message on your phone, you can click the "Refresh" button to reload the messages.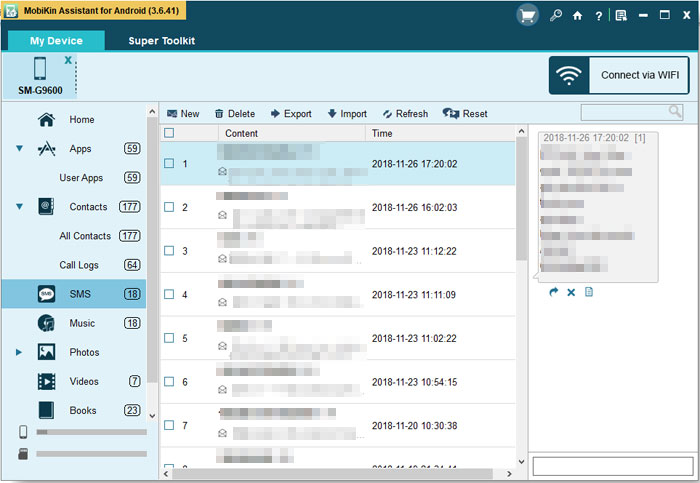 2. Export Messages from Android to Computer
Want to save some important text messages to your computer? This tool can help you complete the transfer with simple clicks:
- Click "SMS" in the left column to locate its contents;
- Tick off the messages that you want to transfer one by one;
- Hit the "Export" button at the top menu and then you can select to "Export to HTML/Text/CSV" format or "Backup to BAK/XML Files". After transferring the messages to computer, you are free to print out or edit them.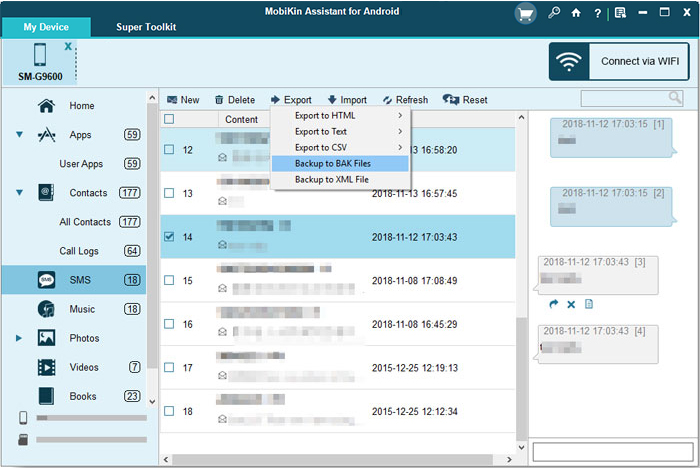 3. Import Messages from Computer to Android
As long as you have backed up the wanted messages with this tool, you can restore them from computer to your mobile phone simply. Here is how:
- Choose "SMS" in the left pane;
- Click "Import" from the top menu and tap on "Restore from Backup File (*bak, *json, *xml)" option.
- Select the wanted files and begin importing them to your mobile phone.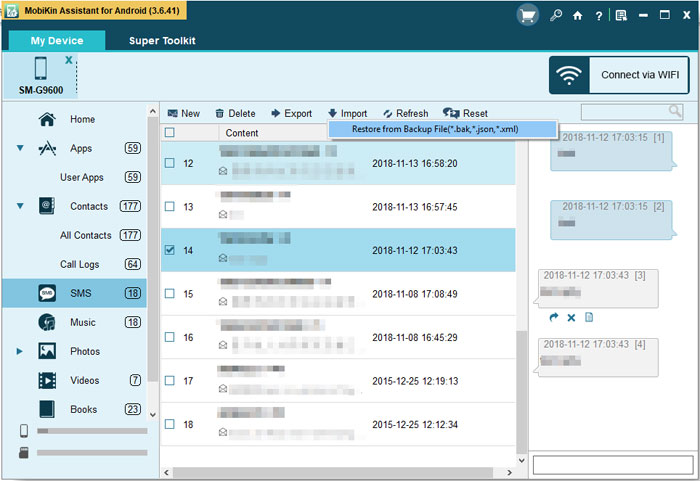 4. Delete the Useless Conversations
So long as you insert a SIM card to your Android phone, it is inevitable that you will somehow receive some spam messages. But it doesn't matter. This assistant tool can help you clean them easily.
- Once again, enter the "SMS" folder;
- Check all the text conversations that are useless for you;
- Tap on "Delete" to remove all the selected conversations.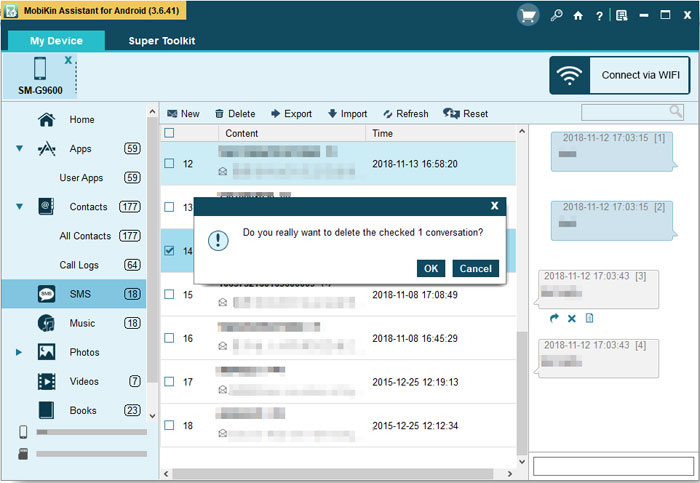 5. Send Messages to Others on Computer
Another highlight of this software is that it allows users to send messages or even mass texting on computer. It is easy to perform that:
- Tap the "New" option from the menu bar and then a window will pop up;
- In the pop-up window, you can type in the message in the blank box and select the recipients by clicking "Contacts";
- Finally, you can hit the "Send" button to send the message.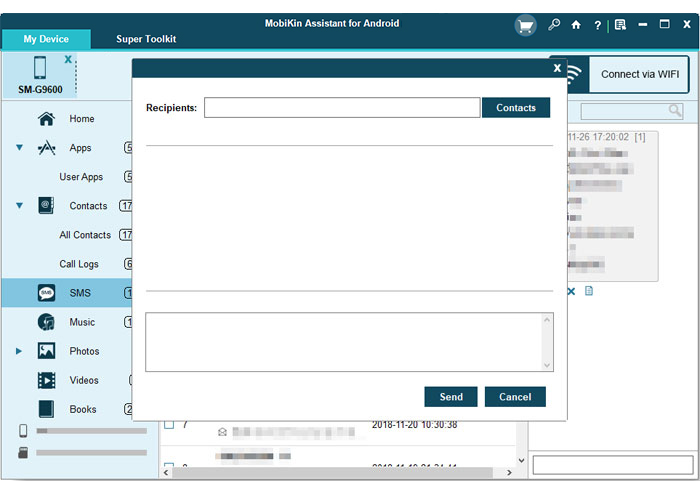 6. Resend, Forward and Copy Messages
On the program, you are capable of resending, forwarding and copying messages as well.
- Resend: If you fail to send a message, you can move the mouse to the message and then click the "Resend" icon to resend it;
- Forward: Supposed that you have received an important or funny message and want to share it with your friends, you can choose the "Forward" icon to forward it;
- Copy: Move the mouse to the message that you want to copy and then select the "Copy" icon. After that, you can paste it anywhere you like.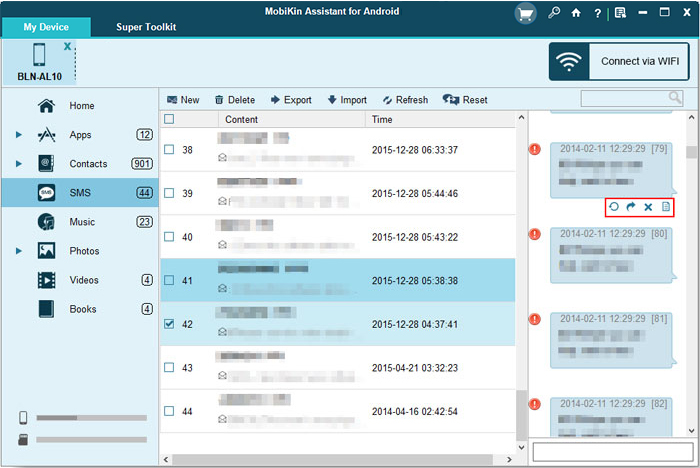 When you move the mouse to the message, you will see that there are 4 icons actually - resend, forward, delete and copy. Unlike the "Delete" function we mentioned above, the "Delete" icon here empowers you to remove individual message rather than the whole session. So if you wish to delete one message in a conversation, you can select this feature.
Other Things You Can Do with the Android Assistant Program
It is really a good Android SMS manager tool, right? However, it can do more things in fact.
1. Take Screenshots: This feature enables users to take screenshots on Android phone and then save them to computer directly;
2. Backup Android with One Click: It is a helpful function that empowers users to backup all the files on their mobile phone to computer with one simple click. The supported file types include Apps, contacts, call logs, messages, music, photos, videos and books;
3. Restore the Backup Files with One Click: Provided that you have backed up your Android phone by using the "One-click Backup" feature of this tool, you are able to restore the backup files to your mobile phone with one click as well;
4. Manage Multiple Android Devices: You can use this program to manage multiple Android devices at the same time.
Here is a video tutorial about how to use this SMS manager program for Android:
The Bottom Line
Now are you interested in this powerful Android SMS manager tool? If you are, just don't hesitate to download and install it on your computer and begin your Android SMS management. And if you have any problem about the SMS manager for Android, please feel free to contact us.
Related Articles:
Android Call Log Manager - How to Manage Call History on Android Easily?
How to Manage Android Contacts with Android Contacts Manager?
How to Manage Android Ebooks on Computer?
Must-have App Manager for Android User
Android Notification Managers to Help You Manage All Kinds of Notifications on Android Devices