Transfer & Backup Photos to An SD Card
When a user needs to transfer information from one device to another, such as transferring photos from computer to SD card for backup, or switching pictures from one phone to SD card in another phone, there may be quite a few things that they should know. Starting with the types of processes that can be used to transfer the data seamlessly without experiencing any difficulty. Fortunately, there are numerous ways to transfer photos and pictures from a desktop or laptop computer, to any SD card. Some of which require using a wired process that requires a USB cable to complete, while others is a wireless process that is both easy and impressive to use.
Way 1: Save Photos to SD Card with Assistant for Android
Way 2: Transfer Photos to SD Card with Transfer for Mobile
Way 1: Save Photos to SD Card with Assistant for Android
To transfer photos from your computer to a SD card in your Android phone, you can try out the MobiKin Assistant for Android or Assistant for Android (Mac Version). It is a professional Android data transferring and managing program for Android users to transfer photos, videos, music files, SMS, contacts, app and many more from Android device on computer, and vice versa. By using this Android manager tool, all your precious photos can be transferred to the SD card in your Android phone with one click. The menus are clean and the instructions of what to do are clearly spelled out for you. In fact, it is a package and App that can do the entire transfer in a single click. This saves a lot of time and effort.
Assistant for Android also enables you to backup and restore Android data and even copy Android data to an SD card directly. Click the following button to download the Assistant for Android on your computer for free.
Steps of saving photos to SD card with the help of MobiKin Assistant for Android are shown as below:
Step 1. Set up your Android mobile phone
Install and launch Assistant for Android on the computer. Use a USB cable to connect your Android phone to the computer, making sure the SD card is inserted. You should ensure that you have opened USB debugging mode on you mobile phone.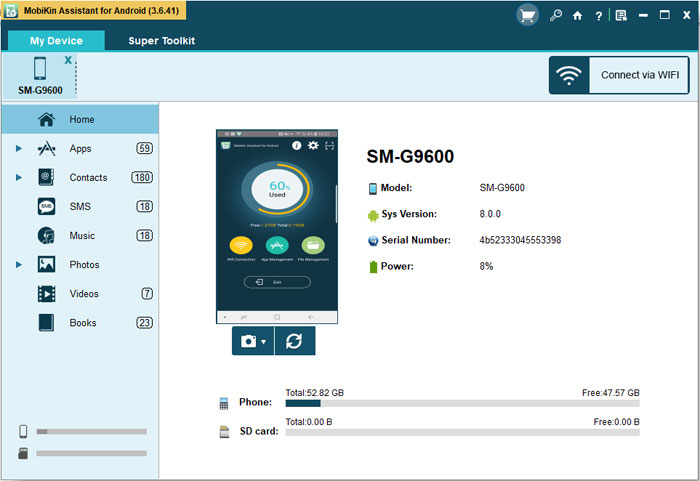 Step 2. Select the photos you want to save
All the transferable file types will be displayed on left. Just choose the "Photos" category and you will enter the photos managing window. Click the "Import" button from top menu, browse for the target photos you want to save to SD card from the computer.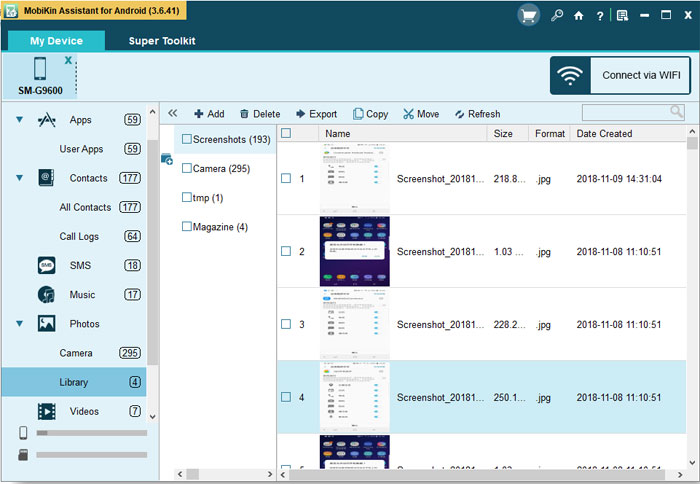 Step 3. Save photos to SD card
After selecting all the photos that you want to save, you can click OK to begin to save them to your Android phone's SD card.
Way 2: Transfer Photos to SD Card with Transfer for Mobile
You can also try another tool to help you transfer photos to SD card in your phone. MobiKin Transfer for Mobile (with its Mac version) is able to help you transfer photos from other mobile phones to the SD card. It is specially designed for transferring not only photos, but also videos, music, contacts, text messages, apps and more between two mobile phones,such as Android, iOS, Symbian and Windows phones.
Free download the Transfer for Mobile program via the buttons below:
Steps of transferring photos to SD card by using the MobiKin Transfer for Mobile are displayed as below:
1. Launch Transfer for Mobile after you downloaded and installed it on your computer.
2. Connect your two two phones to the computer via two USB cables at the same time.
3. Choose "Photos" category and preview to select the photos you want to transfer to SD card.
4. Click the transferring icon in the middle to transfer the selected photos to the SD card in the target phone.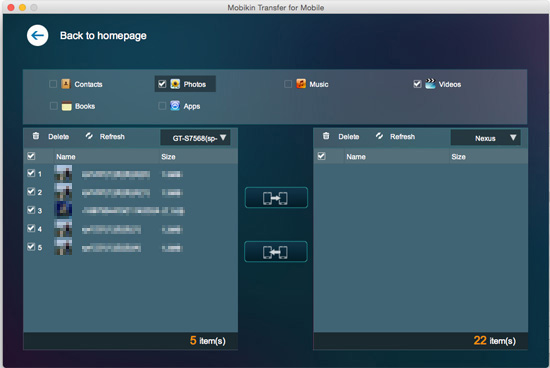 Related Articles
Transfer Apps from Android Phone to Computer
How to Export Android Phone Contacts to Excel