How to Print off Text Conversation from Motorola Phone?
"I am a cautious and responsible businessman and I have the habit of saving all text conversations with my clients. But with the time going on, the SMS has already stuffed my Motorola Atrix HD smart phone. Now it is time to print them off to release the storage of the phone. And sometimes, the printed messages on paper will be more helpful for me to analyze & understand more about my clients. But how to achieve my goal? I need some help urgently, thanks!"
As far as I'm concerned, there are countless people who have been obstructed by the same problem as mentioned above, but the reasons of why they have the needs are always different. For example, some people need the printed messages as the convincing evidence in a court while other people only wish to print a message for backup for fear that they are lost by accident. We don't want to spend too much words to analyze the reasons that why you need to print your Motorola messages out, let's turn to our business on how to reach it.
To print off text conversation from Motorola Droid, Atrix, Defy, or many other models, you need to transfer the messages from your phone to the computer at first. But as we know, text messages are always kept in the phone internal storage space or SIM card, which can't be exported to your computer via a USB cable simply. In this case, some users may put forwards the idea to send the messages to e-mail and then print them out. Nonetheless, it will be found that some detailed information like time and date is missing, and when you need to print out a long conversation, this method will be very time-consuming. So here, we could like to strongly recommend you to ask for help from a third-party program.
MobiKin Assistant for Android (Windows & Mac) is ready to meet your demands here. It is specially designed for Motorola users to export and save the messages from smart phone to computer or Mac as CSV format for viewing or editing on desktop computer as you like. What's more, you can directly send or reply messages to your family or friends via PC with zero limitation. OK, now follow me and move on to how to perform the task with this program.
How to Print out Text Messages from Motorola Droid/Atrix/Defy/Razr, etc.?
Step 1. Connect Motorola Phone to PC and Install, Launch the Program
Link Motorola mobile phone to computer with USB cable, and then install the program on your desktop computer by following the guidance of the software, then launch it on your computer. Here, you'll see an interface like below on your computer, you can click "USB debugging opened" and hit "Next" button to install USB driver for making your phone can be recognized by the program.
But if your USB debugging is not opened before, then you can go to the second step to open it at first.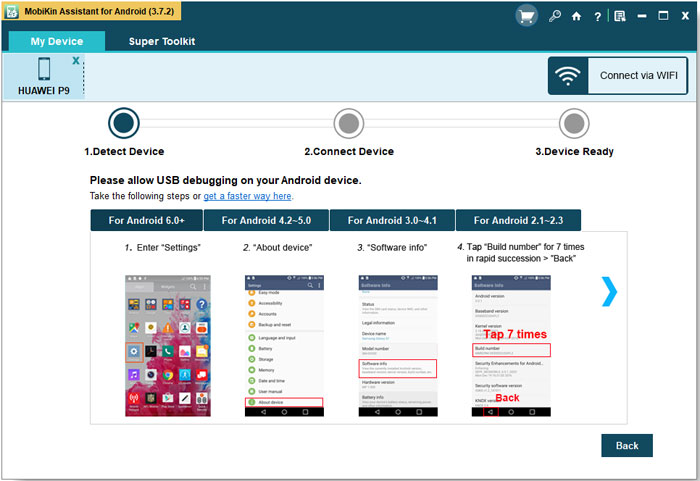 Step 2. Make Your Motorola Phone be Recognized

After identifying your Motorola device, the software will start to scan your Motorola mobile phone deeply. A few seconds later, you can see some information of your phone (like phone model, system version and storage space size) shown in the main interface and all files (like apps, music, photos, videos, contacts, etc.) arranged on the top menu.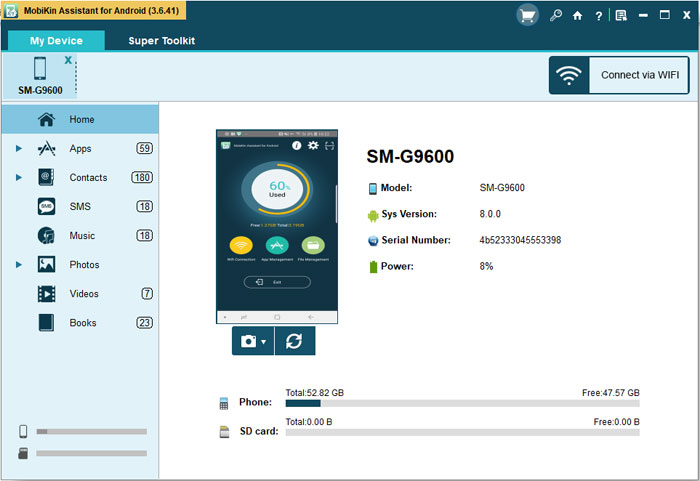 Step 3. Export SMS from Motorola to Computer
Click the "SMS" icon to read your messages in the right panel. And click "Export" button to export and save the whole text conversation from Motorola to computer as a printable CSV file.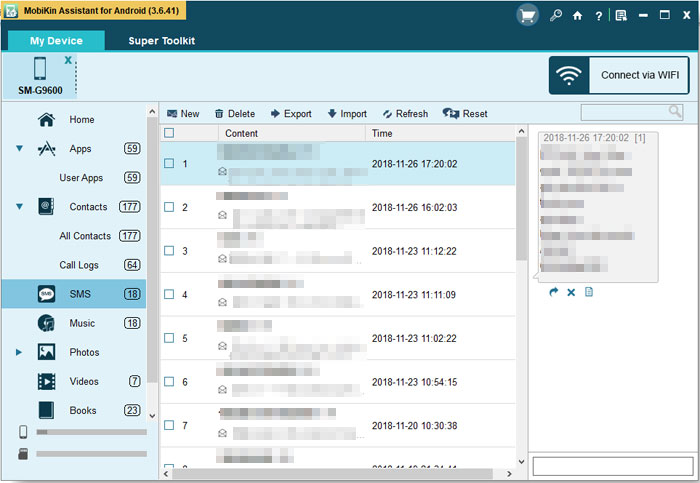 Step 4. Print Your Motorola Messages to Paper
Ensure your computer have linked with a simple printer, and then you can open the CSV file and print it out as you like.
Obviously, it is impossible for me to detail every advantage of this software here. The only way to know its more features is to download it right now and you will be surprised by its power capability of dealing with data on Android smart phones.
Related Articles:
Easy Way to Transfer Contacts List from Android to Computer
Ultimate Solution to Print out Text Messages from Android Phone
How to Transfer Text Messages from Samsung Galaxy to Computer