Different Methods to Take A Screenshot on Samsung S8/S8 Plus
A screenshot is to capture the phone screen and then save it as an image. This feature enables users to share fair-sounding songs and interesting applications with friends without typing in their names or record the wanted screen or high scores on their Samsung phones. So we can say that this function is very useful and convenient and it is time to learn the methods to take screenshot on Samsung S8 or S8 Plus now.
See also:
How to Recover Screenshots on Android Phone/Tablet?
Method 1. Use A Button Shortcut to Take Screenshots on Samsung S8/8 Plus
The most old-fashioned way to capture the screen of Samsung S8 or S9 Plus is to use hardware keys. This feature is available on many Samsung phones but the methods might be different. For Samsung S8 or its Plus, you can:
- Go to the page that you want to capture- it can be the Home screen, an interface of applications, etc.
- Hold down Power and Volume Down buttons at the same time and then you will hear a little buzz.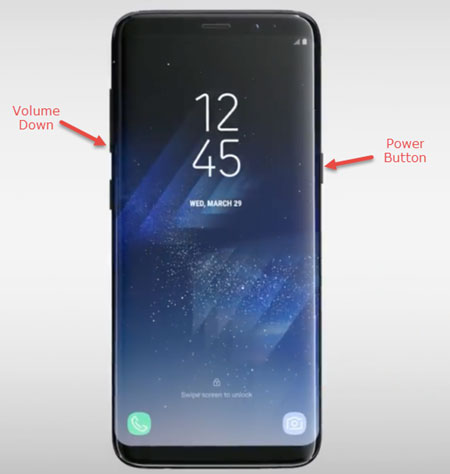 The buzz means that you have captured the screen successfully and you can go to Pictures> Screenshots album to view the image that you have taken just now.
Method 2. Take Screenshots on Galaxy S8 by Using Gestures
The second means to get the Samsung S8 screenshot is to use gestures. This way would be the most popular one since it is simple and convenient. By using this way, users only need to swipe the screen with their hands:
- Go to Settings> Motions and gestures and then tick the Palm swipe to capture box to enable the feature first.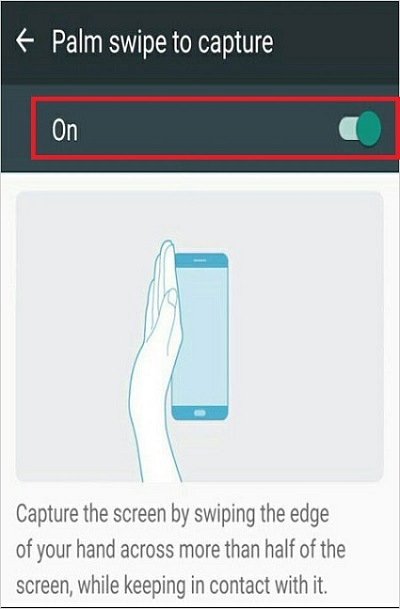 - Next, you can close the menu and find the screen you want to capture.
- Then, just put your hand on either side of the phone screen vertically and shape it like you are karate chopping the phone.
- After that, horizontally swipe across the screen to take a snapshot.
Also, you will hear the camera shutter and see a screenshot move across the screen. And a notification will pop up to tell you that a picture has been saved to the gallery.
Method 3. Take A Scrolling Screenshot on Samsung S8/S8+
The two methods that we mentioned above can only take the whole screen of Samsung. But it is possible that the screen you want to capture is not only 1 page and you do not want to capture them one by one. Hence, in this case, you can select to take a scrolling screenshot. To use this function, you need to turn on the Scroll capture feature on your phone at first:
- Navigate to Advanced settings> Smart capture and switch the feature on.
- Go to the screen that you want to capture and then use any of the above methods to take a shot of it.
- Then, just tap on Scroll capture from the options that will show up at the bottom of the screen.
- Keep clicking on the Scroll capture key to keep going down the page until you are done.
Tips: The feature- Smart capture can also be used to edit or share the taken screenshot on Samsung S8 or S8 Plus.
Method 4. Capture Samsung Screen in Oval or Squares or Create GIFs on It
There is a new and interesting feature on Samsung S8 and S8+ which allows users to take some funny screenshots in the shape of squares or ovals. Or you can even take them as GIF files. Just have a look!
- First, you need to enable the feature: Go to Settings> Display> Edge screen> Edge panels.
- Navigate to the page that you want to capture.
- Open the Edge panel to find out the Smart select option.
- Then you can select Rectangle, Oval or animation from the listed options.
- At last, choose the area that you want to take screenshots of or turn into a GIF.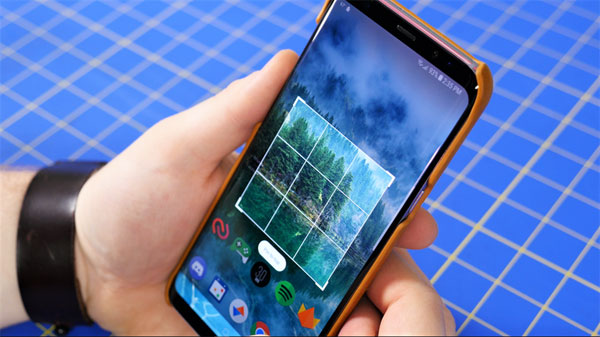 Related Articles:
How to Check Software Updates on Samsung Galaxy?
How to Solve the Common Problems with Samsung S8 and S8 Plus?