[Easy!] How to Transfer Files from Android to PC Using USB Cable
With the advances of technology, people's demands of transferring files between different devices such as mobile phone, tablet computer and personal computer are drastically increase. Getting tired of data loss and management difficulties on Android phones urges people to find an effective way to transfer files to computer from Android devices for safe backup or further use, and people also ask for detailed instructions on how to transfer files from Android to PC using USB cable.
In this article, we are going to tell you how to use USB to send files from Android to PC. Read on to learn more.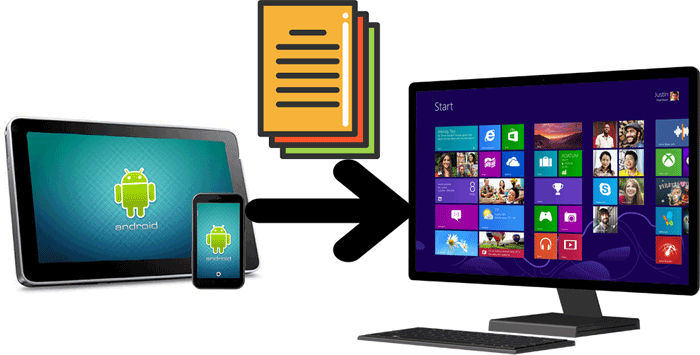 Part 1: How to Transfer Files from Android to PC Using USB Cable
You can use WiFi to transfer files from your Android phone to your PC, but if the internet connection is unstable or unusable, you have another option: transfer files from android to pc using USB cable. Only if you have your phone, PC and a trusted USB cable around you, then you should have no problem transferring files from your Android phone to your PC. Using a cable to transfer phone files may not have the skill to use the app over Wi-Fi and it is hard to collate the files you have transferred on your PC, but it certainly works.
Below are the detailed steps on how to use USB to copy files from Android to PC:
Step 1: Plug the USB cable into your Android device, and the other end into a USB port on your PC, so that your Android device would be detected by PC.
Step 2: A notification will appear on your Android phone. Just swipe down the device and choose the option of "Media device (MTP)". This option allows the computer to charge your phone through the data cable, and you can transfer files such as photos from your phone to your computer at the same time.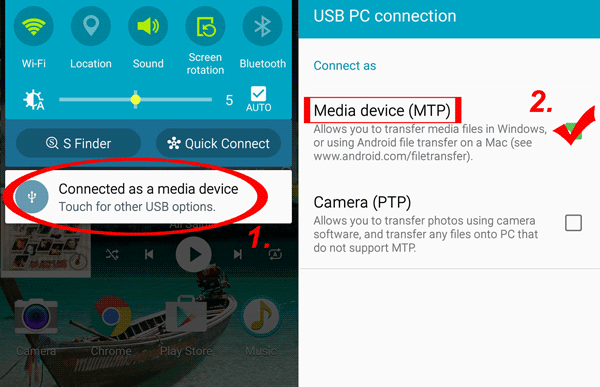 Step 3: Locate your drive and device on your PC. As long as you choose the Media device option, the Android device would appear as a portable hard drive on your computer and you can access it directly from the computer.
Step 4: Double click on your Android device icon to check out the files on your Android that was detected. Both internal and SD card storage will be displayed on your computer.
Step 5: Locate the files that you want to move to PC. In general, files in Android's internal storage are located in a folder called "DCIM". Open this folder, press Ctrl + X or Ctrl + V to cut or copy the entire file, then navigate to the folder on your computer where you want to store these files, press Ctrl + V or right click and select "Paste" from the drop down menu. Then, paste the files on the clipboard to this folder.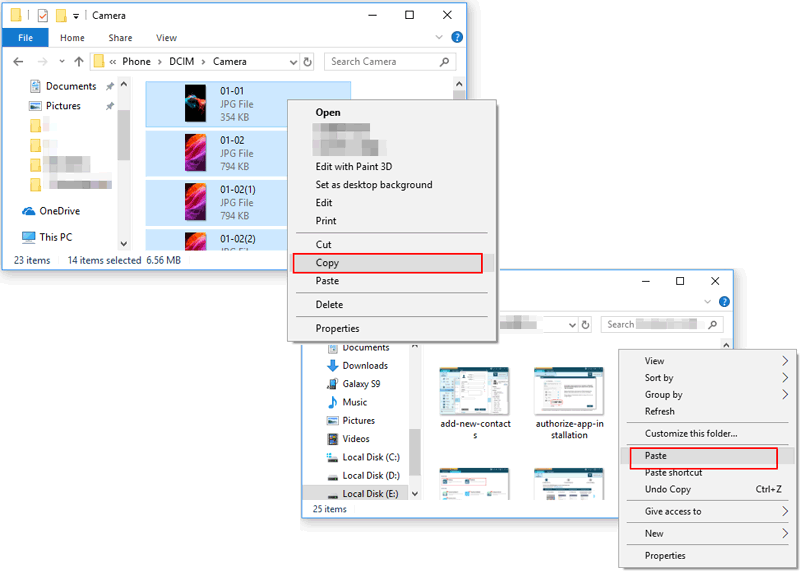 Pros:
Easy to operate
No need to install additional software
Cons:
Transferring all types of files is not supported
It is not convenient to find your target file
Don't Miss:
Part 2: One-click to Send Files from Android to PC Using USB Cable
[Easy & Quick]
MobiKin Assistant for Android is a powerful and popular Android data manager that eliminate your troubles in data management on your Android devices. It allows you to use USB able to connect your Android phone to this manager so that you can do all managing options as you like on your Windows computer. Mistakenly delete something important? Don't know how to back up important data? Fail to effectively manage Apps? Not any more once you try to use the Assistant for Android application!
With MobiKin Assistant for Android, you can:
One-click to backup Android contacts, SMS, call logs, photos, videos, music, apps and more to computer.
Back up and restore your Android Data with a few clicks and all your exported files will be saved as the original format and quality on PC.
Manage your contacts and SMS freely. One-click to export all your important contacts to computer and save them as HTML, VCF, CSV, BAK, Outlook or XML format.
Organize Your Apps without Limitation, including install/uninstall APK files and backup Apps from Android phones/tablets to computer.
Supports Windows 10/8/7/XP/Vista and almost all models of Android devices include Samsung, HUAWEI, HTC, Xiaomi, Motorola, LG, Sony, ZTE, Google and so on.
Steps to transfer files from Android to PC using Assistant for Android via USB Cable:
Step 1: Link your Android phone to PC with USB cable
Once you have downloaded and installed MobiKin Assistant for Android on your PC, open the program and select the "Android Assistant" tab from the toolbox. Then, using a USB cable to link your Android phone to PC. Make sure the USB debugging mode has been enabled on your Android phone.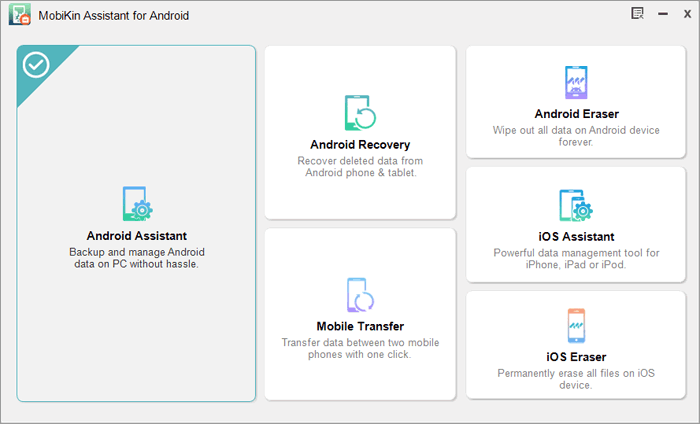 Step 2: Detect your connected Android phone
Once detected, the main interface of MobiKin Assistant for Android should be look like as the following picture. All the files that are detected from your Android device would be shown on the left panel and displayed in categories.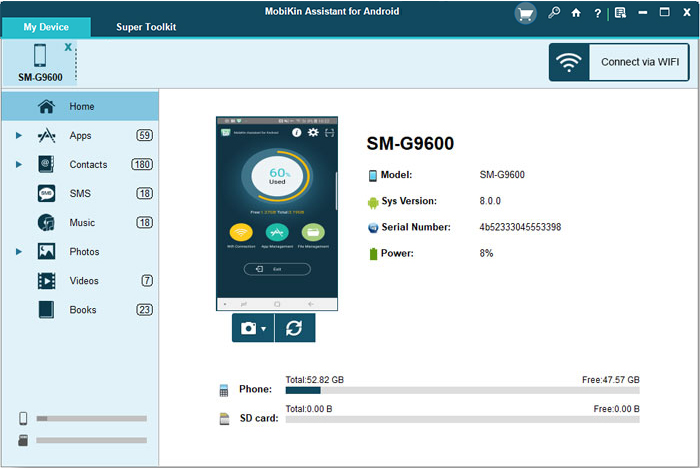 Step 3: Select the files you want to transfer
Tap on "Super Toolkit" from the top menu and choose "Backup" option from the new window. Select the files you want to transfer to PC and choose a location to save the transferred files.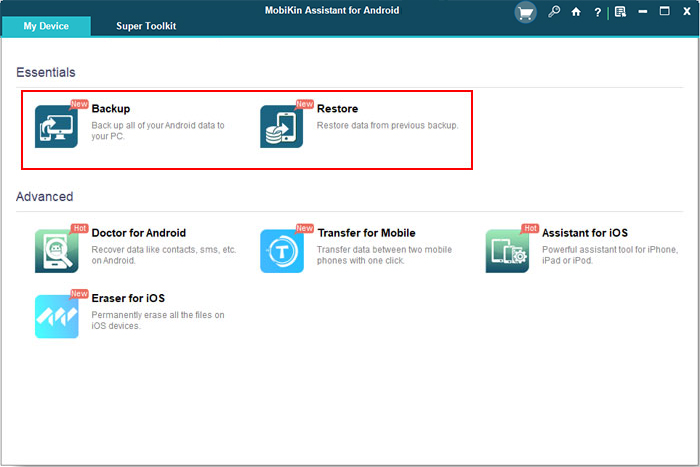 Step 4: Start to transfer files from Android to PC
After above operations, you can click on "Back Up" button to start the transfer from your Android device and your personal computer. Wait for the transmission being finished and get your files on your PC.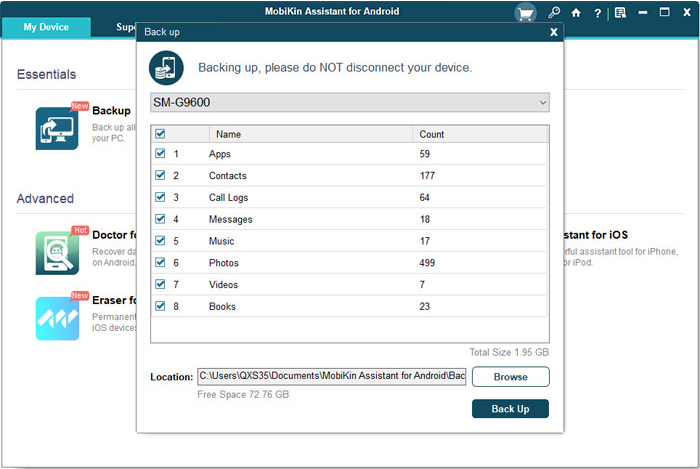 Video Tutorial:
Pros:
Simple operation and full function
Support for transferring almost all types of Android phone files
All transportable files have been sorted at a glance, making it easy to find
Cons:
Don't Miss:
Part 3: Troubleshoot Moving Files from Android to Computer by USB Cable
If using USB cable to move files from your Android device to computer is not working, try these methods to find out and solve the problems.
Method 1: Troubleshoot your PC
Check the settings of PC to cancel the intercept of new hardware if Windows can not detects new hardware automatically. Then, restart your computer.
Method 2: Troubleshoot your Android device
Update your Android version and restart your Android device.
Method 3: Troubleshoot your USB connection
Try a different USB cable to check out if this USB cable can not transfer files. Otherwise, test the USB port on your Android device and computer by connecting a different Android device or a different computer.
Final Thoughts
The above is how to use USB transfer to copy files from Android to PC, with or without using program. If you only need to transfer multimedia files such as photos, music and videos, you can use a trusted USB cable directly. But if you want to transfer more file types and even want to manage them on your computer, then Assistant for Android will be your competent assistant. Its one-click backup and restore feature saves you a lot of time and effort. Download this powerful software now and try its features. Comments and suggestions would be welcome!
Relative Articles:
How to Transfer Photos from Android to PC Using USB
Xiaomi File Transfer Tutorial - 5 Easy Ways to Transfer Xiaomi Files
Complete Guide on How to Transfer Files from PC to Android
How to Transfer Data from Lenovo Phone to Computer
How to Backup An Android Phone to PC