[Full Guide] How to Transfer Files from Android to PC Using USB Cable
Are you struggling to transfer files from Android to your PC using USB cable? No worries, it's a breeze with a USB cable! This guide will teach you how to put files from phone to computer. We will discuss how to connect your device, locate your files and safely transfer them. Learn how to swiftly move your data across devices, from photos to documents. It's a straightforward process that anyone can master with this guidance.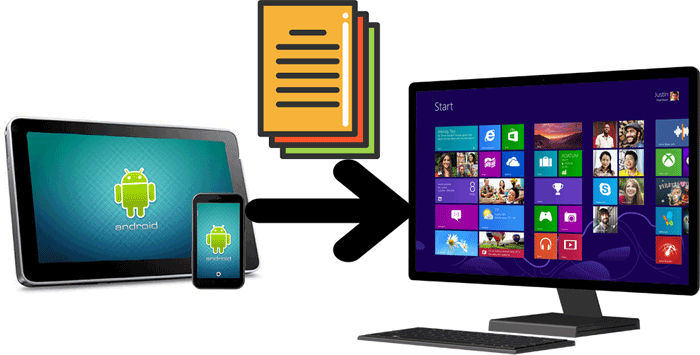 Way 1: Transfer Files from Android to PC Using USB Cable via Windows File Explorer
Just like a fingertip, file explorer is the simplest method. This is the oldest method of transferring files from Android to PC using a USB cable. Nothing is complicated. Everything is viewable and straightforward. How to transfer files from phone to laptop with USB:
Connect your phone to your PC using the cable. Ensure to use an original cable. This will speed up the file transfer.
On your Android device, select the "Transfer files" mode from the pulldown notification bar.
Access Windows File Explorer on your PC and navigate to Computer. You will find a device with the name of your phone.
Double-click on the device bearing your phone's name. Click on internal storage. All the files will be displayed. Copy the files on your Android and paste them to your PC directory.
Remember to disconnect your Android device once the transfer is complete safely. Remember, always handle your files carefully to prevent data loss or corruption.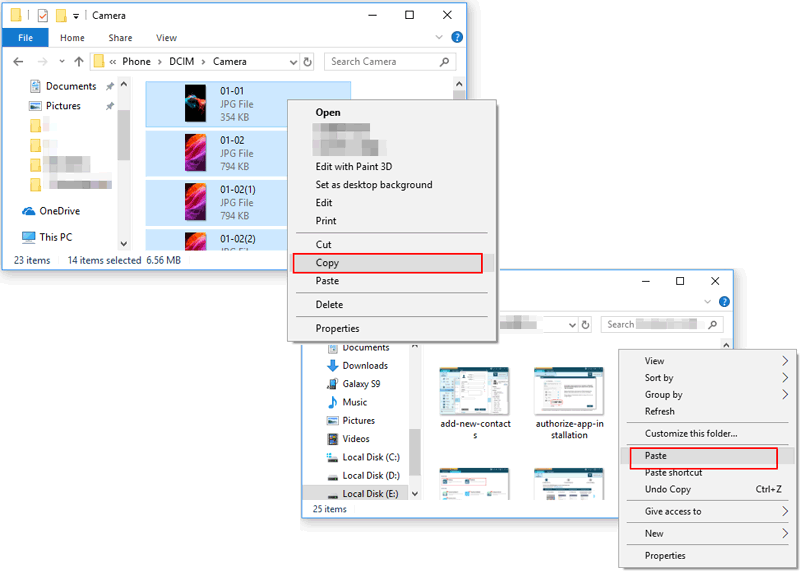 Apart from using USB cable to transfer files, you can easily manage your Android phone in Windows File Explorer. For example, you can create new folders or delete existing ones to organize stuff on your phone. You can copy text from one document to another, edit photos, or drag and drop files between folders directly from the file explorer window.
Don't Miss:
Way 2: Transfer Files from Android to PC with USB via Assistant for Android
MobiKin Assistant for Android is a comprehensive data management tool. It offers seamless backup and restoration capabilities for Android devices, safeguarding essential files like contacts, messages, photos, and more. With its intuitive interface and robust features, it ensures your files are always secure and accessible. You don't need any technical knowledge to use it - plug and play.
Here are some of the features that make MobiKin Assistant for Android a top-notch data transfer and managing tool:
Perform comprehensive transfer files via USB from Android to your personal computer with just one 1-click.
Effortlessly recover and restore lost data from backup to your Android device.
The software provides comprehensive support for various file types. They include contacts, photos, messages, music, videos, apps, call logs, etc.
Control your phone on Mac/PC. You can send or receive messages from your computer.
You can uninstall or install apps on your phone using PC/Mac.
Delete, modify or add contacts on your desktop easily.
The software supports all Android phone models. They include Samsung, Sony, OPPO, HTC, Huawei, OnePlus, LG, Motorola, HTC, and Google phones.
How to transfer file from Android to PC using Assistant for Android via USB Cable:
Step 1. Connect Android Phone to the PC
Download and install Assistant for Android on your PC. Run the program and use a USB cable to connect your Android phone to the PC.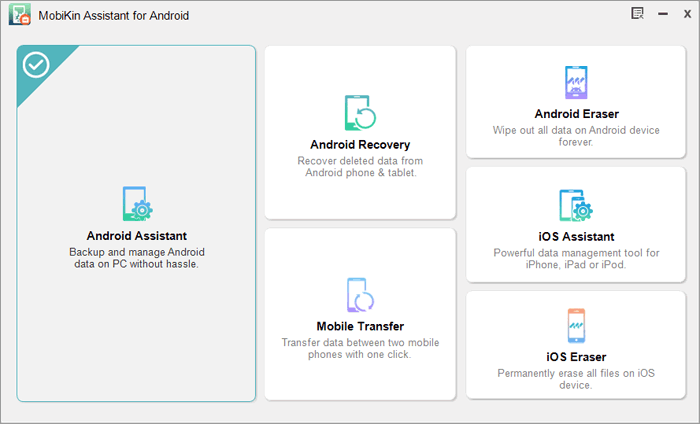 Step 2: Detect your connected Android phone
Please follow the instructions on the screen to allow the Assistant for Android to detect your Android device. You will be able to access the main interface. The left panel will display all the detected files.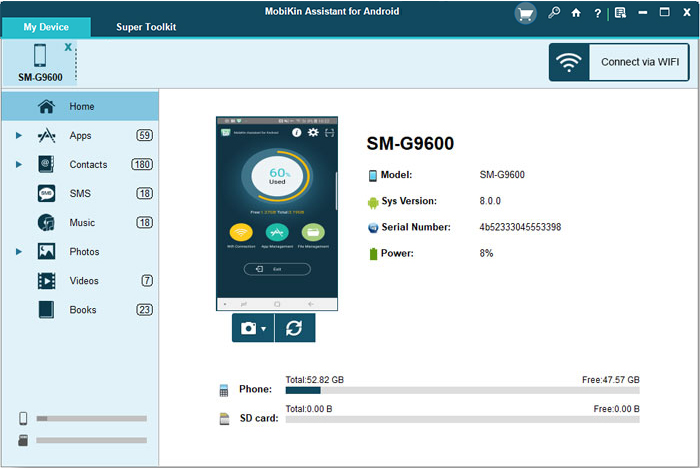 Step 3: Select the files you want to transfer
From the left panel, click to open the folders with the files you want to transfer. Check the checkboxes of each file you want to transfer. You can as well check the box at the top of each file type to select all items in one click.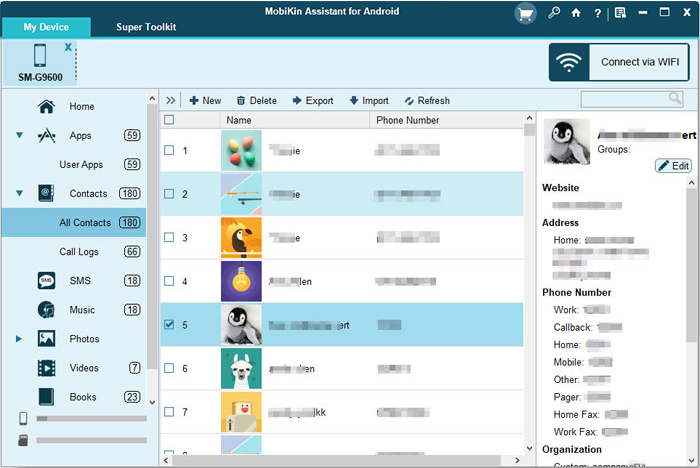 Step 4: Start the Transferring Process for the Backup
After you select the files, click on the "Export" button. The files will be transferred from your phone to your computer for backup. The time taken for the transfer will depend on the file size and connection speed.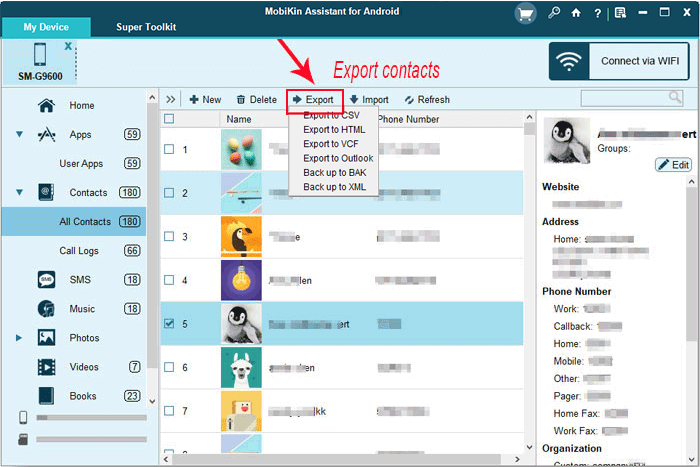 Video Tutorial:
BONUS: Fully back up Android device to laptop using 1 click
Mobikin allows you to back up your entire Android device to your laptop in just one click. To do that:
Connect the Android phone to a laptop and open Assistant for Android on the laptop. Click on "Super Toolkit".
Click on "Backup." Select the folder to store the files.
Now click start the process by clicking "Backup." Wait for it to finish.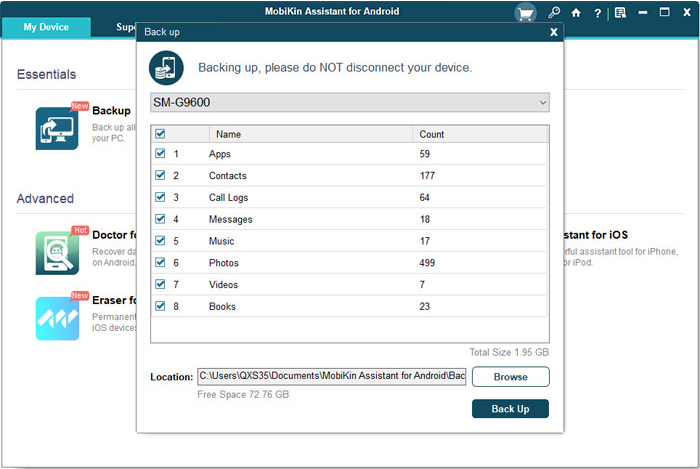 Don't Miss:
Way 3. Transfer Files from Phone to Laptop with USB via AirDroid
AirDroid offers a convenient solution for transferring files between your phone and laptop. Say goodbye to the hassle of USB cables. Simply install AirDroid on both devices and create an account for each. You can transfer various files with a few clicks. The file types include photos, videos, documents, music, etc. Experience seamless file sharing like never before.
AirDroid provides notification and tethering features and effortless file transfer to a computer connected to the same Wi-Fi network. It is essential to have AirDroid installed on your phone before proceeding. Get it from Play Store.
To install it on your laptop, grab it from the official website and install it. Then, log in with your account. Now let's configure AirDroid on your phone.
Open the app on your phone.
The app will request permission to access your photos, media, and files on your device. Tap Continue to grant permission to manage the files.
Click OK to view all the Security and Remote Features.
On your PC, check the Files is set on by opening the Security and Remote Features.
How to share files through USB:
Connect both devices to the same Wi-Fi.
Select the PC name from your AirDroid (on your phone).
Browse the files by tapping on the paperclip icon. Select the files to transfer.
Then click send after you are satisfied.
Wait for the transfer to complete. It is that easy to transfer files from phone to laptop using AirDroid.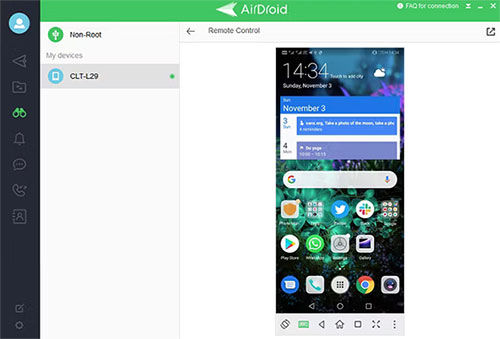 Way 4. Transfer Phone Data to Computer Using USB OTG
Every computer user should be familiar with OTG technology, allowing you to connect external devices directly to your computer. This is especially useful for transferring data between phones and computers since most phones nowadays have USB ports. It is a gadget that connects via USB and provides a bridge between two devices, allowing you to transfer data quickly. How to:
Connect your phone to the flash drive using the OTG cable.
You will get a request notification on your phone. Select 'Allow' to establish a connection. You can get this notification automatically or manually from your notification bar.
Go to file manager and select all the files you want to transfer.
After selecting, tap 'Copy' or 'Move' and choose the flash drive's destination location.
Disconnect the OTG cable from your phone and connect it to the PC.
Copy and paste the transferred files into your desired folder.
Once all the files have been copied, safely eject the flash drive before removing it from the computer.
An OTG cable is a great way to transfer data between phones and computers quickly. It is an easy and efficient way to move files without any hassle. Furthermore, OTG cables are fairly inexpensive and are available online or at most hardware stores.
Final Thoughts
This guide presents different approaches on how to use USB to transfer files efficiently. It covers various methods, such as using Windows File Explorer, Assistant for Android, AirDroid, and USB OTG. It emphasizes step-by-step instructions for each method, highlighting the simplicity and effectiveness of the file transfer process.
Relative Articles:
How to Transfer Photos from Android to PC Using USB
Xiaomi File Transfer Tutorial - 5 Easy Ways to Transfer Xiaomi Files
Complete Guide on How to Transfer Files from PC to Android
How to Transfer Data from Lenovo Phone to Computer
How to Backup An Android Phone to PC