[Reviews] 10 Best AirDroid Alternatives You Can't Miss!
For Android users, traditional means like Bluetooth or File Explorer is no longer popular to transfer Android content. Tools like AirDroid, which can both transfer and manage Android data, seem to be more well-received.
AirDroid offers multiple options to help control Android devices, but it has been criticized by its users all through, mainly shown in the occasional connection failure, being unable to transfer specific media files, and tending to expose users' privacy, etc. So, getting an AirDroid alternative is a sensible option.
Well, we are here to list 10 software and apps like AirDroid for you, from which you can learn their advantages, disadvantages, and reviews for a detailed understanding of them.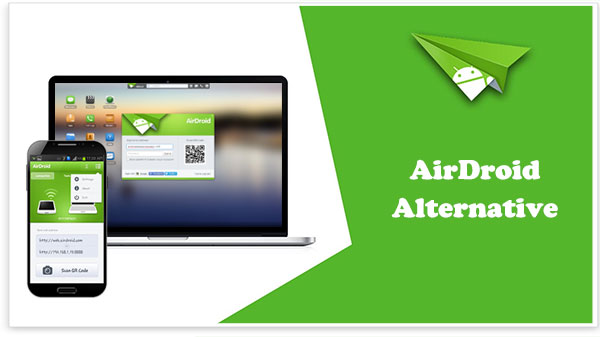 Part 1: The Best AirDroid Alternative
An easy-to-use, powerful, and secure Android management tool is probably what many Android owners are longing for. MobiKin Assistant for Android (Win and Mac) is such a near-perfect Android device manager with a simple UI. Its excellent performance on data transfer and manipulation has always been favored by millions of Android phone lovers.
Main features of Assistant for Android:
Back up and restore Android data in one click without any trouble.
Import and export Android data from/to computer without any data loss.
Manage, edit and delete content from Android devices on a PC/Mac directly.
Support processing data like contacts, text messages, call logs, photos, videos, music, apps, books, etc.
Work on both PC and Mac computers.
Run smoothly on 8000+ Android devices, such as Samsung, Huawei, Xiaomi, Motorola, LG, Sony, Google, Vivo, OPPO, HTC, and more.
You can download this utility and give it a shot with its free trial now.
How to use the best AirDroid alternative?
Step 1: Connect Android phone to computer
Launch Assistant for Android on your computer after getting it installed. Link your Android device to the computer via a USB cable. Follow the easy prompts to have the device identified. (What to do if the program doesn't recognize my device? Click here.)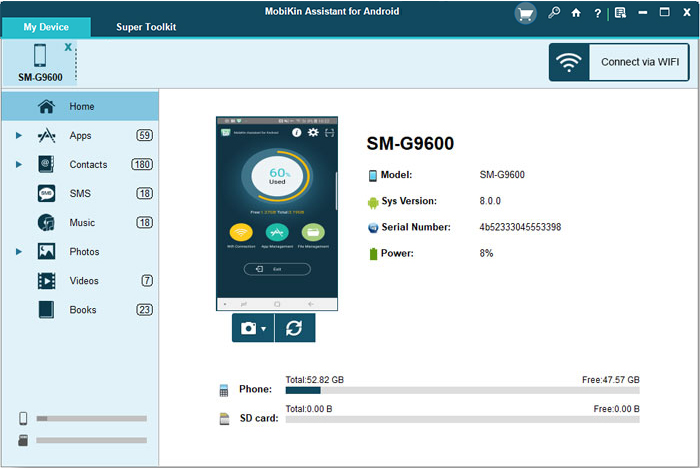 Step 2: Transfer Data between Android Devices and Computers
All Android phone data are categorized on the left side menu. Select the data types and choose the specific items you want to transfer. Then, click "Export" from the top screen. If you wish to import data from computer to Android, you should click "Import", "Add", or "New" from the top menu to move files from PC/Mac to Android phones/tablets.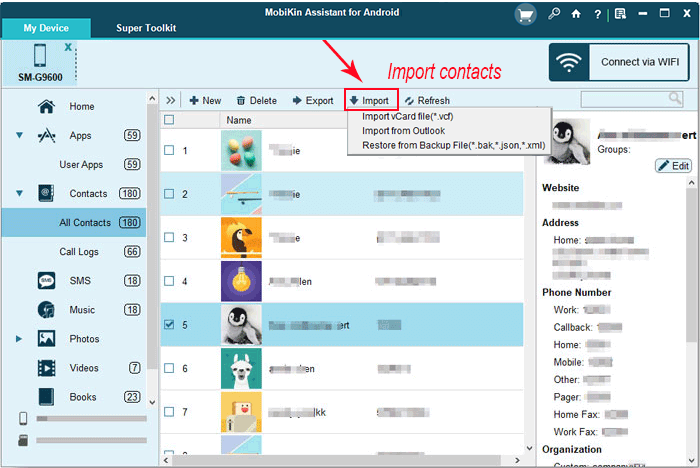 Step 3. Edit and Manage Android data on a PC/Mac
Click file types from the left, and then you can edit, delete and manage them by tapping the "Edit", "Delete" options from the top menu.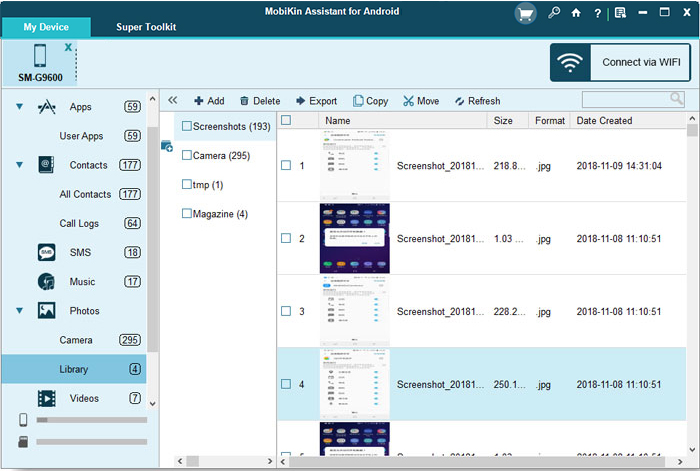 Step 4. Manage Android Apps Freely
Tap "Application" from the left, and then you can install your wanted applications to Android by clicking "Install", and remove useless apps from your Android phone by clicking "Uninstall".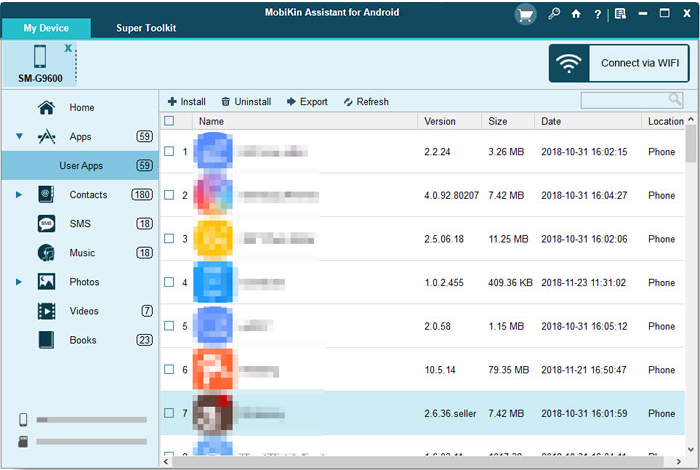 Step 5. One-tap to Back up & Restore Android Content
Tap "Super Toolkit" at the top, and you'll get the options "Backup" and "Restore". Press "Backup" to store the items on your computer, and hit "Restore" to restore data from backup to your Android.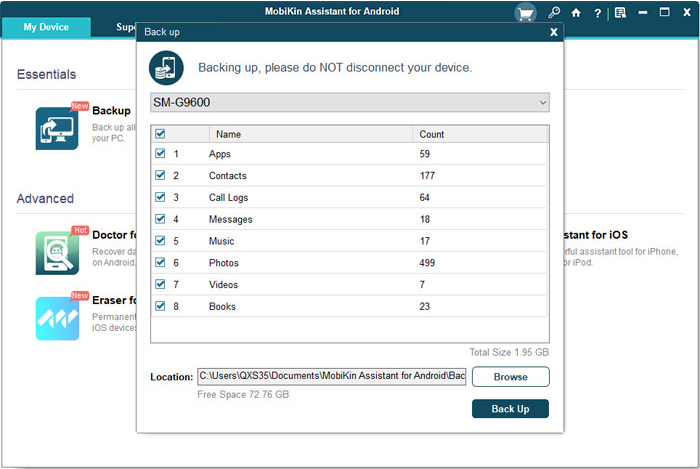 Here is a full video guide to teach you how to use this AirDroid alternative:
Pros:
Transfer data between Android phone to computer easily and quickly.
Provides you with 2 ways to connect your Android phones/tablets to computer.
Manage all the content on Android devices on a PC/Mac directly.
It features a stand-alone operation, a simple interface wizard, and no advertising.
It takes up little space on your computer.
It never intrudes on its users' privacy.
Cons:
It's not a free tool but offers a free trial.
Review:
MobiKin Assistant for Android is an easy-to-use tool. The instructions are clear enough to guide a non-tech-savvy person with backup and restore. As such, we can recommend it for you to try out if you are looking for such software.
You May Also Need:
Part 2: 9 Other Software and Apps like AirDroid
1. Pushbullet
Pushbullet is available for both Android and desktop operating systems. You can take the assistance of it to mirror notifications and transfer files, as long as you have a Google or Facebook account. Besides, it also allows you to answer messages on PC/Mac and mirror your Android phone. Yet, for the latter, you have to pay $4.99 per month.
Pros:
Great notification management.
RSS feed-like "channels".
Cons:
Its premium plan is a bit expensive.
End-to-end encryption doesn't default.
Review:
Pushbullet is an app that pushes notifications instantly but also lets users send information across devices instantly - whether it's text, a website, or an image. Yet, there is currently no desktop application for Mac users available.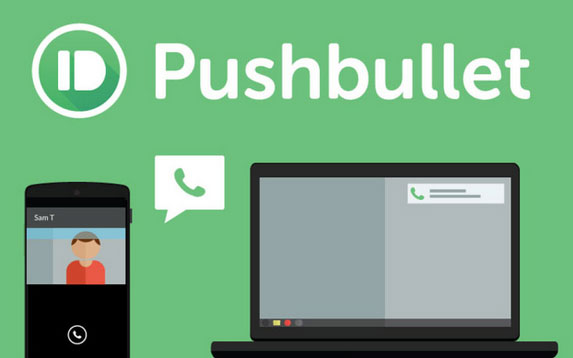 2. SHAREit
Unlike Bluetooth, Shareit, another outstanding AirDroid alternative, can connect to up to 5 devices wirelessly. It lets its users transfer data like pictures, videos, music, apps quickly between phones, which makes it better than AirDroid. It runs on multiple platforms, but there are limits to the number of Android devices it can support.
Pros:
It works efficiently.
Multiple platforms are supported.
Cons:
It has no easy to use wizard.
It doesn't always work.
You must recreate the connection for a new transfer.
Review:
I am a long time user of this app. I'm happy to found this app because it makes the transfer of data faster than Bluetooth. Months ago, when I had my new phone. I only installed it. For me, the "new" user interface is hard to understand. I don't know why it asked me to open my Bluetooth saying to make the transfer faster?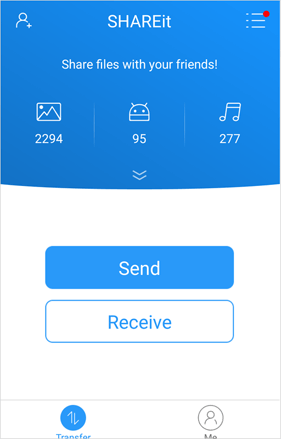 3. Snapdrop
Allowing you to share files across various platforms, Snapdrop, an excellent file transfer alternative for Mac/PC, can process data like images, video, PDF, and links in a direct manner. Before use, you need to first connect your devices within the same WiFi network, create an account, and then scan a QR code.
Pros:
Works on P2P protocol.
Clean UI.
Instant file transfer.
Cons:
Need the Internet to open the website and start pairing.
It only works on WiFi.
Review:
It is a web-based file-transfer tool that can copy multiple files over. It appears that it needs the devices to be on the same wifi network. If it worked offline via the Nearby API and something similar on iOS, that'd be kinda the holy grail if it was cross-platform between Android and iOS.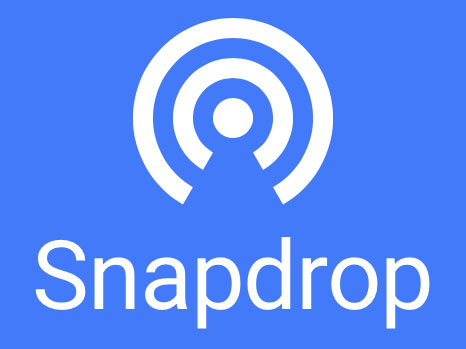 4. AirMore
Airmore empowers you to transfer videos, music, photos, and other file types between Android and computer. As a web-based app, you only need to install it on your Android device (Android 5.0 and above), but not the computer. Subsequently, you can preview and choose the files for transfer with ease.
Pros:
Encrypted messages.
Initiate calls remotely.
Unlimited media streaming from your computer.
Cons:
Somewhat time-consuming setup.
Limited tech support.
Review:
The app is good, but it requires a lot more permissions than it does, like permission to create and view my data, including my accounts, passwords, etc. I hope the developers of this app would come with an explanation for these issues and rectify them.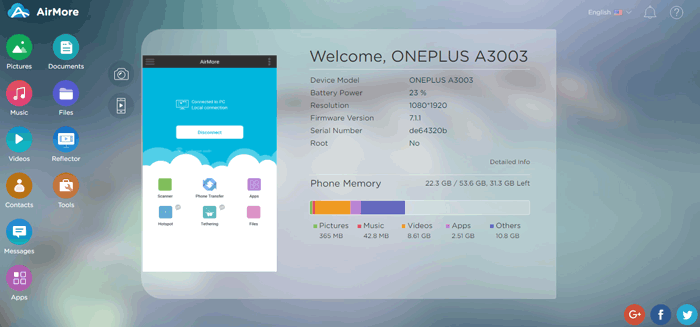 Can't Miss:
5. Vysor
Vysor enables you to transfer and control the Android files through its mirrored interface. Its pro version offers its users with full screen, better quality mirror, easy drag & drop. etc. Further, it only performs tasks after being connected over WiFi, but it still has the advantage over AirDroid in security protection.
Pros:
Can broadcast using OBS.
Use very few system resources.
Cons:
Constant alerts can be annoying.
The connection can be choppy at times.
Review:
Vysor works very smoothly with great performance. But I just disliked that there is not any free version without ads. There could be some limited features but without ads in the free version.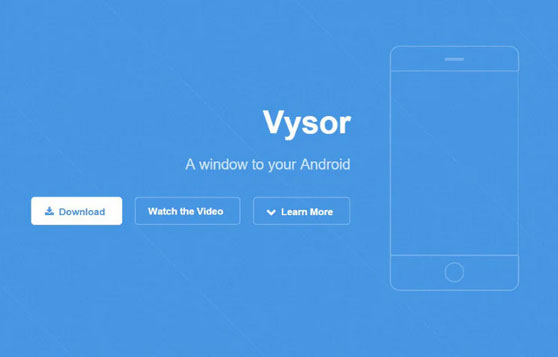 6. Zapya
For those who want to bulk transfer data between Android device or between Android and computer, Zapya is also a decent alternative to AirDroid. It works for media files, apps, documents, etc., especially for large-sized files. It can do a faster rate of transfer over wireless or Bluetooth.
Pros:
Unlimited file transfers.
Integrated media player.
Cons:
Limited user groups.
The media player needs to support HD videos.
Review:
It does the job, but the UI and ads are a mess. Also, once I start a group to share something, it forgets to stop the group once I exit and just keep running in the background. The only way to stop a running group is to go in settings and force stop it every time.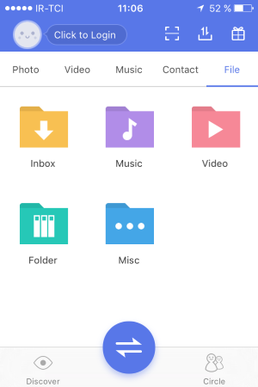 7. Xender
Xender is a tool designed to move documents, pictures, music, and videos between Android phones, tablets, and computers. Files can be shared between 4 devices simultaneously. There is no size limit for files, which is suitable for sharing large videos/movies. Again, it comes with Android, iOS, and web versions (for Win and Mac).
Pros:
Simple and intuitive interface.
20x faster than transferring files via Bluetooth.
Cons:
It closes periodically.
No option to allow and reject the transfer.
Review:
Xender is an easy to use file-sharing tool, which is well known for its clean user interface and fast file transfer. It features swipe and share, which allows users to share their files or apps with a single shake of their device. It can share any type of file at great speed.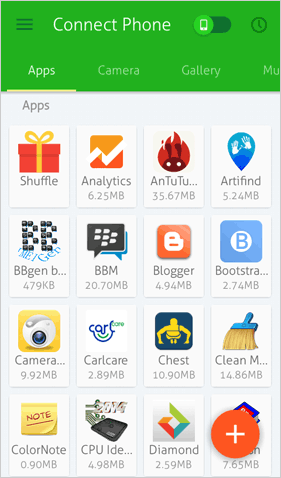 8. SuperBeam
SuperBeam gives you the ability to effortlessly transfer files between two Android devices. This AirDroid alternative utilizes the WiFi direct and NFC to deliver an easy yet effective transfer. Android Beam works more efficiently than Bluetooth does, although it is a simpler solution.
Pros:
Support sharing via NFC.
Comprehensive setup instructions.
Lightning-fast transfer speeds.
Cons:
Not as straightforward as Android Beam.
It may have some lags and bugs.
Review:
SuperBeam is a file-sharing app that makes moving files across devices much easier by using NFC and QR codes. It is one of the fastest ways to move files. There is no limit to the number of files that you may share, but larger transfers may take longer than small ones.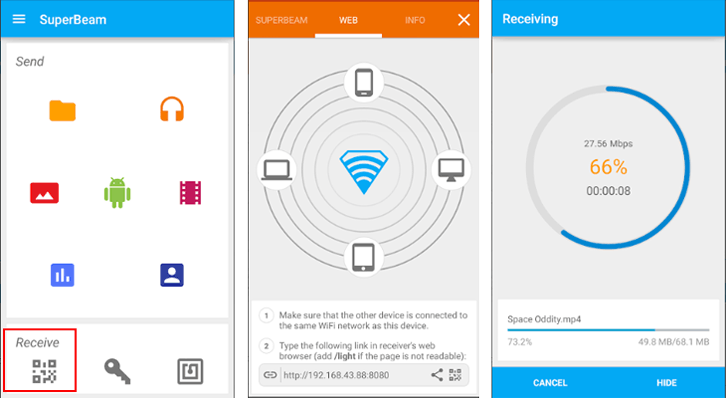 9. MightyText
The last alternative to AirDroid is MightyText. It can transfer files between Android phone and PC wirelessly as well as text directly from a desktop or laptop. It is also characterized by call notification, phone battery alerts, power viewer, and photo editor.
Pros:
Multi-chat window.
Notification mirroring.
Sync media files (up to 100GB).
Cons:
Only SMS and media files can be transferred.
Cannot interact along with notifications.
Review:
Like many desktop texting services, it works with Android devices only. Once the mobile app is installed and you can use it on your computer, you have to do a bit of tinkering with your browser's settings if you'd like to receive notifications of messages. But it guides you through the process.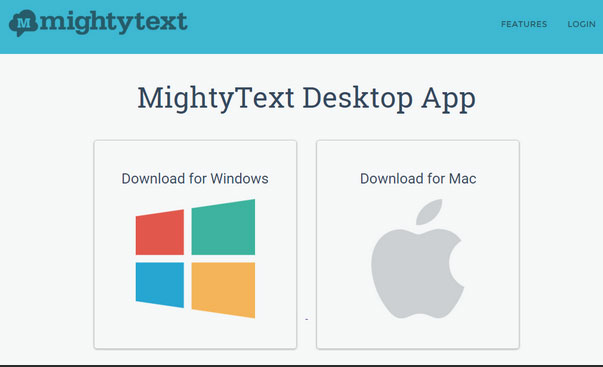 Final Part
To conclude, we summarize the 10 best software and apps similar to AirDroid. Among others, MobiKin Assistant for Android is, apparently, the top-rated and safest program for file transfer and management. This feature-packed tool comes under intense scrutiny by many Android users. And it almost never lets its fans down.
It is straightforward to use, works pretty well, and transfers files quickly with no data loss. Thus, it is an awesome choice for you. OK, just download the best AirDoid alternative and get it going now.
Related Articles:
Top 6 iTunes Alternative for Android Phones/Tablets in 2021
Definitive Guide: Top 11 Android to Android Data Transfer Apps & Software
[4 Great Ways] How to Transfer Contacts from Computer to Android Phone?
Top 6 Android Transfer Apps to Help Transfer Data between Android and PC Easily
How to Transfer Music from Computer to Android? (6 Best Ways)