4 Options to Transfer Files from Huawei Mate 50/40/30/20/10 Pro/P8 Lite to PC
When it comes to managing our digital lives, the need to transfer files from Huawei to PC becomes a common occurrence. Whether it's the desire to create backups, free up Android storage, or simply have easy access to files on a separate platform, accessing your Huawei phone from your PC has become an essential task for many users.
Well, we will dwell on four optimal methods that enable seamless and efficient Huawei file transfers. These options cater to different preferences, ensuring you find the one that suits your needs.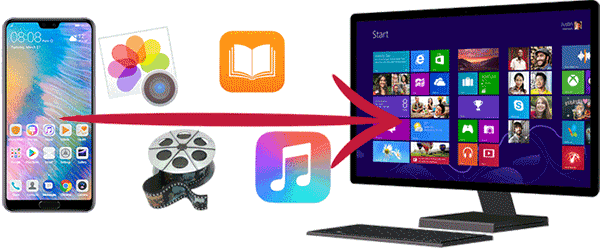 Way 1: How to Copy Files from Huawei to PC via USB Cable (Media Only)
To get Huawei transferred files to PC, use a USB cable to connect the devices and manually transfer media files like photos and videos by copying & pasting. Despite not being the trendiest method, it is reliable and hassle-free. Next, we'll know how to copy files from Huawei to PC with USB:
Using a USB cable, establish a connection between your Huawei phone and the computer.
Immediately, a notification will appear on your Huawei device, prompting you to connect for "MTP/File Transfer".

At this stage, it is necessary to grant permission for USB Debugging. This will enable your computer to install the required Huawei drivers.
If this doesn't happen automatically, you can accomplish it manually.
On your computer, navigate to "My Computer" and locate the "DCIM" Folder, where you can find your data.
Proceed to copy and paste the desired data to your computer's drive.
Recommended for You As Well:
Way 2: How to Transfer Files from Huawei to PC with Assistant for Android [Flexible]
If you're seeking a convenient and versatile solution for Huawei file transfer prior to accessing the info on PC, MobiKin Assistant for Android (Win and Mac) is the near-perfect choice. This intelligent tool enables you to effortlessly sync all or specific items to your computer in an instant. Plus, you can also conveniently preview, add, delete, and even edit Huawei data on your PC without any difficulties.
What benefits can you get from MobiKin Assistant for Android?
Selectively transfer files from Huawei to PC/Mac, as well as in the opposite direction.
Export data into compatible file formats for future utilization.
Easily back up and restore Android phones/tablets with a single click.
Applicable to various items such as contacts, call logs, SMS, music, photos, videos, books, apps, and more.
Seamlessly manage files on your computer without any issues or limitations.
Easy to handle, no data/quality loss, free trial, etc.
Work well with overall Android devices, including Huawei P50/P40 (Pro)/P30 (Pro)/P20 (Pro)/P10 (Pro)/P9, Mate 50/Mate 40/Mate 30/Mate 20/Mate 10, Huawei Ascend/Nova/Honor, Samsung Galaxy, Xiaomi, Sony, LG, Google Pixel, OPPO, Motorola, HTC, etc.
It won't disclose your privacy.
How to back up Huawei to computer via MobiKin Assistant for Android?
Step 1. Run the program and connect Huawei to your computer
Download and install Assistant for Android on your PC for free. Launch the software and establish a virtual connection by connecting your Huawei phone to the computer. If necessary, enable USB debugging on your Huawei device.
Step 2. Preview and handpick the data types to transfer
After the connection is established, the software will present a main window displaying essential information and data types from your phone. To proceed, click on the file categories listed in the left menu of the program.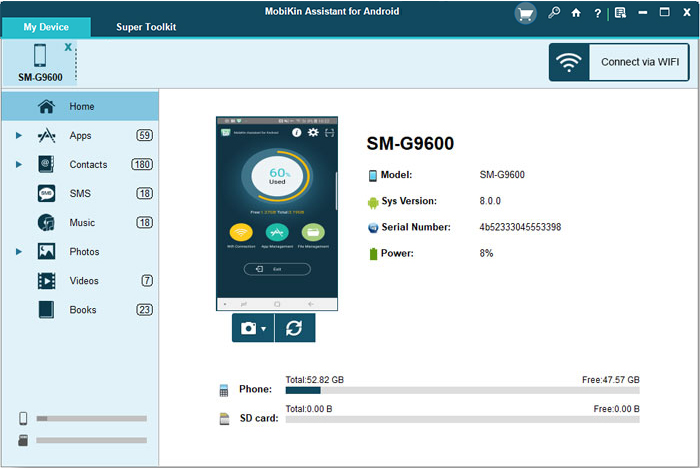 Step 3. Transfer files from Huawei to PC
Preview the details of the files and select the specific ones you wish to transfer to your computer. Once you have selected, click the "Export" button located in the top menu bar to initiate the Huawei data transfer.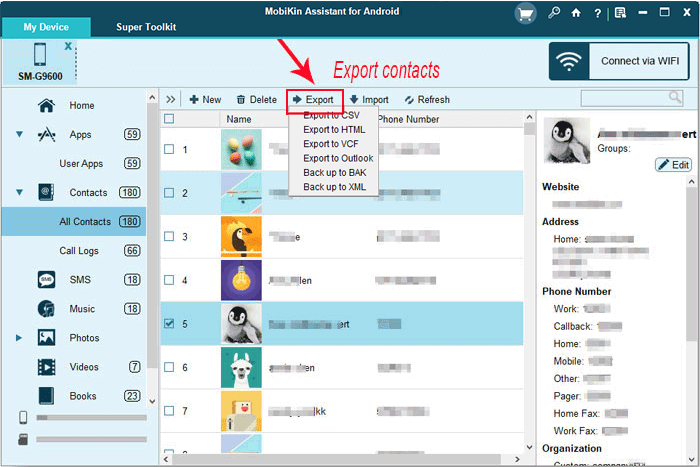 MobiKin Assistant for Android provides a convenient alternative option with its 1-click backup and restore functionality. Using this feature, you can effortlessly back up batches of Android data to your computer. To do this, simply navigate to the "Super Toolkit" section in the tool, select "Backup", choose the desired data types, and click on "Back Up".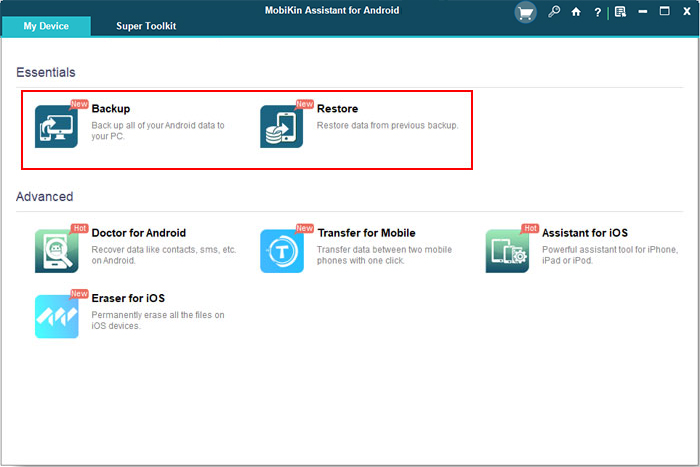 Way 3: How to Back Up Huawei to Computer with HiSuite
Huawei HiSuite enables seamless data transfer between Huawei devices and PCs. It offers intuitive features for selective file copy and backup. In addition, it provides a reliable solution for Huawei users to effortlessly manage their data. (You can also sync Huawei to Mac with Hisuite for Mac) Now, adhere to the steps to know how to transfer files from Huawei P50/P40/P8 Lite/Mate 20 Pro/Mate 10 to computer to PC via HiSuite:
Use a USB cable to connect your Huawei device to the computer.
On your Huawei phone, navigate to "Settings" and search for "HDB" in the top search bar.
Tap on "Allow HiSuite to use HDB" from the search results.
Grant the necessary privileges on your phone once connected.
Launch Huawei HiSuite on your PC and click on "Back Up".

Choose the file types you want to back up, such as photos, videos, etc.
Select a destination folder on your computer to save the backup data and click "Save".
Other options to consider:
Way 4: How to Transfer Files from Huawei to PC Using Huawei Share
Surprisingly, you can transfer files without cables or 3rd-party apps. Just tap your Huawei phone against a compatible laptop's Huawei Share sensor to share images, videos, and documents. This sensor is a built-in feature in Huawei, allowing easy transfer between a smartphone and a computer. Before proceeding, both devices should be within the same Wi-Fi network. Below is how to perform Huawei transfer files without Hisuite using Huawei Share:
Open the "Control Panel" on your computer and locate "Programs and Features".
Within this section, find "Windows Features on or off" and select it.
Check the box for "SMB 0/CIFS File Sharing Support" under the "Windows Features" menu.

Enable "File Sharing" and "Network Discovery" on your computer.
Now, switch to your Huawei phone and navigate to "Device Connection" in the "Settings" menu.
Turn on the Huawei Share settings and select "Computer Share".
Once enabled, you will be prompted to provide a username and password.
Next, access "My PC" on your phone and find your computer under the "Network" section.
Final Words
The above is to provide you with comprehensive solutions, allowing you to access Huawei phone from PC without effort. Yet, to further enhance your file management experience, we shall lay emphasis on MobiKin Assistant for Android, a powerful tool that goes beyond simple data transfer. This emerges as a standout choice, offering not only exceptional file transfer capabilities but also serving as an outstanding data management program.
Related Articles:
Everything You Must Know about Screen Mirroring Huawei [2023]
How to Transfer WhatsApp from iPhone to Huawei P50/P40/P30 Pro/Nova 5T?
Top 8 Methods to Unlock Huawei Phone without Resetting/Password
4 Secure Ways to Bypass Google Account/FRP on Huawei without PC
How to Reset A Huawei Phone or Tablet to Its Factory Settings?
10 Best Android Phone Repair Software and Apps to Fix Android System Issues