Guide to Perform File Transfer for Meizu
As the Chinese smart phones manufacture, Meizu company devoted themselves to design and produce the elegant smart phones which are also easy to operate and use. Although the Meizu phone is not as famous as other Android phone brands, still there are people who are fond of the Meizu phones. So here we take the Meizu phone as the example and topic. As for the transfer, I guess few smart phone users have never encountered the situations that requires them to transfer files from smart phone to PC or export data from computer to the device. You may need to check and read the document which were stored on computer while you are going to go out. And the computer is too heavy to be carried so the only choice is to transfer the document to the mobile phone which can be carried everywhere. Sometimes, the data may also need to be exported from mobile phone to PC to be edited well or as a backup in case that the mobile phone may be lost or broken.
See, it is necessary for smart phone users to know how to transfer files between the mobile phone and computer because there are more situations in the reality that require you to perform the transferring process. That is also why this page be posted. Here we will offer you the simple and useful solution to transfer data between the two devices. To achieve the goal, you need to the help of a third party tool - MobiKin Android File Transfer (Windows/Mac), which is easy to operate and requires no professional knowledge. The more detailed introduction of the software are as follows.
- The software enable you to transfer data between handsets and PC freely and easily within and the whole process will cost you just a few minutes.
- It also can not be easier for you to manage the applications on computer, because this procedure enable you to install or uninstall many apps with one click at one batch.
- It will detect the connected device and scan all the files including contacts, SMS messages, photos, videos, music and so on, and then display them as different options on a window, which will make it easy for you to find the target files. What's more, all the scanned data can be transferred between computer and the smart phones.
- The program can support all the brands of Android phones like Sony, Motorola, Samsung, HTC, LG, Meizu, etc with high compatibility. Besides it can work well with all grades of Android operating system from Android 2.0 to Android 5.0.
Here we will take the Meizu phone as the example to offer you the guide to transfer files between Meizu and computer. There are two versions available and you can choose one according to the operating system of your computer.
How to Transfer Files between Meizu and Computer?
Step 1. Download the Software and Connect the Device.
Download the software and install it on your computer. Then link your Meizu phone to the computer via USB cable. Next, you need to follow the steps to enable USB debugging first, otherwise the software won't detect your device. (But if you have done this before, you have no needs to do it again, just skip the step.)
1) For Android 2.3 or earlier: Enter "Settings" < Click "Applications" < Click "Development" < Check "USB debugging".
2) For Android 3.0 to 4.1: Enter "Settings" < Click "Developer options" < Check "USB debugging".
3) For Android 4.2 or newer: Enter "Settings" < Click "About Phone" < Tap "Build number" for several times until getting a note "You are under developer mode" < Back to "Settings" < Click "Developer options" < Check "USB debugging".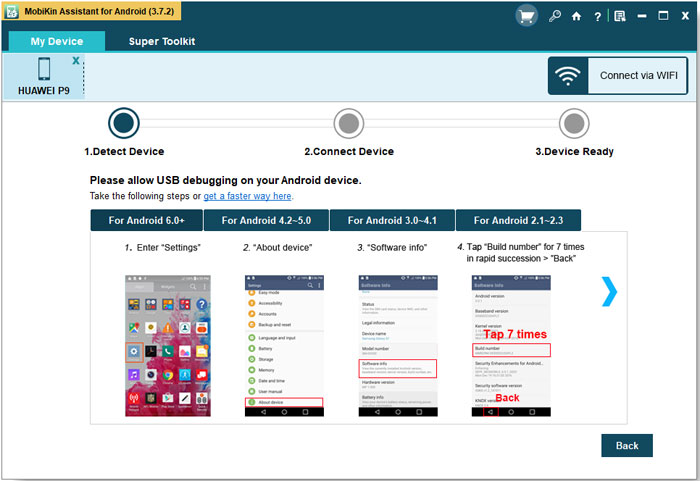 Step 2. Detect the Device.
Tick the "USB debugging opened" and hit "Next" button to install the USB driver, thus the program can detect your mobile phone and scan the files. You will see an interface with different options list in the left pane.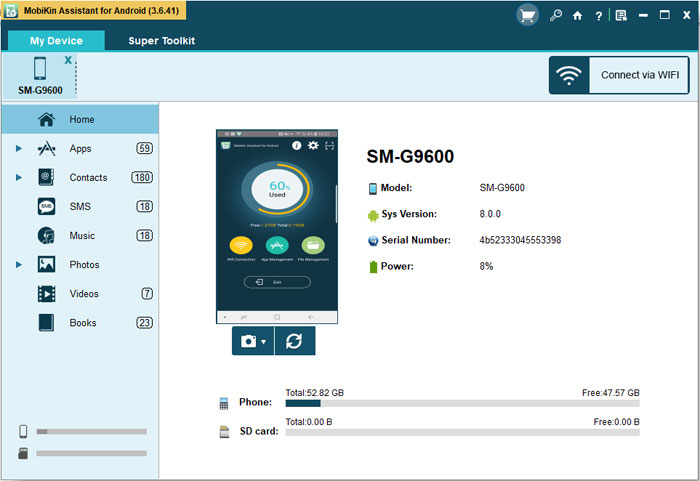 Step 3. Transfer Files.
Click the one option according to the files you want to transfer to preview the items on the right panel. Check and mark the target files and then hit "Export" to save them on your computer.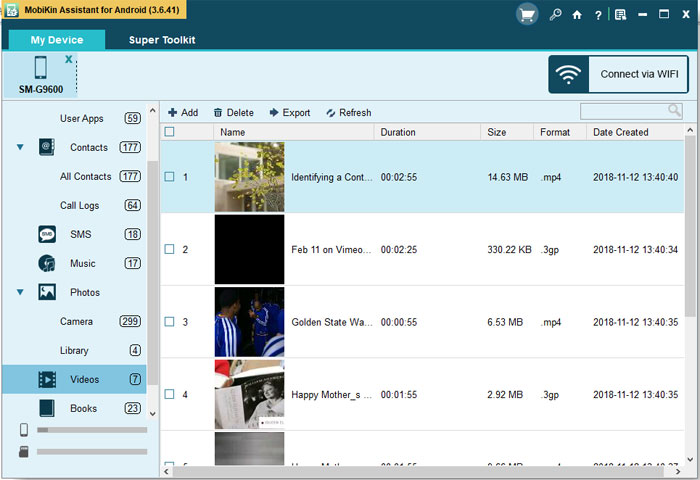 In addition, you can also copy the files from your computer to the Android phone by clicking "Import" option.
The processes of other files transfer are similar to this one.
Extra Tips: Backup Meizu Data on Computer with Transfer for Mobile
MobiKin studio has another tool to help you perform the files transfer for Meizu mobile phones, which is the MobiKin Transfer for Mobile (Mac version available). It is mainly produced to transfer data between two mobile phones. But it also features with the ability to transfer data from phone to computer, and even restore files from computer to mobile phone. With it, you can transfer contacts, SMS, calendar, call logs, photos, videos, music, apps etc. from Meizu to computer. Now, we will show you how to do that:
For beginning, you should download the Transfer for Mobile for free via the links below:
Maybe you are interested in:
How to Group Texting from Computer?
How to Print out Text Messages from Android?
Step 1. Connect your Meizu phone to computer
Install and launch the MobiKin Transfer for Mobile software on your computer and use a USB cable to connect your Meizu phone to the computer.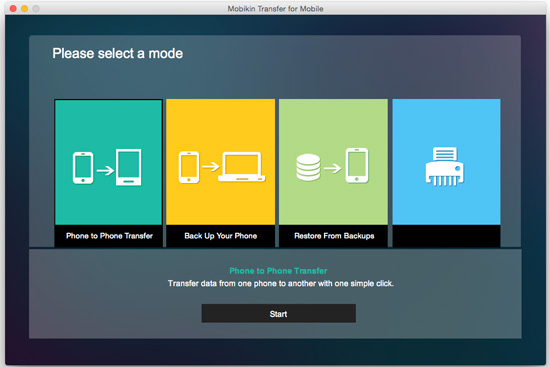 Step 2. Enter Backup on Computer option
Choose the "Backup on Computer" option from the main interface and you will have an option to transfer the files requested from your phone to computer via specific list (i.e. Calendar, Contacts, Photos, Music, Videos etc.).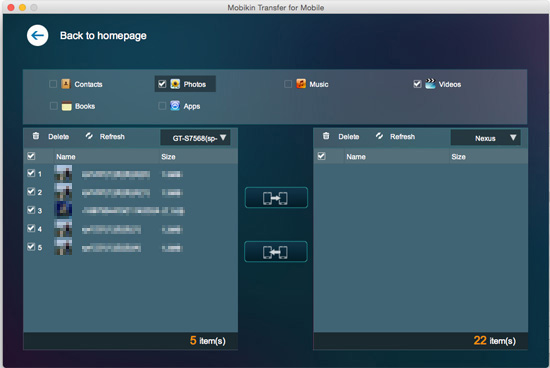 Step 3. Transfer files from Meizu to computer
After selecting the files you want to transfer to computer, you can click the Start button to transfer the selected Meizu files to computer.
Related Articles
Tips to Transfer Text Messages from Android to Computer
How to Manage Motorola Cell Phone Data with Motorola PC Suite Alternative
How to Transfer Contacts from Android to Computer