Why Won't My Text Messages Send on My Android? [12 Reasons & 16 Solutions]
The ability to send and receive text messages seamlessly is often taken for granted. However, there are instances when the frustrating question arises: "Why won't my text messages send on my Android?" This seemingly simple task can sometimes pose unexpected challenges, leaving us puzzled and seeking answers.
Throughout this passage, we will delve into the intricate web of factors that can hinder the situation when you send or forward text messages on Android. By exploring the many reasons behind this issue and highlighting various methods for resolution, we aim to provide clarity and guidance to those facing this dilemma.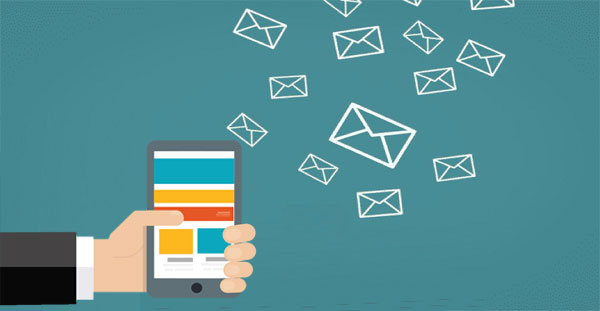 Part 1: Why Won't My Text Messages Send on My Android?
There could be an array of underlying reasons for "Why can't I send text messages on my Android phone". And here are some possible explanations:
The device is not receiving any signal.
The cellular network is unable to send or receive messages.
The SIM card has not been inserted correctly.
There is not enough airtime, or the message has timed out.
Incorrect settings have been configured.
The phone could be damaged.
The messaging app might have a bug or malfunction.
The default settings may have been altered.
The network is congested with heavy traffic.
Flight mode may be enabled on your phone.
The number you are trying to reach may be invalid or disconnected.
The message center settings (SMSC) are invalid.
You May Also Like:
Part 2: The 16 Possible Fixes to Text Messages Not Sending on Android
Fix 1. Delete the contact before adding it again
First and foremost, you can fix text messages not sending on Android by directly removing and adding the contacts again. To make it, follow the directions:
Open the Contacts app on your Android device.
Look for the contact you want to delete from your list. (Want to delete SIM contacts on Android permanently?)
Tap on the contact to open its details and click "Delete" or "Remove".

Open the Contacts app on your Android device.
Look for an option that says "Add" or a "+" sign.
Press "Add" or the "+" sign to create a new contact.
Enter the contact's information in the provided fields.
Tap "Save" or "Done".
Fix 2. Check network connection
Open the "Settings" app on your Android device.
Scroll down or search for the "Network & Internet" option and tap on it.
Tap on "Wi-Fi" or "Mobile network", depending on the type of connection you want to check.
Look for the Wi-Fi network you're currently connected to and ensure that it shows "Connected" or has a checkmark next to it. If not, tap on the network name and select "Connect" to establish a connection.
If you tap "Mobile network", make sure it shows "Connected" or has a checkmark next to it. If not, tap the network provider's name and select "Connect" or "Enable" to establish a cellular network connection.
Fix 3. Verify for blocked phone numbers
Open the Contacts app, select the person's name, and look for a "Block" icon next to their name or number. (How to block calls and messages on an iPhone?)
If you find the "Block" icon, tap the three dots at the top right of your screen.
Select "Unblock" to restore the ability to send text messages to that person.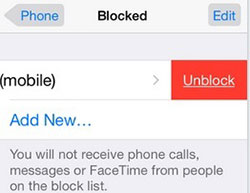 Fix 4. Inspect if a country code is needed
Open your Messaging app on your Android device.
Tap on the "Compose" or "New Message" button.
Enter the phone number of the person you want to send the message to.
Pay attention to the format of the phone number you entered. If it includes a country code (such as +1 for the United States or +44 for the United Kingdom) before the actual phone number, it means you are already specifying the country code.
If not, try sending the message without the country code and see if it goes through.
If the message fails to do this, it indicates that you need to specify the country code for that particular phone number.
Click for More:
Fix 5. Ensure Airplane mode is disabled
Airplane mode automatically disables cellular data, which can lead to SMS not working on Android. While it may seem obvious, it's important to check if Airplane mode is enabled on your device:
To verify this, swipe down from the top of your screen to access the "Quick Settings" menu.
Assuming you don't see the "Airplane mode" toggle, swipe down again and look for the Airplane icon.
If it is enabled, tap the icon to disable the mode.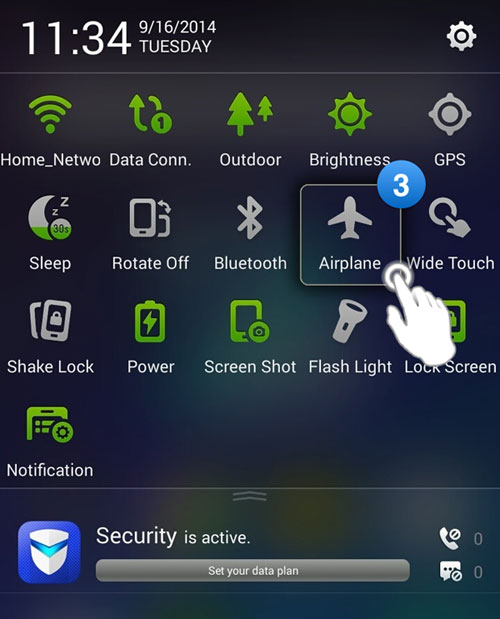 Fix 6. Soft reset your Android phone
Performing a soft reset helps to reboot your Android phone/tablet and resolve minor software issues. It does not erase any data or settings on your device. Here are the steps:
Press and hold the "Power" button on your Android device.
A menu should appear on the screen with options such as "Power off", "Restart", or "Reboot".
Tap on the "Restart" or "Reboot" option.
If both options are not available, continue holding the "Power" button until the device powers off completely.
After that, wait for a few seconds and press the "Power" key again to turn it back on.
Fix 7. Force quit Message app
Access the "Settings" menu on your device.
Open the "Application" or "Apps" section.
Scroll down the list to view all the installed applications.
Locate and tap the "Messaging" app.
Tap on "Force stop" to fix Android not sending texts.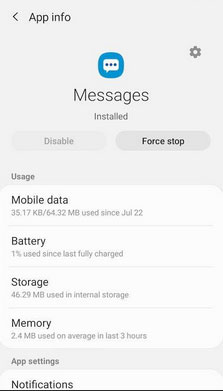 Fix 8. Check SIM card
Verify that your SIM card is correctly inserted into the SIM slot. You can remove the SIM card from your phone and carefully reinsert it into its designated slot. This simple action might resolve the message failed to send on Android you are experiencing. (How to retrieve text messages from SIM cards if they are accidentally deleted?)
Fix 9. Disable iMessage when switching from iPhone to Android
When transferring from an iPhone to an Android phone, make sure to disable iMessage by opening your iDevice's "Settings" > "Messages" > "iMessage" > "Turn Off".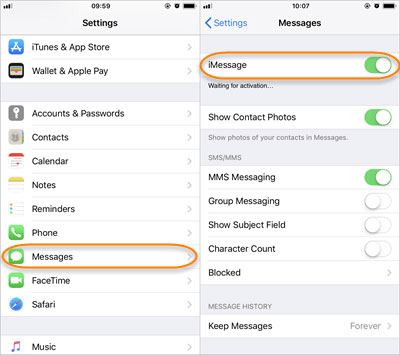 Fix 10. Reset SMS settings to default
Access the text Messaging app on your Android phone.
Locate the ellipsis symbol in the top-right corner.
Tap the sign and choose "Settings".
Reset all the settings available to their default values.
Afterward, restart your phone to fix sending message failed on Android.
Fix 11. Clear messaging app cache
Access your phone's "Settings" menu.
Navigate to "Apps" and select "Messages" (Or your Messaging app).
Choose "Storage" and opt for "CLEAR CACHE".
If you wish to remove all data associated with the app, select "CLEAR DATA".

Confirm the action by tapping "OK", and this will also help clean junk files on Android.
Fix 12. Reset network settings
I can't send messages to Android; can I give the network a complete refresh or reset? Sure! Try the simple steps to reset network settings:
Access the "Settings" menu on your Android device.
Locate and tap on "System".
Within the system settings, find and select "Reset options".
Look for "Reset Network Settings" and tap on it.

Confirm your selection to proceed with the reset.
Fix 13. Check SMSC
Launch the Messages app on your device.
Tap the three dots on the right side of your screen to access the "Settings" menu.
Select "More Settings" > "Text Messages".
Scroll down to the bottom and locate the "Message Centre" option.
Visit your operator's website and compare the message center number displayed on your phone with the one provided on the website.
If the numbers are different or missing, enter the correct message center number in the "Message Centre" field before tapping "OK" to save the changes.
Fix 14. Factory reset your phone
Cannot send text messages but can receive on Android? There may be a minor glitch affecting the system. Now, please adhere to the simple guide to factory reset your Android phone instantly:
Head to the "Settings" menu on your phone.
Locate and select the "Backup & reset" option.
Go for "Factory data reset" > "Reset phone".

Follow any additional prompts or confirmations to proceed with the reset.
Fix 15. Contact your carrier to confirm your subscription
If you are unable to send text messages, it is possible that your subscription has expired or been exhausted. To resolve this, you should contact your network provider to confirm the status of your subscription. If the going gets tough, you can renew it to continue using the short messaging service.
Fix 16. Try another messaging app
If you're still having trouble sending text messages on your Android device, try using an alternative messaging app like Google Messages or Textra123.
Bonus: How to Send Android Text Messages on a Computer
After fixing text messages not sending on Android, are you seeking a more convenient way to type when sending SMS? Perhaps you'd like to preserve your conversations with a backup or archive on a larger screen. If so, MobiKin Assistant for Android (Win and Mac) offers a solution that allows you to send and receive text messages on your computer, catering to these specific needs. In addition to these features, this versatile tool also encompasses the following functions.
Main highlights of MobiKin Assistant for Android:
Send and receive text messages on computer conveniently.
Best Android SMS manager to manage Android texts and other files on a computer.
Transfer data between Android and computer selectively.
Back up and restore Android phones/tablets with one click.
Work for such files as SMS, contacts, call logs, music, photos, videos, books, apps, etc.
Easy connection (Two connection modes), quick processing, and no quality loss.
Get along well with almost all Android devices, including Samsung, Xiaomi, OPPO, Motorola, LG, Sony, HTC, Google, DELL, Huawei, and more.
It won't let out your privacy.
How to send Android text messages on a computer via Assistant for Android?
Start by downloading and installing the tool on your computer.
Once installed, use a USB cable to connect your Android phone to the computer.
Follow the simple on-screen instructions to allow the software to recognize your device.
Locate and click the "SMS" tab on the left side of the program's interface.
Then, from the top of the screen, select the "New" button.
This will open the messaging interface, where you can enter the necessary details, such as the recipient's phone number and other relevant info.

Enter the desired contacts to whom you wish to send the text messages, and proceed to type your message in the provided text field.
Finally, click the "Send" button to deliver the text message to the specified phone number.
In a Nutshell
The aim of this post is to shed light on the myriad reasons "why aren't my text messages sending/delivering to a certain person on Android". By exploring various causes and potential solutions, we hope to empower individuals to diagnose and resolve text messaging issues, fostering seamless communication in the digital realm.
If none of these steps resolve the issue, it's advisable to contact your mobile network provider or the manufacturer of your Android device for further assistance. They can provide specific troubleshooting steps based on your device and network configuration.
Related Articles:
Why Can't I Send & Receive WhatsApp Messages?
Where Are Texts Stored on Android? SMS Location, Backup, Recovery, etc.
Helpful Tips to View Text Messages on iCloud from PC/Mac/iPhone [2023]
4 Ways to Retrieve Deleted Kik Messages on Android with or without Backup
Texting from Computer to Cell Phone: 7 Ways & Their Comparison
[2023] How to Recover Deleted Text Messages on Android for Free?