Samsung PC Suite - Free Download PC Suite for Samsung Galaxy
Summary: This article covers three Samsung PC suites and the best alternative to Samsung PC suite - MobiKin Assistant for Android, which is powerful enough to make all Samsung and even Android users scream. First, let's learn what a Samsung PC Suite is and why we need it. Then we will list the advantages and disadvantages of these four Samsung PC suites to help you make a better choice.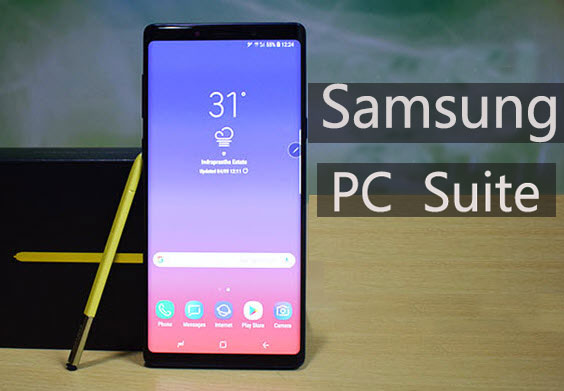 Part 1. Why We Need PC Suite for Our Samsung Phones?
Among all smart phones, Android has undoubtedly become the world's largest mobile operating system, and Android devices also occupy the largest share of mobile phones in the market. Samsung smartphones in South Korea account for a large share of the Android ecosystem. Samsung has a wide variety of mobile phones, and each phone has various programs for users to store and play files, such as contacts, messages, videos, music, etc. So what do you do when you accidentally lose these files? At this time, Samsung PC Suite comes in handy.
If you accidentally delete important files on your Samsung phone, or if you lose your Samsung smartphone, what can we do to recover all your personal data? If you have backed up your Samsung device before, then you can restore data from the backup file. When you buy a new phone, you can also restore the backup file directly to the new phone. And this kind of backup and restore work, need a Samsung PC Suite to complete.
For Android users, it is really important to manage the files on your Android device and know how to back up and restore your phone data. Therefore, we need to find the best Samsung PC application suite to backup your Samsung phone and restore it to a new device. However, with the large number of applications and programs publicly available on the market, it is difficult to tell which one is the best. Don't worry, in this article, you will get the perfect answer.
Can't Miss:
Part 2. Top 4 Samsung PC Suites for Samsung Mobile Phones
Here, we have listed the pros and cons of four Samsung mobile PC suites. You can check them one by one and then pick the one that suits you best.
No.1 MobiKin Assistant for Android
The best PC suite for Samsung smartphones is MobiKin Assistant for Android. Among the three other Samsung PC suits we are about to recommend in the below, this one is arguably the most comprehensive. Not only can it back up your Samsung or any other brand of Android smartphone, it can even restore the backup file to a new device. You can connect your device to this software through two connection methods: WiFi and USB. Then complete your entire backup process of all your photos, videos, contacts, SMS, documents and so on with one click.
Reviews of Assistant for Android:
Backup your contacts, messages, call logs, music, photos, videos, applications and several others to computer and restore them easily.
Support to manage the data on your Android phone, including deleting Android data, exporting & importing contacts and SMS, editing contacts, exporting data to computer, importing data to phone, sending & replying SMS with computer, etc.
A product that is 100% secure and trusted by millions of users.
Fully compatible with almost all Android devices from Huawei, Samsung, Sony, Lenovo, HTC, LG, Motorola, LG, etc.
Suitable for all Windows and Mac operating system computers.
How to Manage Samsung phones by using Assistant for Android?
MobiKin Assistant for Android is a perfect PC suite toolkit for not only Samsung devices, but also other more Android mobile phones. It is easy to manage your Android phone by using this software. Just follow the simple steps as below:
Step 1. Download the installation file of the Assistant for Android from the download buttons above and install it on your PC or Mac desktop. Launch the software and connect your Samsung phone to the computer.
Note: Make sure you have enabled USB debugging on your Android phone by following the prompts on the program interface.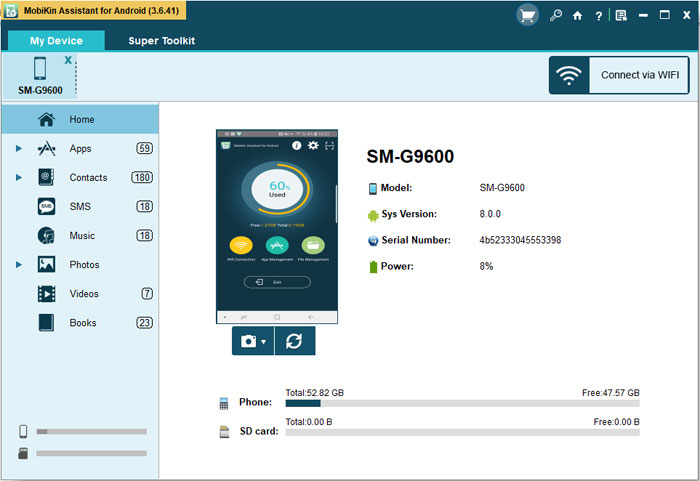 Step 2. All data on your Android phone is categorized on the left column. You can choose "Contacts" option from the left panel and begin the managing process by clicking different options from the top menu.
New - Create new contacts to your Samsung phone.
Delete - Remove useless contacts from your Samsung phone.
Export - Transfer contacts from Samsung phone to computer for backup.
Import - Copy contacts from computer to Samsung phone.
Edit (on the right side column) - Edit information for existing contacts.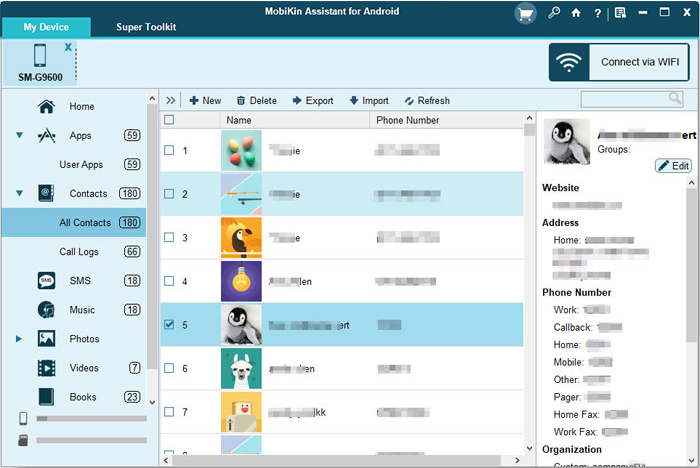 Step 3. Manage text messages on your Samsung Android phone.
New - Send text messages from computer.
Delete - Remove useless text messages from your Samsung phone.
Export - Transfer text messages from Samsung phone to computer for backup.
Import - Copy text messages from computer to Samsung phone.
Click corresponding icons under each message to resend, forward, delete and copy messages.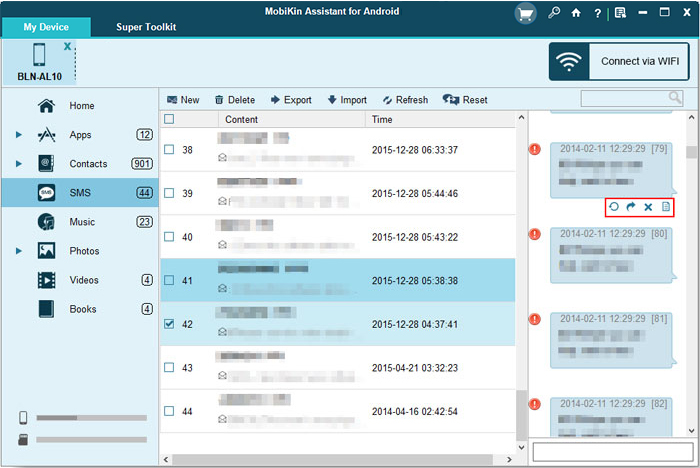 Step 4. Import, export, delete and refresh call logs on your Samsung phone.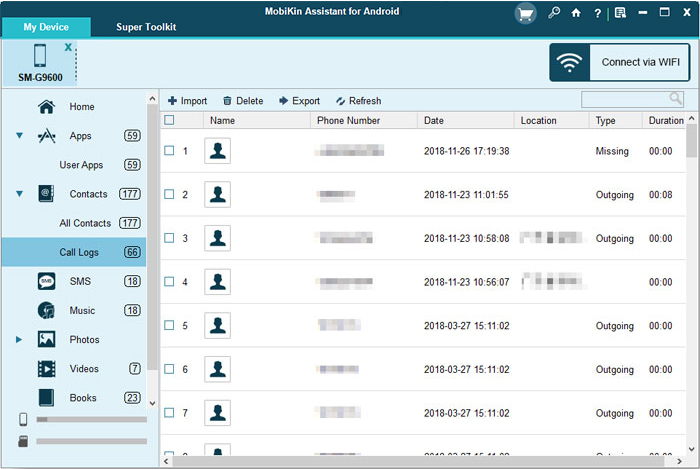 Step 5. Install, uninstall and export Samsung apps on computer.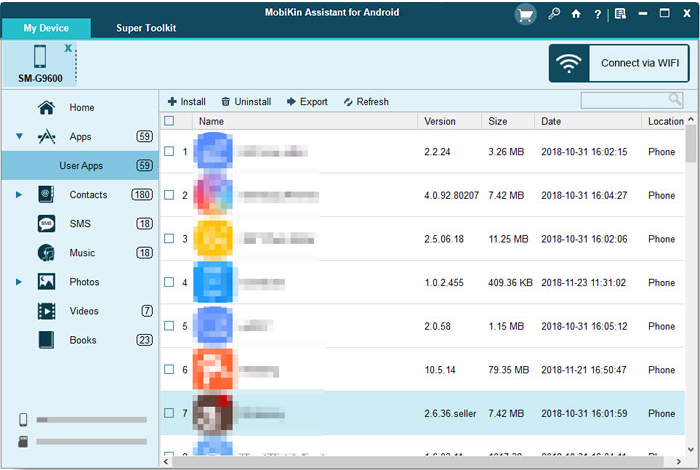 Step 6. Import, export or edit photos, videos and music files on your Samsung mobile.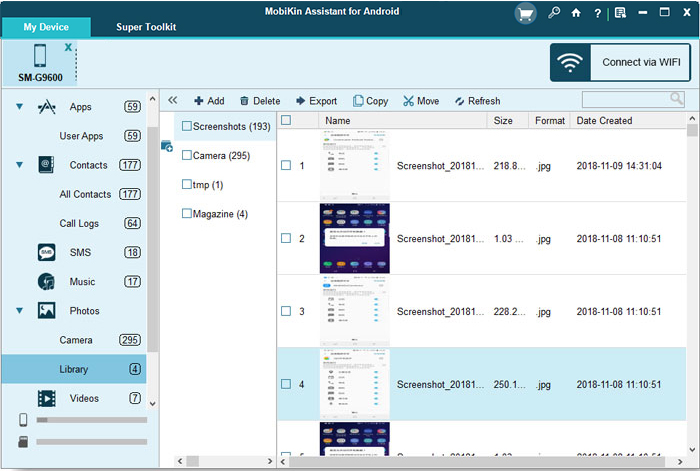 Step 7. Backup & restore Samsung data with one click. You can go to click "Super Toolkit" from the top menu to enter the 1-click backup & restore window. Then, choose "Backup" or "Restore" option to backup your phone data to computer, and restore the backup file to your phone with one click quickly.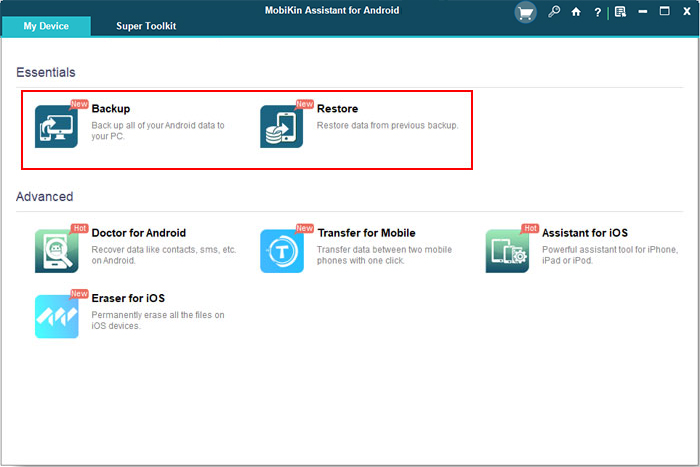 MobiKin Assistant for Android support all Windows and Mac versions. Just click the following button to get the Samsung PC suite for Windows 10/8/7/Vista/XP, Mac OS X 10.9 or later.
Can't Miss:
If you are a loyal user of Samsung, then you must be familiar with Samsung Kies. It is a tool launched by Samsung Mobile specifically for managing Samsung-only phones based on Android. It is a free application that helps Samsung users manage the contents of their smartphones such as videos, music, pictures, etc. In addition, it can back up and restore Samsung mobile phone data, and supports upgrading device firmware and updating the operating system. This versatile tool meets the needs of a growing consumer.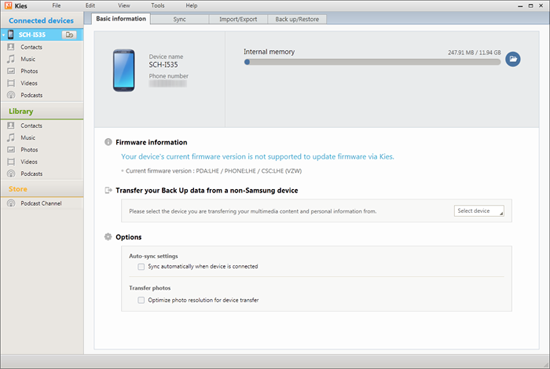 Pros:
Cons:
You cannot back up DRM-protected data.
Sometimes your device cannot be detected.
Have no complete package.
The interface is not user friendly.
Not all file formats are supported.
Works slowly, especially when using a USB connection.
Another excellent Samsung PC suite for desktop is MOBILedit. It provides users with the function of managing the phone, and can also transfer mobile phone data, including pictures, videos, music, documents, files and all other content, just like the tools mentioned above. It also supports backing up and restoring phone data. Once the device is connected, it allows you to easily browse all your phone content through the folder structure. You can also use MOBILedit to delete duplicate contacts, store phone data in the cloud, and send text messages directly from your computer. You can also edit multimedia files and create personalized ringtones.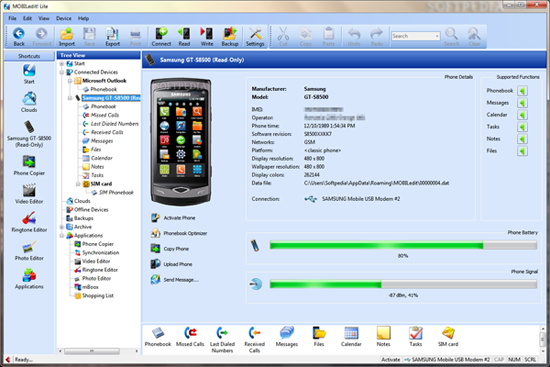 Pros:
The interface is elegant and user-friendly.
Have a complete base package.
It is a one-stop file manager.
Cons:
The premium version is paid.
Lack of advanced features such as root access and population.
Can't Miss:
This is another Samsung software for PC provided by Samsung company, designed to help transfer files between Samsung phones and PCs. Basically it is a file manager for Samsung phones, which provides some basic functions including sending phone content to PC. But this tool is a bit special because it also provides some special features. For example, once you connect your phone to your PC, you can send an SMS from your computer and back up all your phone files. It also provides tools for editing images. You can choose to compress the images when importing them to your phone to save space. You can also convert music formats and update Samsung firmware. You can connect your phone to Samsung software for PC in three ways: USB, infrared and Bluetooth.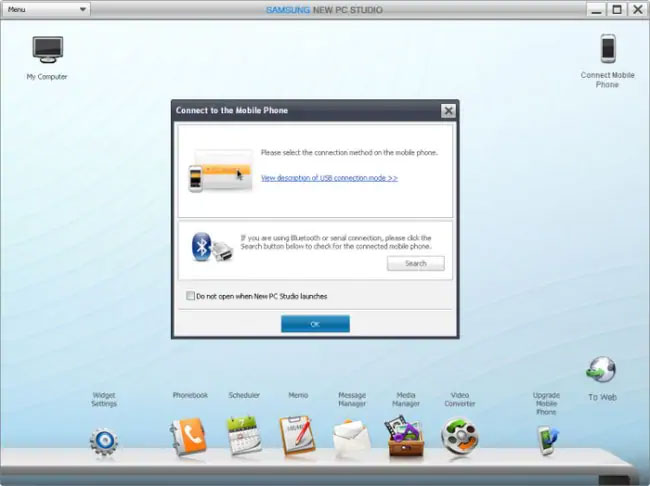 Pros:
Easy to use.
Supports upgrading phone firmware.
Free to download and available in multiple languages.
Cons:
The software is too large and the installation process is too slow.
Limited synchronization, only MS Outlook is supported.
Part 4. Samsung PC Suite Comparison
| | | | | |
| --- | --- | --- | --- | --- |
| | MobiKin Assistant for Android | Samsung Kies | MOBILedit | Samsung PC Studio |
| Windows Compatible | | | | |
| Mac Compatible | | | | |
| Connection Options | USB, Wi-Fi | USB, Wi-Fi | USB, Bluetooth, IrDA, Wi-Fi | USB, Infrared, Bluetooth |
| Connecting Speed | Good | Average | Average | Slow |
| App Manager | | | | |
| Data Backup | | | | |
| Data Restoration | | | | |
| Screenshot | | | | |
| Supported Contents | Apps, contacts, SMS, call logs, photos, videos, music, documents, etc. | Contacts, music, photos, videos, podcast | Documents, pictures, videos, music, apps, contacts, SMS | Contacts, calendar, memos, messages, videos, music |
Conclusion:
| | | | | |
| --- | --- | --- | --- | --- |
| | MobiKin Assistant for Android | Samsung Kies | MOBILedit | Samsung PC Studio |
| Results | No.1 | No.2 | No.3 | No.4 |
Based on the comparison of the four Samsung PC suites in the table, I believe you already know which one to choose. Obviously, MobiKin Assistant for Android wins everything in terms of efficiency, convenience, features and installation. It covers the functions of several other tools, and has some of its own ultimate features. We once again provide you with this revolutionary PC suite for Samsung - Assistant for Android download link:
Related Articles
Tips to Transfer Text Messages from Android to Computer
How to Transfer or Copy Contacts from HTC to Computer
Best 10 Android Desktop Managers to Manage Your Android Devices on PC/Mac in 2019
Top 6 File Manager for Android to Keep Your Device Organized (2019)
Top 5 Android PC Suites - Help You Manage Your Android Phone with Ease
The Best Android SMS Manager Helps You Manage Android Messages Easily