Top 6 Samsung PC Suites for Windows 11/10/8/7 [Most People Would Prefer]
Summary: Despite the formidable competition from the iPhone, Samsung continues to excel. Many Samsung users appreciate the outstanding hardware of their phones and seek flexible phone management options. However, managing content directly on phones can be inconvenient, making the Samsung PC suite a focal point of interest. Well, this page provides an overview, main features, pros, and cons of the 6 most popular Samsung PC application suites. Before diving into that, let's explore the necessity of having one such tool.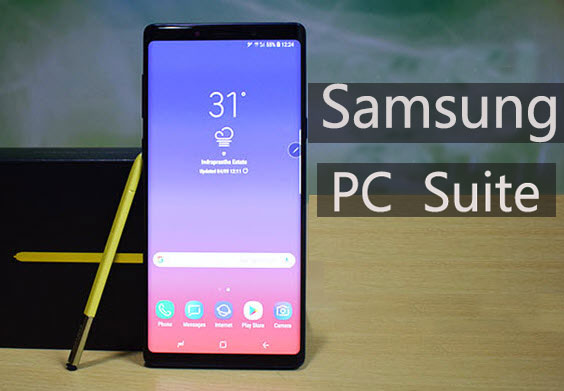 Part 1: Why You Need a Samsung PC Suite?
Device Connectivity: Connect Samsung phone to PC through various methods for versatile usage.
File Transfer: Seamlessly move files between your Samsung device and computer.
Data or App Management: Efficiently organize and manage data or apps on your Samsung device.
Backup and Restore: Safeguard important data with easy backup and restoration.
Text Messaging: Send and receive texts directly from your computer.
Media Editing: Edit photos and videos for a personalized experience.
Firmware Updates: Keep your device up-to-date with easy firmware updates.
You Might Also Enjoy:
Part 2: Best 6 Samsung PC Suites for Windows/Mac
> 2.1 MobiKin Assistant for Android
Overview:
Is there a PC suite for Samsung to manage the device like a pro? Yes, of course! MobiKin Assistant for Android (Win and Mac) is the state-of-the-art desktop manager for Samsung smartphones, offering comprehensive features. It does well in backing up and restoring not only Samsung but also other Android brands. With dual connection options (WiFi and USB), the software enables a one-click backup and intelligent management for overall cell phones.
Main Features:
Back up and restore Samsung Galaxy without trouble.
Transfer data between Android and computer selectively.
Work for such data types as contacts, messages, call logs, music, photos, videos, applications, and more.
Manage files on your Android phone from a computer directly.
Fully compatible with practically all Android phones, including Samsung Galaxy S23/S22/S21/S20/S10, Galaxy Note, Galaxy S, Motorola, TCL, Google, T-Mobile, Alcatel, Wiko, BLU, Nokia, Boost, SONIM, Kyocera, etc.
100% secure and trusted by millions of users.
Samsung PC suite download free:
After the download, let's give a brief introduction to its key features by explaining how to manage your Samsung phone with it:
Step 1. Download and install the Assistant for Android on your PC or Mac using the provided download buttons. Launch the software and connect your Samsung phone to the computer; be sure to enable USB debugging on Samsung as prompted.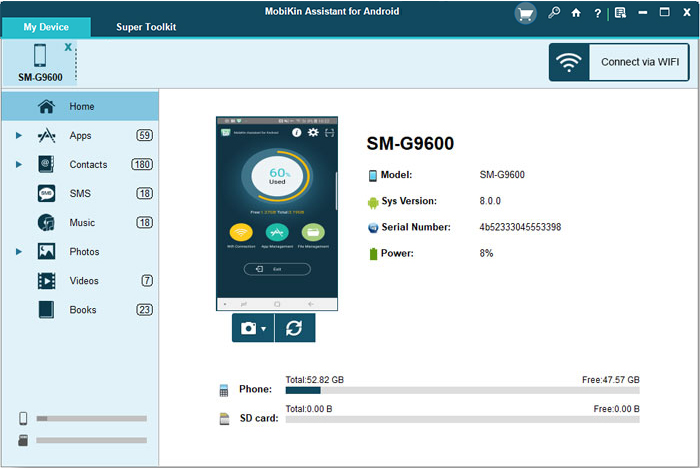 Step 2. This tool will categorize all data on your Android phone in the left column. Choose the "Contacts" option and manage contacts using various options from the top menu:
New: Create new contacts on your Samsung phone.
Delete: Remove unnecessary contacts.
Export: Transfer contacts from the phone to the computer for backup.
Import: Copy contacts from the computer to the Samsung phone.
Edit (on the right side column): Modify information for existing contacts.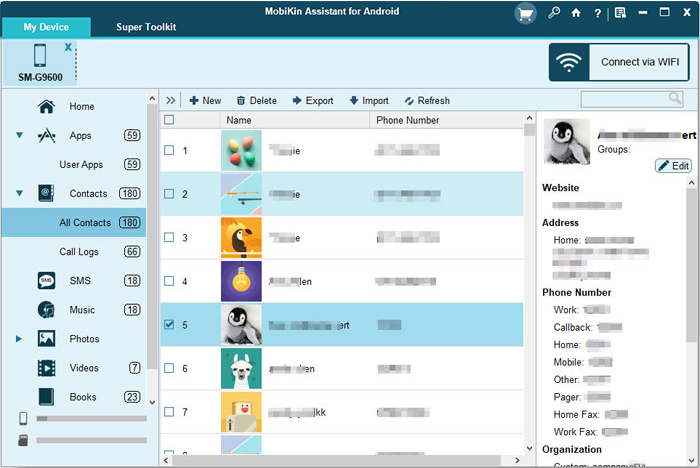 Step 3. Manage SMS on your Samsung Android phone.
New: Capable of texting from computer to cell phone.
Delete: Remove unnecessary text messages.
Export: Transfer text messages from the phone to the computer for backup.
Import: Copy text messages from the computer to the Samsung phone.
Click the corresponding icons under each message to resend, forward, delete, and copy messages.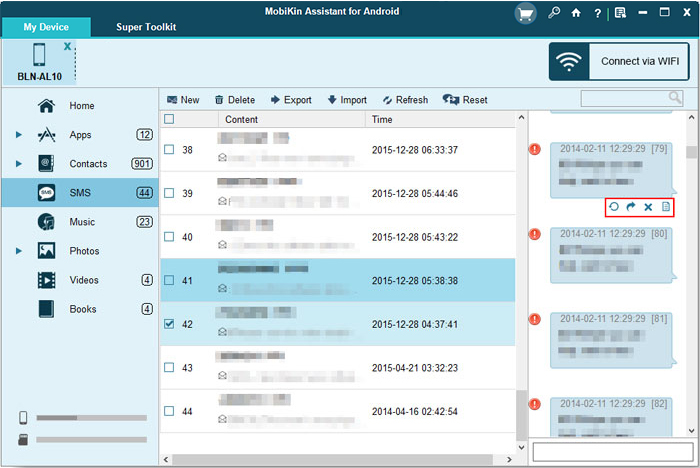 Step 4. Import, export, remove, and refresh call logs on your Samsung phone.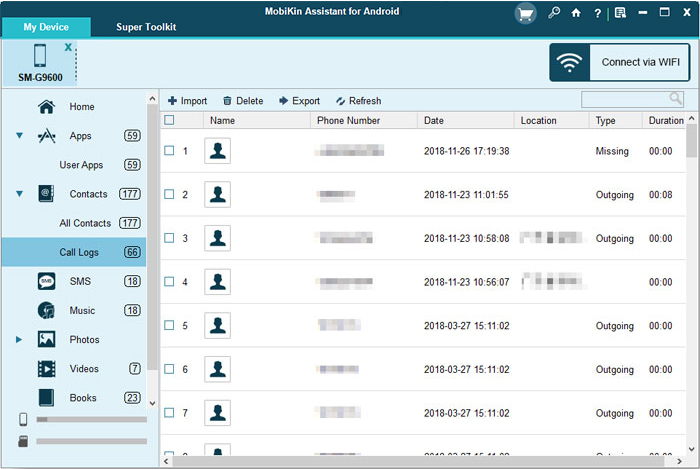 Step 5. Install, uninstall, and export apps from Samsung to your computer.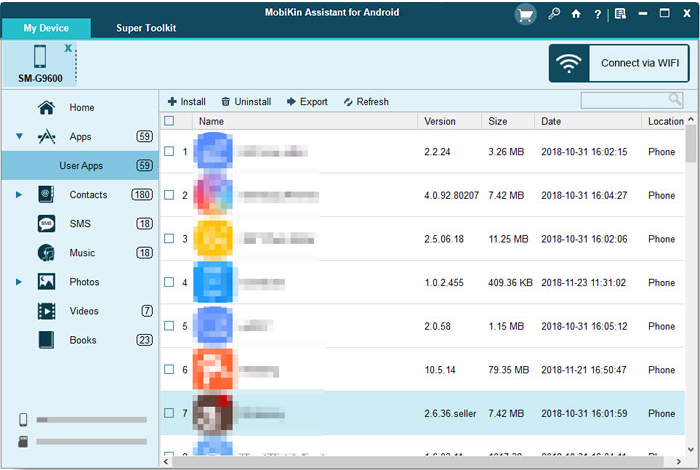 Step 6. Import, export, or edit photos, videos, and music on your phone.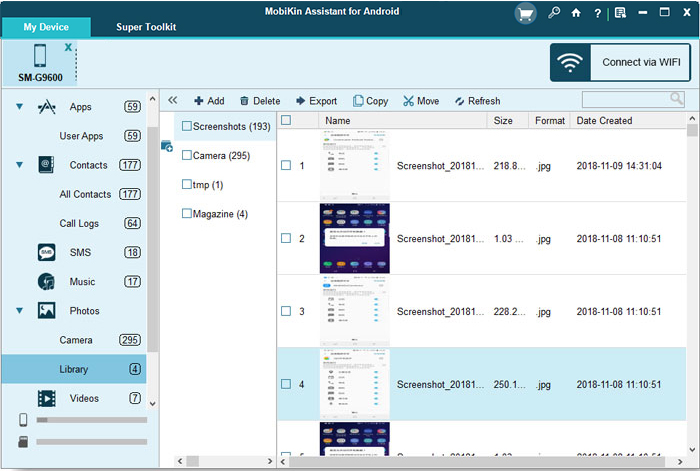 Step 7. Backup and restore Samsung data with one single click. To do it, navigate to "Super Toolkit" in the top menu, choose the "Backup" or "Restore" option to backup phone data to the computer, and quickly restore the backup file to your phone with a single click.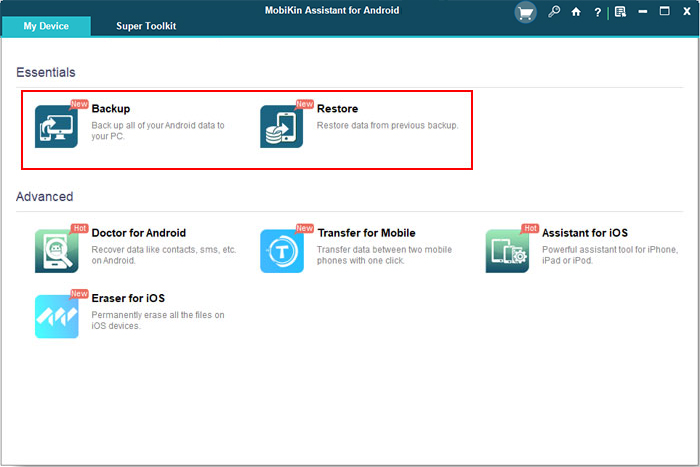 Advantages:
Offers thorough backup for various data types.
Allows seamless restoration of backup files to a new device.
Not limited to Samsung, it supports other Android brands.
Supports both WiFi and USB for flexible connections.
Free trial and instant technical support.
Disadvantages:
While offering valuable features, it is not a free utility.
> 2.2 Samsung Kies
Overview:
Samsung Kies, the official Samsung PC Suite for desktops, is a top choice for managing and syncing Samsung devices with your computer. It provides easy file transfers (photos, videos, music, documents), data backup/restore, firmware updates, and efficient contact/calendar management. (Samsung Kies cannot connect to my phone?)
Main Features:
Safeguard important data with easy backup and restoration capabilities.
Keep your device up-to-date by conveniently updating its firmware.
Facilitates smooth synchronization between Samsung mobile devices and computers.
Advantages:
Seamlessly copy Samsung photos, videos, music, documents, and more.
Efficiently organize and manage your contacts and calendars.
Disadvantages:
May not support certain older Samsung devices.
Works on PC Windows only.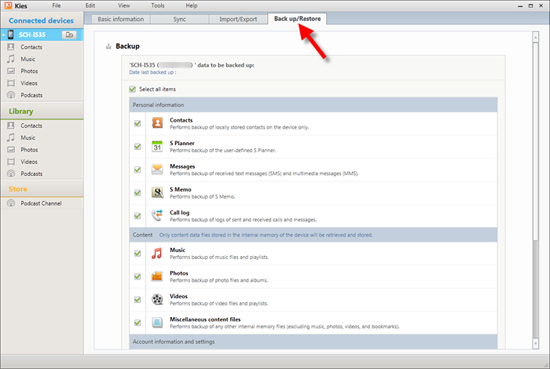 Read Also:
> 2.3 Samsung PC Studio
Overview:
Designed for seamless file transfers between Samsung phones and PCs, Samsung PC Studio functions as a file manager with unique features. It allows sending SMS from the computer, backing up phone files, editing images, compressing images for space efficiency, converting music formats, and updating Samsung firmware.
Main Features:
Send SMS from the computer for added convenience.
Tools for customizable image editing.
Compress images during import to save storage.
Convert music formats for better compatibility.
Advantages:
Disadvantages:
Some features may not work with all Samsung phone models.
Does not provide root access to the device for advanced users.
Effectiveness depends on the chosen connection method.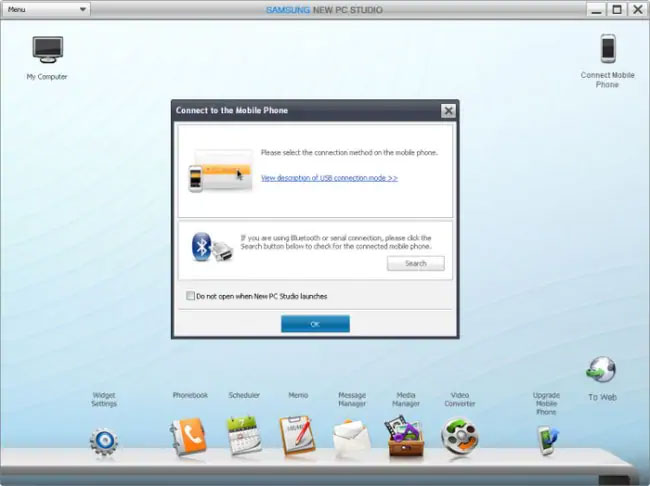 > 2.4 MoboRobo
Overview:
MoboRobo excels in efficiently backing up and managing Samsung devices. With user-friendly tools for data backup and restoration, this Samsung PC application suite offers a seamless experience for organizing, transferring, and managing diverse data types on Samsung devices.
Main Features:
Features an intuitive and easy-to-use interface.
Facilitates easy file transfers between devices and PCs.
Work for both Android and iOS devices.
Manages apps, allowing installation and removal from the computer.
Advantages:
Disadvantages:
Updates may not be as frequent as with some other device management tools.
Some users report limited or less responsive customer support.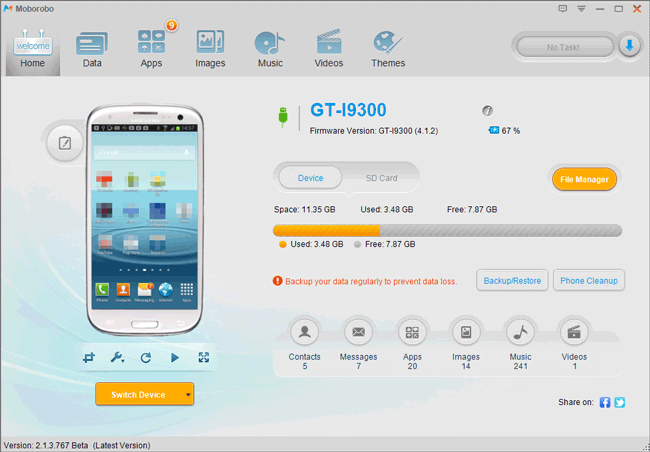 > 2.5 MOBILedit
Overview:
MOBILedit, another excellent Samsung PC suite, enables comprehensive phone management, including data transfer (photos, videos, music, documents), backup/restore functions, and content browsing. Plus, it supports features like deleting duplicate contacts, cloud storage, sending text messages from your computer, and multimedia file editing, including personalized ringtone creation.
Main Features:
Easily navigate and explore phone content through a folder structure.
Tools to delete duplicate contacts for a streamlined list.
Store phone data securely in the cloud.
Send texts directly from a connected computer.
Edit multimedia files and create personalized ringtones.
Advantages:
Efficiently handles various devices.
Comes with a comprehensive base package.
Disadvantages:
Certain MOBILedit features may not be accessible across all mobile phones.
Lacks advanced functionalities like root access and population options.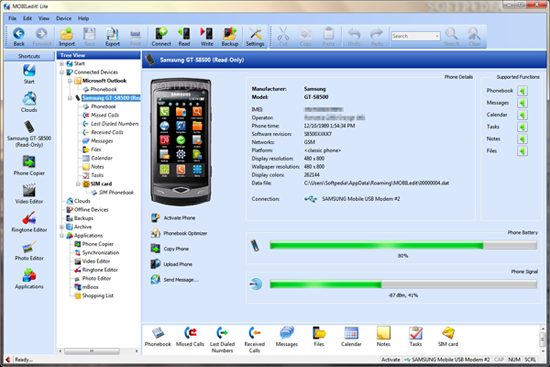 > 2.6 SnapPea
Overview:
SnapPea, a free utility from SnapPea, organizes your phone's content from your PC. The user-friendly interface makes this Samsung PC suite for Windows 11/10/8/7 a great alternative to file organizers like AirDroid Desktop or Feem for Windows. It operates wirelessly, eliminating the need for a USB cable or any other connector.
Main Features:
Easy-to-use interface for efficient content management.
Requires installations on both the phone and PC.
Works wirelessly, eliminating the need for a USB cable.
Advantages:
Provides a summary view of features.
Includes access to Google Play.
Allows reading and responding to texts from the PC.
Disadvantages:
Live preview mode operates too slowly.
Promotes a 3rd-party app store.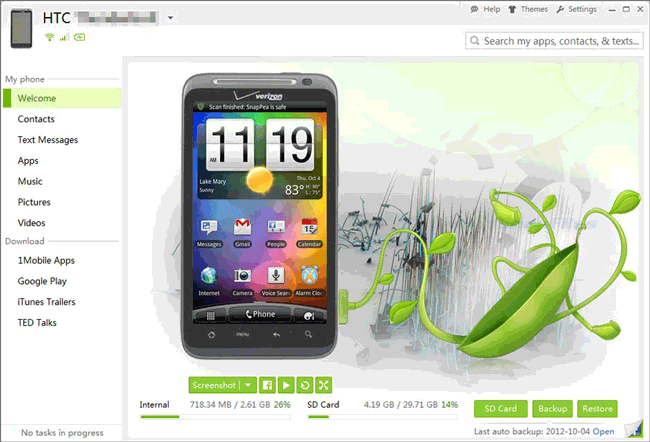 Calling It a Wrap
Concluding this article, individuals may lean towards official Samsung PC suites like Samsung Kies or Samsung PC Studio in the quest for the best tool. Yet, experienced Samsung users understand while official tools are free, they often lack compatibility and stability.
No one desires a scenario where the device goes unrecognized, the software fails to function, or the computer crashes during data management or backup. Consequently, opting for a professional and secure program like MobiKin Assistant for Android is a prudent decision. So, feel free to download and explore its capabilities now.
Related Articles:
How to Connect Samsung Phone to PC/Windows Computer? 6 Approaches Are Here
6 Methods to Retrieve Deleted Text Messages on Samsung S23 Ultra, S22 Ultra, S21, etc.
3 Brilliant Ways to Transfer Photos from Samsung to USB Stick/Flash Drive
How to Bypass Google Account Verification on Samsung Devices [5 Means]
Does Samsung Smart Switch Need WiFi to Work? Here's Everything You Want to Know