[Solved] Samsung Galaxy S9/S8 Cannot Connect to Wi-fi, How to Fix It?
A wireless network can make the Samsung S8 download or run the applications which need to connect to internet faster. So, it would be a sad news that Galaxy S8 fails to connect to Wi-fi. Nonetheless, you don't have the need of thinking it too terrible as well cause the problem can be solved by yourself simply. And here are 4 easy solutions to fix Samsung Galaxy S8 cannot connect to Wi-fi issue for you to refer to.
Part 1. Reasons for Wi-fi Connection Failure on Samsung S8
In general, the issue that Samsung Galaxy S8 fails to connect to Wi-fi is caused by several main reasons. These reasons are:
- Software error/bugs. It is possible that the operating system you are using is too old and you need to update your software. A software update can fix the bugs in the previous system normally.
- Poor Wi-fi Signal. Sometimes the signal of Wi-fi might be too weak to be detected or used. So you can change your position to receive the Wi-fi or check the speed of the connected network.
- The router does not work well. The Wi-fi on mobile phone comes from router so it won't be able to work well when the router goes wrong. Thus, just check the status of router at first.
Part 2. Solutions to Fix Samsung Galaxy S8 Cannot Connect to Wi-fi Issue
Now, let's see how to fix the problem that Samsung Galaxy S8 cannot connect to Wi-fi. Here are 4 solutions for your reference.
1. Restart your Samsung and reconnect Wi-fi on it
This is the simplest way to solve the problem- you only need to:
- Turn off the Wi-fi on your phone and then long press the Power button to switch off the device.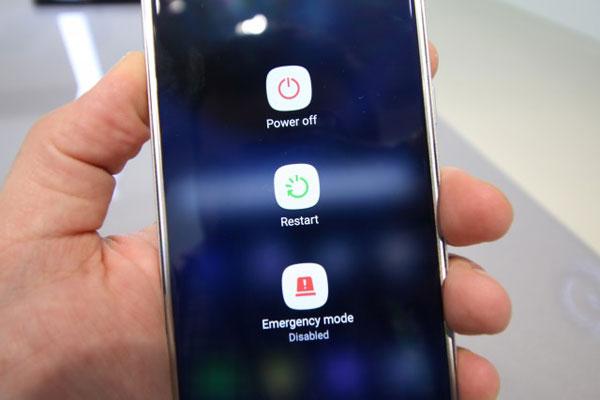 - Just wait for a while and then restart your Samsung phone.
- When your phone is opened, just swipe down the screen and toggle on the Wi-fi feature again.
Then, just try to use the applications like WhatsApp on your phone to send a messages to your friend and see if it is successful.
See also:
How to Solve Common Problems with Samsung S8 and S9 Plus?
Samsung S7/S8 Fails to Send & Receive Messages, How to Fix It?
2. Forget the Wi-fi you are connecting
It is probable that there are something wrong with the Wi-fi which your phone is currently connected to. For example, the password of the network is changed but you are still using the old one. In this case, you can wipe the Wi-fi on your phone and then re-add it manually. The details are as below:
- Click on the icon of Settings on your Samsung screen.
- Select Connections and then tap on Wi-fi.
- Elect the Wi-fi name that you are using and tap on Forget to wipe it.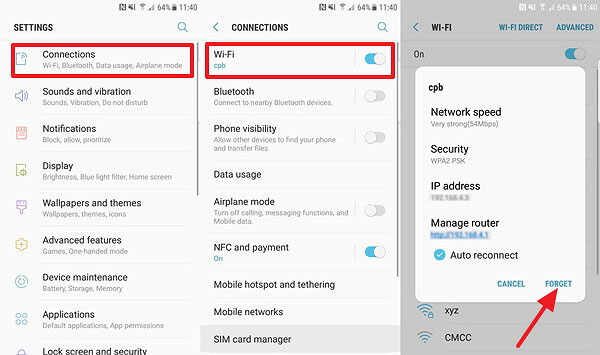 - Then, click on Add network to enter the Wi-fi name and password once again to reconnect it.
3. Check out the router
As we mentioned above, router plays an important role in mobile phone Wi-fi connection. So it is essential for you to check the running status of the router. If you have no idea whether it works well or not, you can try to restart the router or even reset your router to fix the issue. After that, you can reconnect your device to Wi-fi to see you can hook up to Wi-fi this time.
4. Reset Network Settings on Samsung S8
Another possibility of Wi-fi connection failure might be Wi-fi caches. It seems that Wi-fi does not create any caches on the device but this thought is wrong. Wi-fi networks produce cached data as well, especially when you connect a bunch of wireless networks on your phone. Hence, you are advised to reset the network settings on your phone to clear these caches.
- Visit Settings> General management> Reset.
- Then, just select and tap on Reset network settings from the options.
- Finally, click on Reset Settings to remove them from the device.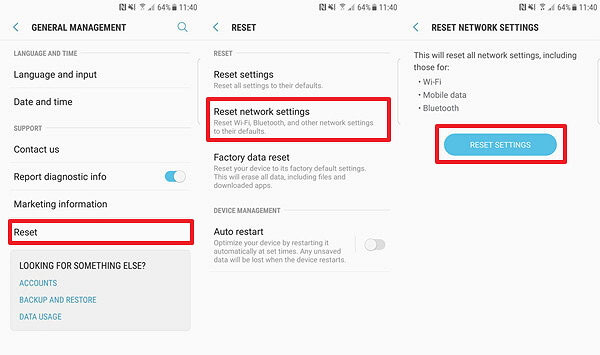 This operation will reset all the network settings on your phone, including Wi-fi, cellular data and Bluetooth.
Related Articles:
Settings Has Stopped on Samsung S8? 4 Solutions to Fix It!
Full Solutions to Fix Samsung Screen Starts Flickering
Essential Tutorial about Google Pixel Backup and Restore (Ins and Outs)
Can You Recover Deleted Text Messages on Google Pixel? Methods Are All Here!
Google Pixel Data Recovery: Recover Deleted Files on Google Pixel 4/3a/3 XL/2
How to Transfer Data from Samsung to Google Pixel [Practical Guide]