How to Fix Samsung Kies Fails to Work Issue?
As the official backup tool for Samsung device, Kies is well-received among the Samsung phone users. But Kies is not a perfect tool and it is impossible to run well all the time. In other words, it is normal that users may meet some problems when they use Kies. Thus, in order to help users fix Samsung Kies fails to work issue, this article is written to offer you the methods to solve different Kies problems.
1. Fail to Install Samsung Kies
Some users might be too unfortunate that they meet the issue at the very beginning- the installation of Samsung Kies. The common issue is that Samsung Kies stuck at installing hotfix, which would be caused by anti-virus, security software, corrupted setup file of Kies, computer issues and so on. Hence, if you want to fix the Kies installation failure, you can:
- Momentarily disable the firewall, anti-virus, anti-malware, anti-spyware or other security software on your computer because these programs might block Kies. Here we will take firewall as an example. To turn off the firewall (on Windows 8), you can navigate to Control Panel> Windows Firewall> Turn Windows Firewall on or off. Just tap on Turn off Windows Firewall and click OK.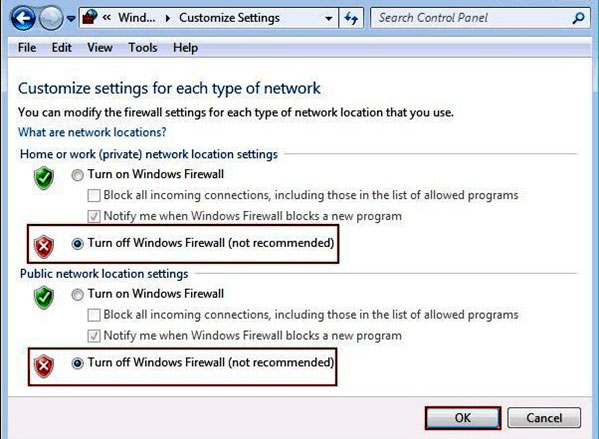 - Download the latest version of Kies. The Kies that you downloaded may be the outdated version so just delete it from your PC and then download the most recent Kies from the official website of Samsung. After getting the new software, you can try to install it again.
- Run as the administrator. Only the administrator can install Samsung Kies on computer so you need to get the administrator rights at first. Here, the methods to be the administrator of computers with different systems are disparate so you'd better find the means on internet and change your identity by following the instructions.
- Update your computer. The system version you are using might be unsuitable for Samsung Kies. Thus, you can try to update your computer to solve the problem. You can go to Control Panel> Safety and Security> Windows Update to check if there is any update available. Meanwhile, you need to inspect whether your computer meets the minimum system requirement of Kies.
See also:
Backup & Restore Samsung Phone Data with Kies
2. Cannot Open the Kies
Another situation is that you can install Kies on your desktop computer successfully but fail to launch it. But don't worry, it is resolvable as well. If you are facing this problem, you can attempt the methods below:
- Turn to KiesHelper. When you meet this situation, just close Kies on the computer and then go to C:Program Files> Samsung> Kies. Next, open the KiesHelper which can bring up Kies. Then you can fix the error according to the given suggestions.
- Run Kies as administrator. This means is simple- right click on the software and tap on the option Run as administrator. The operation would only take you several seconds so you can have a try.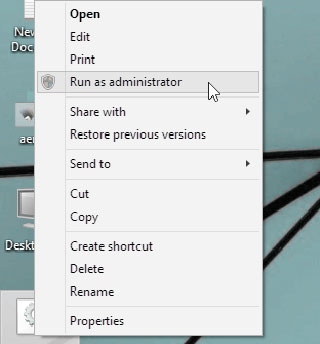 3. Contact/Calendar Syncing Does not Work
Using Samsung Kies to sync contacts or calendars to Outlook/Gmail is also a tendency. But while syncing the data, you would receive a message says "An error has occurred while preparing to sync- task cancelled" or simply "unknown error". Or the program just stops without giving any prompt. In this case, there are two ways you can try to fix the error:
- Initialize syncing log. You can solve the problem in Kies directly by moving to Tools> Preferences> Device and check all the items under Initialize Syncing Log.
- Set Outlook as default program. This means should be performed on your computer. You need to navigate to Control Panel> Programs> Default Programs> Set Default Programs and then choose Outlook or Gmail from the menu and click on Set this as default. Finally, tap on OK to finish the process.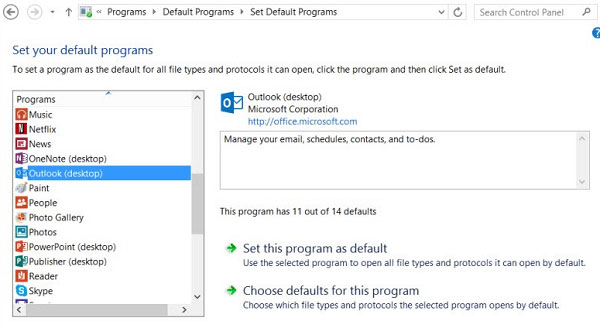 Bonus: Alternative to Samsung Kies
In fact, Samsung Kies is not the only option to backup or transfer Samsung files and you can choose other means to complete the Samsung data moving process. Here, using a third-party assistant software is the strongest recommendation since it would be more quickly and safer. And among thousands of Samsung assistant software on the market, MobiKin Assistant for Android (Win & Mac) would be the most reliable one.
This wonderful tool not only allows you to backup and restore your Samsung data within one simple click but also enables you to sync various kinds of files on the device, including contacts, SMS, images, songs, videos, etc. You can download the free trial of this program to make an attempt at first.
Steps to Backup & Restore Samsung phone:
Step 1. Connect your Samsung phone to computer via USB cable or Wi-fi and launch the program meanwhile. Here if you choose a USB connection, you need to enable USB debugging on your phone and then follow the prompts on the screen to make your phone to be recognized.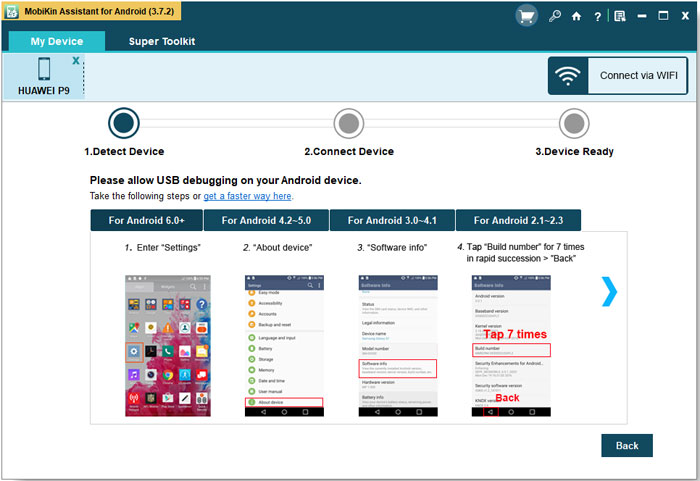 Step 2. Select Super Toolkit on the top menu and then click on Backup or Restore.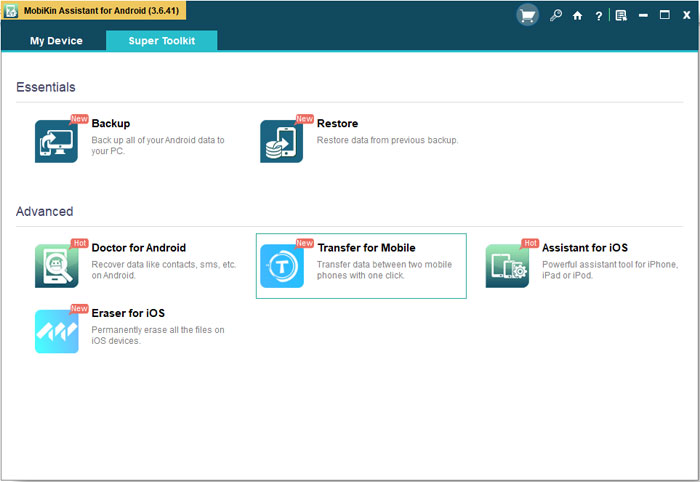 - Backup Samsung data: tap on Backup option and then a pop-up window with several categories will appear. Just check the file types that you want to backup and click on Back Up to start the syncing process.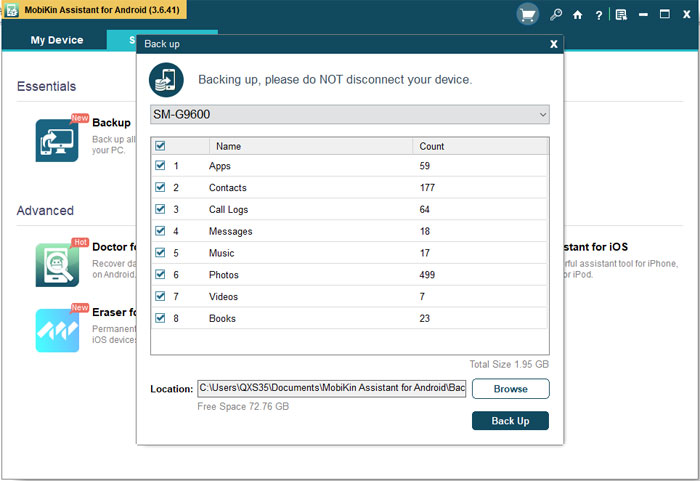 - Restore Samsung data: Click Restore option and tick the files you wish to restore. In the end, hit Restore to begin the process.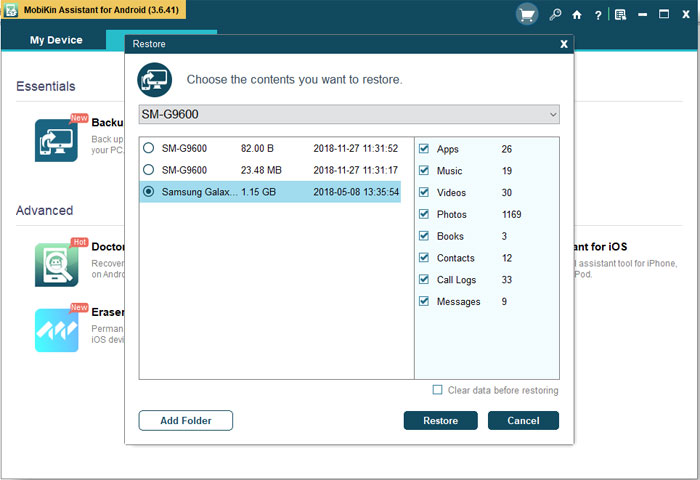 Ending Words
The most important thing that MobiKin Assistant for Android is better than Samsung Kies is that it supports almost all Android devices, including Huawei, HTC, LG, Xiaomi and so on. And Samsung Kies only supports some Samsung galaxy series devices. It is recommended that every Android user's computer is equipped with Assistant for Android.
Related Articles:
Samsung Cloud Backup Failed, How to Fix It?
Complete Guide to Fix Samsung Tablet Problems
Ultimate Guide on How to Recover Deleted Songs/Music from Android
How to Transfer Contacts from Computer to Android Phone?
3 Ways to Backup Android Contacts to Google/Gmail Easily
How to Recover Deleted Contacts from iPhone 14/13/12/11/XR/XS/X?