How to Delete History on Android Phone or Tablet?
Referring to history on Android devices, lots of people will think that it means Google browsing history, right? But actually, there are so many different history on your Android devices, and these history always contains lots of your personal privacy info. For example, people can know your recent contacting person by viewing your call history, get all your privacy info with your friends by reading your message history, learn what you're looking for by going through the browsing history on all kinds of searching engine, including Google, IE, etc. So you can easily find that your personal privacy info face a high risk of data losing, especially when your phone is fallen into a "dangerous" man. Thus, how to protect your personal info from leaking out?
See Also: How Can I Backup & Restore Android Phones
Tool You'll Need:
In most situations, you'll get a recommendation of deleting Android history to avoid leaking out your personal info, so you follow these suggestions to delete history on Android manually, and quickly find they're not deleted permanently. All these deleted data can be restored with a special data recovery software, so in order to delete your call history, google browsing history or other history on Android devices, you'd better to ask help from a professional data erasing software for Android - Android Data Eraser. With it, you can erase all types of history on Android with zero opportunity to restore. So you'll never worry about your personal info in danger.
Now, you can click the below icon to download this powerful tool on your Windows or Mac computer, then follow the instructions to begin your own erasing process.
Can't Miss:
How to Delete Text Messages on Android Permanently
How to Optimize Android Phones Completely
3 Simple Clicks to Erase or Wipe out Android History for Windows/Mac
Step 1. Connect your Android device to the computer via USB cable, then launch the program and install the MobileGo connector on your device.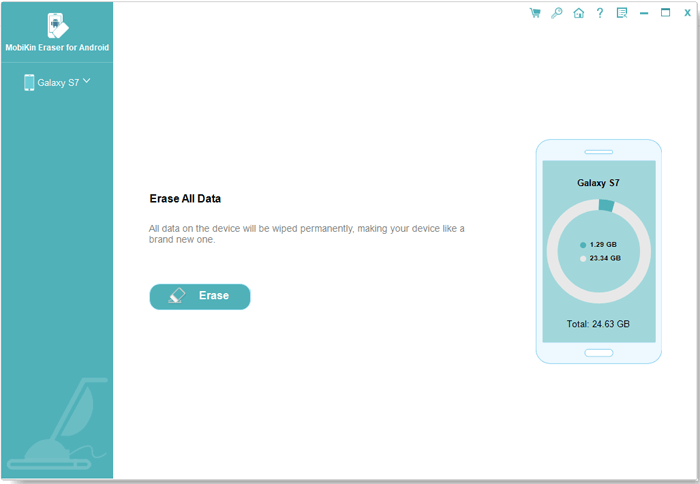 Step 2. The program will detect your device and you're required to select the Erase All Data mode.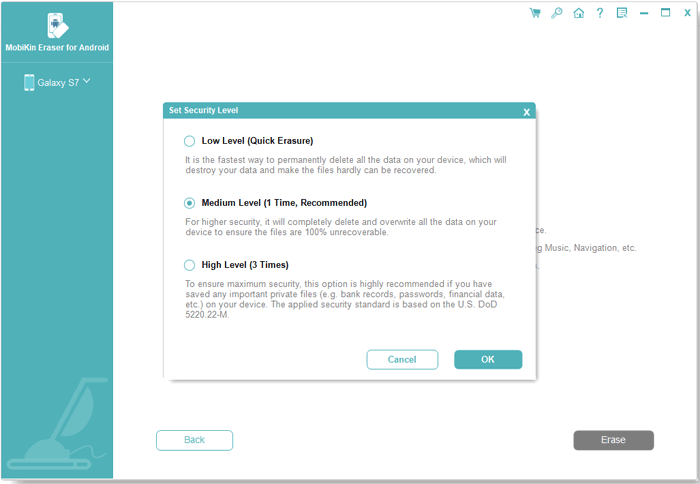 (Note: The current version only allows you to erase all data, so you are suggested to make a phone backup ahead of time. And it will be improved in the coming versions.)
Step 3. After that, type "delete" on the box to confirm your action and then you can simply click "Erase Now " button to begin the whole process.
You May Also Interested in:
Extended Knowledge
Just like we mentioned at the beginning, there are so many history existing on your Android device, so here, we could like to teach you how to delete these history on Android manually. You can use it to clear your Android history, especially when you don't need to wipe them out permanently.
1. Delete Google or Other Browsing History on Android
You only need to tap the "Options" menu on the upper right corner of the screen after opening the browser on your Android phone or tablet. Then select "Settings" and "Privacy & Security" in the coming options. After that, you can choose "Clear History" to remove the history out at once.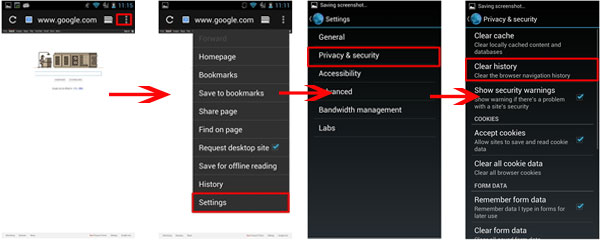 2. Clear Android Keyboard History
It is quite easy to clear keyboard history on Android, here we'll take the Samsung phone as an example. Directly find "Language and Input" under the "Settings" on your Android device, now you can find "Samsung Keyboard" to set it. Generally speaking, Samsung Keyboard is the default inputting method on your phone, so here, you can select it and tick "Predictive text". After that, two clearing options will be shown for your reference - Clear Server Data and Clear Personal Data.

Related Articles:
How to Recover Deleted Contacts from Android Phone