What to Do If I Fail to Erase Android Data?
For some reasons, you may fail to erase your Android data with MobiKin Eraser for Android. In this case, you should first figure out the reasons for the failure so that you can solve the problem more effectively and quickly. Then what are the possible causes of the erasure failure? The followings are some main reasons and their corresponding solutions. Just take a look and follow the methods to fix the issue.
Reason 1. The Scanning/Erasing/Overwriting Process is Interrupted
To permanently remove your phone data, the Android data eraser tool would scan, erase and overwrite your device. If one of these 3 processes is interrupted, the erasure will doubtlessly be failed. And the interrupted process here includes 3 cases:
- You click on the "Stop" button or the device is disconnected during the scanning process;
- You tap on the "Stop" button or the Android phone is disconnected during the erasing process;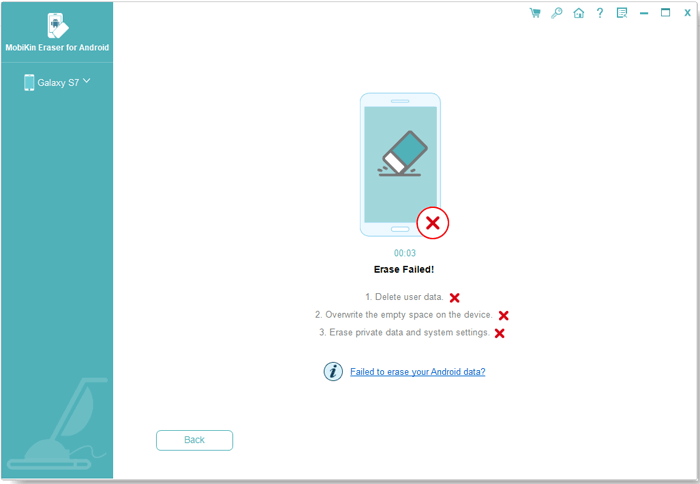 - Users hit the "Stop" button or the mobile phone is disconnected during the overwriting process.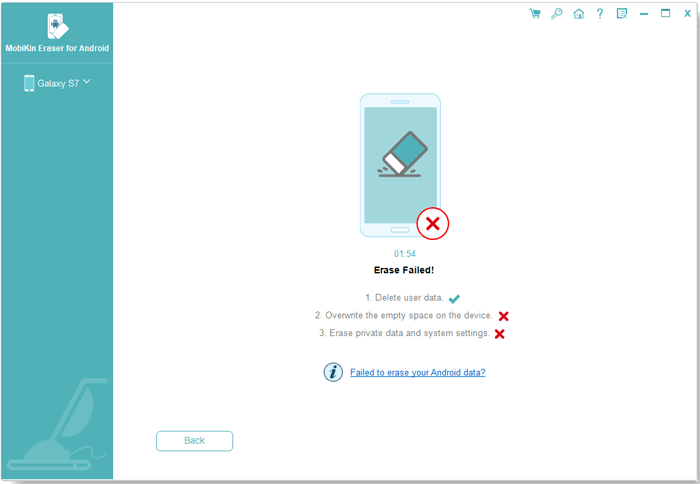 Solutions:
- Tap the "Back" button on the "Erase Failed!" interface and start the erasure once again;
- Close the program and launch it again and then reconnect the Eraser for Android tool.
Reason 2. Your Android Phone is Disconnected
Some mobile phones might be disconnected when the screen is black. So if you find the program remains unchanged for a long time while overwriting data and the "Allow USB debugging" prompt pops up on the phone again, then the erasure may fail in this case.
Solution:
- Disconnect your Android phone and reconnect it. After that, you can re-try to erase your device.
An unsuccessful data overwrite would cause a lot of garbage data being filled into the mobile phone, which requires users to erase the device again.
Reason 3. Have Not Authorized the Required Permissions
Another possible reason for the failure is that you may not authorize the program to delete or modify the contacts, SMS, call logs, etc. on your device.
Solution:
- Authorize the permissions on your mobile phone when the related request pops up on the device.
Ask Our Support Team for Help
If you still fail to erase your Android data by using the solutions above, please tell us the details via the email: support@mobikin.com. Our support team will try their best to help you solve the problem. In addition, if you have other problems while using our products, please go to the Product FAQ page to find the solutions.
Related Articles:
2 Ways to Delete Voicemails on iPhone
How to Delete WhatsApp Chat History on Android/Samsung
How to Delete Photos from iPod touch/classic Easily