4 Tried-and-tested Methods to Not Transfer Photos to New iPhone 14/13/12/11/X/8
"I want to set up my new iPhone and need to transfer contacts, notes and messages, apps, etc. I don't want to transfer photos to new iPhone. Any tips?" - from Apple Support Community
When setting up a new iPhone, it is common to selectively transfer specific files, excluding photos, from your old device. This can be particularly useful when you only need to migrate certain types of data to protect your privacy. In such scenarios, it's important to know the methods available for achieving this goal. Here, we will discuss how to not transfer photos to new iPhone in the 4 most advisable ways. Now let's get started.
Way 1: How to Transfer Everything Except Photos to New iPhone via iCloud Backup
iCloud enables you to disable iCloud Photos, create a backup, manage photos on iPhone you want to restore, and ultimately set up your new iPhone using its backup. Learn how to not transfer photos to new iPhone via iCloud backup:
To create a backup, disable "iCloud Photos" by going to "Settings" > [your account] > "iCloud" > "Photos".
Next, navigate to "iCloud Backup" and tap "Back Up Now" to initiate the backup process.

Keep in mind that if iCloud Photos is enabled, your photos are automatically stored in iCloud and won't be included in the backup.
If you want to manage the photos you restore on your new iPhone, go to "Settings" > [your name] > "iCloud" > "iCloud Backup".
Select your device and delete the unwanted photos from the "Photos" section.
After successfully backing up your data on the old iPhone, proceed to set up your new iPhone.
During the setup, when you reach the "Apps & Data" screen, choose "Restore from iCloud Backup".
Recommended Resources:
Way 2: How to Stop Photos from Transferring to New iPhone with iCloud Sync
By disabling iCloud Photos on your current iPhone, the images will not be synced to iCloud, and they won't transfer to your new iPhone when setting it up. Keep in mind that this will only prevent the photos from being transferred. Next, how do I stop my photos from transferring to my new iPhone?
Access the "Settings" on your old iPhone.
Navigate to [your account] > "iCloud" and enable the corresponding toggle switches for the desired data. (iCloud backup failed?)

On your new iPhone, complete the setup process.
Open the "Settings" app and locate the "iCloud Sync" option.
Enable it to initiate the synchronization.
Bear in mind that the completion of the sync won't be indicated; please manually check the status within the relevant app on your new iPhone 14/13/12/11/X/8.
Way 3: How to Transfer All Data Except Photos to a Different iPhone Using iTunes
Can I choose not to transfer photos to a new iPhone without iCloud via iTunes? Of course! Preventing photo transfer during the restoration is a straightforward task. But please remember to back up your iPhone, excluding photos using iTunes. By making some adjustments to the Settings, you can ensure that all your photos remain intact on your old iPhone. Here are the executable steps:
Verify that your latest photos are included in the backup.
Connect your iPhone to the computer using a Lightning cable.
Launch iTunes and locate your phone by clicking on its icon.
From the left column, uncheck "Sync Photos".

Proceed with syncing your phone, and once it's done, perform a backup.
After the backup is over, disconnect your iPhone and connect the target device.
When this device appears in iTunes, go to the "Summary" tab and choose the option to restore your iPhone.
Select the backup you created earlier to initiate the restoration.
You May Also Be Interested to Know:
Way 4: How to Not Transfer Photos to New iPhone with One Click
If you require transferring files other than photos from one iPhone to another, you can rely on MobiKin Transfer for Mobile (Win and Mac) for assistance. This software efficiently and swiftly copies content across various devices, irrespective of whether they run on iOS or Android. Additionally, it ensures a seamless transmission without any errors while preserving the integrity of the photos on the sending device.
Key characteristics of MobiKin Transfer for Mobile?
With a single click, you can easily prevent photo transfer to your new iPhone.
Seamlessly transfer files between iOS to iOS, iOS to Android, Android to Android, and Android to iOS devices.
Effortlessly copy such files as iBooks, bookmarks, contacts, notes, calendars, text messages, photos, documents, videos, apps, and more.
Work well with overall iDevices, including iPhone 14/14 Plus/14 Pro (Max), iPhone 13/13 Pro (Max)/13 mini/12/12 Pro (Max)/12 mini, iPhone 11/11 Pro/11 Pro Max, iPhone X/XR/Xs/Xs Max, iPhone 8/8 Plus, iPhone 7/7 Plus, iPhone 6/6S/6 Plus, iPod touch, iPad, etc.
It won't compromise your privacy.
How can I transfer all data except photos to a different iPhone via Transfer for Mobile?
Step 1. Run the program and link iPhones to the computer
Before proceeding, make sure the program is successfully installed on your computer. Connect both of your iDevices to the computer using USB cables. Then follow the on-screen instructions to let the devices be recognized.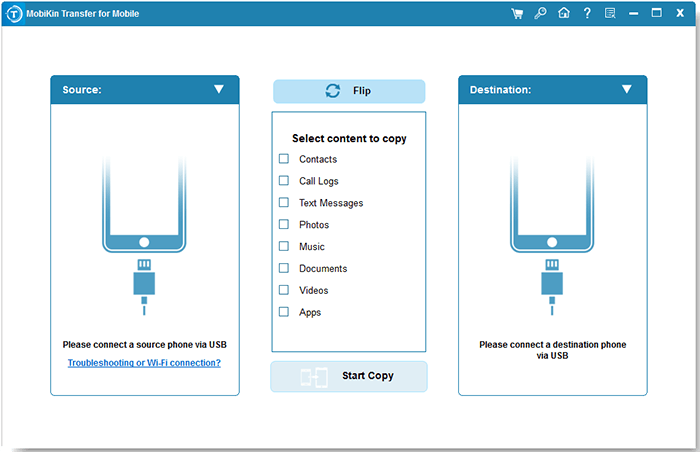 Step 2. Get your iPhone recognized by the software
Once connected, the software will identify your old iPhone as the "Source" and the new one as the "Destination". If the devices are displayed incorrectly, simply click on the "Flip" option.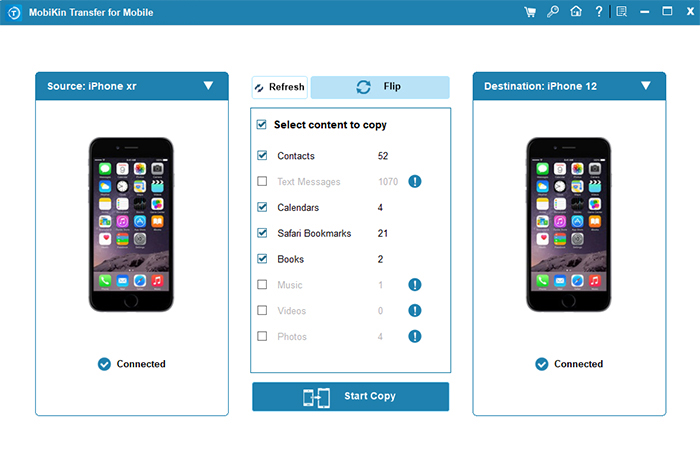 Step 3. Start to not transfer photos to new iPhone
In the file list in the middle of the screen, choose the specific types of data you wish to transfer. Finally, click the "Start Copy" button to commence the immediate transfer from one iPhone to the other. That's it!
FAQs on iPhone Photo Transfer
Q1: How to remove photos from iPhone but not iCloud?
Fortunately, there is a quick method to delete photos from iPhone but not iCloud. Here are the directions:
Open the "Photos" app on your iPhone.
Locate the photo(s) you want to remove.
Press the picture to view it in full screen.
Look for and tap the "trash" can icon at the bottom right corner of the screen.
A prompt will appear, asking if you want to delete the photo.
Select "Remove from iPhone"/"Remove from this iPhone".
Q2: Why are my photos showing up on my friend's iPhone?
You may use the "iCloud Photo Sharing" feature to share photos with your friend's iPhone. If so, you can now discontinue the sharing by following the instructions:
Open the Photos app on your iPhone.
Go to the "Albums" tab.
Select the shared album.
Tap "Edit" in the top right corner.
Tap the red "Delete" button.
Confirm by tapping "Delete Album".
Q3: Will my photos be lost if I cancel iCloud?
When you cancel your iCloud subscription, it results in the loss of all your data stored in the cloud, including photos. Nevertheless, if you have a backup of your data, you can restore it to your device even after canceling iCloud.
Wrap-up
Going through the passage, you'll find that MobiKin Transfer for Mobile is the ideal solution for transferring files to a new iPhone, excluding photos. With its intuitive interface and salient features, this software simplifies the job and allows you to select specific files like contacts, notes, books, and more while keeping your photo library untouched. Whether you're tech-savvy or a beginner, this tool can always offer a reliable and hassle-free solution.
Related Articles:
3 Incredible Ways to Delete iPhone Photos from PC/Mac
4 Ways to Move Photos from iPhone to iCloud [with Additional Tips]
6 Most Recommended Ways to Transfer Photos from Android to iPhone 14/13/12/11/X/8
Troubleshoot "Unable to Share Photos from iPhone" with 9 Common Tricks
3 Easy Ways to Recover Deleted Photos from iPhone without Backup