How to Remove Songs from iPod [Step-by-Step Instructions]
Syncing music to iPod with iTunes can be duck soup for many of us. But as for how to delete music from iPod, some folks may not be old hands, especially for some earlier iPod models such as iPod shuffle/Classic/Nano. Perhaps you've found the right way to remove a small amount of music, but what if there's tons of songs to remove, and meanwhile, you want to keep some of them in iTunes library?
To solve this problem effectively, we'll cover 5 practical methods in the following, including an unexceptionable music removal tool, which can meet your personalized needs.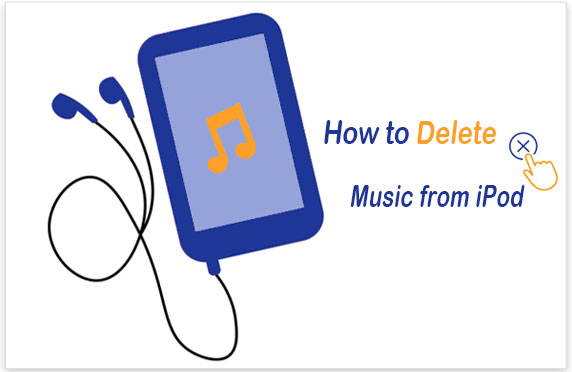 Method 1: How to Remove Songs from iPod Using Settings App
"How do I delete songs from my iPod without iTunes?" This is what posted by a user from the Apple Forum. Well, it's true that many guys are not used to iTunes, and the main reason might be it doesn't quite tally with users' habits, in terms of its design and functionality.
In fact, we can remove music from Settings app on iPod directly. However, to delete many, but not all, you need to select and delete songs one by one.
How to delete/remove songs from iPod from Settings app:
Open the Settings app on iPod. Then touch General > iPod Storage > Manage Storage.
Scroll to Music section and tap it. After that, press Edit tab.
Now swipe left on any artist, album, or song. Or simply go for All Songs. Finally, tap Delete button to remove undesired items from iPod.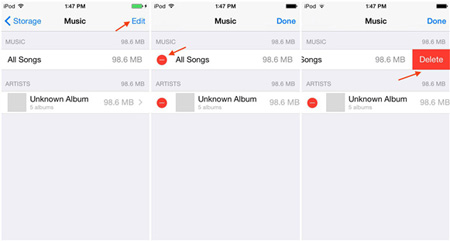 Related Passages:
Method 2: How to Delete Music from iPod via iOS Assistant
Do you want to remove songs from iPod easily and quickly in accordance with your personal preference? Or need to stay out of the possible trouble on music management brought by iTunes? OK, simply pick iOS Assistant, for it's a dab hand at manipulating any iOS devices. Plus, it is an excellent iOS music manager. For example, you can avail of it to open and play iPod music or create music playlists on computer directly.
Other highlights of iOS Assistant:
Give you the power to delete iPod/iPhone/iPad music in a batch or selectively, without erasing them from iTunes library.
Transfer songs from iPod to PC/Mac as a backup, and import music from computer to your iPod with ease.
Manage other files on iDevices, including photos, contacts, text messages, documents, apps, and others.
Any operation you do on it will be kept confidential from anyone.
Work on various iOS devices, containing iPod touch 5, iPod touch 4, iPod touch 3, iPod classic 3/2, iPod shuffle 4/3/2, iPod Nano 7/6/5/4/3/2, and iPhone 11/11 Pro (Max), iPhone X/XS/XR/XS Max, iPhone 8/8 Plus, iPhone 7/7 Plus, iPhone 6/6s/6 Plus, iPad mini/Air/Pro, etc.
Here's how to delete all songs or many of them from iPod:
Step 1. Install the downloaded tool, and open it on computer. Connect iPod to this computer via a USB cable. The program will then detect your iPod and display it on the interface.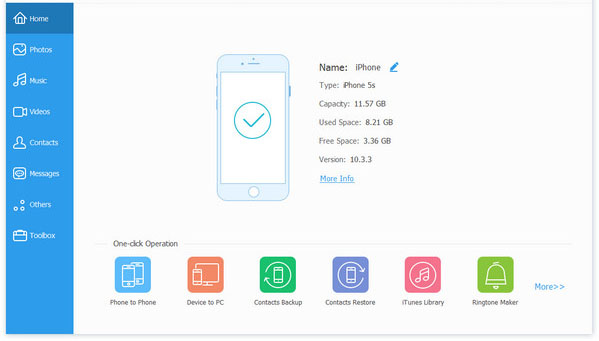 Step 2. Click Music option from the left menu, and All Music on iPod will be displayed on the screen. They should be categorized as Music, iTunes U, Podcasts, Ringtones, Audiobooks, Voice Memos, etc.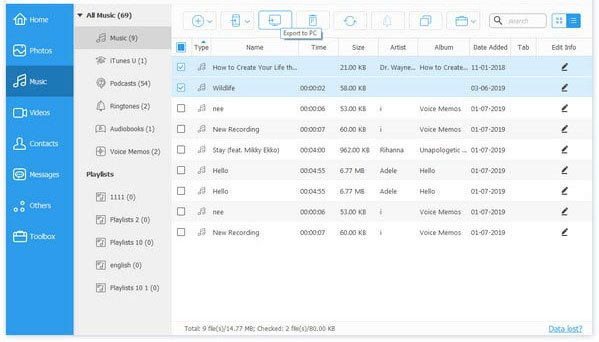 Tips: Here, you can enter the names of your desired songs in the search bar to find what you want.
Step 3. Check the music files and mark the ones you intend to remove. Then, tap Delete icon (like a Trash) from the top menu. Soon, all the chosen songs will be removed from the iPod but remain on iTunes.
Can't Miss:
Method 3: How to Delete a Song from iPod with Music App
"Can I delete songs directly from my iPod in other ways?" Well, it depends. Some newer iPods like iPod touch series and iPod Nano 7, working with simplified versions of iOS, are the qualified devices, on which you can remove songs from the Music app. Just check if your iPod fits the bill before trying this method.
Let's see how to delete music from iPod with Music app:
For iPod with iOS 8.3 and older: Start Music app > Find and select your unwanted music > Slide to the right until the Delete button turns up > Touch this button to remove the selected stuff.
For iPod with iOS 8.4 and up: Open the Apple Music app > Select My Music > Hit the songs you'd like to delete > Press "..." alongside the music > Tap Delete and confirm the action to remove songs from iPod.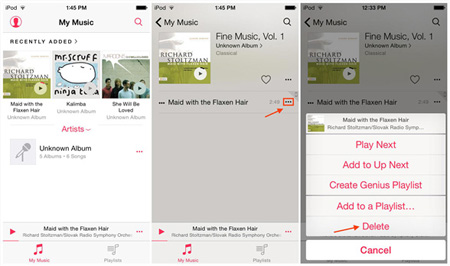 Method 4: How Do I Delete Songs from My iPod but Keep Them in iTunes
Even though iTunes has long been criticized by lots of people, there is no denying that it can play functions on some basic music management, such as solving how to transfer music from iPhone to computer. Plus, you can delete songs from iPod by the feature - "Manually managing music and videos", and do not let them disappear from iTunes.
How to delete songs from iPod shuffle/touch A1367/Nano A1446/Classic via iTunes:
Plug your iPod to computer via a USB cable, and run iTunes on this computer. Your iPod will soon be detected by the iTunes.
Click iPod icon from the upper left corner of screen, and click Summary from the left menu.
Tick on Manually manage music and videos from the options. Next, tap Music on the left pane.
Handpick the songs you need to remove, and click Delete option.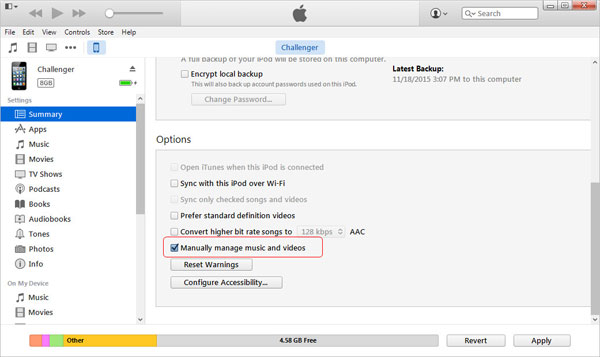 Method 5: How to Delete Music from iPod and iTunes
If you're sure to permanently delete some songs, and don't want them in the iTunes library, you can also access and remove them from the path: Music > My Music > Songs. Then delete unnecessary content and sync the "fresh" iPod with iTunes library.
How to delete songs off iPod and iTunes forever:
Follow the step 1 of Method 4 to get your iPod displayed on iTunes. Next, on the interface of iTunes, click Music icon > My Music, followed by Songs.
Choose the songs you want to remove, and click Delete. Then, at the sight of "Do you want to move the selected songs to Trash or Keep it in the iTunes Media Folder", selecting the former option means deleting them permanently.
After that, to finish the task, just sync your iPod with the iTunes library. (P.S. iPod won't sync with iTunes? Simply click here for fixes.)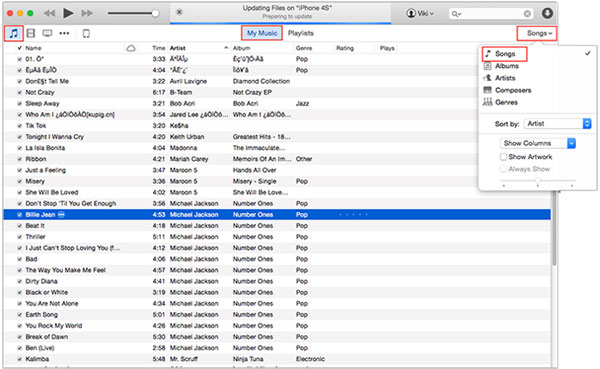 Attention: Please keep in mind that if you switched on iTunes Automatic Downloads on iPod, any future music downloads on other iDevices will continue to copy to the list that was cleared out once.
Wrapping Up
Do you want to delete all songs or many of them from iPod efficiently, without erasing them from iTunes? Do you need to edit the info like the genre, song name, artist on iPod songs? Are you wondering how to convert incompatible music formats into your iPod supported ones?...No tool or method can do all of those except iOS Assistant. Well, just give the smart software a shot, if you are to delete music from iPod as per your requests.
Related Articles:
How to Easily Delete Duplicate Songs on iPod
How to Delete History on iPod touch Permanently
Easy Way to Delete iPod Photo Caches
Can't Add Songs to iPhone with iTunes? Here're Best Solutions!
How to Restore Deleted Music from iPod touch/shuffle
[Solved] How to Transfer Music Files from iPod to Android Phone?