iPhone Stuck on Transferring Data? Quick to Fix Here
Just got a new iPhone 13? Congrats! Now you can't wait to transfer data from your old iPhone to the new iPhone 13 to enjoy all the amazing features that the new iPhone brings. However, an annoying problem appears in front of you, "iPhone transfer stuck on 1 minute remaining". Well, actually you're not the only one with this problem. There are many users in the same predicament as you are looking for simple solutions to get out of it.
To this end, we have conducted a comprehensive study on the issue of iPhone transferring data stuck and proposed multiple methods to help iPhone users in troubleshooting. Let's find out together now.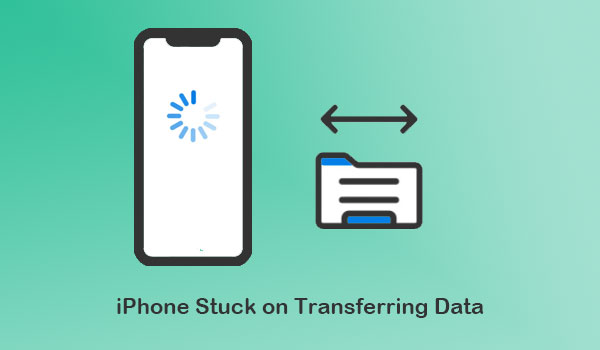 Part 1: Why is My iPhone Stuck on Transferring Data?
In general, the exact cause of "transferring data to new iPhone stuck" has not been found. But according to the experience of iPhone technicians and users, the following reasons may cause iPhone stuck in transferring data.
Poor WiFi connection.
The data on the source iPhone is too large.
Unknown system software problem.
some small mistakes.
Hope the following solutions can help you get rid of the problem. Alternatively, the best iPhone data transfer tool is also available in this guide.
Can't Miss:
Part 2: How to Fix iPhone Data Transfer Stuck?
The good news is that no matter what the reason is, when you get stuck on transferring data to iPhone, you can use the following eight solutions. Before you start fixing this, you need to confirm two things: your old iPhone supports iPhone migration (make sure the device is running iOS 12.4 and later), and both iPhones are connected to the same WiFi network.
Solution 1. Wait more time
If your WiFi network connection is weak or is affected by other factors and there is a network failure, your iPhone may take longer to complete the data transfer, especially if you need to transfer a large amount of data, you may consider it as "iPhone restore stuck on 1 minute remaining". Please be patient for at least 15-20 minutes.
Solution 2. Check the WiFi network condition
When you use the Quick Start to migrate data to the new iPhone 14/13/12/11, both devices need to be connected to the same stable WiFi network. You can go to "Settings" > "WiFi" to check WiFi network condition on the two iPhones.
You can even reset the network settings with one click to resolve any unknown network issues causing iPhone to iPhone transfer stuck. Proceed as follows: Go to "Settings" > "General" > "Transfer or Reset iPhone" > "Reset" > "Reset Network Settings". Finally, enter your password to set it up.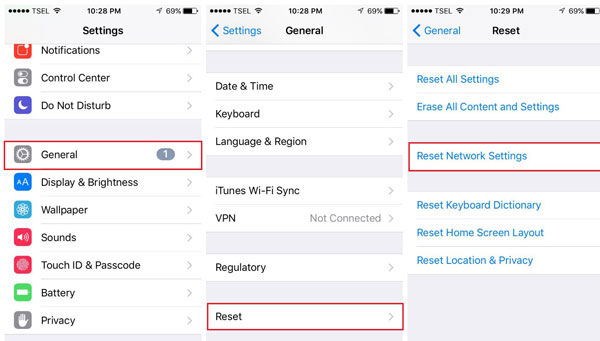 The above operation will only erase all Wi-Fi passwords and Bluetooth connection history, and will not delete other data on the iPhone. After that, you can connect to Wi-Fi to try again.
Solution 3. Change to use Quick Start in a wired way
As mentioned above, the issue of iPhone transferring data stuck can be caused by a weak or damaged internet connection. Well, you can instead use Quick Start's wired transfer mode to transfer data. For this, you need to prepare a Lightning to USB 3 Camera Adapter and a Lightning to USB Cable. The steps are exactly the same as you do wirelessly.
Solution 4. Check the versions of iOS on both iPhones
To use the Quick Start service to complete the iPhone migration, you need to make sure that both iPhones are using iOS 12.4 or later. Therefore, you need to check if the iOS version on both devices is up to date.
On your iPhone, go to "Settings" > "General" > "Software Update" to check. If there is a newer version of iOS, there will be a prompt on the screen. You just need to follow the prompts to update the iOS version.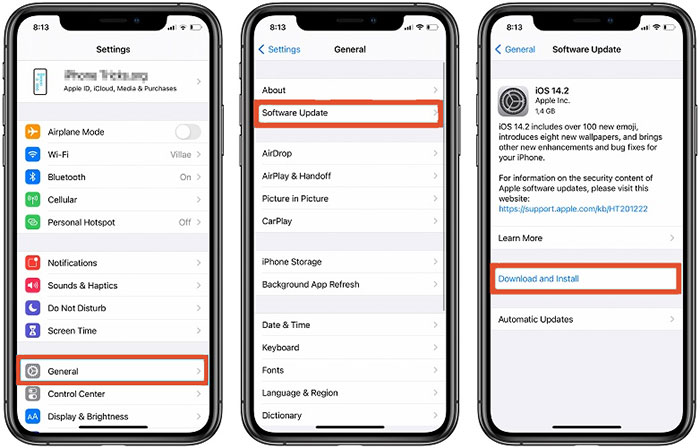 Solution 5. Check out your new iPhone
Many users have reported that sometimes all the data has been transferred, but the new iPhone screen will still show that there is still about a minute left in the data transfer. In this case, you can check your new iPhone's gallery, music or WhatsApp data, etc. If everything you need is there, then you can either cancel the transfer or force-boot your device and start using it.
Solution 6. Restore from iTunes/iCloud Backup
The problem of transferring data to new iPhone stuck mainly occurs when users use the device-to-device migration of Quick Start to transfer data. Well, if you have backed up your old iPhone to iTunes or iCloud before, then you can choose to restore the iTunes or iCloud backup to your new iPhone 13/12/11/X. For specific steps, please refer to the following two guides:
How to restore data from iTunes to iPhone >>
How to restore data from iCloud to iPhone >>
Solution 7. Restart both phones
No matter what kind of phone problems you encounter, restarting is always the most direct and easiest way to eliminate system errors. So it might be a good idea to restart both devices before trying to transfer data again.
For Android devices, you need to press and hold the power button, then select "Restart" from the power options that appear on the screen.
For iPhone, you need to hold down the power button and slide the slider to the right to turn off the device. Then, press and hold the power button again to restart the iPhone.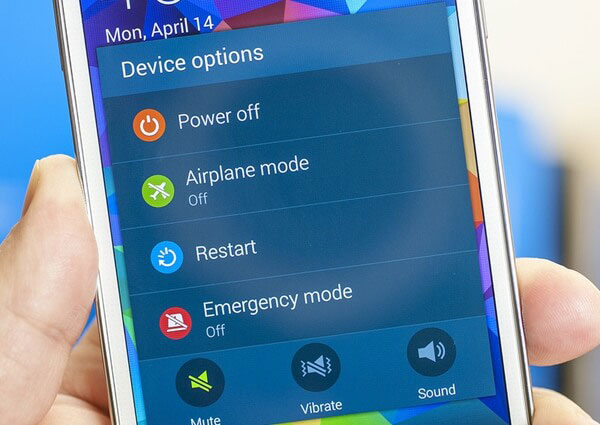 After restarting both phones, you can now go back to Move to iOS, reconnect the devices and try the file transfer again.
See Also:
Part 3: Alternative Way to Transfer Data to New iPhone 13/12/11
If you have tried all the above methods one by one and still can't solve the problem, then you can try to use professional data transfer software to transfer data between iPhones, or between Android and iPhone to avoid this problem. Speaking of which, you can't miss MobiKin Transfer for Mobile. It helps you to transfer from iPhone to iPhone, or from Android to iPhone with just a few clicks without the hassle of network or distance.
What MobiKin Transfer for Mobile work for:
Designed to help iPhone users transfer almost all data to your new iPhone in minutes.
Support transferring contacts, documents, notes, calendar, books, bookmarks, etc. from Android/iPhone to iPhone.
Transfer data directly from one device to another without any iTunes or iCloud backup.
Transfer data from iPhone to iPhone, Android to iPhone, iPhone to Android and Android to Android.
Work on nearly all iPhone models available, including iPhone 14 Pro/14/13/13 Pro (Max)/13 mini, iPhone 12/12 Pro (Max)/12 mini, iPhone 11/11 Pro/11 Pro Max/XS/XS Max/XR/X, iPhone 8/8 Plus, iPhone 7/7 Plus, iPhone SE, iPhone 6/6s/6 Plus/6s Plus, etc.
How to transfer all data to your new iPhone 13/12/11/X by using Transfer for Mobile?
Step 1: Install and launch Transfer for Mobile
On your computer, download and install MobiKin Transfer for Mobile by clicking the icons above. Then, connect your old iPhone or Android phone, and the new iPhone to the computer with USB.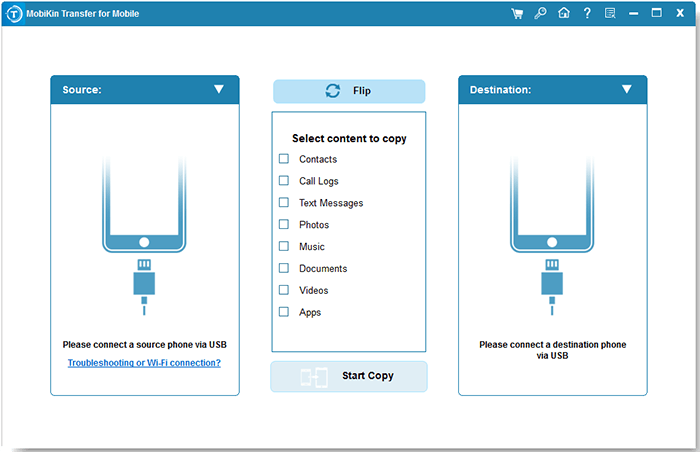 Step 2: Confirm the source and destination phone
Once connected, you should confirm the source device and target device. Data will be transferred from source to destination. So, you can click "Flip" to make sure the new iPhone is the Destination device.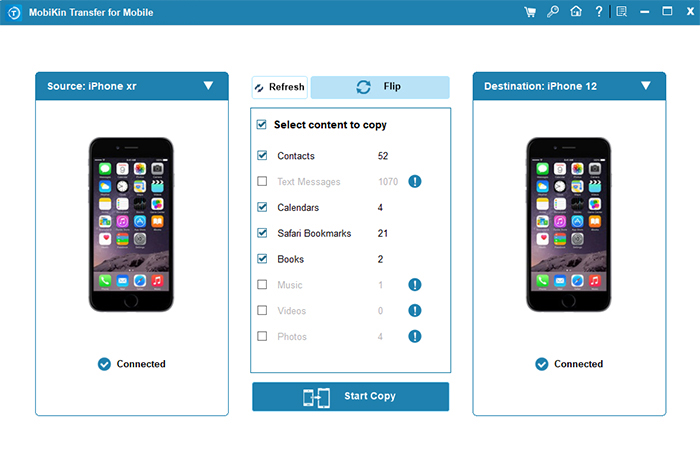 Step 3: Transfer data to new iPhone with 1 click
From the middle of the screen, you can tick the boxes before the data types you want to transfer. Then click on "Start Copy" to transfer data from the source phone to new iPhone instantly.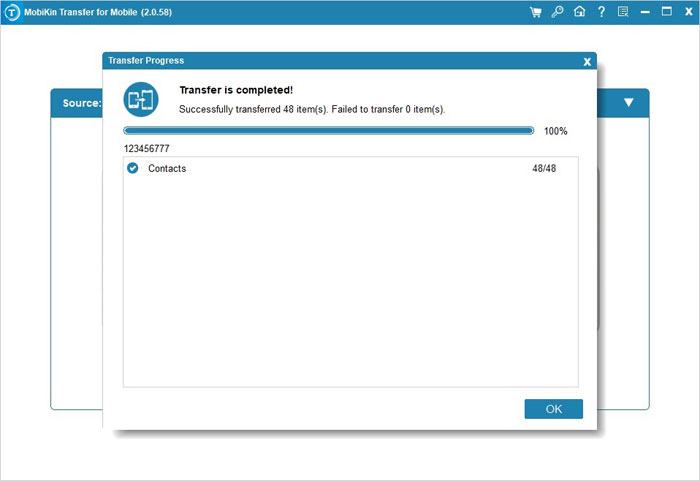 Conclusion
That's all for how to fix iPhone transferring data stuck. These methods have a high success rate in resolving this stuck error. However, if the problem still persists after you have tried all the solutions in part 2, then you can use MobiKin Transfer for Mobile to help you transfer data via USB connection. Compared with wireless transfer, USB transfer is more stable and faster.
For more questions or feedback, please feel free to leave your comments or contact us.
Related Articles:
How to Sync Contacts from iPhone to iPad? 4 Ways for You!
How to Transfer Photos from iPhone to Samsung? [9 Ways in 2023]
Can't Delete Photos from iPhone/iPad? Here are Solutions!
Top 4 Ways on How to Transfer Photos from Laptop to iPhone
How to Erase or Wipe iPhone 13/12/11/X/Xs without iTunes?
[Solved] How to Recover Deleted SMS from iPhone 14/13/12/11/XS/8/7?