How to Transfer Contacts & Text Messages from iPhone to Pixel [Tested]
"Hey all - just purchased my Pixel 4 XL today. I initially synced iPhone with Pixel via USB-C adapter. However, none of my contacts & SMS transferred over. It looks like most of them are stored in iCloud and only the ones on Google account now appear. Any tips on how to transfer contacts/text messages from iPhone to Pixel?"
As a mobile owned by Google, Pixel enjoys the original OS, the fastest operating system update and patch push, the latest black technology, and the best single camera design, etc. These are crucial causes for iPhone users who want to switch to Pixel with exploring the true enjoyment from Android OS.
When you get a Pixel, contact transfer is likely to be your top priority. Well, have you ever had a similar query as that of the Reddit user above? Anyway, to get rid of your doubts, here we offer 5 easy and quick methods to help you transfer text messages and contacts from iPhone X/Xs Max/11/11 Pro to Pixel 4/4a/5/5a.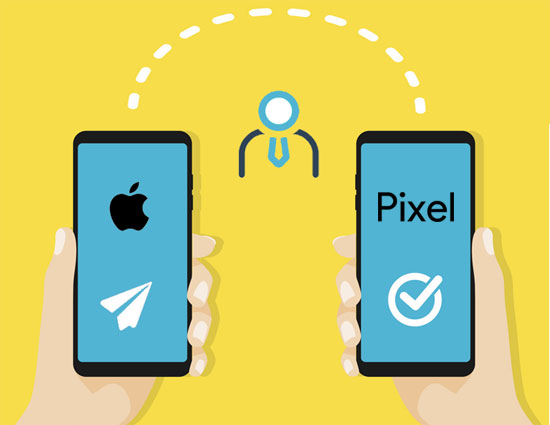 Method 1: How to Transfer Contacts from iPhone to Pixel Using Settings App
As the Apple opens up more rights to Google services, you can open the Settings app on iPhone, log in to Google, open the contacts app, and sync your contacts to the Google servers. After that, if you turn on Google Sync on Pixel, you can see the iPhone contacts that have been synced.
Here's how to transfer contacts from iPhone to Pixel via Settings app:
1. On your iPhone, head over to Settings > Account & Password > Add Account > Google.
2. Input your Gmail account and password. Then switch on Contacts slider.
3. Now, wake up your iPhone, and start Contacts app. This indicates that contacts will begin syncing automatically.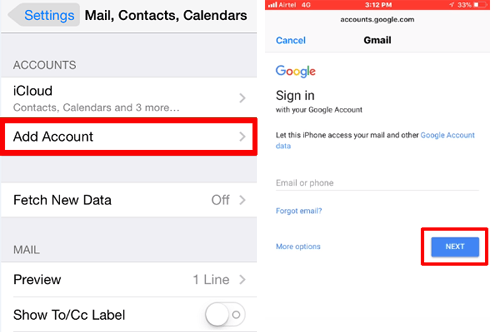 4. After that, the contacts will display in the phone book, as long as you've toggled on Google sync feature on your Pixel phone.
Related Posts:
Method 2: How to Transfer Contacts/Text Messages from iPhone to Pixel via Transfer for Mobile
It should not be a tough task for phone users to move contacts and text messages over, irrespective of the OS(es) the devices are running on. To make the transfer easier, you can pick up MobiKin Transfer for Mobile (win and Mac) directly. This program is extremely practical for novice Pixel users or those who are seeking for an one-stop solution.
You're allowed to transfer contacts, SMS, etc. from iPhone to Google Pixel in 3 simple steps: connect your devices to computer; select the type of data; and then click Start Copy button.
Transfer for Mobile - an Impeccable Solution for Data Transfer:
Transfer data from iPhone to Android, from Android to iPhone, from iPhone to iPhone, and from Android to Android flawlessly.
It is capable of processing files, including contacts, text messages, call logs, photos, music, documents, videos, apps, and so on.
Easy to operate, fast transfer, and no data loss.
Any action you take will be known only to yourself.
Work on various PC and Mac computer.
Run smoothly on overall iOS and Android devices, such as iPhone 14/13/12/11/11 Pro/11 Pro Max, iPhone X/XS/XR/XS Max, iPhone 8/8 Plus, iPhone 7/7 Plus, iPhone 6/6s/6 Plus, iPad/iPod, and Google Pixel 7/6/5/5a/4/4a/4XL/3/3a/3XL/2/2a/2XL, Nexus 7/6/5/4/3, A2, A45, A818, GT I9000B, GT I9100, GT I9220, etc.
To transfer contacts/text messages from iPhone to Pixel via Transfer for Mobile:
Step 1. Launch Transfer for Mobile software
Give either of the buttons below as needed to download the program. Then install and open it on computer.
Now, the initial interface reminds you to link iPhone and Pixel to this computer via USB cables. Just do that, and follow the instructions to let the tool make automatic detections for your devices.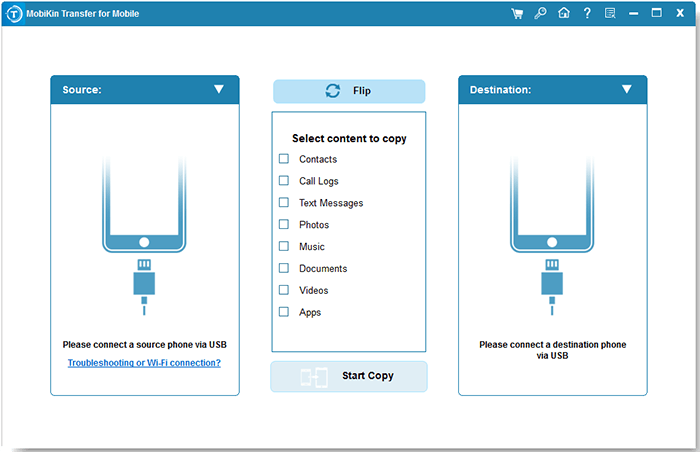 Note: You may be required to enable USB debugging on your Google device during the detection. And touch "Trust" on your iPhone to trust the computer as prompted.
Step 2. Make sure the target phone is Pixel
After the recognition, you'll get the main interface. Now, ensure that the destination phone on the right is your Pixel. If not, just tap "Flip" to get it back in the right place.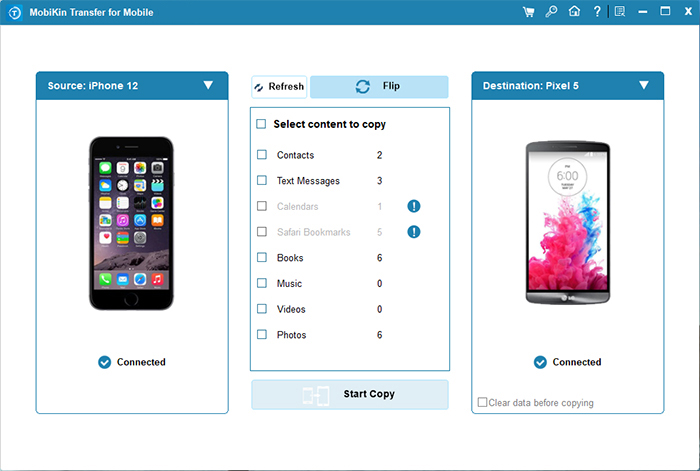 Step 3. Transfer contacts/SMS from iPhone to Google Pixel
Tick on both Contacts and Text Messages checkboxes from the list in the middle. Then simply click on "Start Copy" button to commence.
Method 3: How to Import Contacts to Pixel from iPhone with iTunes
There's a section in iTunes that's dedicated to syncing contacts. It can be easily done if you turn on Contacts Sync switch. Also, after that, just turn on Google Sync on your Pixel phone to get contacts from iTunes.
How do I export iPhone contacts to Pixels with iTunes?
Launch the latest iTunes on computer, and attach your iPhone to computer with a USB cable.
Tap the Device icon from the tool options menu, and select the Info tab from the left.
Tick on the box nearby Sync Contacts from the right column, and opt for Google Contacts from the pull-down list.
Input your Google account info as prompted and click Apply. All your contacts will then be moved to Google servers.
On your Pixel phone, switch on Google sync feature. And the contacts will be saved to this gadget finally.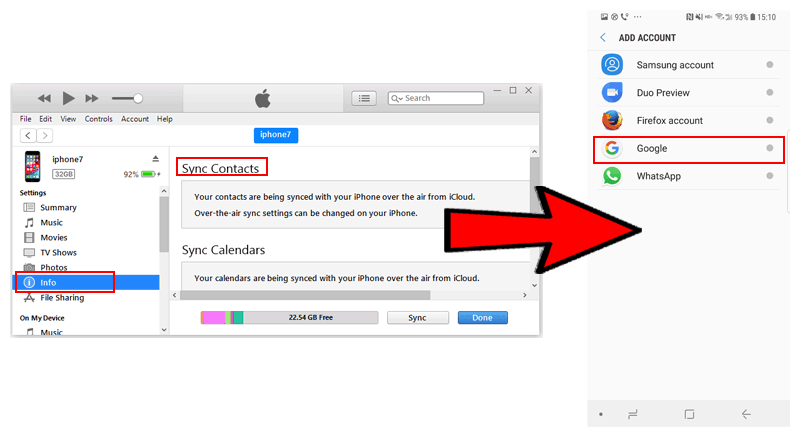 Check if You Need:
Method 4: How Do I Transfer Contacts from iPhone to Pixel Using iCloud & Google
When it comes to iCloud, you may first think of its DS capabilities. Alright, you should sync your iPhone contacts to iCloud first. Then export the items as .vcf format file, and save them to computer. After that, log in the Google contact from the webpage on computer, and upload the contacts to Google. And finally, just sync them to Pixel.
How to import contacts to Pixel from iPhone with iCloud & Google:
1. On your iPhone, go to Settings > [your Apple ID] > iCloud to turn on Contacts slider.
2. Navigate to iCloud website on computer, and log in iCloud account to select Contacts tab.
3. Tap on Gear > Select All, and then hit the same Gear option to select Export vCard. This will download all the contacts to computer in .vcf format.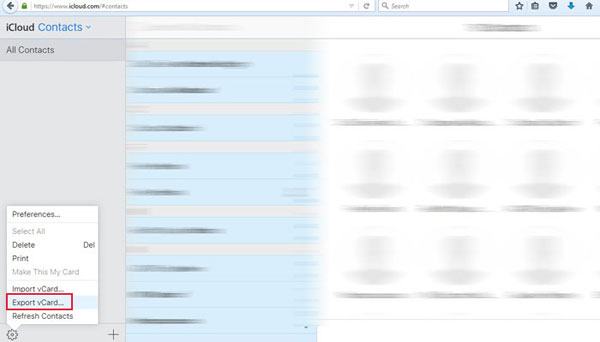 4. Visit Google Contacts on the web and sign in your Google account. Click Import and pick vCard or CVS file. Now, you'll be prompted to temporarily return to the old version of the website to continue.
5. Choose More > Import > Choose File > select the vCard you just downloaded. Then select Import to upload iPhone contacts to Google servers.
6. Open Settings > Accounts and Sync > Google to Sync Contacts from Pixel. After a while, your iPhone contacts should be available in the address book of Pixel.
Method 5: How to Transfer SMS/Contacts from iPhone to Pixel via Quick Switch Adapter
Quick Switch Adapter is an official file transfer tool from Google. Yet it only works for Android 5.0 or up, and iOS 8.0 or above. Before data migration, you should turn off both iMessages and FaceTime on iPhone, and ensure there is a SIM card available in the Pixel.
Tips: To ensure a smooth transfer, be sure to keep your devices at least 50% charged.
To transfer text messages/contacts from iPhone X/11 to Pixel 4/3 via Quick Switch Adapter:
On your iPhone, go to Settings > Messages to find and turn off iMessage; then go to FaceTime from Settings and switch FaceTime off. On your Google Pixel, ensure there's an SIM card in this phone.
Plug one end of a cable into iPhone, and the other into the Quick Switch Adapter. Insert the Quick Switch Adapter into your Pixel phone.
On your iPhone, tap Trust when prompted. On Pixel phone, log in with your Google account. This will create a connection between two devices.
After that, you'll see all the transferable stuff on iPhone. Choose Contacts and Messages to move. Then tap OK to initiate the transfer from iPhone to Pixel.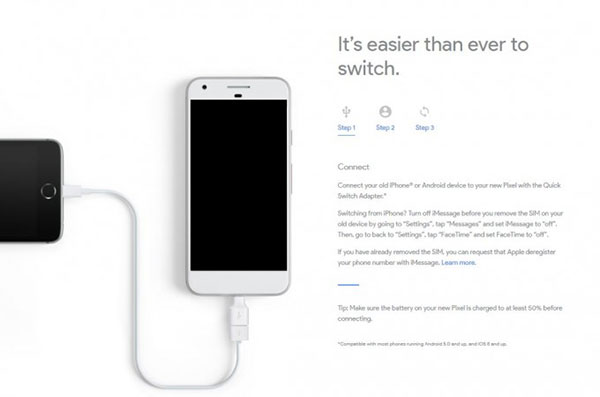 Last Words
For those who have just got their new Google Pixels, they may be still getting used to the native Android system. The contact and SMS transfer from iPhone to Pixel, the cross-system data migration, is no picnic actually. As they might not old hands to move data between cloud-based services, such as iCloud, iTunes and Google.
However, as for MobiKin Transfer for mobile, it enables users to transfer any files within one tap, without the need of prior experience, making the data get through safely and intactly at short notice.
Related Articles:
5 Dependable Methods to Permanently Delete Photos/Pictures from Android
[2020 Updated] How to Transfer Photos from Google Pixel to Computer
Essential Tutorial about Google Pixel Backup and Restore
[Full Guide] How to Transfer WhatsApp Data from iPhone to Android
How to Transfer Music from Android to iPhone In Minutes?
3 Ways to Recover Deleted Contacts from Android (#1 is Awesome)