How to Transfer Data from HTC to Huawei P50/P40/P30/20/10 Pro/Mate?
How to transfer data from one mobile phone to another is a question that many smartphone users often ask me after buying a new device. With the development of technology, mobile phones have more and more storage space. We store almost all important files and data on our mobile phones, including contacts, text messages, call records, photos, pictures, documents, music, movies, videos, and more.
When an HTC user gets a new Huawei P50 or Huawei P50 Pro, the first thing you need to do is to transfer data from HTC to Huawei P30/P30 Pro. If you want to save time during the entire data movement process, you need to choose some simple and reliable methods. This tutorial will show you four different ways to transfer data from HTC to Huawei.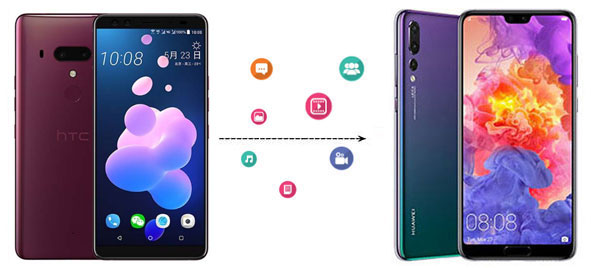 Solution 1: Transfer Data from HTC to Huawei via Transfer for Mobile
If you are looking for a safe and hassle-free approach to transfer data from your HTC to Huawei, then MobiKin Transfer for Mobile (Mac version available) is your best bet. It provides you with a direct way to transfer everything between two devices through a wired or wireless connection. Using it, you can preview and pick what you want to transfer and copy them to another phone selectively.
Why Choose Transfer for Mobile?
Transfer contacts, messages, call logs, photos, videos, music, eBooks, apps, etc., from HTC to Huawei, and vice versa.
Apart from Android to Android, or iOS to iOS, it can also perform data transfer between Android and iOS.
You can select what you want to transfer between two different devices.
Be compatible with all Samsung and Huawei devices available, including HTC 12+/12/11+/M10H/A9W/M9W/M9Et/M8W, A3360/A3366/ A3380/A510b/A510c/A510e/A6277/A6363; Huawei Mate 40/30/20/10 (Pro), P50/P40/P30/P20/P10 (Pro).
It is easy to use, no technical background or device rooting is required.
Download the trial version of the MobiKin Transfer for Mobile and install it on your PC or Mac computer. Then, follow the steps below to transfer data from HTC to Huawei P30/P30 Pro/P20.
Step 1. Launch the Transfer for Mobile
To start with, launch the Transfer for Mobile program on your computer. From the home screen, you are required to connect both your HTC and Huawei phones to the computer.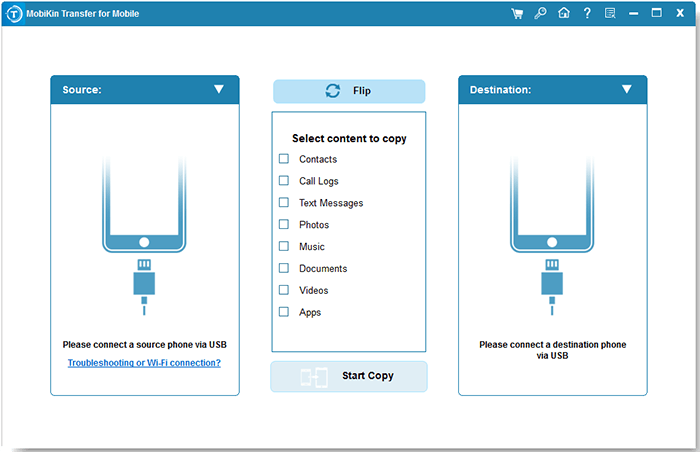 Step 2. Connect your HTC and Huawei phones
Now, use two USB cables to connect both phones to your computer. The program detects the two devices and presents them in the left and right columns, respectively. You can use the "Flip" button to make sure HTC is the source device, and the Huawei phone is the destination device.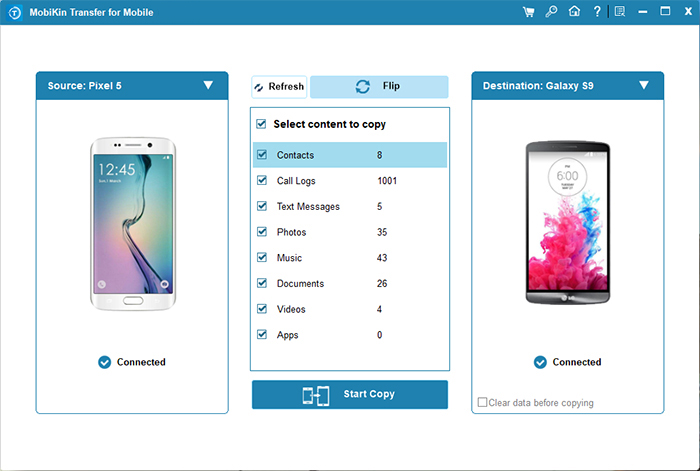 Step 3. Transfer data from HTC to Huawei P30
All transferable file types are listed in the middle of the screen, from which you can select the types of data you wish to transfer. For instance, if you want to transfer contacts from HTC to Huawei, you can tick off "Contacts" and then press the "Start Copy" button to begin the transfer process.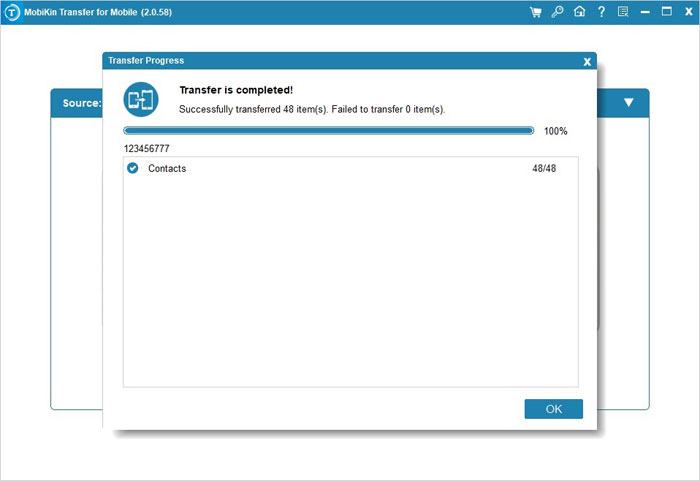 Just wait patiently for a few minutes. Transfer for Mobile will transfer the data you selected from HTC to Huawei without any damage, and notify you when it's done. Then, you can safely disconnect the two devices and access the transferred data on your new Huawei phone.
Check If You Need:
Solution 2: Transfer Files from HTC to Huawei via Android Backup & Restore
Another way to transfer files from HTC to Huawei is using an Android backup and restore tool called MobiKin Backup Manager for Android. With the help of this professional tool, all the HTC files could be copied to Huawei device easily and quickly. It supports all kinds of Android devices, and it is well loved for its user-friendly interface, simple operations. You can finish the data transfer with just 1-2-3 steps. Copy files from HTC phone to computer, and then restore them from the computer to Huawei.
How to copy data from HTC to Huawei via Android Backup and Restore software?
Step 1. Download and install Android Backup and Restore program on your computer. Run it and connect the old HTC device to the computer via a USB cable. In the main interface, click "Backup", and you'll see all the supported types of data on the new screen.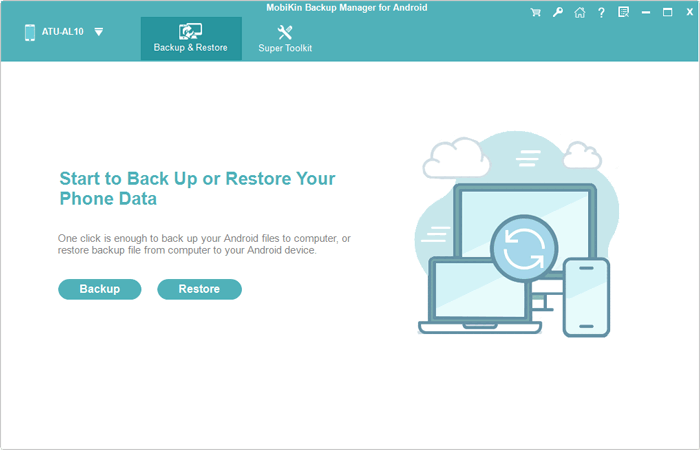 Step 2. Mark your wanted files and click on "Browser" to specify a location on computer to save them.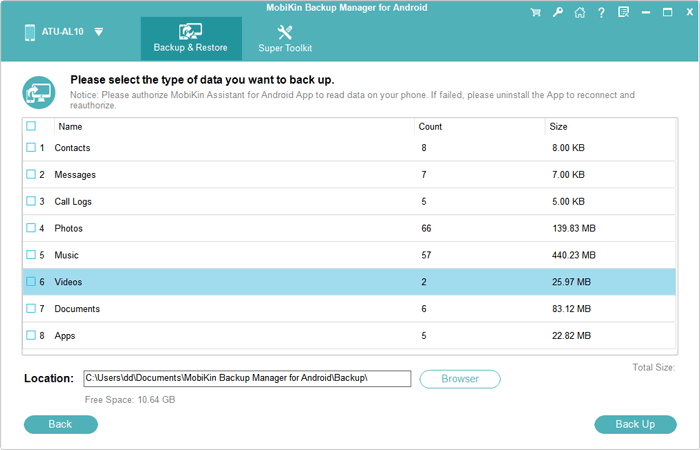 Step 3. After file selection, click on the "Back Up" button at the bottom right to transfer all the chosen data to the computer. Once it's done, unplug the HTC phone from the computer.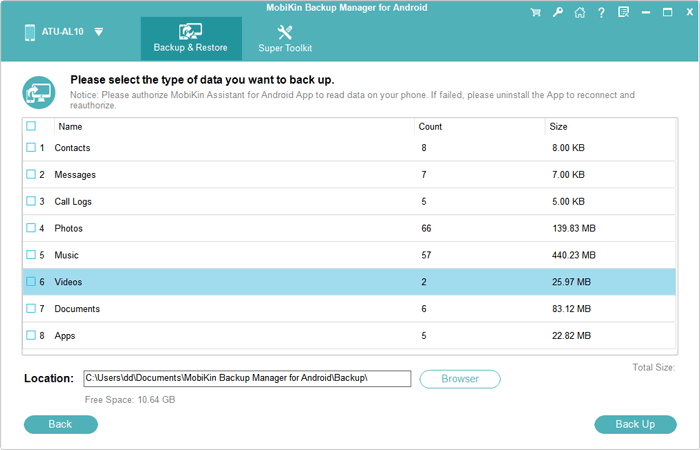 Step 4. Link Huawei phone to the same computer via a USB cord and wait until it is detected by the program. Then, click the "Restore" button from the main screen, choose the backup record you made for your HTC phone, and press "Restore" to sync them to the Huawei device.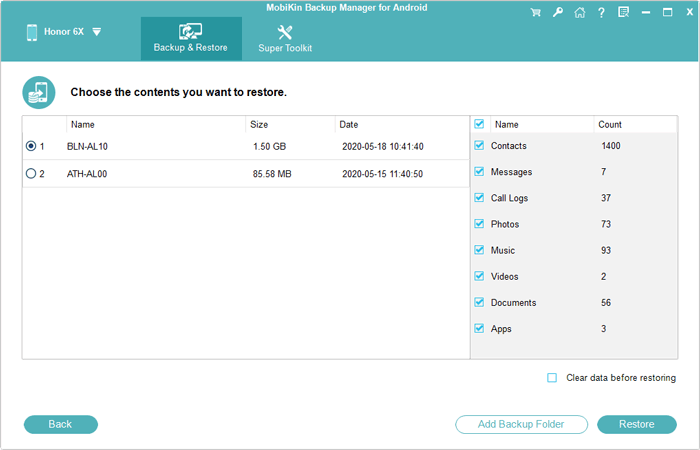 Solution 3: Transfer Data from HTC to Huawei via Phone Clone
Huawei has developed the Phone Clone app, specifically designed to facilitate users to transfer data from other Android or iPhone to Huawei more easily. This method does not require a USB data cable. You need to wirelessly connect your HTC and Huawei phones and select the content you want to transfer. Phone Clone can immediately transfer them to the target phone.
Currently, Phone Clone supports transferring photos, videos, contacts, call logs, messages, and more. However, this app only supports transferring data to Huawei, not from Huawei to other devices.
To start with, visit the Google Play Store page and search for the Phone Clone App. Download and install it on your HTC and Huawei phones.
Launch the Phone Clone app on the Huawei phone and mark it as the target phone. It will work as a hotspot and display a unique network code.

Install Phone Clone app on your HTC phone, launch it and mark it as the source device. It will start to look for nearby available connections. Here, select your Huawei phone and enter the unique code to connect the two devices.
On the source HTC phone, select the files you'd like to transfer and tap on the "Send" button.
After that, the Huawei phone will automatically receive the sending data, and the data transfer will begin wirelessly.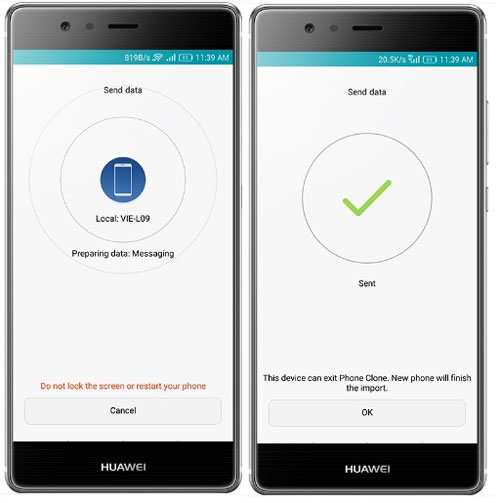 You may be interested in:
Solution 4: Copy Data from HTC to Huawei via Bluetooth
How do I transfer data from HTC to Huawei p30 without downloading additional tools? Without any doubt, Bluetooth is a wonderful technology to help you transfer data between two Android devices. As long as you have the HTC and Huawei phones paired, you can easily share data between them.
Turn on Bluetooth on your HTC and Huawei phones. You can do it in a couple of different ways. For example, you can pull down the notification bar or go to the Settings app to turn on Bluetooth.
Next, you need to pair the two phones via Bluetooth. Make the two phones detectable to each other so that one phone can be scanned by the other. Then, pair them up by entering the security key that popped up on the phone.
Once both devices are connected, you can select all the files you want to transfer on the source HTC device. Click the "Share" icon and select "Bluetooth" > "Your Huawei phone".
Now, the Huawei phone will prompt you as to whether to allow or deny the data received. Just click "OK", and all the files will be transferred to the Huawei phone successfully.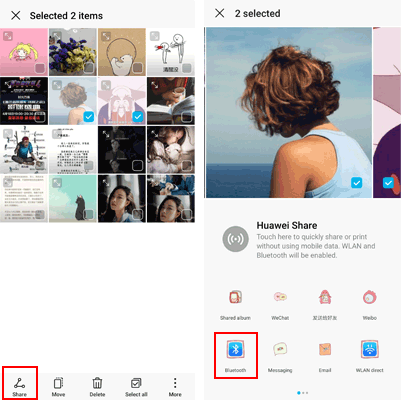 Words in the End:
So far, this article has described four different methods about how to transfer data from HTC to Huawei. You can choose your favorite way to complete the mobile phone data transfer. Among them, MobiKin Transfer for Mobile provides the fastest and most reliable solution. You only need a simple mouse click to migrate all or specified data categories from a mobile phone to a new smartphone without worrying about losing any data.
Related Articles:
How to Transfer Data from HTC to iPhone
HTC Transfer Tool - Simple Steps to Transfer Your Data to a New HTC
Huawei Phone Clone Troubleshooting: Scenes, Solutions & an Alternative
How to Transfer Huawei Data to Samsung Galaxy with Clicks