4 Popular Ways to Transfer Data from OPPO to OnePlus 9/8/7/6/5/3
Copying files from an OPPO to a OnePlus can be a big challenge, especially if you're not tech-savvy. However, it's an essential step that allows you to keep all your data safe and up-to-date on your new phone. Well, today, we'll be focusing on how to transfer data from OPPO to OnePlus differently. By and large, each method has its unique strengths, so you can pick the one that suits your needs and preferences the most.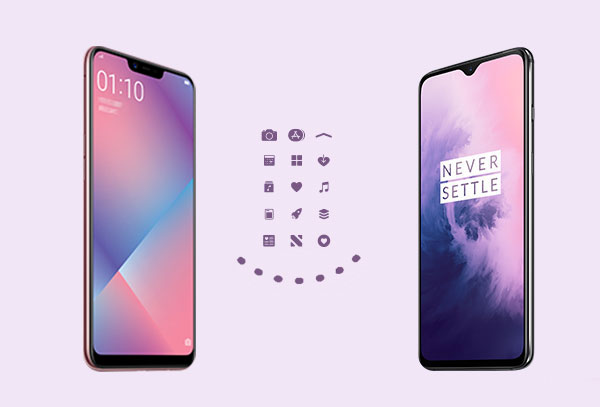 Way 1: How to Transfer Data from OPPO to OnePlus via Transfer for Mobile
To copy files from your OPPO phone to a new OnePlus phone smartly, you can consider utilizing the efficient and easy-to-use MobiKin Transfer for Mobile (Win and Mac), which offers a one-click solution. This program enables the transmission of diverse data types between different devices, regardless of whether they are running on Android or iOS operating systems.
Main features of MobiKin Transfer for Mobile:
Transfer data from OPPO to OnePlus without interruptions. (How to recover data from an OPPO phone if you delete it accidentally?)
Move files between various devices, including Android, iOS, and their combinations.
Support various data types, including contacts, messages, call logs, music, videos, photos, documents, apps, etc.
Provide fast transfer speeds, secure results, and instant technical support.
Work well with overall Android/iOS devices, covering OPPO R21/R19/R17/R15/R13, Reno 9/8//6/5/4/3/2, A73/A57/A9/A8/A7/A6/A5/A4/A3, Find X3/X2/X, OnePlus 9R, OnePlus Nord 2, OnePlus Nord CE 5G, OnePlus 9(T) (Pro)/8(T) (Pro)/7(T) (Pro)/6(T)/5(T)//3(T)/2(T)/One, etc.
It values your privacy.
How to transfer data from an old OPPO device to your new OnePlus device using Transfer for Mobile?
Step 1. Install the program and open it on your computer. Connect both OPPO and OnePlus to your system using USB cables. Next, follow the on-screen prompt to let the tool identify the devices.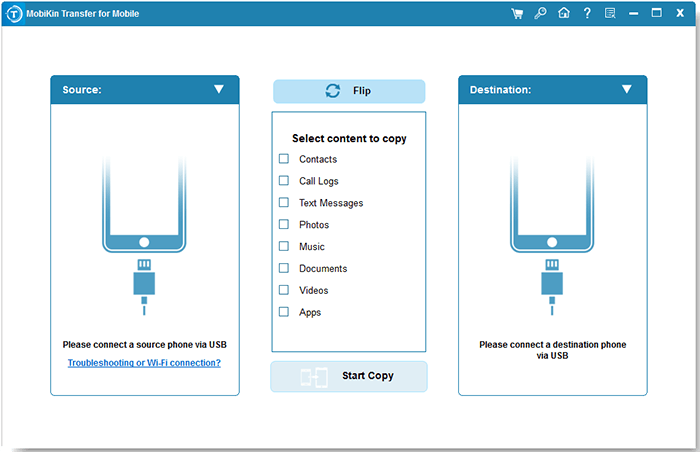 Step 2. Once they are detected by the software, you can verify the source and destination devices on its screen. If they are wrongly placed, click "Flip" to correct them.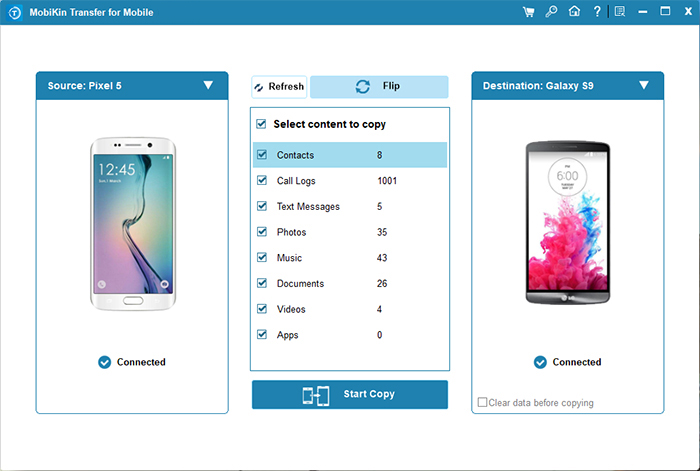 Step 3. Select the data types you'd like to transfer and initiate the transfer by clicking the "Start Copy" button. Finally, you can disconnect the devices once the transfer completes.
Other Articles You Might Find Interesting:
Way 2: How to Transfer Data from an Old OPPO to New OnePlus via Android Backup & Restore
If you're searching for another optimal method to transfer data from OPPO to OnePlus, then MobiKin Backup Manager for Android (Win and Mac) (Termed Android Backup & Restore) is your answer. This expert utility is designed to accomplish the transfer by backing up your OPPO to your PC or Mac effortlessly before restoring the backup file to your OnePlus device. It permits selective file migration or the option to copy the entire OPPO data with simple clicks.
How to transfer data from OPPO to OnePlus via Android Backup & Restore?
Install the utility on your computer and connect your OPPO phone to the system with a USB cable.
Follow the on-screen instructions to create a virtual connection between your OPPO phone and the tool.
Then click "Backup" to proceed.

Next, select the file(s) you want to transfer and click "Browse" to select a folder on your computer to store them.
Tap the "Back Up" button at the bottom right to securely transfer the selected files from your OPPO device to your computer as a backup.

Disconnect OPPO from this computer and link your OnePlus phone instead.
Click "Restore" from the main interface of the program, and it will display the files you have saved on your computer.
Select whatever you want to copy and click "Restore" to transfer them to your linked OnePlus device.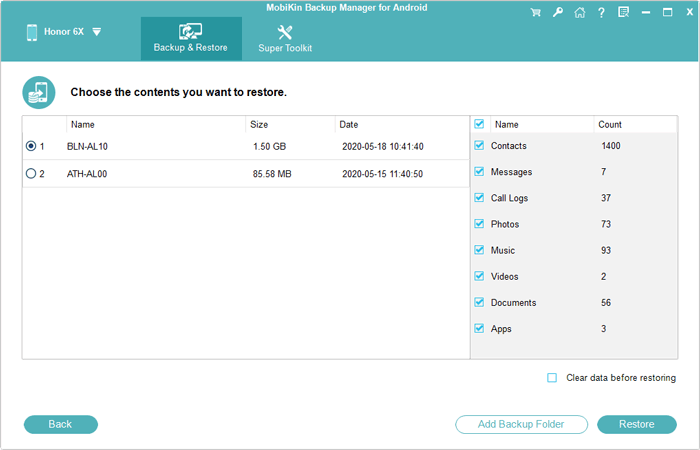 Way 3: How to Copy Data from OPPO to OnePlus Using Google Sync
Google Cloud is a storage service that offers a desktop client and a web interface for users. Third-party apps can take advantage of Google's APIs to store content on the cloud. Google Sync and Drive backups comprise Chrome passwords, browsing history, bookmarks, pages, etc. That is, not all data can be synced using Google, so it may be necessary to use alternative methods for transferring certain types of data, like app data or text messages.
How do I transfer data from my old Android/OPPO to OnePlus one?
On your old OPPO device, go to "Settings" > "Accounts".
Tap on "Google" and make sure that the items you want to copy, including contacts, calendar events, and photos, are synced to your Google account.
If it's not, turn on syncing for the relevant data types to back up Android/OPPO data to Google Drive.
You can check the sync status by going to "Settings" > "Accounts" > "Google" and tapping each data type to see when it was last synced.

On your OnePlus device, sign in to the same Google account you used on your OPPO.
Once logged in, the synced data will automatically be copied to your new device. (You may need to wait a few minutes for the transfer to complete, depending on how much data needs to be synced.)
Additional Resources:
Way 4: How to Transfer Data from OPPO to OnePlus via Clone Phone (OnePlus Switch)
Clone Phone (Previously known as OnePlus Switch) is a built-in app that allows users to transfer data from an old device to a new OnePlus device. It supports transferring a wide range of data types, including contacts, messages, call logs, photos, videos, audio, and documents. But please note that it is only compatible with OnePlus devices running Android 6.0 Marshmallow or later. (OnePlus Switch Not Working?)
How to copy data from OPPO to OnePlus 9/8/7/6/5/3/2 with Clone Phone?
Download and install Clone Phone on both devices from the Google Play Store.
Launch the app on both devices.
On the OPPO phone, select "This is the old phone", and on OnePlus, choose "This is the new phone".
Use OPPO to scan the QR code on the OnePlus phone screen.

Once the devices are connected virtually, select the data types you want to transfer.
Click "Start" to begin the transfer process.
Wait for the transfer to complete. The time required will depend on the amount of data being transferred.
When completed, disconnect both devices and ensure all the files have been successfully transferred to the OnePlus phone.
Concluding Remarks
This is the end of this passage. Now, let's make a summary of it in a few words:
MobiKin Transfer for Mobile has enough power to simplify the data transfer and ensure the content copied to the OnePlus phone is intact while ensuring privacy and security.
MobiKin Backup Manager for Android not only completes the file migration flawlessly but allows you to make a backup of your OPPO phone on your computer concurrently.
As Google Sync is primarily a synchronization service, it might not be the most efficient approach for transferring large amounts of data from OPPO to OnePlus. And it requires a stable and fast Internet connection for the data transmission to be successful.
While OnePlus Switch is a useful tool for transferring content from OPPO to OnePlus devices, it also has some drawbacks, including limited compatibility, fewer data type support, network dependency, and even incomplete transfers.
Related Articles:
6 Ways to Transfer Data from iPhone to OnePlus Like a Veteran
OnePlus Data Recovery: How to Retrieve Deleted Messages on OnePlus
How to Transfer Files from OPPO R21/R19/R17/R15/R13/A9/A5 to PC & Mac?
6 Safe Methods to Unlock OPPO Phones without Password/Pattern Lock
[Up to Date] How to Wipe Android Phone Completely Before Selling?
[3 Ways] How to Transfer All WhatsApp Chats from Android to Android?