How to Fix OnePlus Switch Not Working [with FAQs & an Alternative]
"After I connected my OnePlus 6T to OnePlus 8 manually, but later other than that I never get a dialog to actually select any data to migrate. Anyone else is experiencing this? Any solutions?"
The other day, I stumbled upon such a message posted in "OnePlus Switch Community". As an enthusiast for mobile data management, I think it is necessary to write a post about how to fix OnePlus Switch not working. If you have similar scenes, you are welcome to read this article. Because here, you will learn many practical solutions to common problems on OnePlus Switch. What's more, there are also some valuable related contents like the FAQs, and the best OnePlus Switch alternative. OK, let's get the ball rolling now!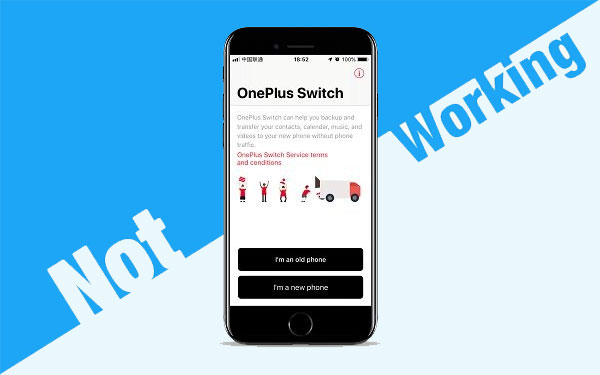 Part 1: FAQs of OnePlus Switch
Before moving on to the point, let's first take a quick look at some popular FAQs of OnePlus Switch. These will help you get a better understanding of this tool.
What Is OnePlus Switch?
As a mobile data transfer app from OnePlus Inc, OnePlus Switch can move data like contacts, SMS, call logs, calendar, photos, videos, audio, apps from previous phone to a OnePlus. It also allows you to back up data of the OnePlus as a compressed archive, which can be kept and used for restoring. Plus, it is pre-installed tool on most new OnePlus phones, and it can be found from "Settings" > "Advanced" > "OnePlus Switch".
Is OnePlus Switch Safe?
Primarily, OnePlus Switch runs on Android 5.0 & above. Android 5.0 turns on system data encryption by default and executes applications through SELinux, which means this system becomes more effective against malware. Next, the connection procedure is completed by scanning the QR code. And the code for mobile connection is virus-free. Thus, in short, the app works just fine. Besides, please ensure that the target OnePlus has sufficient storage space before data moving.
Does OnePlus Switch Work with iPhone?
In general, OnePlus Switch doesn't work on iOS for the time being. You could run it on the iOS devices before mid-2019, but thing is not as smooth as it was earlier. As Apple constantly updating its restrictive policies for apps on iOS. Hence, the Switch cannot do this work out of the blue. However, OnePlus Inc is now negotiating with Apple to resolve the current policy issues.
How to Use OnePlus Switch?
Just now, we got to know the overview, security, operating environment of OnePlus Switch. OK, at the moment, how does the OnePlus Switch work? Here's how:
Step 1. Activate OnePlus Switch on your New OnePlus 8/7/6 (you can go to "Settings" > "Advanced" > "OnePlus Switch" to open this tool). Next, select "I'm new phone" from the new device, and then you will be asked to select an old phone.
Step 2. Now, a simple instruction will show you how to install OnePlus Switch on your old gadget and how to make a connection. Just hit "Continue" to move on. Next, pick up your old phone and scan the QR code created by the new OnePlus.
Install OnePlus Switch on your old phone from Google Play Store. Yet, if your old phone is OnePlus and has this built-in feature, just ignore the installation process.
Step 3. Start OnePlus Switch on old phone to go for "I'm old phone". Now the camera will automatically perform the scanning. Soon, the connection will be made. Just choose your desired data and tap "Start" to initiate the file transfer.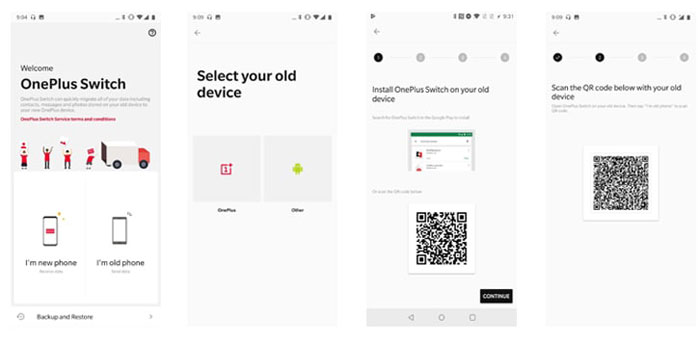 More Related:
Part 2: What If OnePlus Switch Is Not Working?
As you might know, OnePlus Switch is able to do the direct transfer of mobile data, and also introduces the function of anti recovery data smashing. But there will also be some problems during use. For instance, as mentioned just now, it cannot run on iOS system.
Again, each step in use might be stuck or won't work properly. Therefore, how to fix OnePlus Switch not working? Well, let's discuss the solutions to the following 4 problems that most users are concerned about.
OnePlus Switch won't pop up a prompt for data selection
Make sure that you have put in an SIM on the destination OnePlus, and then disabled cellular data through the notification tray on your old phone, Afterwards, restart your phones and try the same operations once again.
OnePlus Switch won't work after you select the required data
First, turn your both phones into airplane mode and only enable WiFi feature. Then close all the recent apps on your phone and follow the processes you have done previously.
OnePlus Switch gets stuck before the transfer is over
Check if you have connected your phones to any other internet sources. In that case, turn them off or download another version of OnePlus Switch from 3rd-party website and try with it again.
OnePlus Switch doesn't recognize the files you copied into the OPbackup folder
You can try to copy the OPbackup file to computer first and install a free copy of Oxygen OS. Then copy back the OPbackup file. After that, the data will probably be recognized by the tool.
See If You Need:
Part 3: Best OnePlus Switch Alternative - MobiKin Transfer for Mobile
Often, many pre-installed apps on mobiles may encounter some unexpected errors in use, OnePlus Switch is a case in point. Now, you may wanna ask: is there a program that is handy, safe as well as smooth to run with delivering lossless output?
Absolutely, MobiKin Transfer for Mobile (Windows and Mac) can do the nice job. Compared with OnePlus Switch, it won't fail to work for some reasons, and it has almost no requirements for the brand and OS of your handsets. That is to say, even if you use both iOS and Android devices, it can do smooth data transfer between the two devices.
Some salient features of MobiKin Transfer for Mobile:
Copy contacts, SMS, call records, videos, music, pictures, documents, apps and more between two devices with one-touch operation.
Not only supports Android to Android transfer and iOS to iOS transfer, but also supports cross-platform transfer, such as Android to iOS device and iOS to Android device transfer.
Friendly interface, easy operation, seamless data transfer and reassuring outcomes.
Clear the saved files on the target Android device before data migration.
Do a good job in working with various OnePlus phones, covering OnePlus 8/7/6/5/4/3/2/One, 8T/7T/6T/5T/4T/3T/2T, etc. iDevices like iPhone, iPad, iPod and other Android devices like Samsung, HTC, Huawei, Sony, LG, etc. without doubt.
Let's see how to use Transfer for Mobile to transfer data from one phone to another (here we set OnePlus to OnePlus file transfer as example):
Step 1. Link two devices to computer
After you launch the installed this program, the initial interface of this program will show you as bellow. As you can see, the window is asking you to connect two phones via USB cables.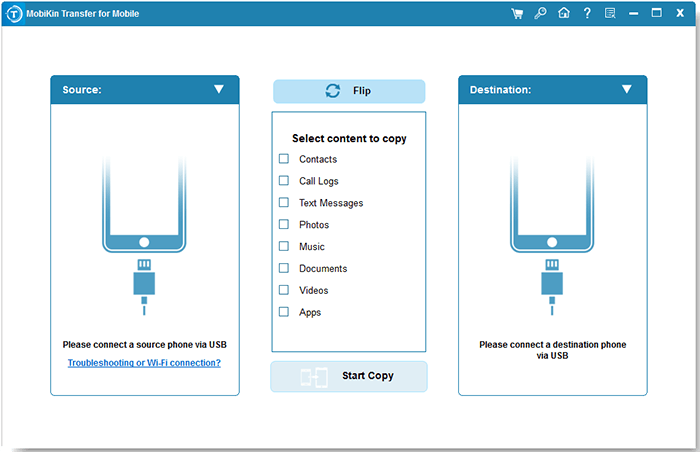 Step 2. Enable USB debugging on two OnePlus mobiles
Have your old OnePlus and new OnePlus plugged into the same computer via USB cords. After that, you may need to follow the on-screen to enable USB debugging on two phones. And later, a virtual connection will be made.
Step 3. Select data to move between devices
Tick on the data type(s) you'd like to transfer. Let's say you want to send contacts and call records, just tap "Contacts" and "Call Logs", and then press the "Start Copy" button. Then the data migration process will commence at once.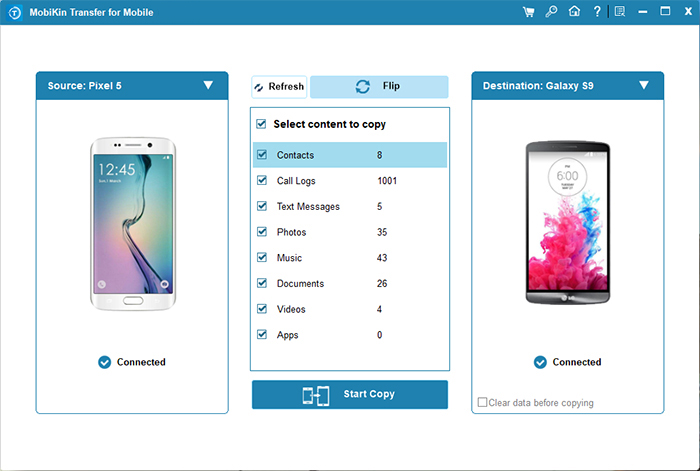 Note: After your phones are identified, take a look at the interface to ensure the phone on the left is the one with data to be transferred. If not, please click "Flip" to correct its position.
Final Words
OK, so much for today's topic. Now, I believe you can resolve some common problems while trying OnePlus Switch. Actually, to get rid of the above problems is to get satisfactory effects. Undeniably, in many cases, the OnePlus Switch can do you a favor, but as we said in the first two parts, it doesn't work sometimes. That being so, rather than picking the app that doesn't necessarily result in good output and repeatedly starting over, it's better to go for MobiKin Transfer for Mobile with consistent quality.
In the end, welcome to share this page on Twitter, IG or other SNS, if you think it is of great service to others.
Related Articles:
Quick Guide: How to Backup Android Phone with Broken Screen?
How to Transfer Music from iPhone to Android in 2020?
How to Unlock Your Locked Android Phone without Losing Data
5 Methods to Backup and Restore Your Samsung Galaxy