How to Transfer Data from Sony Xperia to Huawei P20/P30 Lite/P40, etc.?
With the world's leading 5G technology, excellent quality, and near-perfect after-sales service, Huawei, which mainly focuses on communication tech, has become the first choice for folks who want to change their phones. While nowadays, Sony cannot cause much of a stir in markets. A cool Huawei P40/Mate 40 would better your life, but then you're likely to transfer Sony content to this phone.
Don't want to be bothered by how to transfer data from Sony to Huawei? Just read through this article because here, you'll get to know the complete solutions.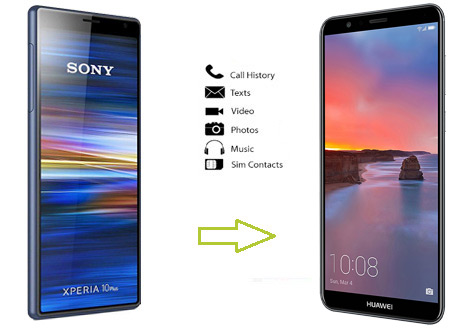 Solution 1: How to Transfer Data from Sony to Huawei with Transfer for Mobile
In terms of data transfer from Sony to Huawei, usability, efficiency, and safety may be the key factors for you to consider. Based on the idea of making life better with Hi-tech, MobiKin Transfer for Mobile (Win and Mac) devotes itself to simplifying the file migration between Android phones.
Besides, it also enables its users to quickly transfer from iPhone to Android, Android to iPhone, and iPhone to iPhone with no data loss.
Some characteristics of MobiKin Transfer for Mobile:
Transfer data between two different phones, whether they're running on Android or iOS.
Be good at processing such content as contacts, text messages, call logs, music, videos, photos, documents, and apps.
Easy to use, fast transfer, lossless results.
Work well with both PCs and Mac computers.
Apply to overall iOS and Android devices, containing Sony Xperia XZ4/XZ3/XZ2/XZ1, Z5/Z4/Z3/Z2/Z1, Xperia X8 E15i, Xperia Mini, Xperia Ray, Xperia X10, Huawei P40/P30/P20, Mate 40/Mate 30/Mate 20/Mate 10, V20/V10/G9, Nova 7/Nova 6/Nova 5, etc.
With this professional utility, your privacy will be well protected.
How to transfer data from Sony to Huawei with Transfer for Mobile?
Step 1. Install the downloaded program before running it on your computer. The initial interface will cue you to plug both Sony and Huawei phone into the computer via applicable USB cables.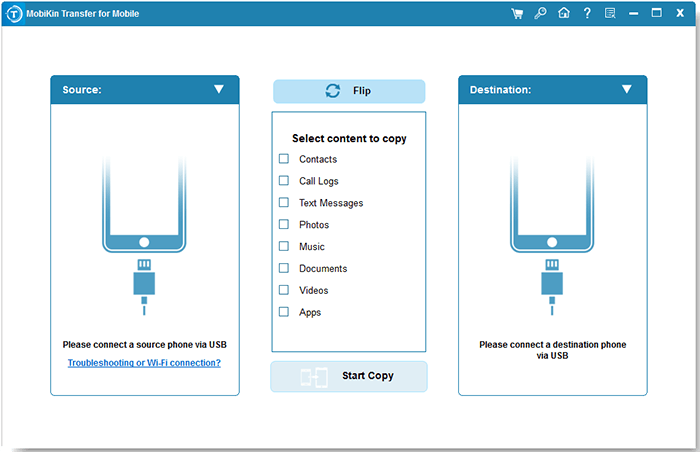 Step 2. After the phones are linked, you should follow the clear hints on the screen to have them identified.
Step 3. You will then get the main screen as below. Just make sure your Sony phone is on the left of the screen, and the Huawei phone is on the right. If not, click "Flip" to exchange their positions.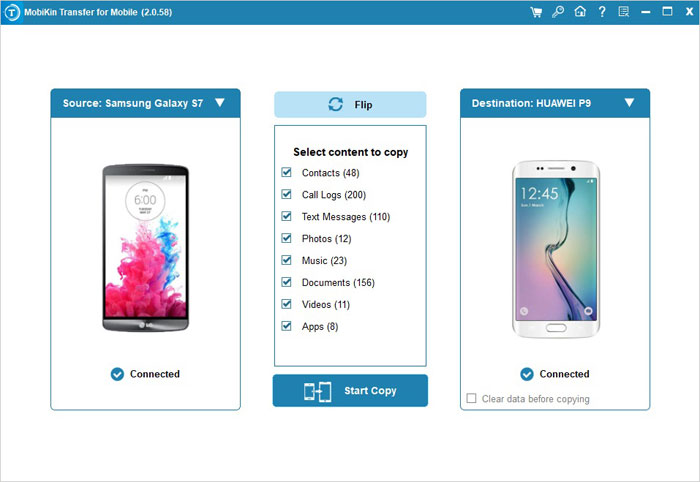 Step 4. Tick off your desired data types in the middle, and then click on "Start Copy" to initiate Sony to Huawei file transfer.
Before the last click, you can choose to clear the saved data on Huawei or other Android phones by ticking the option "Clear data before copying".
You May Need:
Solution 2: How Do I Transfer Data from Sony Xperia to Huawei via Assistant for Android
You can also do this indirectly through MobiKin Assistant for Android (Win and Mac). This program assists you to back up data from Sony Xperia to your PC and then restore them to the target Huawei phone. What's more important, this utility helps you fully manage your Android content. For example, you can use it to add, edit, delete contacts, text, or mass text your friends or family on your PC/Mac, transfer data between Android and computer, install & uninstall apps on computer directly.
How to transfer data from Sony Xperia to Huawei with Assistant for Android?
Step 1. Give the right version above a click to download the software. Then, install and open it on your computer. Link Sony to the computer via a USB cord before the tool recognizes it. Next, click on "Super Toolkit" at the top menu.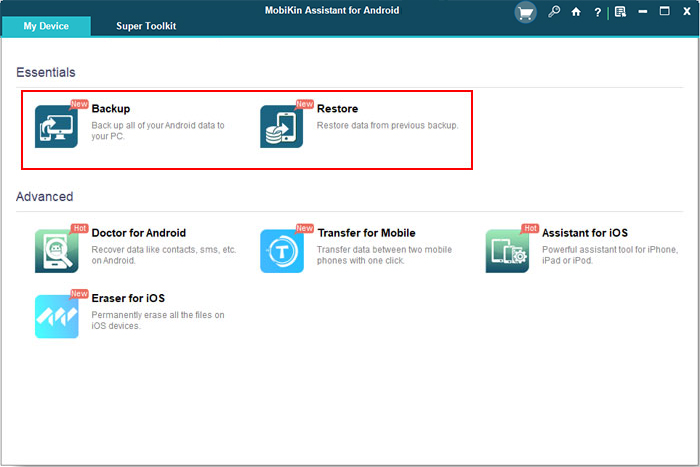 Step 2. Choose "Backup" and then mark your wanted data type(s). Locate or create an output folder on the computer to store the items. Now, click "Back Up" to put them on this computer. Once completed, disconnect the cord between Sony Xperia and your computer.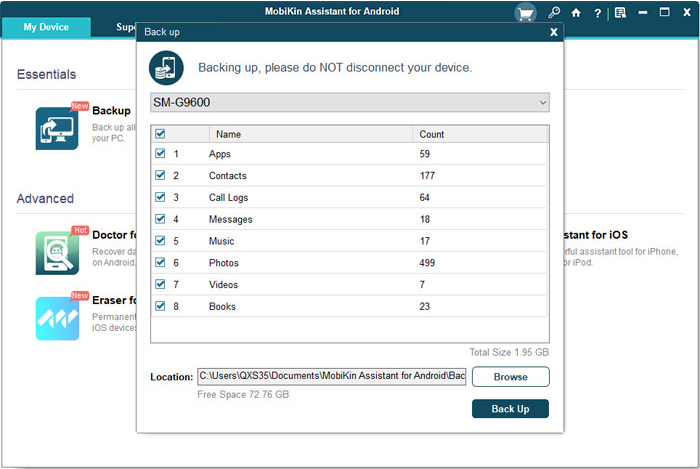 Step 3. Connect Huawei to this computer and tap "Super Toolkit" > "Restore". Then, choose the file categories you like from the backup records. After that, tap "Restore" to get the stuff onto your Huawei phone.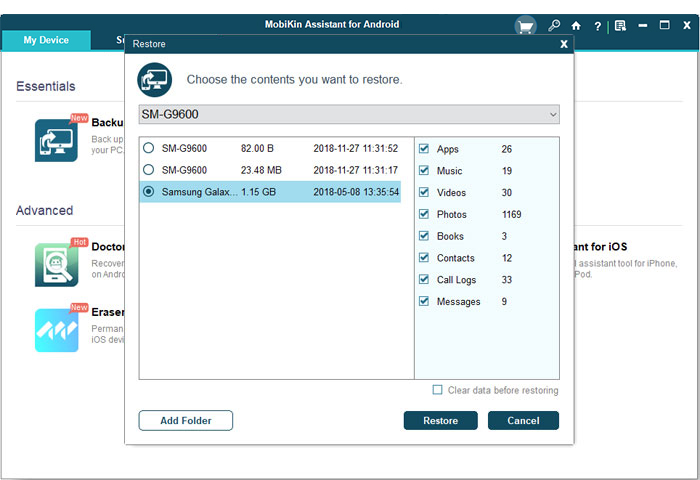 Alternatively, if you only want to transfer contacts, call records, SMS, you can also go to the left sidebar from the "My Device" section and select "Export", shortly followed by "Import" to complete the data transfer. For details, please refer to this post: how to transfer contacts from Samsung to Huawei.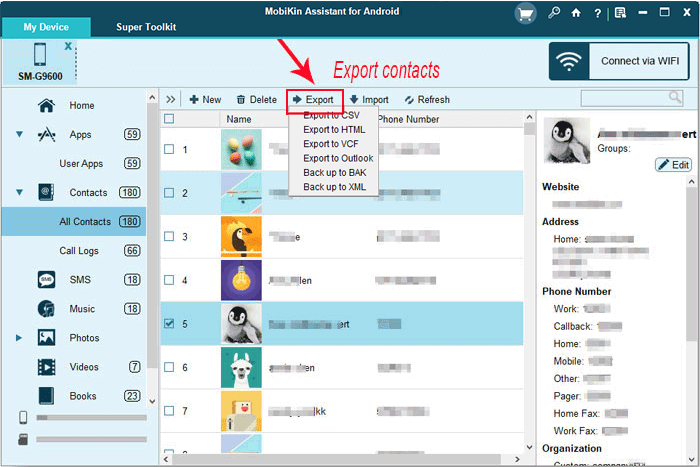 Solution 3: How to Transfer Data from Sony Xperia to Huawei Using Phone Clone
With Phone Clone, you can move data from an iOS/Android device to Huawei. It works on Android 4.0 or above and iOS 6.0 or later. Before the task, you should have a smooth WiFi network. And then follow the instructions on the interface of the tool to get the devices connected.
How to transfer files from Sony to Huawei using Phone Clone?
Download Phone Clone on Sony Xperia and Huawei before installing and opening it.
On your Huawei smartphone, go to Old phone > Connect old phone > Touch here to generate a QR code.
On the Sony Xperia, tap on "THIS IS THE OLD PHONE" and scan the QR code created by Huawei to establish a virtual connection.
You will now find the "Select app data" prompt on Xperia; just choose your wanted data types.
Touch "SEND" to start moving data from Sony to Huawei.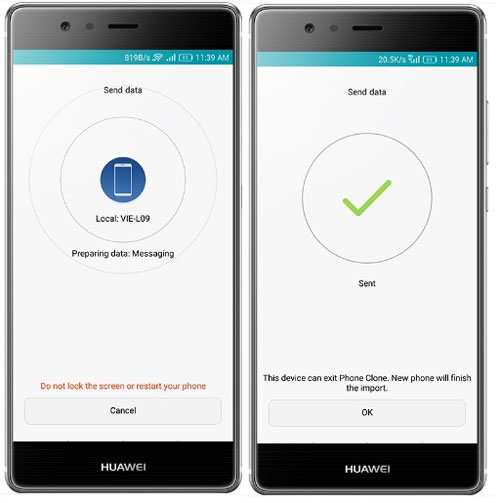 You May Need:
Solution 4: How to Copy Data from Sony to Huawei with Google Backup
The data transfer from Sony and Huawei can also be done by using the Google backup & restore feature. When backing up the Sony data, you can choose either overall or classified backup (yet, Google's classification of data types is not detailed enough). After that, simply log in to the same account on Huawei to restore the backup.
Here's how to transfer data from Sony to Huawei with Google Backup?
1. On your Sony phone, head to Settings > Account and sync/Accounts > Google and enable the options for "Contacts", "Calendar", or other data types for syncing.
Tips: You can also sync Sony data to the Google cloud in this way: for Android 7.0 and earlier, head to Settings > Backup & reset > Back up my data; for Android 8.0 and up, go to Settings > System > Advanced > Backup.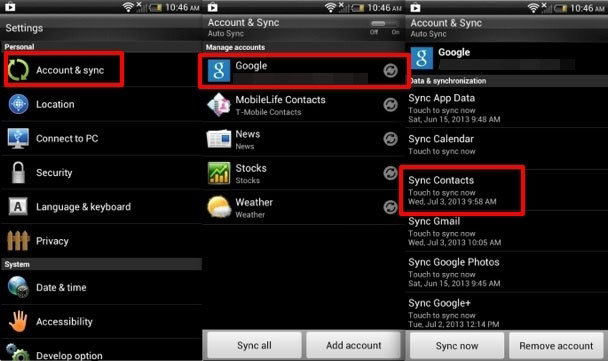 2. When accomplished, unlock your Huawei phone, head to Settings > Accounts > Google, and log in with the same Google account.
3. Switch on buttons nearby contacts, calendar, app data, etc., as you wish. Finally, press "Sync Now" to sync the backup to this Huawei phone.
Solution 5: How to Move Data from Sony to Huawei with Bluetooth
Bluetooth is able to copy data like media files, contacts, documents, APK files, etc. between two devices. It's quite easy to operate but not efficient. After pairing the devices, you can add content for migration. Below we take the contact transfer as an example to interpret its working process.
How do I transfer contacts from Sony Xperia to Huawei P20/P30 Lite/P40/Mate 40, etc. over Bluetooth:
Go to "Settings" on both Sony and Huawei to enable Bluetooth. Then, place the devices close to each other.
Set your Huawei phone in discoverable mode from the Bluetooth Settings.
On Sony's Bluetooth screen, search for your Huawei phone for pairing.
After that, open the Contacts app and tap "Send contacts" or "Import/Export" > "Send contact by Bluetooth" or "Share via Bluetooth" > touch the receiving device (Huawei).
Turn to your Huawei mobile to tap on "Accept" to receive the contacts files.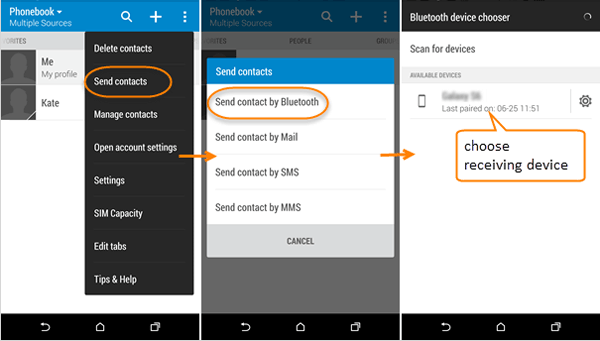 After the transfer, you can import the stuff into the contact list by going to "Bluetooth transfer history" on your Huawei phone > find and select the vCard file > click "OK".
Final Words
Well, the above-mentioned methods can generally let you get around your problem. Specifically, MobiKin Transfer for Mobile can quickly transfer large amounts of content, and even a beginner can catch up on the tutorial; MobiKin Assistant for Android offers you more choices and helps develop the habit of Android data management.
In terms of Phone Clone, it is unstable to connect or transfer large files occasionally; Google Backup might expose your privacy to the 3rd-party cloud platform; and finally, Bluetooth is more suitable for users who have enough time to move files with specific data types.
Related Articles:
Huawei Data Transfer: Migrate Data between Huawei and Other Devices
How to Transfer Data from Huawei to iPhone (#1 Is Excellent)
Transfer Contacts between Sony Ericsson and Samsung Galaxy
Google to Sony - Transfer from Nexus to Sony Xperia
How to Transfer Photos from Huawei to PC in 2020