iPhone to Xiaomi Transfer: Transfer iPhone Data to Xiaomi Mi/Note/Redmi
"I've been an iPhone user for the last 6 years, and I was wondering how the switch to a Xiaomi phone is? Could anyone share their experience of iPhone to Xiaomi transfer? Did you have any issues with transferring your contacts, photos, etc?"
Xiaomi brings users the supreme audio-visual enjoyment and smooth game experience. And its innovative three-lens camera configuration of Xiaomi Mi 10/9 is drawing many non-Mi fans. Thus, some iPhone users may ditch their old phone to go for the new Xiaomi mobile? After that, you may also be unsure about how to transfer iPhone data to Xiaomi/Redmi/Note like the above user from "Reddit".
Indeed, many users find it not as easy as it is if they transfer files on different OSes. But take your time, this simple guide will show you 4 best ways to let you off the hook.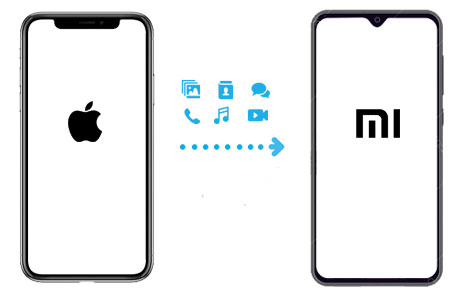 Way 1: How to Transfer iPhone Data to Xiaomi via Transfer for Mobile
If you still get stuck in the query about the different OSes, and are wondering how to transfer data from iPhone to Xiaomi Mi 9/10, Redmi Note 9/8/7, Mi Mix, etc, then MobiKin Transfer for Mobile (Win and Mac) can keep you from wandering. This dependable tool is able to perform consistently excellent tasks without going through complicated instructions. Even if you have a whole bunch of files for transfer, it can address them well in a fast and convenient way. Again, the continuously optimized features make it prominent.
Major functions of MobiKin Transfer for Mobile:
> One-tap to switch from iPhone to Xiaomi with no data loss.
> Transfer contacts, text messages, music, pictures, videos, books and more from iOS to Android devices seamlessly.
> Migrate files between Android devices, between iOS devices, from Android to iDevices and vice versa.
> Perform quick data migration, maintaining the original quality.
> Work properly on various Android and iOS devices, such as iPhone 14/14 Pro/14 Plus, iPhone 13/13 Pro (Max), iPhone 12/11 (Pro)(Max)/X/XR/XS (Max), iPhone SE/8/7/6/5, iPad/iPod, and Xiaomi Mi 10/Mi 9 (Pro)(SE)/Mi 8 (Pro)(Lite), Redmi Note 9/Note 8/Note 7, Mi Mix 3, Mi Mix 2S, Mi Mix 2, etc.
Here's how to transfer data from iPhone to Xiaomi/Redmi with Mobile for Transfer:
Step 1. Install and launch the program on computer
Download and install the proper version of Transfer for Mobile on computer (if you get the Mac version on your Mac, you can also refer to these steps). Then open it, and you'll be asked to have your iPhone and Xiaomi device plugged to computer via USB cables.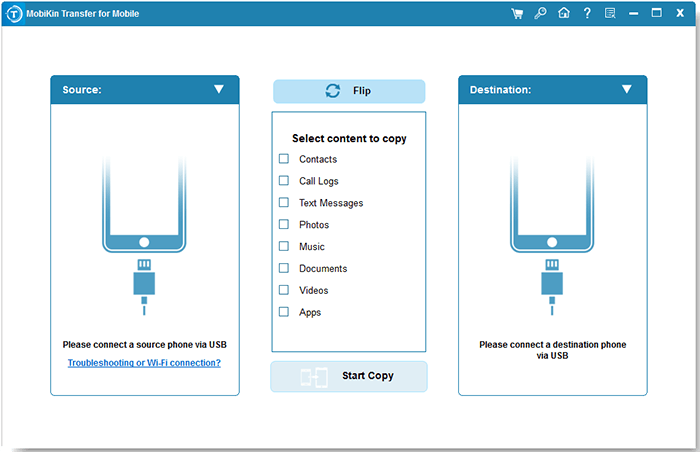 Note: After the connection, you should then turn on USB debugging on Xiaomi phone, and follow the prompts to make the phones identified by computer.
Step 2. Choose your needed data for transfer
Upon the successful recognition, your two mobiles will be listed on the window as below. Now, just tick on your desired files from the data list in the middle of the screen for migration.
Data will be transferred from source device to destination device. Therefore, if you find the source device on the screen isn't your iPhone, Simply tap the "Flip" option to switch their positions.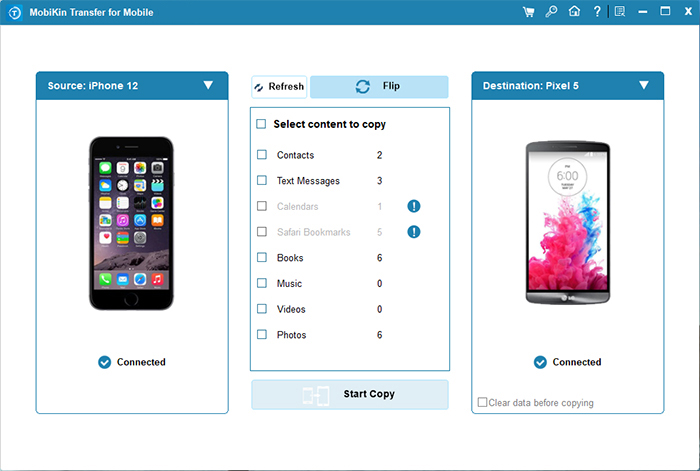 Step 3. Transfer data from iPhone to Xiaomi Mi/Note
Tap on the "Start Copy" button to begin to transfer iPhone data to Xiaomi in one click. The completion time of the process will be determined by the size of the chosen data.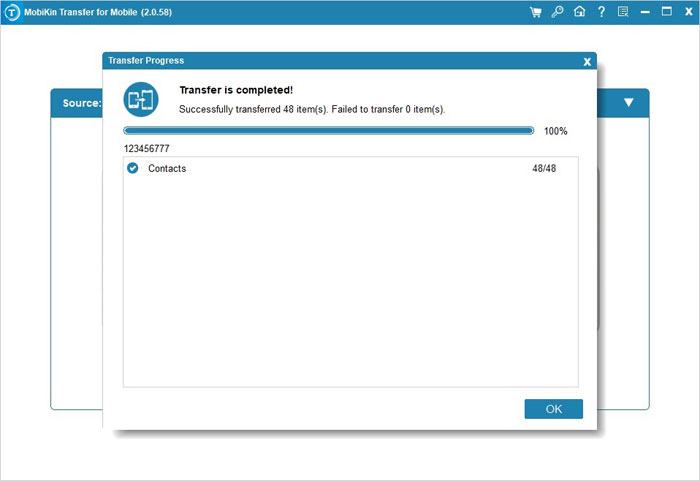 The original data on Xiaomi won't be overwritten unless you marked "Clear data before copying" on the lower right of the screen above.
You May Interested in:
Way 2: How to Transfer Data from iPhone to Xiaomi with Mi Mover
With Mi Mover, the official tool from Xiaomi Inc, you can easily complete the mobile file transfer. It enables you to transfer data of iPhone or any Android phone to Xiaomi, supporting the migration of contacts, call record, SMS, photos, music, video, app, ringtone, etc. Besides, the two devices need to be paired with QR code before the secure data transfer.
To find a workable and clear direction to use Mi Mover immediately, you don't have to search for "Mi mover iPhone to Xiaomi" on Google. Simply go with the easy steps below to get its use.
How do I transfer data from iPhone to Xiaomi Mi Mix 3/2 with Mi Mover?
Step 1. Switch on WiFi feature on both the iPhone and Xiaomi/Redmi. Head to "Settings" > "Additional Settings" > "Mi Mover" on your Xiaomi to open the app. Then download, install and start it on your iPhone.
Step 2. Click "This is a new smart phone" on Xiaomi, and choose "Import from iPhone". After that, type in your iCloud info (account and passcode) to get into next page.
Note: To create a connection for data transfer, you can set Xiaomi phone as a recipient as prompted. Then a QR code is created automatically. Afterwards, just pick up your iPhone to scan the code.
Step 3. Select whatever data you need from your iPhone. Then tap on "Send" to initiate iPhone to Xiaomi transfer. Lastly, receive the chosen data on the destination Xiaomi/Redmi.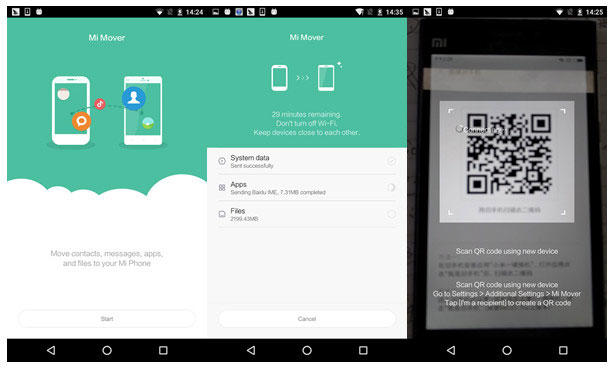 Way 3: How Do I Transfer Data from iPhone to Xiaomi/Redmi Using Google Drive
It is relatively straightforward to make use of Google Drive to transfer from iPhone to Xiaomi/Redmi. iPhone data like calendars, contacts, photos & videos should be synced to the drive, and therefore restored to Xiaomi. Plus, the whole process might be slow, so advise you to get enough power on the devices, and work with stable WiFi.
Below is how to transfer data from iPhone to Redmi/Xiaomi with Google Drive:
Step 1. On your iPhone, enable the WiFi feature, and give the Google Drive a download from the App Store. Then head over to "Menu" > "Settings" > "Backup" to back up iPhone contents.
Step 2. Next, choose your desired stuff like calendars, contacts, photos & videos, etc. to back up. Subsequently, click "Start Backup" to commence. Then wait for the end of this process.
Step 3. Unlock your Xiaomi phone, and add the Google account on it. Next, go to "Settings" > "Accounts" > "Add Account", and you'll access to the backup list. Then choose what you wish to restore to Xiaomi/Redmi.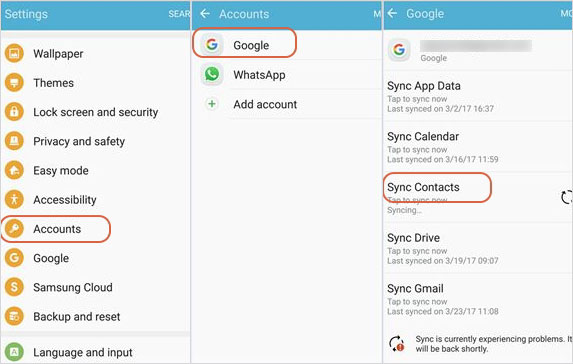 Further Reading:
Way 4: How to Transfer Data from iPhone to Xiaomi Mi/Note with iCloud (Contacts Only)
The premise of trying this means is that your iPhone has synced your contacts to iCloud. The file will be then exported to computer as vCard format. After that, these files are to be moved into the iPhone "Contact" app by importing them with Google account. At last, sign in the account on Xiaomi to get these phone numbers.
Now, you can check the tutorials with slightly complicated procedures involved to see how do I transfer contacts from iPhone to Xiaomi with iCloud?
Step 1. Export the contacts from iCloud to computer
Enter your apple ID after you visit icloud.com. Then choose "Contacts" > "Settings" > "Select All". Next, tap "Settings" again to choose "Export vCard" to get a .vcf file. And just save the file to your computer.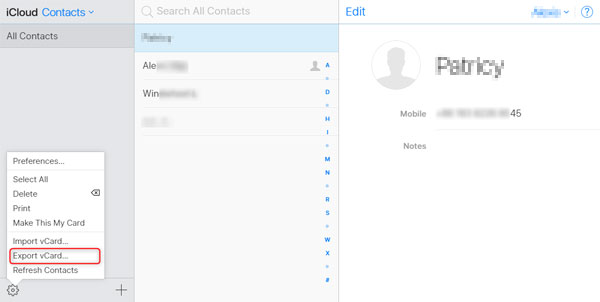 Step 2. Move vCard file to Google Contacts app
Navigate to "Google Contacts" after you visit the website of Google Account on any browser from computer. And then log in it with the Google account. Go to "More" > "Import" to select .vcf file that was just created. Then tap on "Import", and after that, all the phone numbers will be imported to "My contacts".
Step 3. Log in Google account on Xiaomi Mi/Redmi
Power on Xiaomi mobile and go to "Settings" > "Accounts" > "Add an account" > "Google". Sign in your Google account, and you'll find the imported contacts from the "Contacts" app of your Xiaomi.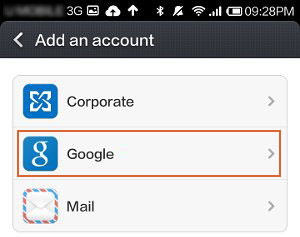 Ending Words
Now, there you have it! Of the 4 tools, are you impressed with MobiKin Transfer for Mobile? Alright, to make data migration with such a powerful magic, users even beginners can get the hang of its given steps. It's secure for you to perform iPhone to Xiaomi data transfer irrespective of the platforms they run on.
By the way, as we know, Xiaomi has always been popular with not merely gathering an affordable price tag, but without cutting corners on the specs. Now, if your friends intend to pick up Xiaomi or any other phone instead of the old iPhone, welcome to share this tutorial with them to ease their lives.
Related Articles:
4 Optimal Methods to Transfer Data from Samsung to Lenovo
How to Transfer Contacts & Text Messages from iPhone to Pixel [Tested]
How to Transfer Apps from Samsung to Samsung [4 Simple Methods]
[Overview] Top 9 Samsung Smart Switch Alternatives and Similar Apps
Can You Unlock a Stolen iPhone? Yes But Not Recommended