6 Solutions to Unlock HTC Phone Forgot Password [Way 1 Is the Best]
So, you are locked out of your HTC phone after several attempts of wrong passwords, PIN codes, or patterns. This can be frustrating, especially if you forget your Google account credentials associated with your device. Well, any tips on how to unlock HTC phone forgotten password under unfavorable circumstances?
Don't worry. Whatever situation you are in, you have a way to re-access your HTC phone. Just run through this post with the six most effective methods to unlock a HTC phone without knowing the password.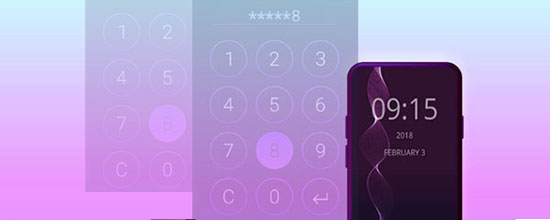 Solution 1: How to Unlock HTC Phone Forgot Password via Android Unlock
Among all the methods, the most amazing one is to use professional tools. And the best phone unlocking program can be Android Unlock. Whether you're using an old or the latest version of your HTC phone, all you need to do is download and install the program, and then unlock the lock screen with a few clicks. In addition to simplicity and wide applicability, the best part of this software is to unlock almost all types of Android locks with a high success rate.
Main characteristics of Android Unlock:
Unlock HTC phone forgotten password flawlessly.
Bypass Android device's password, PIN, pattern lock, and fingerprints.
Unlock some Samsung and LG phones without data loss.
Intuitive interface, no technical knowledge required, quick unlocking, etc.
Work for various Android devices, including HTC Wildfire E2 plus/Desire S22 Pro/U12/U11/U10/U9, One M12/M10, One M9W, One M9Et, One M8W, Desire Z, HTC Desire C, Desire HD, Desire HD A9191, Desire S, A3360, A3366, A510e, A3380, A510b, Samsung, Huawei, Xiaomi, Lenovo, LG, Motorola, OnePlus, etc.
It won't let out your privacy.

How to remove HTC locked screen via Android Unlock?
Step 1. After installing and running the software on your computer, go for "Screen Unlock" from the interface.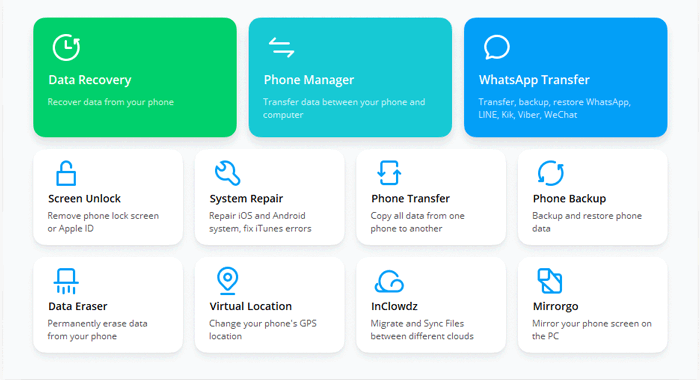 Step 2. Connect your HTC phone to the computer via a USB cable and tap on "Unlock Android Screen".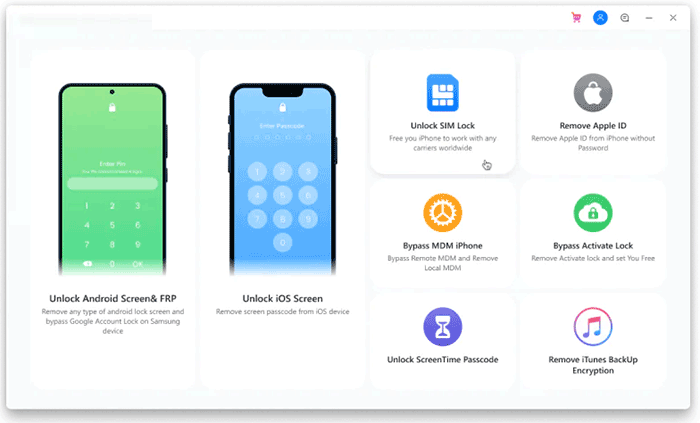 Step 3. Choose the correct phone model from the given list. For HTC mobiles, please select "I can't find my device model from the list above". Then press "Next" to continue.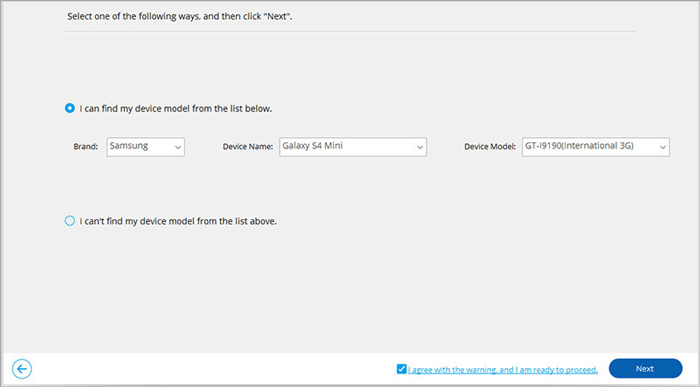 Step 4. This software will start to identify HTC and turn on the lock screen removal function. After the configuration completes, you can click on "Unlock Now".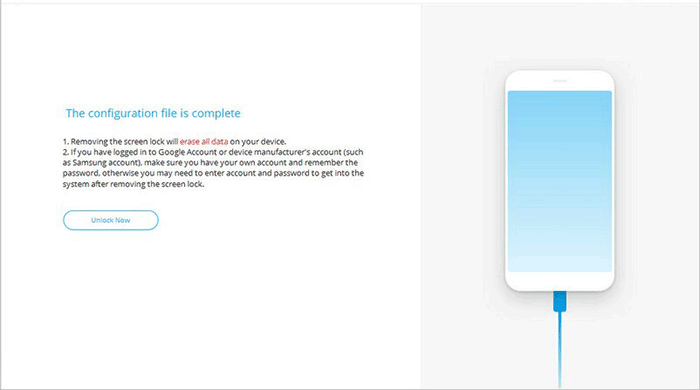 Step 5. Follow the instruction on the screen below to enter Recovery Mode before clicking "Next".
You can choose "phone with Home button" or "phone without Home button" from the interface to find the steps that are appropriate for your HTC phone to boot into Recovery Mode.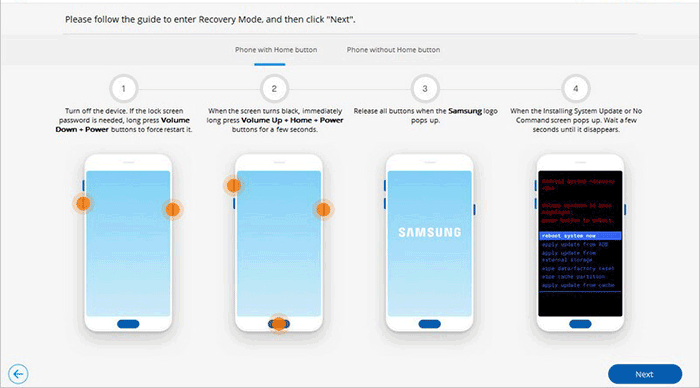 Step 6. Follow the direction on the interface of this tool to wipe out all your phone's settings.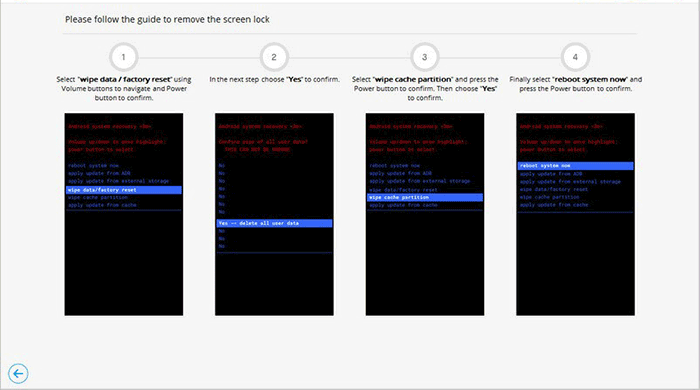 Step 7. Finally, the HTC screen lock will be removed successfully. Just click on "Done".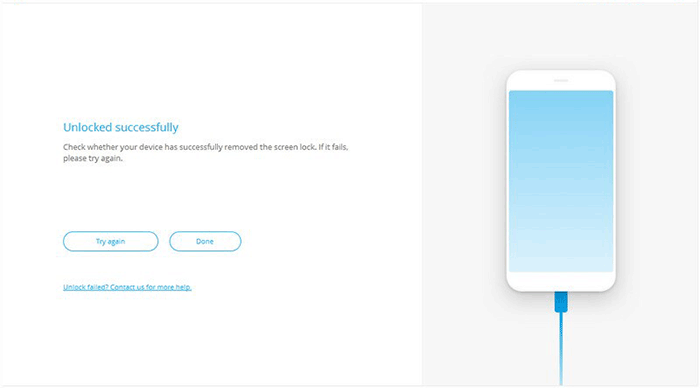 You May Also Need:
Solution 2: How to Unlock HTC Pattern Lock if Forgotten via Google Account Only
One of the easiest ways to bypass an HTC locked screen is to use the Google account as long as you linked one to your device. However, this method only works for devices running Android 4.4 or below. To get HTC pattern lock bypassed, you can:
Attempt to unlock your HTC smartphones five times.
Your smartphone will give you the option to log in using an alternative method.
Tap on "Forgot Pattern (Forgot Password)".
Log in to the Google account linked with HTC. (Cannot sign in to Google account on Android?)

Ensure your phone is connected to the Internet.
If you can't remember your Google account info, try recovering it using a different device.
After that, go to the "Settings" > "Security".
Choose to lock HTC through a new pattern, PIN, or password.
You can then use the security feature to access your phone.
Solution 3: How to Unlock an HTC Phone without Knowing the Password via ADB
Assuming you enabled USB debugging on your HTC phone, you can try to delete the HTC lock screen via ADB (Android Debug Bridge). Yet it is time-consuming and complicated, as compared to other solutions. Here's how to remove the screen lock on HTC via ADB:
Download the ADB on a computer by visiting https://developer.android.com/studio/command-line/adb.html
Next, launch an installer to download the essential packages on this computer.
Then, connect HTC to the PC with the help of a USB.
After that, go to HTC "Settings" > "About Phone" > tap "Build Number" 7 times.
This will activate the developer router on HTC.
Again, go to "Settings" > "Developer options" > enable the "USB debugging" on HTC.

Join your device to a system > open a command prompt in the installation directory of your ADB.
Here, please "adb shell rm /data/system/gesture.key" and hit "Enter".
Restart your HTC phone, and you'll access it.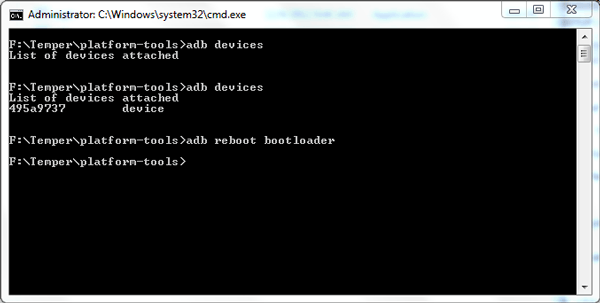 Know More:
Solution 4: How to Bypass HTC Pattern Lock Using Find My Device
Google Find My Device, previously known as Android Device Manager, allows you to track, lock and delete files on a lost or stolen Android phone. It also works for resetting the HTC password if you ever logged into your Google account, turned on "Location", and enabled "Find My Device" beforehand.
How to get past the HTC lock screen with Find My Device?
First, go to your desktop or laptop and connect it to the Internet.
Next, open one browser and go to Google Find My Device.
After that, log in to your Google account used for HTC.
You will see three options [PLAY SOUND, LOCK, and ERASE].
Select the "ERASE" option > "ERASE ALL DATA".

Finally, the phone will shut off and take several minutes to restart.
Solution 5: How to Reset HTC Pattern Lock/Password with Backup PIN
A security PIN code was set up when you set the lock screen on HTC. So, if you have a backup PIN available, simply try to get past your HTC U12/U11/U10/U9 lock screen in this way. Let's see how to unlock the HTC pattern lock if forgotten with a Backup PIN:
First of all, go to your phone's pattern lock.
Try several random attempts to unlock it.
You will get the message saying, "try after 30 seconds".
You'll find the "Backup PIN" option; just tap on it.
Finally, enter a backup PIN and click "OK" to unlock the HTC lock screen.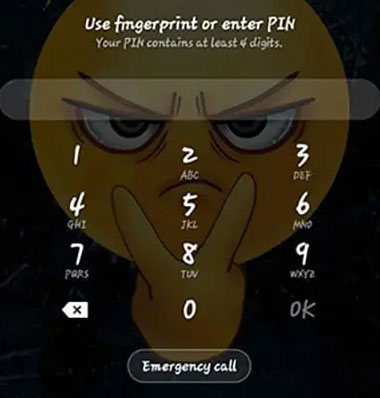 Solution 6: How to Open a Locked HTC Phone by Factory Reset
This mode empowers you to perform maintenance functions without entering a password. Yet, conducting a factory reset will delete all the HTC phone files, including drivers and defaults settings.
Note: For HTC with Android 5 Lollipop or up, "Device Protection" may be enabled. And you'll need to get into your phone by logging in to your Google account. (Can I remove my Gmail account from Android?) Plus, make sure the HTC device is charged at least 35%.
How to unlock HTC phone forgot password by factory reset?
Primarily, turn off your HTC Android Mobile by holding down the Power button.
After that, press and hold "Volume Up + Power" > "Volume Down + Power".
Release all buttons when the HTC logo is displayed.
Then you will get the Android exclamation mark.
When holding down the "Power" button, please press and release the "Volume Up" key.
Use the "Volume" buttons to select "wipe data/factory reset".

Press the "Power" button to activate the option.
Now a screen with the "NO" and "YES" options will appear.
Use the "Volume" buttons go to "YES", and press the "Power" button.
Select the "reboot system now" option and press "Power" to confirm.
Finally, HTC will reboot and take minutes to start up.
Quick Summary
Finally, we can clearly conclude from the passage that Android Unlock can unlock HTC phone forgotten password in almost any case as below:
You don't have any PIN codes available.
The USB debugging is disabled on HTC.
The "Find My Device" feature is off on your phone.
There's now Google account associated with HTC.
So, just download this program and give it a shot now.

Related Articles:
6 Simple Methods to Transfer Data from HTC to Samsung
Top 6 Ways to Transfer Text Messages from HTC to Computer
In-depth Guide on How to Transfer Photos from HTC to PC
Top 8 Methods to Unlock Samsung Phone Forgot Password Easily
10 Best Android Phone Repair Software and Apps to Fix Android System Issues
[Up to Date] How to Wipe Android Phone Completely before Selling?