AnyDesk Review: Everything You Want to Know about AnyDesk [Unbiased]
It has become a fashionable way to access intelligent terminal devices through remote connection for sharing files or working remotely. This is particularly prevalent amid a background of limited social interaction between people nowadays.
As one of the reliable remote access programs, AnyDesk has been entrusted with a heavy responsibility. Although it works without having to forward ports on a router, its drawbacks are increasingly exposed to the public, giving rise to the hot search of AnyDesk reviews. Need to learn more about this app? Read on for what you want below.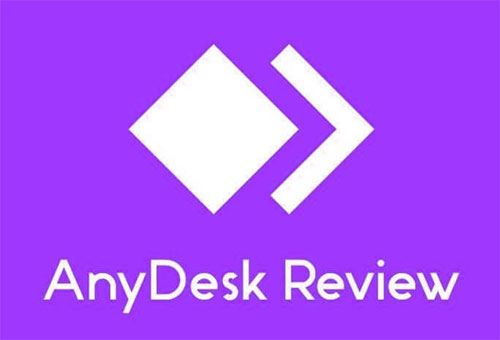 Section 1: Overview of AnyDesk
Designed to offer remote access to computers and mobile phones/tablets, AnyDesk is a widely-used trailblazing and innovative provider of the Remote Desktop Program released in Stuttgart, Germany, in 2014. It provides users with easy, quick, and safe solutions for remote access, remote support, online collaboration, and file sharing. (Can I transfer files from iPhone to Android?). With offices in many cities worldwide, AnyDesk takes a leap forward from start-up to scale-up and expands the business globally.
Click to Know:
Section 2: Key Features of AnyDesk
We sort out the main characteristics of this app from various trusted sources besides the conclusion from www.anydesk.com reviews. And here are the key ones:
Collaboration tools besides remote access.
Customizable branding
File sharing for texts, contacts, etc.
Value for money & ease of use.
Access sleeping/powered-off computers.
Over-the-Internet remote session.
Remote management of servers.
Centralized management dashboard.
Capture screenshot.
Multi-platform remote control.
Show remote cursor.
Allow remote printing. (How to print text messages from iPhone for court?)
Sound transmission & view-only mode.
Block inputs from other users.
Access various settings from the menu bar.
Alter the connection for the best video quality.
The control can be switched between two connected devices.
Let you save connection shortcuts on the desktop.
Record a session as a video file.
Display a list of old connections at the bottom of the app screen.
Let you set up AnyDesk to don't allow remote users from performing several tasks.
Customer support.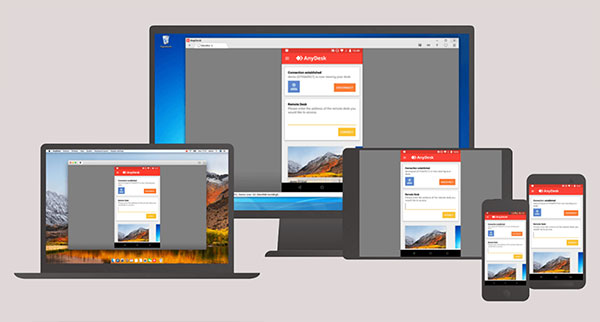 Section 3: Likes and Dislikes on AnyDesk
Likes:
Clean and intuitive interface.
Fast connection speed.
Tech-friendly.
Use a specialized video codec.
Unattended access.
Affordable single-user option.
Wake-on LAN supported.
Dislikes:
Minimal configuration options.
Slender toolset for businesses.
Support a mixed bag.
It takes long and lags a bit.
The mouse control is a bit difficult.
The connection seems to drop, with no alert or notification given at times.
See More:
Section 4: How to Use AnyDesk to Control Mobile from Computer
Before we delve into AnyDesk reviews, let's see how it works. Like many other robust desktop programs, AnyDesk should be downloaded first on your PC. Then, start the app in portable mode. It's quite simple to do so. But you have to install it if you need to utilize custom aliases. Here's how to use AnyDesk to control your phone from a computer:
Install the AnyDesk Android app from the Google Store on the target phone.
Also, install the AnyDesk app on your PC or guest device.
Run the app on Android and copy the address or user ID.
Next, open AnyDesk on your computer and paste the phone address as shown in the figure.
After that, the app will send a notification to the device.
Accept it to create a wireless connection between your phone and computer. (If the connection cannot be established, enable USB debugging on Android and try again)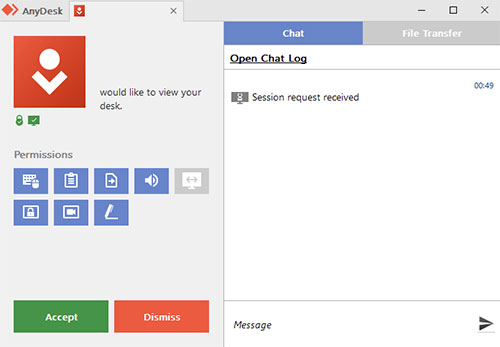 Important: If you share "Your Address", the other machine will control this one; You can switch control by sending an access request; it lets you set up a password if you need to enable unattended access. Namely, even if there's no one attending the computer, you can still access it with the password.
Section 5: Unbiased Anydesk Reviews
1. AnyDesk Reviews from Mauricio
"Since the organization started using AnyDesk for technical support, general settings, solving technical problems on Windows, installing printers, scanners, drivers, and software has improved. It is installed on all corporate computers. And we are on the TI support team use AnyDesk to are in general for its users."
Ratings: 5 out of 5.
2. AnyDesk Reviews from Malay Kumar
"An easy-to-use program used to remotely connect devices and view data, documents, and software installations. Many system problems are remedied. And they can be fixed remotely from any location through straightforward gateways that easily provide access to the device."
Ratings: 4 out of 5.
3. AnyDesk Reviews from Anonymity
"Quick to deploy remote access solution, which helps accelerate remote support assistance. It is easy to deploy and also saves time from asking the customer to install it on their end."
Ratings: 3 out of 5.
4. AnyDesk Reviews from Robert Van
"After not using AnyDesk for two years, I updated it to discover a huge red buy me banner taking up valued space on my 14" laptop with time limitations making no sense understanding (2%). The fees for a Pro Lic are ridiculous. You did not keep your word to keep it unlimited without garbage banners. It once was great software, but IMO you ruined it."
Ratings: 2 out of 5.
5. AnyDesk Reviews from EVDC
"With the worst support could experience. The support website mentions a phone number, but it is just an automatic Google Translated voice that sends you to the voicemail. "Direct" numbers in email signatures are not reachable. It's just to be ashamed of. Don't choose Anydesk if you're a professional user and will depend on this program for daily business."
Ratings: 1 out of 5.
Section 6: Best AnyDesk Alternative - Screen Mirror
As we said just now, the advantages and disadvantages of AnyDesk are fairly obvious, and its reviews are also mixed. Generally, it is criticized mainly for its stability, efficiency of task execution, and user support, which are beyond its propaganda when using it for Android or iPhone devices. But worry not! In this section, we will show you a great alternative to AnyDesk - Screen Mirror, a screencasting product with almost zero defects.
Key highlights of Screen Mirror:
Seamlessly mirror Android/iOS to desktop/laptop without root or jailbreaking.
Allow you to freely control phones on a larger screen.
Let you play mobile games or manage apps on a computer directly.
Stream in-app displays and audio files to conferencing programs.
Easy to connect, smooth casting, and almost no errors.
Work for the entire range of iOS and Android devices, such as Samsung, HTC, Motorola, OPPO, Sony, LG, Google, Huawei, iPhone 14/14 Plus/14 Pro (Max), iPhone 13/13 Pro (Max)/13 mini/12/12 Pro (Max)/12 mini, iPhone 11/11 Pro/11 Pro Max, iPhone X/XR/Xs/Xs Max, iPhone 8/8 Plus, iPhone 7/7 Plus, iPhone 6/6S/6 Plus, iPod touch, iPad, etc.
It won't disclose your privacy.

As you know, Screen Mirror is compatible with both Android and iOS devices. Next, let's take Android as an example to explain how to use the best AnyDesk alternative to access and control Android from PC:
Step 1. Firstly, install and launch this screen mirroring app on your computer after the download. Then connect your device to the computer via USB. When a prompt appears on the screen, please select "Transfer files".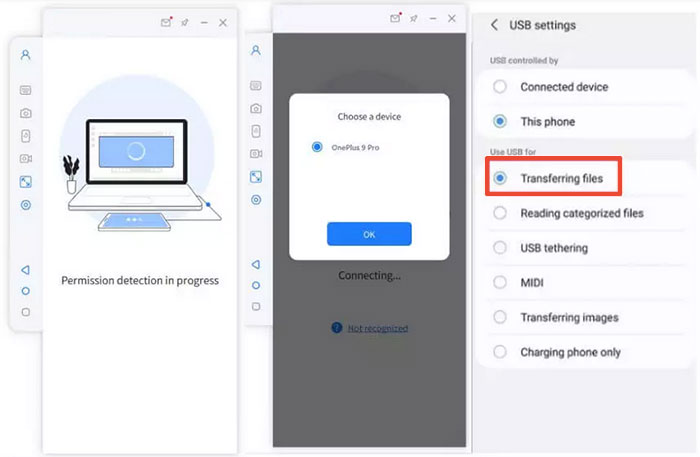 Step 2. Head over to your phone's "Settings" > "About phone" > "Developer Mode option" and tap on it 7 times. Next, go back to "Settings" and proceed to "Additional Settings" > enable USB Debugging.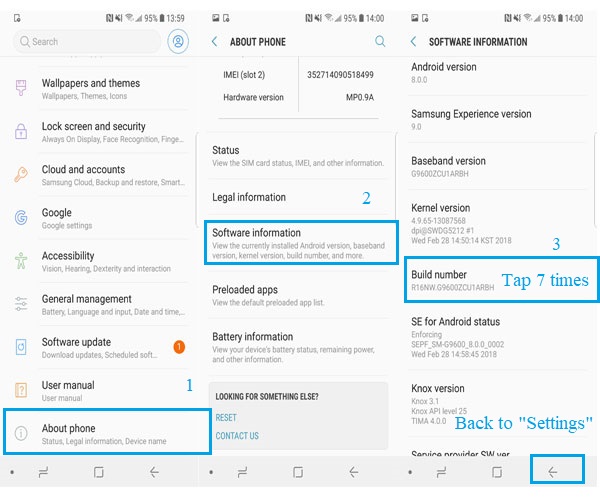 Step 3. Permit the program and allow it to show things on its top. Subsequently, click "Turn on" to let download the Android Screen Mirror apk on your Android phone. After that, you can enjoy the remote control on a bigger screen without trouble.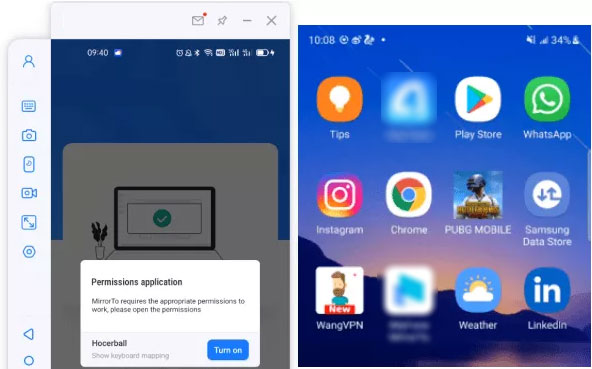 Round Off
On the whole, no software is perfect, partly because there are certain differences between the devices it runs and the tasks it performs. So is AnyDesk. This passage collects AnyDesk reviews in various respects. Now, if you have any problems or unpleasantness during use, try its best alternative - Screen Mirror, a tool that is professional enough to let you experience seamless remote access and screen projecting all through.

Related Articles:
6 Creative Ways to Connect iPad/iPhone to Computer Instantly [2023 Latest]
[2023 Updated] Practical Tips to Change Location on Facebook Dating
Top 8 iPhone Unlock Services to Unlock iOS Devices without Delay
6 Methods to Remotely Control iPhone 14/13/12/11/X/8/7 from Computer
How to Download and Play Android Games on PC [Detailed Guide]
SIM Unlock: 4 Hot Tips to Unlock SIM Cards on Android Mobile Phones