[100% Working] How to Fix "Unable to Complete Data Transfer" Error on iPhone 13/14/15?
It is quite exciting to land your hands on a sleek new iPhone. Even so, it tends to be unbelievably disappointing when we start to experience issues, such as the "unable to complete data transfer" on iPhone 15/14/13 error while transferring data from your old iPhone. Don't worry! In this article, we will dig into compelling answers to fix this issue. By adhering to the step-by-step guidelines given, you will overcome this system error and transfer your vital data effortlessly.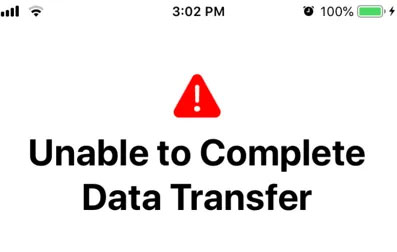 Part 1: Why is iPhone Unable to Complete Data Transfer?
This system error tends to manifest itself while trying to back up your data to iCloud or transfer data from your iPhone to other devices. A number of factors may be leading to "unable to complete data transfer" iPhone 15/14/13 issue. Mentioned below are some of the major causes:
Depleting storage space - In the case of iCloud backup, it is evident that your old phone might be the one with insufficient storage space. On the other hand, the data transfer from your iPhone to another device maybe because the destination device is running out of storage. (iPhone storage full?)
Weak Wi-Fi or cellular network - Multiple interruptions in the data transfer process can cause the manifestation of this error. This is particularly prone if the Wi-Fi connection is weak or if you are using an unstable cellular network.
Obsolete iOS in the iPhone - iOS updates may come with different file formats for the iPhone. This may therefore result in incompatibility during data transfer. If any of the phones, either the source iPhone or the destination iPhone, has an old iOS, then direct data transfer may be problematic. A concoction of glitches and system-level bugs in the new device can also be an issue and can only be resolved through software updates.
It is, therefore, prudent that after you have encountered the system error "iPhone unable to complete data transfer" that you reset your cellular or Wi-Fi connection, check if there is sufficient storage and also, update any of the iPhones to the latest iOS.
You May Also Want to Know:
Part 2: How to Fix Unable to Complete Data Transfer iPhone 13/14/15 Error
Way 1. Opt for cable data transfer
Having a USB cable to transfer data from one iPhone to another or to another device, is far much more reliable than wireless methods. All you will need is to have the two iPhones linked together using a Lightning cable and also, have a USB 3 Camera Adapter.
When you are unable to transfer data to new iPhone, follow these steps for a wired data transfer using USB:
Using a Lightning to USB cable, establish a connection between the new iPhone and the old iPhone.
Once you connect the two iPhones, you will see a prompt appearing on the old iPhone asking you if you want to trust the new iPhone. Select "Trust" then continue.
Also on the new iPhone, another on-screen prompt will be displayed giving you the option to commence data transfer from the old iPhone. All you will need to do is to tap "Continue".
There you go! You should be able to deal with the "unable to complete data transfer" message on your iPhone using a wired method now.
Way 2. Update iPhone 15/14/13 to the latest iOS
Software bugs found in previous iOS versions and new iPhone releases are often dealt with new updates. System glitches and bugs lead to "iPhone unable to complete data transfer" message. Constantly looking out for new updates that are available and installing them in time could get rid of this issue.
To bypass "unable to transfer data" to new iPhone using software updates, here are the steps:
Open the "Settings" app on both iPhones and then tap on the "General" option.
While there, look for the tab written "Software Update" underneath the "About" tab
It is from here that you can check for regular iOS updates available. Once you get a notification that there is a new update, select "Download and Install" to update your iPhone 15/14/13 to the latest iOS.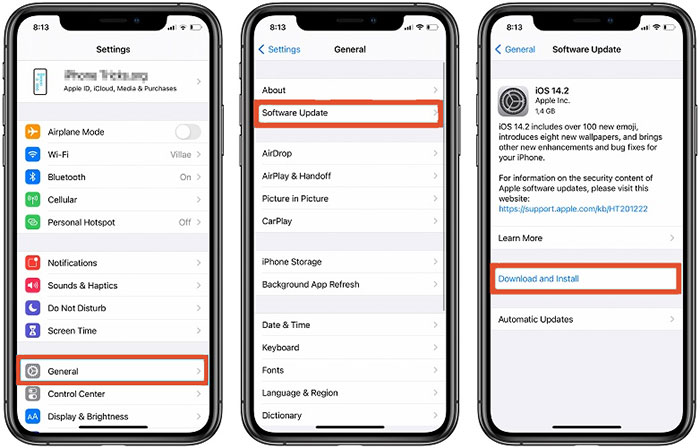 Follow these steps on both the destination and source iPhone.
Note: For ease of the software update process, check to see whether the iCloud storage and iPhone storage are enough before updating to the new iOS.
Way 3. Turn on Bluetooth on both iPhones
It is a prerequisite to use both Wi-Fi and Bluetooth for the wireless data transfer between iPhones. It is hence pertinent to have a Bluetooth connection established to utilize the Quick Start feature. (How to transfer photos from iPhone to PC via Bluetooth?)
If you have not yet turned on Bluetooth, then you should follow these steps to fix the "unable to complete data transfer" system error:
Gain access to iPhone's Control Center by swiping from the top right of your iPhone 15/14/13 screen.
Once you find the Bluetooth button, tap on it until it turns blue.
Do this on both phones and then go to the Bluetooth feature found in the settings app. From here, discover the other iPhone that you want to do data transfer with and establish a connection.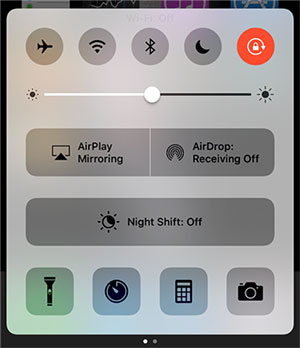 Way 4. Factory Reset iPhone 15/14/13 and Restart old iPhone
If you have tried to update to the new iOS, and it has not worked, then most likely rebooting the old iPhone would be able to help. On your new iPhone 15/14/13, you can also try to restore factory settings to see if the issue can be fixed.
To reboot the source iPhone, adhere to these steps:
Simultaneously, long press the side power button and the volume up button. You should do this until you see the option written "Power off" appearing on the screen.
Use the power off slider to turn off the old iPhone. You simply need to drag the slider to the right.
Your phone should remain off for more than 30 seconds. After which, you can now hold down the power button to turn on the iPhone.
Here is how to restore factory settings in your new iPhone 15/14/13:
Launch "Settings" and browse to the option dabbed "General".
Scroll down to the list of options given until you find the one named "Transfer or reset iPhone". Tap on it, then tap "Erase All Content and Settings" to continue.
On the next screen, select the blue tab written "Continue". You can then follow the on-screen instructions to verify the factory reset process.
Way 5. Go for iTunes Data Transfer method
Still puzzled by "iPhone unable to complete data transfer" error? Relax! We have more fixes lined up. In the case that the above wireless and wired data transfers are inefficient or uncapable, then try the computer method via iTunes. This is Apple's own native and very reliable solution when you have encountered the "unable to complete data transfer" system error.
To efficiently transfer data from your old iPhone to your new iPhone using iTunes, see the steps below:
Connect your PC and your iPhone using a USB to Lightning cable.
On the PC, open the iTunes app. Once the app is launched, look for the iPhone icon and click on it.
In order to make a backup duplicate of your source iPhone data, select "Back Up Now".

Detach the source iPhone from your PC only when the backup process is completed.
Again, using a USB to Lightning cable, connect the new iPhone to your computer. Launch iTunes and again, click on the iPhone icon.
This time, however, you should click on the "Restore Backup" button. From here, you can sit back and wait as the data transfer will be automatically completed to your new iPhone.
Way 6. Charge both iPhone devices during migration
If up to this point, "iPhone unable to complete data transfer" persists, then you should try to plug both devices to a power station. It is professionally advisable that while doing updates, restoring data, transferring data, or backing up data, that your iPhone performs these tasks while plugged in on a charger. This is necessary to ensure the energy capacity of the iPhone matches the performance tasks that are required with these processes. Given that, you should go ahead and put both the destination iPhone and the source iPhone on a charger, and then repeat the data transfer process.
Check If You Need:
Part 3: The Best Alternative to Transfer Data to New iPhone 15/14/13
How does it sound to solve in one click the "unable to complete data transfer" message? If you wanted that little extra convenience or that you are not as tech-savvy, then you should look into MobiKin Transfer for Mobile. This software is able to facilitate data transfer in iPhone 15/14/13 with an easy to navigate interface and has no risk of data loss.
The Features to Convince You to Get MobiKin Transfer for Mobile:
Facilitates data transfer of many file types such as documents, music, contact, call logs, apps, messages, text, etc.
Functional and effective with other operating systems enabling data transfer from Android to android, iPhone to iPhone, Android to iPhone and also from iPhone to Android.
You do not need prior knowledge to utilize the software.
Compatibility with various Apple device models including, iPhone 15/14/13/13 Pro Max/13 Mini/14/15, iPhone 12/12 Pro Max/12 Mini, iPhone 11/11 Pro/11 Pro Max/XS Max/XR/X, iPhone 7/7 Plus, iPhone 6/6S/6S plus, iPhone SE and many others.
Guaranteed data protection while migrating from one iPhone to another and, to other operating systems.
Here is how to migrate from your old iPhone to your new iPhone 15/14/13 without the error message "iPhone unable to complete data transfer":
Step 1: Launch Transfer for Mobile
Use your computer to install the online download of MobiKin Transfer for Mobile. Simultaneously connect both your destination and source iPhone to your computer using different USB to Lightning cables.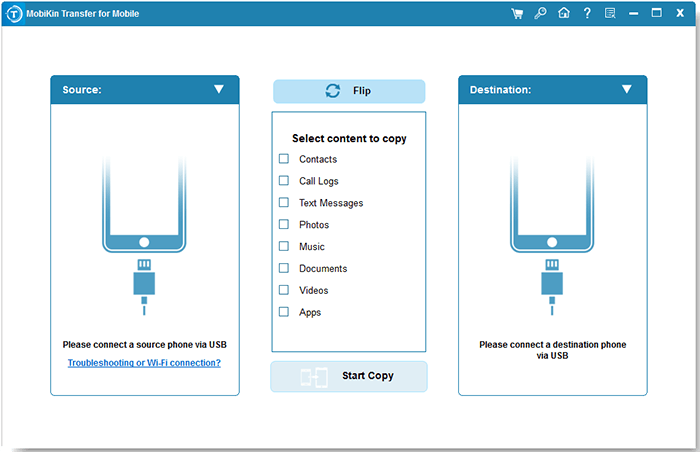 Step 2. Confirm the roles of both iPhones
On connecting both iPhones to the PC, you will see that to the left of the interface is written "Source iPhone" and "Destination iPhone" is written to the right. If the program has not rightly assigned the roles of the two iPhones, you can then click on the "Flip" button to rightly designate which roles are to be played by the iPhones.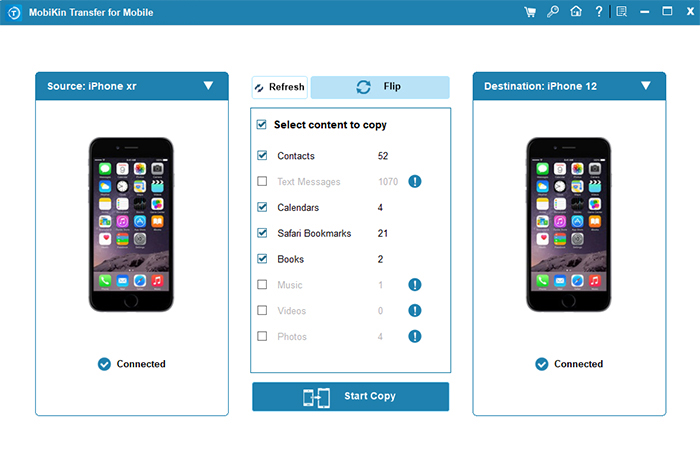 Step 3. Start migration to your new iPhone 15/14/13 using Transfer for Mobile
At the center of the interface displayed on your PC screen, you will see different file names and categories to help you select the type of data that you'd want to be transferred from your old iPhone to your destination iPhone. Once you have selected the desired files, choose "Start Copy" and immediately the migration will commence and the data transfer process will complete automatically.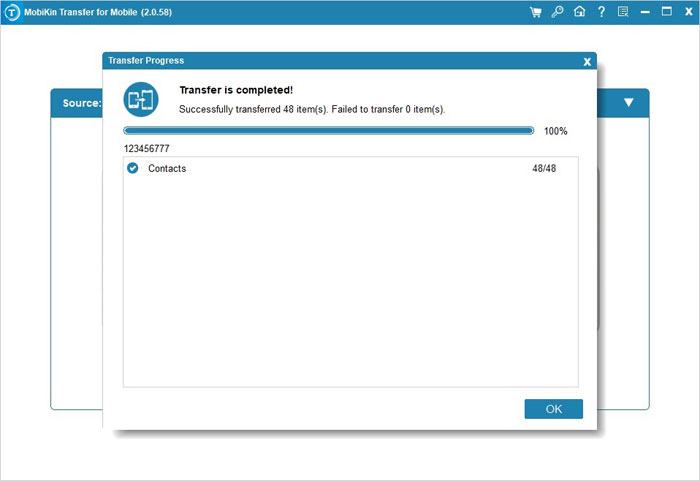 Final Words:
You shouldn't fall in the category of iPhone 15/14/13 new users that are having the trouble of solving "unable to complete data transfer" system error. "Why?", you ask. We have given you all the alternatives to help you, including, a computer method via iTunes, wireless and wired fixes. Remember that if any of those do not work for you, then you should opt for MobiKin Transfer for Mobile -- User-friendly data transfer software that works on both iOS and Android OS.
Related Articles:
4 Simple Ways to Undo a Restore on iPhone 15/14/13/12/11/XR/Xs/X/8
[Tips and Tricks] How to Undo/Revert an iOS Update on iPhone?
How to Sync Messages from iPhone to iPad Air/Pro/mini/4/3/2? [SOLVED]
All Details about "Trust" or "Don't Trust" A Computer on iPhone/iPad
How to Recover Deleted Files from iPhone without Backup (2023 Updated)
How to Restore iPad from iPhone Backup? 3 Worry-free Options Here