5 Easiest Ways to Fake/Change Location on Snapchat Map [iOS/Android]
Snapchat is a popular social media app that allows you to share photos, videos, and messages with your friends and followers. (Snapchat not working?) One of its outstanding features is the Snap Map, which shows your location and the ones of your friends on a map. You can also see what's happening around the world by exploring different areas there.
But what if you want to spoof Snapchat map location to protect your privacy, play pranks on your friends, or access geo-restricted content? Well, this tutorial covers how to fake location on Snapchat map using several smart ways. Alongside that, you'll know some additional tips to get more out of the map.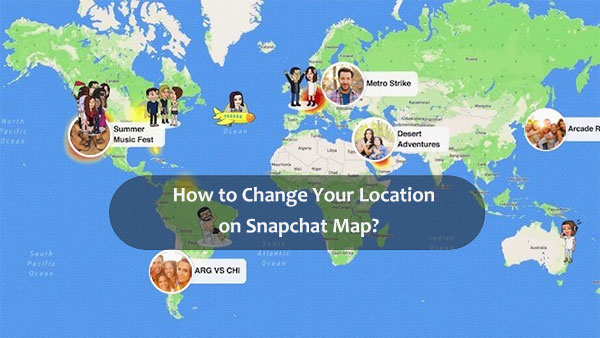 Part 1: Things You Should Know about Snapchat Map
Tip 1: Why Fake Location on Snapchat Map?
Privacy: To safeguard their location and privacy.
Security: Avoid sharing real-time whereabouts for safety.
Playfulness: Trick friends or engage in playful interactions.
Avoid Attention: Dodge unwanted attention or interactions.
Virtual Travel: Simulate virtual travel experiences.
Content Access: Access geo-blocked content.
Parental Privacy: Evade parental supervision.
Testing: Experiment with app features in different areas.
Tip 2: Is It Legal/Safe to Change Location on Snapchat Map?
Using location spoofing on Snapchat's map feature can raise legal and ethical concerns. Violating terms of service, engaging in deceptive practices, or breaching privacy and consent could lead to account suspension, legal consequences, or privacy violations.
When you change your location on Snapchat, you might be confronted with safety risks, including account suspension, privacy issues, deceptive behavior, and potential involvement in scams or fraud.
Tip 3: Can You Fake Live Location on Snapchat?
You can fake your Snapchat location through jailbreaking or third-party apps. To avoid Snapchat bans, you can use trusted third-party location spoofers. Keep reading to find the right option for you.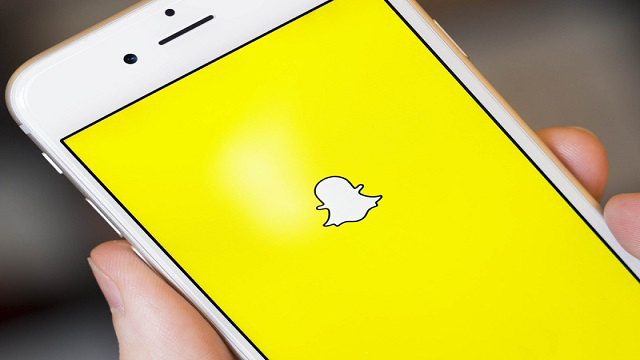 You Might Find It Intriguing:
Part 2: How to Fake Location on Snapchat Map without Errors (iOS/Android)
The Virtual Location Tool, a great Snapchat location spoofer, enables GPS location spoofing on both Android and iOS devices for Snapchat's map. You can freely select any desired location without jailbreaking or rooting, enhancing your social privacy. With its sleek interface, this tool is excellent for simulating locations, making it remarkable for privacy, gaming, dating, and more. So, what sets it apart as exceptional?
Virtual Location Tool can assist you in several respects:
Fake location on Snapchat map for devices while preserving your data/system intact.
Let you choose or delete stored locations within this app.
Devise custom routes to replicate desired journeys.
Seamlessly integrate with location-based apps like AR-based games.
Store routes in GPX format using the Import/Export feature.
Offer three modes for versatile customization of your virtual location.
Apply to almost all iOS/Android, including iPhone, iPad, iPod touch, Samsung, Huawei, DELL, Xiaomi, HTC, Motorola, Google, LG, Sony, etc.
It won't unveil your privacy.
How to fake location on Snapchat map with Virtual Location Tool?
Step 1. To start, download and install this mock location app on your computer. After that, open the program and choose "Get Started". Connect your mobile phone to your computer via USB. Allow a moment for the tool to detect your device.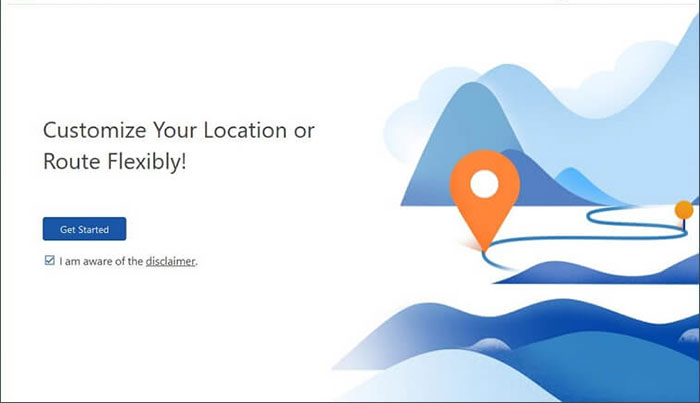 Step 2. Head to the upper right corner of the interface and select "Teleport Mode". In the search bar, input your desired location. Alternatively, you can input GPS coordinates for precise accuracy.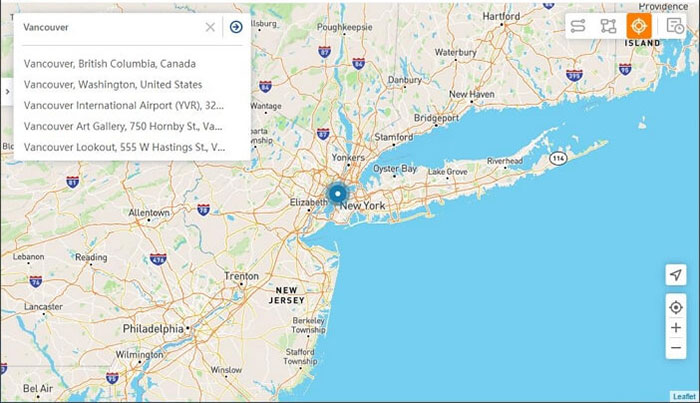 Step 3. The on-screen marker will adjust to your specified spot on the map. Click "Move" to set this location as your GPS position as well as the one on the Snapchat map.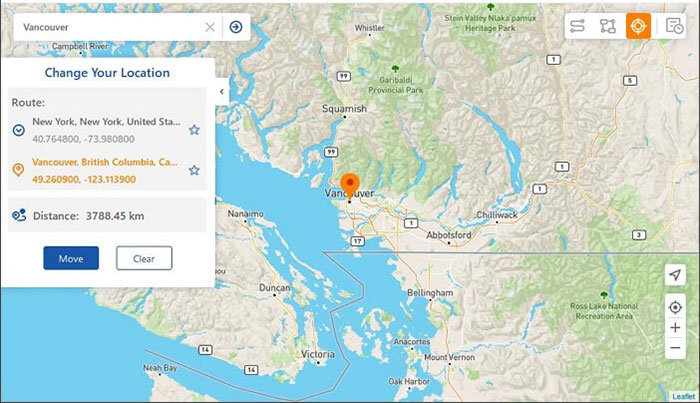 Part 3: How to Spoof Location on Snapchat Using Xcode (iOS)
Faking your location on Snapchat's map with an iPhone isn't straightforward. It demands technical expertise to achieve without jailbreaking your device. Unlike other apps, you can't simply download a location spoofer. But don't worry, we're here to guide you through how to go on Snapchat without updating location on iPhone via Xcode:
Begin by launching your Mac and locating the Xcode app in the App Store.
Install the application, initiate it, and establish a new project through the interface.
Opt for the "Single View Application" option and proceed by clicking "Next" to generate a new project for location spoofing.

The subsequent step involves configuring GIT within Xcode. Upon project creation, Xcode will present a pop-up window with a set of GIT commands that you must execute.
Open the Mac Terminal and execute these commands:
git config –global user.email: "you@example.com"
git config –global user.name: "your name"
Ensure that you replace the provided user information with your own.
Connect your iPhone to the Mac and ensure it remains unlocked while creating profiles, app IDs, and certificates. Alternatively, you can permit Xcode to automatically generate sign-in details.
Finally, if the process unfolds smoothly, Xcode will process symbol files.
Navigate to the Debug option in the menu and confirm the activation of the Simulate Location feature.
Through this interface, you can conveniently manipulate your device's location.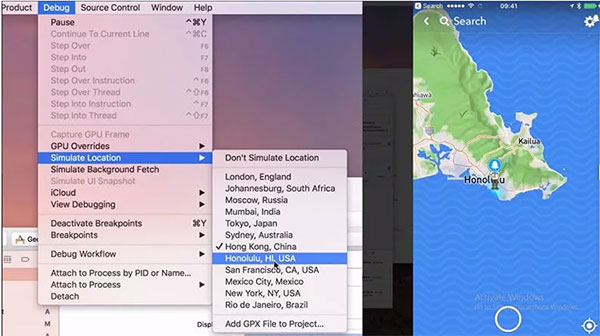 You Might Be Curious about:
Part 4: How to Change Snap Location with Cydia App (iOS)
For Jailbroken iPhones with Cydia, try to use "Snapchat ++ Phantom for Snapchat" to fake your location within the app. This method is effective for altering Snap Map location. If errors occur, closing the app and waiting often resolves them.
How to change your Snap location on iPhone using the Cydia app?
Begin by downloading both the Snapchat++ IPA and Cydia Impactor onto your iPhone.
Connect your iPhone to your computer through USB.
Launch Cydia Impactor. And it should detect your device.
Drag and drop the IPA file into Cydia Impactor. Then, input your iTunes credentials.

Confirm that the app is now present on your iOS device.
Navigate to your iPhone's "Settings" > "General" > "Profile" > "Device Management". (Does jailbreak remove MDM?)
Locate your iTunes account and tap "Trust". This action will grant access to the Snapchat++ app.
After the app installation, click the location icon in the top right corner.
Choose your preferred location and confirm the selection.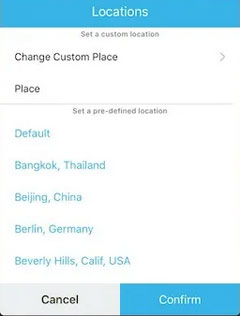 Part 5: How to Fake Snapchat Location via Fake GPS Location App (Android)
If you're using an Android device, Fake GPS Location can do you a big favor. This is a free Android app accessible on the Google Play Store. It's beneficial for modifying location on apps like Snapchat's map feature. Nonetheless, responsible use and adherence to policies are important to maintain privacy and ethical considerations.
How to change Snap location without computer using Fake GPS Location?
First, download and install the Fake GPS Location app from the Google Play Store.
Next, enable debugging on your Android device. Navigate to "Settings" > "About Phone", and tap the "Build number" seven times.
Locate the "Developer Options" within the "About Phone" settings. Choose "Mock location app" and select "Fake GPS".
Ensure you enable "High accuracy" in the Location mode settings.
With the Fake Location app, you can now change your GPS location on Android.
Assuming no errors arise, you'll successfully fake your location on Snapchat for Android.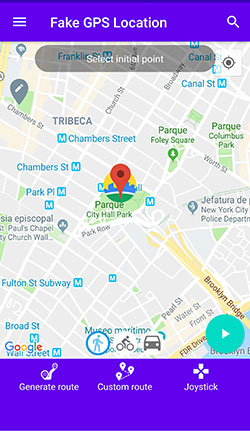 Part 6: How to Fake Live Location on Snapchat via Fly GPS (Android)
Fly GPS is primarily a location spoofing app designed for Android devices. It permits users to alter their GPS location, effectively creating false locations on location-based apps such as Snapchat maps. However, please note that it might not be compatible with the most recent Android versions.
How to fake Snapchat location with Fly GPS?
Once the app is downloaded, swipe down the notifications bar and tap the application file.
An obstructed "Install" popup message will appear. Proceed to "Settings".
Then, click on the "Unknown sources" checkbox.
The subsequent screen will display the "Unknown Sources" pop-up.
Verify that the box is checked, enabling installation only from this source.
Lastly, tap "OK" and select the "Install" button.
In a matter of seconds, your Android app will be installed.
Open the app and easily follow the simple on-screen guide to spoof your location on Snapchat's map.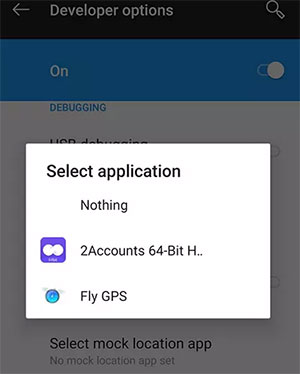 Part 7: How to Hide Location on Snapchat Map
If you wish to conceal your location on Snapchat Map rather than altering it, you can easily do so. This option is available for both iOS and Android devices.
Launch the Snapchat app on your mobile device.
Access the "Profile" icon situated in the upper-left corner of the screen.
Tap the Settings icon positioned in the upper-right corner of the screen.
Locate the "Who Can…" section, then select the "See My Location" option.
To conceal your location, enable the "Ghost Mode" option. This will effectively hide your location, ensuring it remains invisible on the Snapchat Map.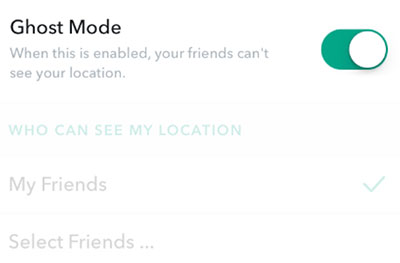 Alternatively, you can achieve this by denying Snapchat access to your GPS location within your iPhone's "Settings" > "Privacy" > "Location Services" > "Never Allow Location Access for Snapchat". After that, your location will have a private blue icon. Then, others can't track your GPS on the Snapchat map.
FAQs on Snapchat Map Location:
Q1: Why Is Snapchat Location Not Updating?
Your Snapchat location might not be updated for various reasons, including connection, permissions, app refreshment, battery saver, server, compatibility, GPS signal, and system glitches.
Q2: Can Someone Track My Snapchat Location?
Yes, individuals you've added on Snapchat can track your real-time location through Snap Map if you've allowed it. However, you can control this by using options like Ghost Mode, selective sharing, or sharing with all friends.
Q3: How Do I Know If Someone Tracked My Location on Snapchat?
You won't directly receive a notification when someone tracks your location on Snapchat. However, you can look for hints like your Bitmoji updating frequently on the map, receiving messages or reactions related to your location, or noticing your Snapchat activity aligning with your location updates.
Q4: How to Get Fake Location Filters on Snapchat?
Download and install Phantom on your phone.
Access "Settings" and select "Phantom".
Configure the settings according to your preferences.
Once the settings are adjusted, launch the Snapchat app.
Locate the desired location within the app and tap it to modify or fake the location.
To apply the spoofed location, tap "Dismiss" and navigate until you locate the desired place.
Upon identifying your chosen location, press and hold while tapping until the map view ceases to exist.
Calling It a Wrap
Do you want to get the easiest and most effective way to fake location on Snapchat map? Don't hesitate to give Virtual Location Tool a try. This powerful utility helps you spoof location on geo-based apps for both Android and iOS devices. You can change your location to anywhere without damaging your phone or data or simulate your movement along a route with customized speed. Plus, it also lets you fake GPS on other apps like Pokemon GO, Tinder, Twitter, Facebook, and more. Finally, please share this page on social media if you find it worthwhile.
Related Articles:
How to Get/Use Snapchat on PC Flexibly? [Way 6 Is Incredible]
6 Methods to Delete Snapchat Messages on iPhone and Android
How to Stop Your Employer from Tracking Your Phone (Android & iPhone)
[Must-read] A Comprehensive List of Pokemon GO Hacks for Android/iPhone
How to Fake Location on Find My iPhone? 6 Methods Most People Don't Know