Fly GPS: Overview, Features, Usage, Pros, Cons, Alternatives [2023]
With the boom in technology, programs that manipulate GPS data have gained prominence. One such tool that often captures the attention of users is Fly GPS. Whether you're an avid gamer seeking to gain an edge in location-based games, a traveler wishing to explore virtual destinations, or simply someone intrigued by altering your device's GPS coordinates, chances are you've encountered the term "Fly GPS".
Well, if you wish to know its overview, features, user guide, benefits, potential drawbacks, and alternatives, go over this comprehensive guide to unravel every aspect of this utility.
Part 1: What Is Fly GPS?
Fly GPS, a location changer, is often used for various purposes, such as playing location-based games like Pokemon GO without physically moving, accessing region-restricted content or services, or maintaining privacy by not revealing one's true location.
This tool lets you virtually move your in-game character anywhere worldwide, even on Android devices. It stands out with instant teleportation, location selection, and simple setup, making it highly compatible with the latest Pokemon GO versions.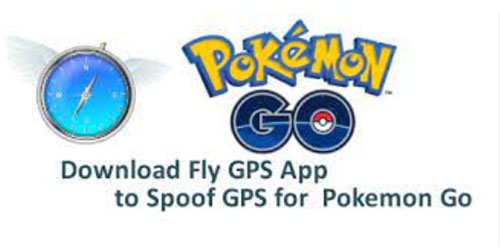 You Cloud Potentially Like:
Part 2: Main Features of Fly GPS
Location Selection: Let you choose your desired location on the map, giving you control over where you want to appear.
Ease of Use: It's simple and user-friendly, making it accessible for users of varying technical backgrounds.
Teleportation: You can instantly teleport to any location worldwide within the app, providing a quick way to access distant places.
Virtual Location: Allow you to fake GPS location on Android/iPhone, letting you explore different areas in apps without physically being there.
Pokemon GO Compatibility: Work well with the popular game Pokemon GO, making it a favored choice for players looking to enhance their gameplay experience.
Adaptation to Updates: Remain compatible with the latest versions of Pokemon GO and other location-based applications, ensuring ongoing functionality.
Spoofing Prevention: The effectiveness of Fly GPS may vary over time due to countermeasures.
Rapid Exploration: Capability to swiftly reach any destination through "Coordinates Search".
Location Bookmarking: Choice to save preferred locations for easy access.
Part 3: How to Use Fly GPS for Pokemon GO on iPhone/Android
There are certain differences in how you can use Fly GPS on Apple and Android devices, one of which is that the former requires you to grant the tool, while the latter necessitates you to enable Develop options beforehand.
How to install Fly GPS on iPhone and use it to spoof Pokemon GO?
Before using Fly GPS Pokemon GO on iPhone, download it from App Store. (Your iPhone cannot connect to App Store?)
Once located, tap on "Get", and when prompted, sign in using your Apple ID and password.

Wait for the installation process to finish.
Launch the app and follow the straightforward on-screen instructions to effortlessly spoof your location in Pokemon GO.
Further Reading:
How to use Fly GPS for Pokemon GO on Android?
Download and install Fly GPS from Google Play.
Open "Settings" > "About Phone" (or similar) > Tap "Build Number" around seven times.
Enter your PIN/password if prompted to enable "Developer options".

Access Developer Options and choose "Fly GPS" as the mock location app.
Open Fly GPS, grant location permissions, and select your desired location on the map.
Set the location and launch Pokemon GO.
Important: Always exercise caution when using spoofing apps, as they may violate terms of service and result in penalties. Furthermore, game developers often implement anti-spoofing measures, which may affect the effectiveness of such apps.
Part 4: Fly GPS Pokemon GO for iPhone: Pros and Cons
The Good:
Exploration: Virtually explore locations in the game without physically traveling, making it easier to find rare Pokemon and complete tasks.
Privacy: Help protect your real-world location privacy while still participating in location-based games.
Gameplay Enhancement: Fly GPS can enhance your gameplay experience by providing access to different in-game areas and resources.
The Bad:
Violation of Terms: Pokemon GO Fly on iOS/Android often violates the terms of service of Pokemon GO and can lead to penalties.
Account Suspension: Niantic, the developer of Pokemon GO, actively detects and combats GPS spoofing, leading to account suspension or banning.
Security Risks: Such apps can expose your device to security risks, including malware and unauthorized access.
Inconsistent Experience: Updating the game or anti-spoofing measures can render Fly GPS ineffective.
Ethical Concerns: Spoofing disrupts the intended gameplay experience and can be considered unethical by both players and developers.
Device Limitation: It isn't suitable for all Smartphone users.
System Malfunction: There are a few bugs in the system.
Compatibility: It's far less compatible with iPhone than it is with Android.
Part 5: Best 4 Fly GPS Alternatives
Top 1: Virtual Location Tool
Compatible with both iPhone and Android, the Virtual Location Tool stands as a resilient program engineered to effortlessly modify geographic coordinates for Pokemon GO Fly on iPhone/Android. With this software, you can change your location merely consumes a brief span of minutes.
Plus, it guarantees the ability to replicate movement across different locations, making it an ideal fit for location-centric applications such as gaming and social media platforms. Additionally, it enables the concurrent management of multiple devices.
Core features of Virtual Location Tool:
Best Fly GPS/iSpoofer alternative to easily Spoof GPS location on iPhone/Android.
The choice to keep or remove previously saved locations in the software, influenced by your past visits, is left to your discretion.
Craft distinct pathways to personalize and simulate various routes as desired.
Seamlessly incorporate location-oriented apps like augmented reality games, social networks, and similar platforms.
Work well with a whole range of Apple devices, including iPhone 14/14 Plus/14 Pro (Max), iPhone 13/13 Pro (Max)/13 mini/12/12 Pro (Max)/12 mini, iPhone 11/11 Pro/11 Pro Max, iPhone X/XR/Xs/Xs Max, iPhone 8/8 Plus, iPhone 7/7 Plus, iPhone 6/6S/6 Plus, iPod touch, iPad, Samsung, Huawei, Xiaomi, HTC, Motorola, Google, LG, Sony, etc.
It won't uncover your privacy.
How to fake GPS location on iPhone/Android via Virtual Location Tool:
Step 1. After the free download and installation, launch it and click on the " Get Started" button, prompting a "Welcome Screen" to appear. Next, establish a connection between your device and the computer using the cable, and remember to unlock your device.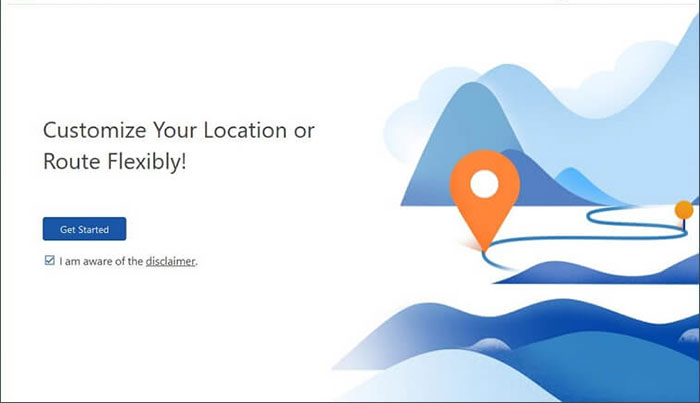 Step 2. Once the map has fully loaded, locate the "Teleport" icon in the upper right corner. You can then either interact with the map directly or utilize the option in the left corner to input precise locations. The ability to zoom in and out further facilitates the accurate selection of your desired destination.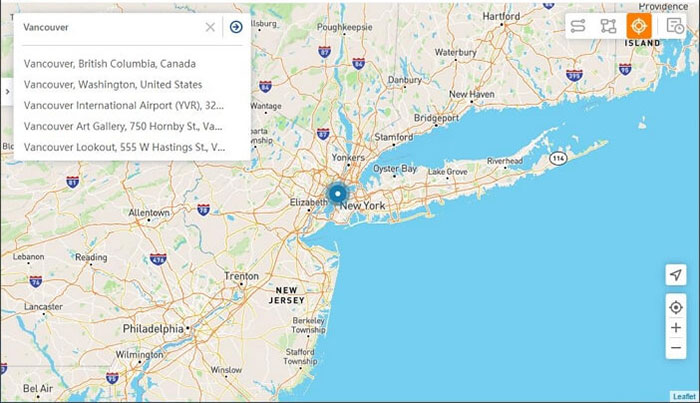 Step 3. Activate the "Move" button to initiate the process. Your chosen locations will be presented for your confirmation. To verify the successful alteration of your location, simply access the map on your smartphone. A noticeable blue dot will indicate the changed location, confirming the efficacy of the manipulation.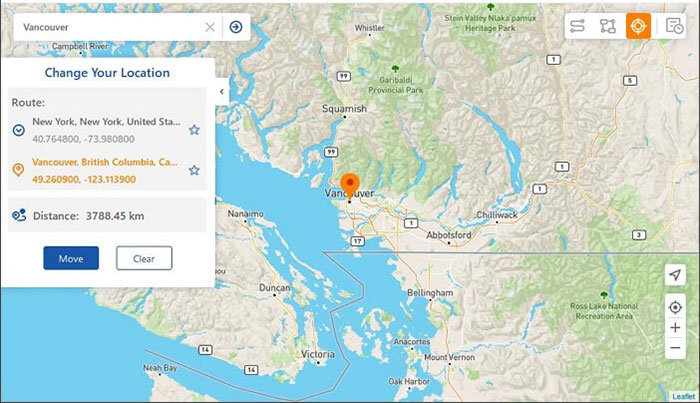 The Good:
Precise movement control without jailbreaking or rooting your device.
Offer diverse options, including routes and historical records.
Save your preferred routes by importing/exporting GPX files.
It's tricky to be detected.
The latest version introduces a novel feature to alter GPS locations on both iPhone and Android devices.
The Bad:
Like almost all its counterparts, it might violate the terms of service of certain apps or platforms.
Top 2: Tenorshare iAnyGo
Utilizing the joystick movement functionality of iAnyGo, you gain complete control to initiate GPS movement within Pokemon GO along a designated path. Importantly, this doesn't necessitate jailbreaking your device. Whether for playful tricks or recreational purposes, this Pokemon GO hack streamlines altering your location.
Further, this Fly GPS alternative boasts an array of location choices, encompassing simulated routes, moments of pause, and the capacity to retain historical movement records.
The Good:
Easy for all users, regardless of technical skills.
Spoof GPS without device risks or warranty issues.
Realistic movement along chosen paths.
The Bad:
Risk of account bans from game developers.
Efficacy is affected by game updates and anti-spoof measures.
Possible risks from third-party app usage.
Disrupts intended gameplay experience of location-based apps.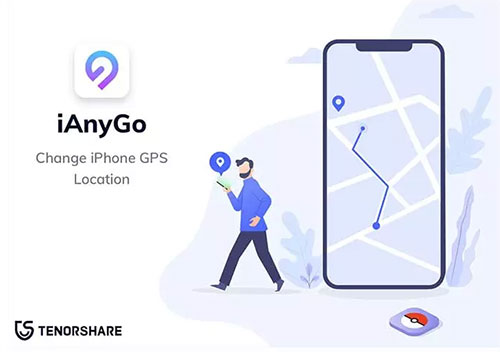 Top 3: Foneazy MockGO
As a great Fly GPS substitute, Foneazy MockGo is a robust GPS spoofing app, allowing effortless location alteration. This tool lets you customize movement speed, pauses, cycle times, and more. Besides, you can use it to instantly teleport your phone's GPS, simulate movements, and import GPX files.
Moreover, it can disguise your caller ID and choose from pre-made fake IDs. And its highlights include customer support, low detection rate, multi-device control, history records, keyboard control, and VR game compatibility.
The Good:
Allow GPS spoofing without the need to jailbreak your device, ensuring its security and warranty remain intact.
Users can simulate specific routes, enhancing the authenticity of the spoofed location.
The app enables users to save historical movement records, enhancing the flexibility of their spoofed experiences.
The Bad:
Game developers often implement measures against GPS spoofing, potentially resulting in account actions like suspension or banning.
Its effectiveness can decrease over time due to updates and anti-spoofing measures.
GPS spoofing can undermine the intended gameplay experience of location-based apps.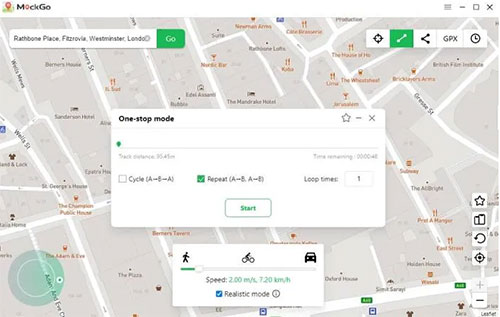 Top 4: iToolab AnyGO
iToolab AnyGO functions as a GPS spoofing tool, enabling location changes on iPhones to any global destination. (No location found on iPhone?) However, what sets this app apart is its ability to unlock access to location-based games and applications that were typically beyond reach.
This introduces a world of opportunities, from watching various TV shows to downloading location-dependent apps and engaging in gaming. In essence, it eliminates geographic restrictions without necessitating phone jailbreaking.
The Good:
Feature joystick movement control, enabling precise navigation within location-based apps.
Simulate specific routes, enhancing the authenticity of the spoofed location.
Save historical movement records, providing flexibility in creating spoofed experiences.
The Bad:
Like other GPS spoofing tools, it might breach terms of service for certain apps and platforms.
Altering locations frequently could pose a challenge.
It only works for iOS devices.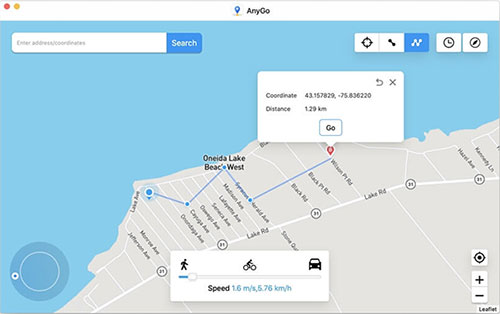 Completion
Upon uncovering the intricacies of Fly GPS and its contemporary counterparts, you have known more about the outstanding GPS spoofers with precision and finesse.
While Fly GPS might have held its place as a popular option, it's worth considering alternatives that bring enhanced user experiences and compatibility. One such replacement is the Virtual Location Tool, which can always offer secure and fluent GPS manipulation on both iPhones and Android devices.
Related Articles:
4 Widely-used Ways to Send Fake Live Locations on WhatsApp for Android/iOS
FGL Pro Pokemon GO: Overview, How-tos, Troubleshooting, & Alternative
Does PokeGo ++ Still Work? Here's the Guide for PokeGo++ Download [iOS/Android]
10 Best iPhone/iPad Manager Software to Transfer and Manage iOS Files
5 Popular Ways to Mirror iPhone/iPad to Windows 10 [2023 Latest]
How to Download and Play Android Games on PC [Detailed Guide]