[5 Options] How to Spoof/Fake Location on Android without Being Detected
Sometimes, you may want to alter or disguise your device's actual location. This could be to protect your privacy, access location-specific content, or enjoy geo-based games like Pokemon GO without physically being there. (Does Poke GO++ still work?) To address this need, we have curated a list of fabulous tools that allow you to spoof location on Android.
These tools provide you with the ability to set a virtual location of your choice, fooling various apps or services into believing you are somewhere else. With these programs, you'll have full control over your device's location info and enjoy a wide range of benefits.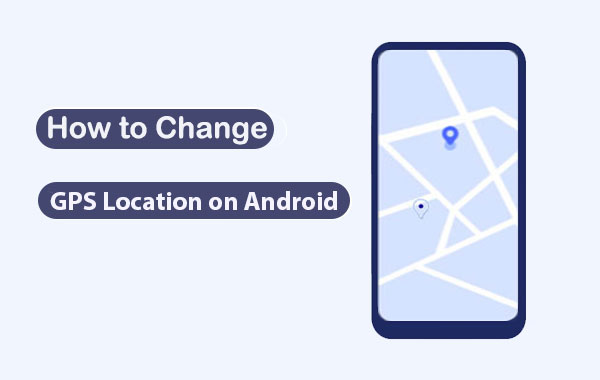 Part 1: Is It Safe/Legal to Spoof Location on Android?
The safety of spoofing location on Android depends on the purpose and manner in which it is used. While there are legitimate uses, such as testing apps or enhancing privacy, it's important to note that unethical or illegal activities can have legal and privacy consequences. It is crucial to use trusted methods and apps to fake GPS locations on Android, understand the implications, and comply with laws and terms of service to mitigate potential risks.
Part 2: How to Spoof Location on Android with the Best Location Spoofer
Discover the highly popular and fully customizable location changer software for iOS/Android spoof location in this section. The Virtual Location Tool has earned the trust of numerous users globally. With its flawless GPS location spoofing capabilities, the software has undergone thorough public auditing. You can easily select the desired location for your device or social apps, ensuring enhanced privacy protection.
Main characteristics of Virtual Location Tool:
Best fake GPS apps help you easily spoof GPS locations on Android/iOS.
Manage saved locations by selecting or deleting previous entries within this tool.
Customize and simulate routes, generating a variety of paths according to your preferences.
Set any desired virtual location quickly, making it challenging to detect the manipulation.
Easy to use and boasting minimal flaws.
Get along well with almost all Android and iOS devices, including Samsung Galaxy, Xiaomi, Huawei, LG, Google, Sony, Motorola, OnePlus, OPPO, Dell, iPhone/iPad/iPod touch, etc.
It won't disclose your privacy.
Free download this program before learning how to fake location on Android via Virtual Location Tool:
Step 1. Download and install the Virtual Location Tool on your computer. Launch the software and click on "Get Started" from the interface.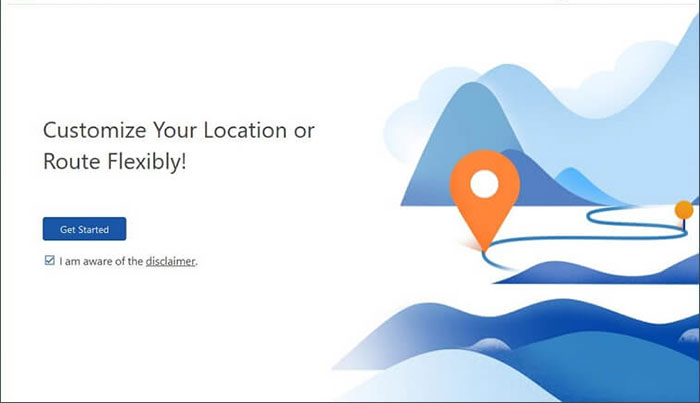 Step 2. Connect your Android phone to the computer via USB. (How to connect an Android phone to PC through Wi-Fi?) Wait for a moment until the tool detects your device. In the upper-right corner of the interface, tap "Teleport Mode". Enter the desired location in the search bar or input the GPS coordinates for precise positioning.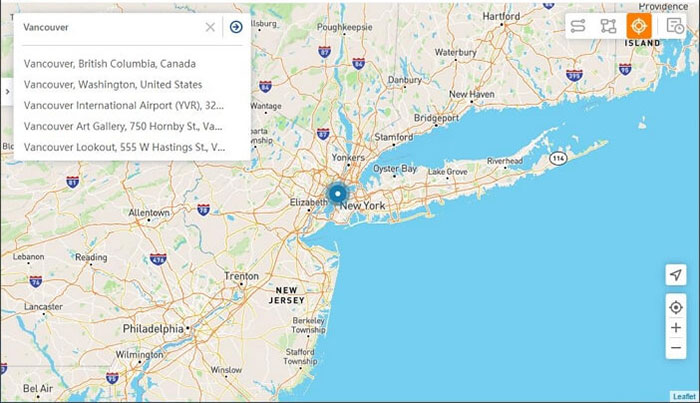 Step 3. The pointer on the interface will move to the designated location on the map as per your selection. Finally, click on "Move" to simulate the location on your phone.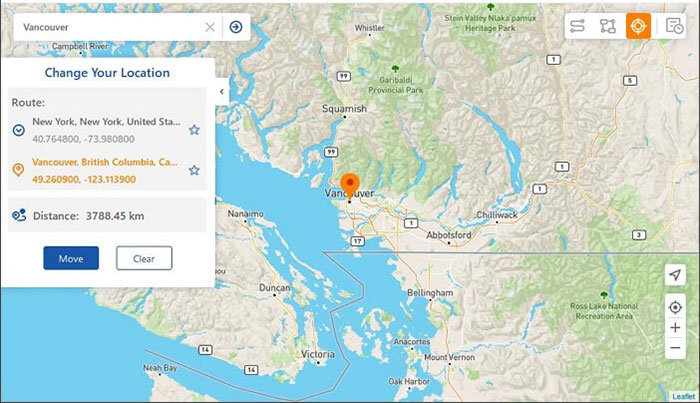 You Might Also Want to Know:
Part 3: Other 4 Location Spoofers for Android
1. Fake GPS location
Lexa's Fake GPS location is a powerful Android app that enables you to simulate your GPS location. It provides a convenient way to set a fake location for various purposes, such as testing apps or accessing restricted content. It's important to use this app responsibly and in accordance with applicable laws. (Ratings: 4.8)
How to fake location on Android with Fake GPS location?
Open Google Play Store and search for "Fake GPS Location".
Install the appropriate file from the search results on your mobile phone.
Enter the desired location in the search bar to set it as your device's current location.
A pin will appear on the map, indicating the chosen mock location.
Customize the settings based on your preferences, such as displaying an icon when the Fake GPS is active.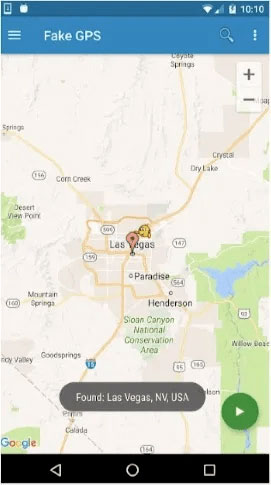 2. GPS Emulator
GPS Emulator is a feature-rich app that allows you to fake your Android location easily. (Want to fake GPS location on iPhone?) With its intuitive interface resembling popular mapping platforms like Google Maps, it's a great tool for various activities, including completing challenges in games like Jurassic World Alive. Overall, the app is regularly updated, free to use (with a premium version available), and offers a seamless experience. (Ratings: 4.7)
How can I mess up my phone's GPS location with GPS Emulator?
Download and install the GPS Emulator app from Google Play.
Upon launching the app, you'll find a map displaying your current location. Use the search bar or manually zoom in/out on the map to choose your desired mock location.
Once you've selected the location, tap the "Start" button.
Adjust the accuracy settings as desired and tap the "Apply" button to activate the mock location.
From now on, the GPS Emulator app will provide the chosen mock location to any other apps or services that require your device's location.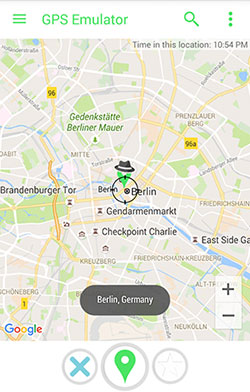 Further Reading:
3. Location Changer
Location Changer is a feature-rich app for advanced location spoofing. With multi-point spoofing, you can create realistic walking routes between landmarks. It also includes a joystick controller, perfect for LBS games like Pokemon GO or Orna RPG. (Ratings: 4.5)
How to trick your phone's location on Android using Location Changer?
Download and install "Location Changer - Fake GPS" from the Google Play Store.
Open the app and grant the necessary permissions it requires, such as location access.
On the app's main screen, you will see a map displaying your current location.
You can search for a specific location using the search bar or manually navigate on the map to select a location.
Tap the desired location on the map to set it as your fake GPS location.
Adjust any additional settings provided by the app, such as location accuracy or movement speed.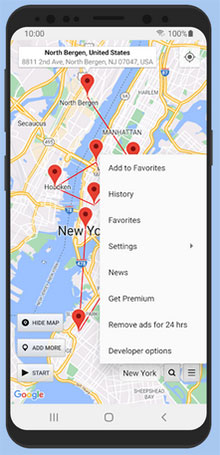 4. Mock Locations
The Mock Locations app allows you to fake GPS location information for all installed apps. It spoofs location data using GPS and Network providers. You can set start and end points on the map to create a route, specify the speed, and control the duration at each point. (Ratings: 4.3)
How to freeze location on Android with Mock Locations?
Download and install the "Mock Locations" app from the Google Play Store.
Open the app and navigate to your device's Developer Options. Enable the "Allow mock locations" option.
Within this app, tap the "Select mock location app" button. Choose the specific app you wish to test.
Utilize the app's map or search function to locate the desired mock location.
Once you've chosen the location, tap the "Set mock location" button to finalize the setting.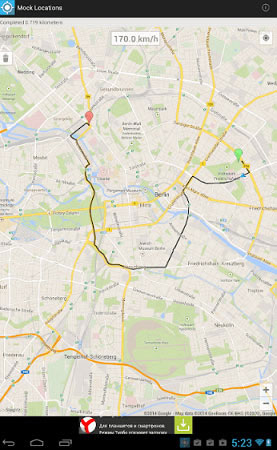 Tips: Using mock location apps may have limitations and legal implications, so pick them responsibly and consider the applicable laws in your region. Then you can easily fake GPS on Android without mock location.
FAQs on GPS Spoofing for Android
Q1: What is the best location spoofer for iPhone?
Location Changer is the ultimate location spoofer for iPhone users. It offers advanced features, a user-friendly interface, and precise GPS location manipulation. It is arguably the best choice for virtual exploration, privacy protection, and app testing on your iPhone. Apple users can download it by clicking the button below.
Q2: Can someone track my phone's location if it is off?
Yes, mobile phones can still be tracked even with location services turned off. While it helps conceal your location, there are other ways for someone to track your phone. It's crucial to be mindful of your privacy and take additional precautions.
Q3: Can I tell if someone is using a GPS location spoofer?
Detecting the use of a mock location app can be challenging since it reports the simulated location as the actual location. However, rapid changes in the device's location history can be a potential indicator of its use.
Q4: Can spoofing location help me with Pokemon GO progress?
Spoofing locations in Pokemon GO can boost progress, but it comes with risks. Niantic actively monitors and bans players who cheat by using location-spoofing apps. To spoof location, combine a Pokemon GO spoofer with a reliable VPN like ExpressVPN for location change.
Final Thoughts
Throughout this comprehensive guide, we delved into the features and step-by-step instructions for each of the tools we recommend. By following our instructions, you'll be able to spoof your Android device's location with confidence and precision.
By the way, our recommended product for the best Android location spoofing experience is the Virtual Location Tool. It stands out as the ultimate fake GPS software, offering unparalleled ease and accuracy in spoofing your Android device's location. Finally, any questions? Please let us know below.
Related Articles:
FGL Pro Pokemon GO: Overview, How-tos, Troubleshooting, & Alternative
How to Fake Location on Find My iPhone? 6 Methods Most People Don't Know.
How to Fake Google Map Location on Android/iPhone in 3 Ways?
6 Smart Strategies for Screen Mirroring Android to PC with/without USB
Top 10 Android Screen/SIM Unlock Apps You'd Better Know [Free & Paid]
How to Root Android Devices: All You Want to Know About Rooting