Best Android SD Card Manager
8 years back we were utilized for the rock-strong and sturdy Nokia phones. They are repealed from the lid, of any idea of a smartphone with a proper operating system. Apple must be given the credit of revolutionizing the touch-screen phone industry. It introduced us to a thing called mobile apps in the year of 2007. Then a large amount of smart phone operating systems emerged on the scenario, such as Android, Windows, Blackberry, Asha OS, Bada OS etc. Among these new emerged systems, Android could be the most prominent one which have unlimited users at present. Now let's assume that you're one of Android user, and you're used to deal with all kinds of problems in your daily or work life. Thus, it is inevitable that you have saved lots of files like photos, documents, etc. in your Android phones external SD card, and you need a good-performanced SD Card Manager for Android deivces, right?
Usually, Android phones always come with a default file manager with basic functionality, which serve you greatly to access your stored files on the internal and external storage space. However, when you need to manage a large amount files on the device, you'll realize that the default Android file manager app are not convenient at all. So in order to improve your using experience on Android phones, you're strongly recommended to download and install other managing program on your device, or ask help for a desktop application.
List of SD Card Manager for Android
MobiKin Assistant for Android (Windows/Mac)
Even though sometimes we say a smart phone can almost replace a computer becuase you can send/read emails, read news, play games, watch movies, etc. on a Android phone without restrictions, but you have to admit that when you have a large amount of files like photos, music, documents, etc. need to be edited, or managed, working on the small-sized mobile phone is inefficient. So you still need a desktop computer to help you manage Android files. What's more, since to the security consideration, you can't get access to your phone's storage space with a simple USB cable, so here you need the help from a professional Android Manager program - MobiKin Assistant for Android (Windows/Mac). With it, you can directly manage all files or folders in your Android SD card as you like.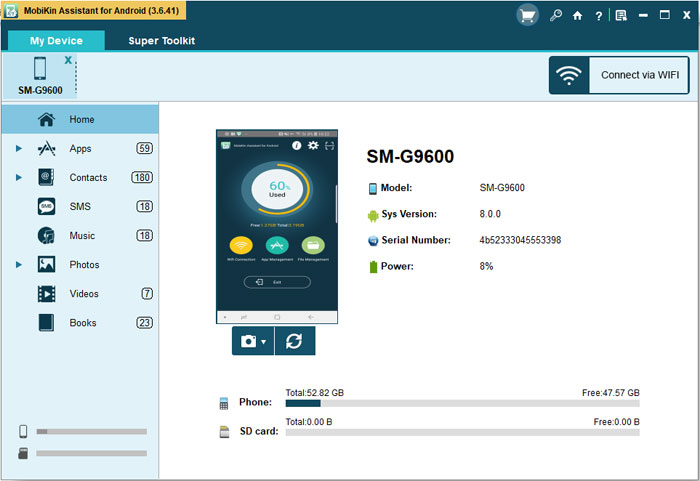 Tomi File Manager
Tomi File Manager is an Android SD Card Manager application, naturally aggregates music, pictures, recordings, archives, downloads and applications in classes and spotlights on giving straightforward and quick administration answers for your own documents on cell phones. It focus all alone music, pictures, recordings, archives, downloads and applications, and make a simple basic yet high-effectiveness route for administration. Envisioned Storage Usage Statistics that show measurements to nearby stockpiling utilization in pictured pie outline with unmistakable hues which speak to various sorts of records, outside SD card suport.