3 Easy Ways to Back Up OnePlus 8/7 Pro/6T/5 to PC
Being a new player, OnePlus has held a special place in the phone market, catching up with some leading brands. This is all due to its fashionable shape, premium-tier hardware, as well as favorable price. On this delicate gadget, often, you may keep tons of essential contacts, pictures, SMS, videos, documents, etc. So, performing OnePlus backup to PC is indispensable, especially to those who have already suffered from file missing. Right?
OK, to back up your OnePlus 8/7(T)/6(T), there are actually quite a few methods, out of which we have selected 3 fantastic solutions for you. Just keep reading, as here's everything you want to know.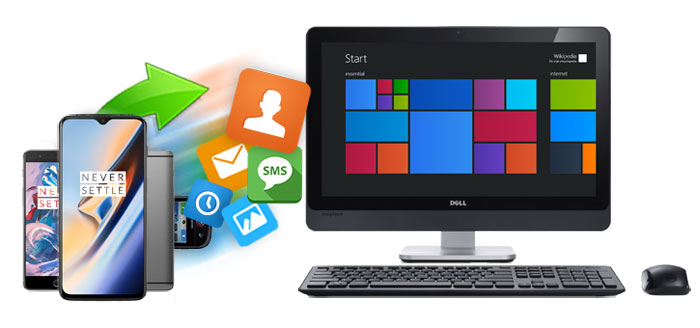 Way 1: How to Perform OnePlus Backup to PC with Android Backup and Restore
Faced with the ever-changing information age, you may be aware of the importance of info security. And data in Android phone is no exception. The files you store in your mobile may include education videos, charging songs, graduation photos, etc. For security, all of these need to be equipped with a stable and safe data backup and restore utility - MobiKin Backup Manager for Android, which can be used to briskly back up Android data to computer through an easy connection, and instantly restore them at any time.
Now, how do I back up my OnePlus phone? Take it easy, let's make a simple understanding of it first.
Key features of this Android Backup and Restore software:
> One-tap to back up OnePlus phone to PC without data loss or deletion.
> Completely back up all your Android data to computer, containing contacts, text messages, call history, pictures, music, videos, documents and apps.
> Restore Android data from computer to Android device in 1 click securely, retaining the original quality.
> Add backup folder to the list for restoring.
> User-friendly, completely secure and read-only.
> Act on almost all the Android devices, including OnePlus 8/7 Pro/7/6T/6/5T/5/4T/4/3T/3/2, OnePlus One/X/Z, as well as Samsung, HTC, Huawei, LG, Sony, Motorola, Xiaomi, etc.
How do I back up my OnePlus One/2/3/4/5/6/7/8(T) with Android Backup and Restore?
Step 1. Launch Android Backup and Restore software
Give the above button a click to download this program. Then install and run it on computer. Now, you need to connect OnePlus to computer via a USB cable.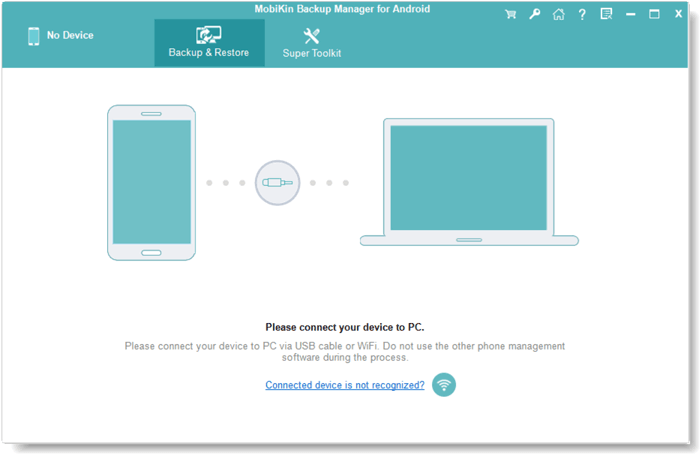 Step 2. Connect your OnePlus for detection
After the physical connection is made, there will be an automatic detection next. Soon, the phone will recognized by this tool, and you can see the interface showing "Backup" and "Restore" options.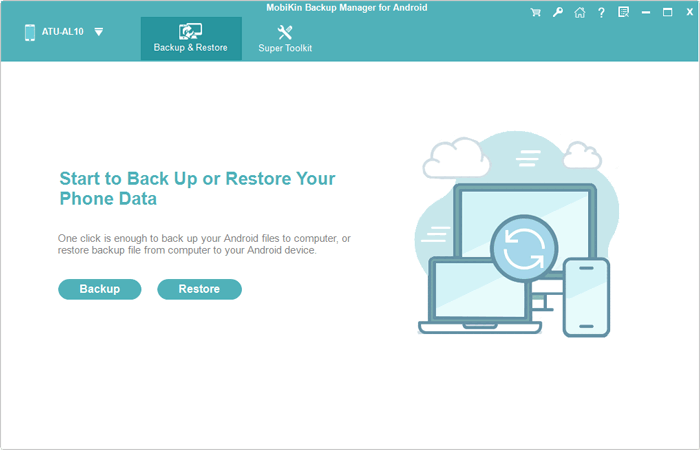 Step 3. Back up your OnePlus device
Just click "Backup" option, and you can see multiple file types on the interface. You can now click the file type(s) you want by clicking the checkbox(es) on the left. Next, opt for a location on your PC for storing them. At last, press "Back Up" at the bottom to create a backup of your OnePlus phone on your computer.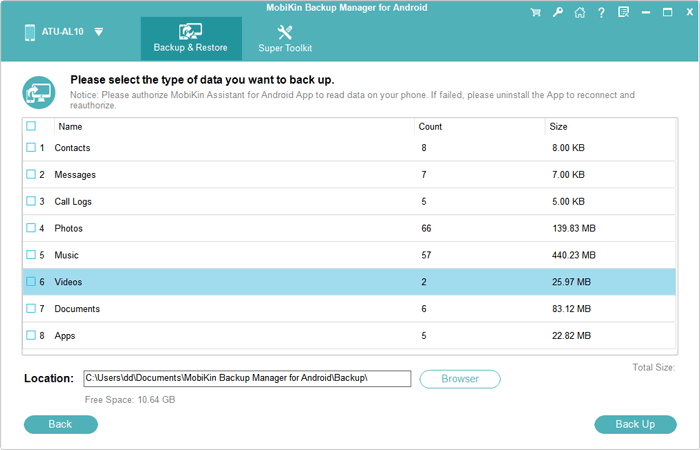 Tip 1: "Where is OnePlus backup stored?". OK, over time, you might forget where it was kept, you can simply name your backup folder on computer. Again, to avoid data loss, do not put the location on disk C please.
Tip 2: If you want to restore OnePlus backup, you can just tap "Restore" after you launch the program and connect your phone to computer. Then choose your needed data type(s) and hit "Restore" to move data from computer to the linked Android.
You May Be Interested in:
Way 2: How Do I Back Up My OnePlus to My Computer via Assistant for Android
MobiKin has another popular Android management tool called Assistant for Android (Windows and Mac), which not only enables one-click backup and restore of Android device data, but also manages mobile phone data and allows you to preview phone data thus selectively backs up the exact data you want to back up.
Apart from the demand of OnePlus backup to PC, if you also have the need to add or edit contacts on computer, or the requirement to add or delete playlists on Android, send messages in groups, install or uninstall mobile apps etc. Assistant for Android can satisfy you all. Besides the above customized management. Further, you can also preview the data in your phone with it, and selectively transfer data such as contacts, SMS, call records between Android and computer.
Ok, let's take text messages as example to show you how to perform OnePlus message backup with this OnePlus 5T/6T/7/8 backup software. You can check the following steps:
Step 1. On your computer, launch this program after downloading and installing it. Then link your OnePlus device to computer via a USB cord. Now, you should follow the on-screen prompts to get the phone recognized.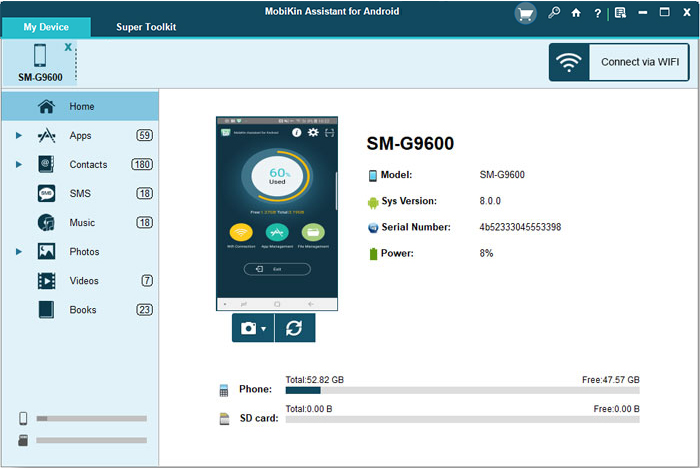 Step 2. After that, you can all data types are categorized on the left side menu of the main interface. Just choose "SMS" and the software will start to scan you OnePlus phone to find out all text messages.
Step 3. Now, all the text messages in your OnePlus will be listed on the page. Please preview and opt for your desired messages and click on the "Export" button from the top menu to save them on your PC.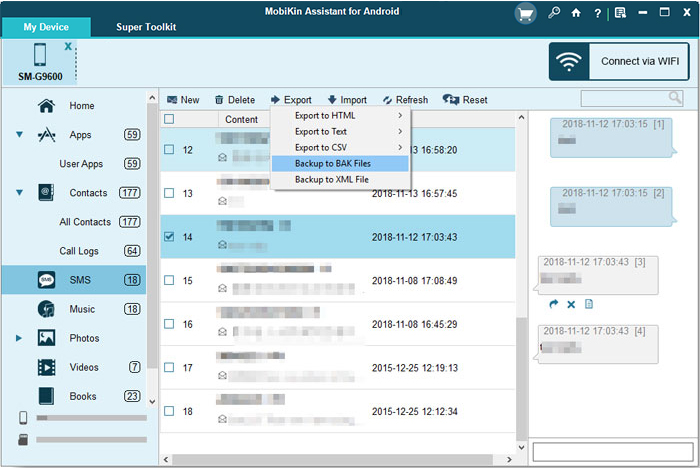 Assistant for Android also enables you to back up OnePlus phone to PC with one click. All what you should do is clicking the "Super Toolkit" from the top menu, opting for "Backup" option to go to the next page, selecting the data types you want to back up and simply pressing "Back Up" to copy the selected data type to computer.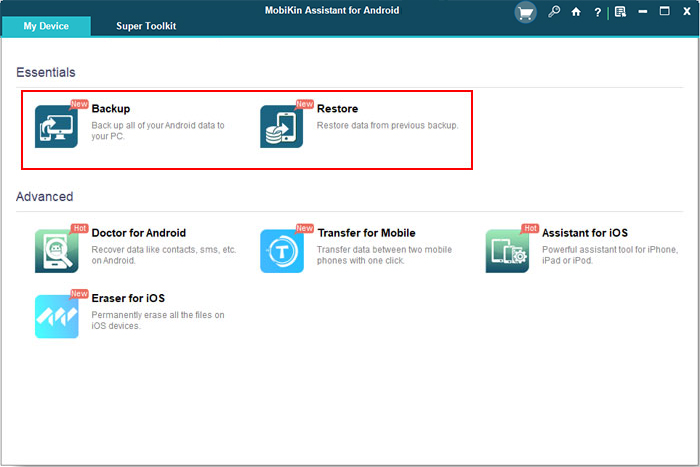 Way 3: How to Back Up OnePlus 3/3T/4/5T/6T/7/8 to PC with Google Drive
To back up OnePlus files like photos, videos and documents, you can also choose Google Drive (with 15GB free space) for backup. It also allows you to search for files by the name or content, and view phone files offline. Moreover, after the backup, you can also open it and log in your Google account, and then select your files to download them if necessary.
Here's how to back up OnePlus One phone to computer with Google Drive:
Step 1. Unlock your OnePlus phone and download Google Drive app from Google Play if you haven't done it yet. Then install and open it, and log in your Google account on it.
Step 2. Pick the pictures, videos, etc. as you like to back up them from OnePlus device to Google Drive.
Step 3. After the selection, click the "+" icon at the bottom of the phone and choose "Upload" > "Upload Photos or videos" or "Upload files" to copy all the selected data to the Google Drive.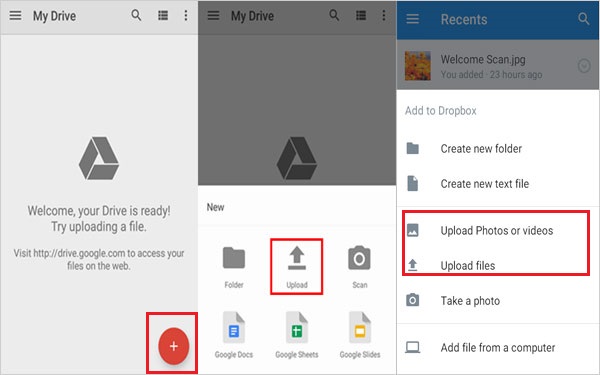 See Also:
Words in the End
That's all for today's passage on how to perform OnePlus backup to PC. Well, have a soft spot for your shining OnePlus? To back up the phone files is imperative. As you can see in this post, apparently, MobiKin Backup Manager for Android and MobiKin Assistant for Android stand out in multiple data backup and management, considering the intuitive interface, processing speed, privacy protection and data security. Thus, simply pick either of them or both, as planning ahead helps you secure the data on a separate and stable storage.
Ultimately, please leave your comment down below if you have any brilliant thoughts during use.
Related Articles:
3 Best Ways to Backup and Restore iPhone (#3 is Excellent)
How to Transfer Contacts from Android to iPhone? (Quick & Safe Ways)
Ways to Backup and Restore Android Text Messages
How to Transfer Photos from iPhone to Android? - Top 5 Ways
Top 5 Ways to Transfer Data from Android to Android
9 Quick Ways to Fix Android File Transfer Not Working on Mac