6 Ways to Transfer Data from iPhone to OnePlus Like a Veteran
Switching from iPhone to OnePlus may be tough for users who get accustomed to using the iPhone. It might not be that difficult to transfer data from one Android phone to another for regular customers of Android phones. Yet, in fact, the iOS to OnePlus (Android) transfer can also be easily done if you choose the right tool.
Next, this guide will be focused on how to transfer data from iPhone to OnePlus in six methods. Among others, way one can help you copy data quickly and lose nothing important invariably. Now, let's start with the most efficient and direct method.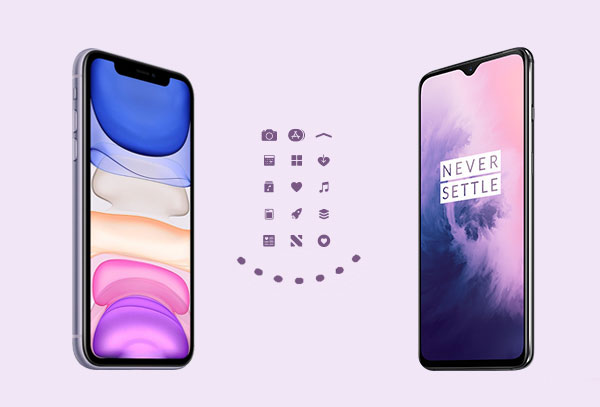 Way 1: How to Transfer Data from iPhone to OnePlus with Transfer for Mobile
With just one click on MobiKin Transfer for Mobile (Win and Mac), you can conduct the OnePlus transfer from iPhone without a hitch. This user-friendly program makes data transfer between mobile phones so easy. Thanks to the trust of millions of users, it has gradually grown into a full-fledged, safe, and easy-to-use utility. Whether you are proficients or newbies, you can complete the data switch independently, even without any guidelines.
Key features of MobiKin Transfer for Mobile:
One-click to transfer from iPhone to OnePlus/Android without data loss.
It also lets you move files from Android to iPhone, Android to Android, iPhone to iPhone.
The supported data types: contacts, call logs, SMS, music, photos, videos, documents, and more.
It runs quickly, retaining the original data quality after the transfer.
Work well on various iOS devices, including iPhone 14/13/12/12 Pro (Max)/12 mini, iPhone 11/11 Pro/11 Pro Max, iPhone X/XR/Xs/Xs Max, iPhone 8/8 Plus, iPhone 7/7 Plus, iPhone 6/6S/6 Plus, iPod, iPad, OnePlus 8 (Pro)/7 (Pro)/6/5/4/3/2, 8T/7T/6T/5T/4T/3T/2, OnePlus Nord, etc.
It can well protect your privacy.
Steps to transfer data from iPhone to OnePlus with MobiKin Transfer for Mobile:
Step 1. Launch the program and connect phones to a computer
Install and open Transfer for Mobile on your computer. You will then be asked to get your iPhone and OnePlus phone plugged into the computer via USB cables.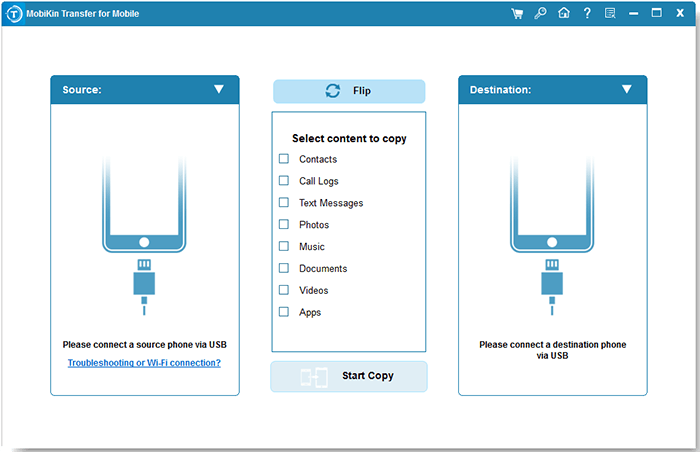 Note: After the physical connection, please enable USB debugging on the OnePlus device and follow the prompts to make the two phones identified by this computer.
Step 2. Choose your wanted data for transfer
When recognized, your phone will be listed on the window as below. Now, ensure your iPhone is on the left of the screen (OnePlus is on the right). If not, tap "Flip". Next, choose your desired files from the data list.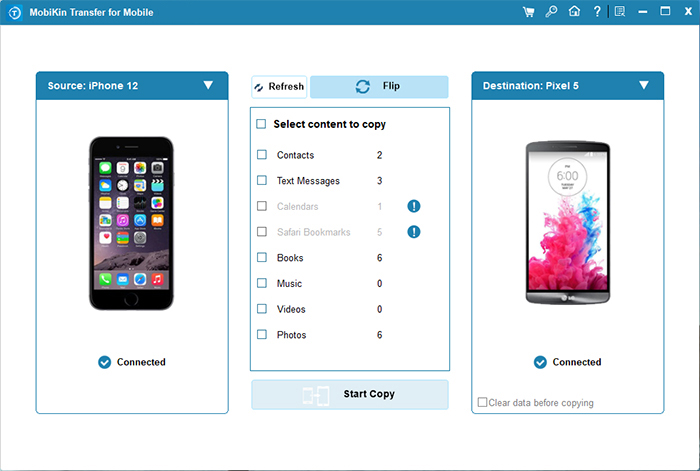 Step 3. How to transfer data from iPhone to OnePlus
Click "Start Copy" to begin to transfer iPhone data to OnePlus in one tap. The size of the selected data determines the completion time of the task.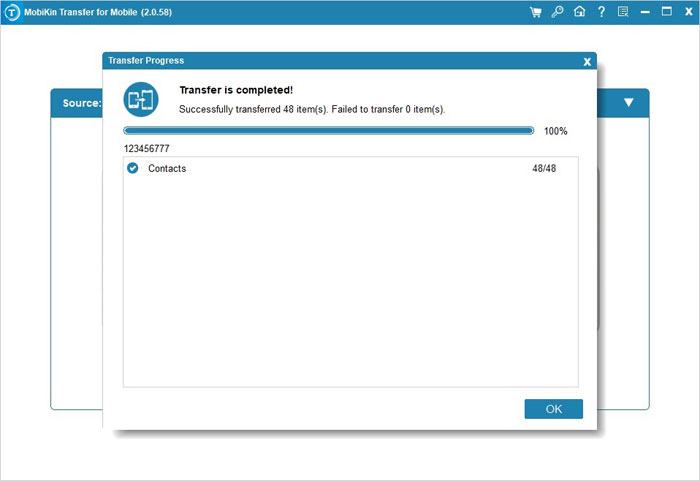 See More:
Way 2: How to Switch from iPhone to OnePlus via OnePlus Switch
Officially provided by OnePlus Inc, the OnePlus Switch helps transfer data from iPhone/Android to OnePlus, including such files as contacts, photos, videos, audios, messages, and calendar.
To ensure a smooth transfer, make sure your OnePlus phone is running Android 6.0 or later, and don't lock the phones' screen unless the migration completes.
How to transfer data OnePlus from iPhone via OnePlus Switch:
Download the OnePlus Switch app from Google Play on both iPhone and OnePlus.
Install and open the app.
Choose "I am New Phone" on OnePlus and "I am Old Phone" on iPhone.
On OnePlus, set the iPhone as the source phone.
Now a QR code should turn up on OnePlus.
Pick up your iPhone to scan the QR code.

The two devices should be connected soon.
Choose the data your want to copy from your iPhone.
Tap "Start" to trigger the transfer procedure. (OnePlus Switch doesn't work? Tap here)
Way 3: How to Copy Data from iPhone to OnePlus Using Google Backup
You can also use Google service to back up your iPhone items to Google servers and then access and download your required stuff from your OnePlus phone. During the job, remember to enter the same Google account twice.
How to do iPhone to OnePlus data transfer with Google backup?
Run Google Drive on your iPhone.
Click the menu icon on the primary screen.
Choose Settings > Backup > START BACKUP.
This will back up app data, WiFi, other Settings, etc., from your iPhone to Google servers.

On your OnePlus, open the Google Drive app.
Log in with the same ID and password you use on your iPhone.
You can get the synced data there and restore what you want to OnePlus.
Additional Reading:
Way 4: How to Move Data from iPhone to OnePlus with File Explorer
You might capture massive photos and videos on your iPhone. Here, it's an easy approach to copy these items from iPhone to OnePlus using File Explorer. And after the transfer, all the pictures/videos will appear in the Gallery app on your OnePlus phone.
How to transfer data from iPhone to OnePlus with File Explorer?
Attach both iPhone and OnePlus to your computer via USB cables.
Go to the storage of each phone in a separate File Explorer window.
Drag the pictures and videos you wish from the iPhone's DCIM folder.

Drop the items on the OnePlus storage.
Your wanted files will be copied across to OnePlus later on.
Way 5: How to Sync Data from iPhone to OnePlus with iCloud
If you only want to transfer iPhone contacts to OnePlus, iCloud could be a great service to handle this. You can use it to export contacts as a single vCard file and then import it to your OnePlus phone.
How to copy data from iPhone to OnePlus 6/6T/7 Pro/7T/8/8T with iCloud?
On your iPhone, go to its "Settings" > "Mail, Contacts, Calendars.
Choose "Accounts" where you find "iCloud" listed.
Turn on "Contacts".
Your iPhone will cue you to "Merge" your device's contacts via iCloud.
After that, go to icloud.com on your PC's web browser.
Log in to your iCloud account and then select "Contacts".
Click the gear icon at the lower left.
Choose "Select All" > "Export vCard" to copy the computer to this computer.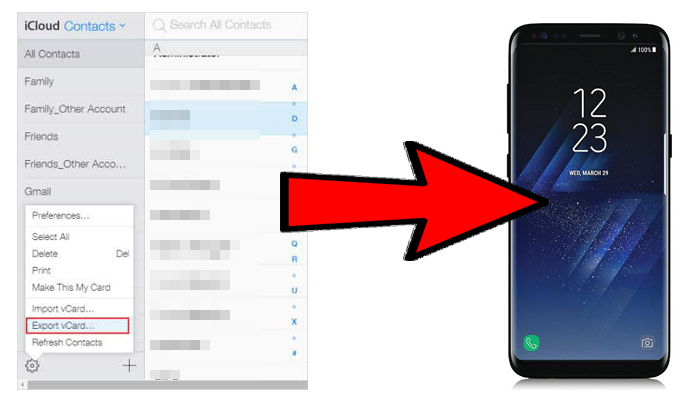 Once done, you can connect OnePlus to your computer and import the .vcf file to the phone or get the file onto Google Contacts.
Way 6: How to Transfer Data from iPhone to OnePlus via Google Play Music
The last method is to take Google Play Music to make the OnePlus switch for iPhone/iOS. As its name indicates, this service can only be used to move music tracks from iPhone to OnePlus.
How to transfer data from iPhone to OnePlus via Google Play Music?
Connect your iPhone to a computer and run iTunes.
Visit the Google Play Music website on your computer.
Log in to your Google account.
Click "Music" > "My Music" > "Upload music".

Click "Select from your computer".
Choose the music you've synced from your iPhone.
Download and run the Google Play Music app on your OnePlus phone.
Sign in to the same Google account.
Choose the songs you have streamed from Google servers and download them to OnePlus.
Last Words
OK, that's all for today's topic. In a nutshell, you can choose any method to complete the data transfer from iPhone to OnePlus. Before making a decision, ensure to check whether the tool or service supports the data types you intend to copy.
Honestly, if you want to enjoy a comfortable transfer experience and want to copy various files over at one time, MobiKin Transfer for Mobile can be your best pick. You can offline access your iPhone content and then transfer them directly and quickly with it.
Related Articles:
Top 4 Ways on How to Transfer Photos from Laptop to iPhone
How to Clone an iPhone to Another iPhone? [Top 4 Ways Provided]
How to Solve Can't Import Photos from iPhone to Mac Issue?
How to Transfer Photos from OnePlus 8/7 Pro/7T/6T/5 to Laptop?
3 Easy Ways to Back Up OnePlus 8/7 Pro/6T/5/4/3/2 to PC