How to Transfer Messages from Android to Mac (#1 Is Terrific)
"I want to be able to save Android SMS text messages off of my Android to Mac. Is there any way I can do that? I have over 10000 SMS in this database. Thanks!"
-- From Macrumors Forum
As the situation mentioned above, you may need to back up your private info like bank account before upgrading your Android device or in case of the phone crashed. And now you have a Mac computer at hand. You might be interested in how to transfer messages from Android to Mac (MacBook Pro, MacBook Air, etc). For this question, it is necessary to check this article, with delivering step-by-step solutions to cope with Android SMS backup to Mac.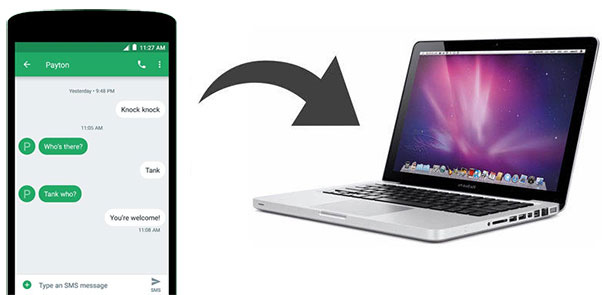 #1: How to Transfer Messages from Android to Mac with Assistant for Android
Whether for new or old users, the comprehensive quality of a software is the key for selection. Rather than spending a lot of time on finding the suitable software for transfer, you might as well learn about a program with superbly comprehensive performance, various features and wide popularity.
Well, this tool is MobiKin Assistant for Android (Mac and Windows), which allows you to transfer mobile data between computer and Mac or Windows selectively or in batches. It also allows you to preview the details of phone data as you like. With it, you don't have to worry about data failure or data unavailability after performing transfer or backup tasks. Because practices show that this program is your fabulous option.
Some of the reasons for its popularity are as follows:
Preview and transfer messages, contacts, call records, pictures, music, videos, user apps and more from Android to Mac.
Export SMS from your Android to Mac as formats like HTML, XML, CSV, Text and BAK.
Send text messages to people in groups and add or delete text messages on Mac.
Import data from Mac computer to Android device quickly within 1 click.
One-tap to back up and restore your Android phone to/from Mac.
Be fully compatible with a variety of Android devices, covering Samsung, Huawei, HTC, Sony, Motorola, Google, LG, RealMe, Xiaomi, Vivo, OPPO, OnePlus, ZTE, etc.
You can download the Mac version of MobiKin Assistant for Android and begin with the Android SMS to Mac transfer on your own.
Here's how to transfer messages from Android to Mac via MobiKin Assistant for Android:
Step 1: After the download, you can easily install and open the program on your Mac. Then the initial interface will take on, prompting you to connect your Android to Mac via a USB cable or WiFi.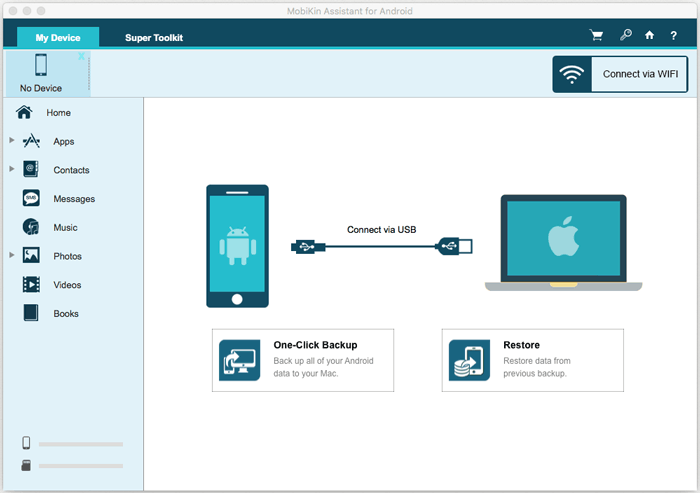 Step 2: Take the USB connection for example, you can plug your Android to Mac via a USB cable. Then, follow the hints from the page to grant for your Mac. After the quick detection, you'll get the main screen with the specific phone info like below.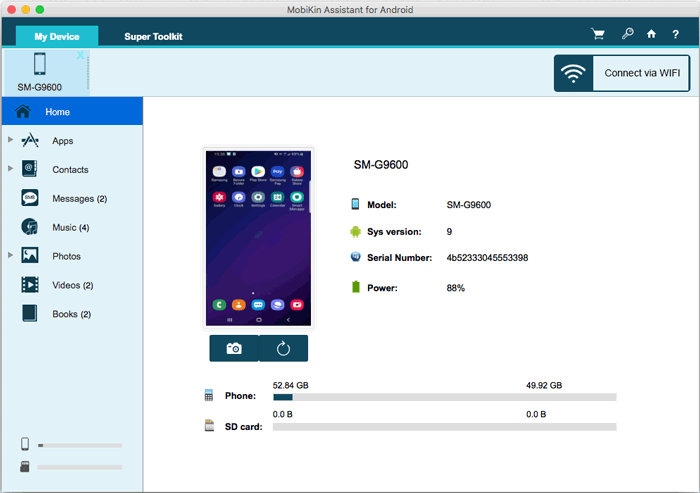 Step 3: Click on the "Messages" tab from the left menu to preview all your Android data on the right column. Then opt for your desired text messages and tap on "Export" from the top menu. After that, select an output format and save these selected messages on your Mac.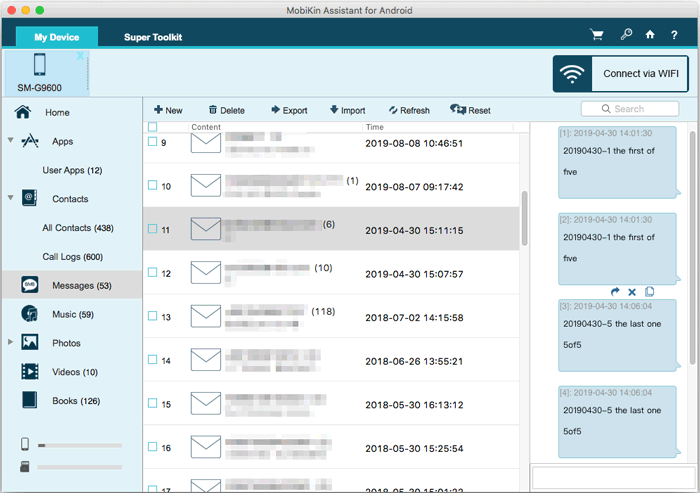 Tips: After the SMS transfer, you can use the saved text messages on your MacBook for printing or for other use as needed.
More Related:
#2: How to Transfer Text Messages from Android to Mac with SMS Backup & Restore
By using the SMS Backup & Restore app, you need to first back up your messages to Google Drive. And after that, please log in the Google account from Mac computer, and then download all the backed up messages to Mac. Before that, a Google account is required and the WiFi function needs to be enabled.
How to transfer messages from Android to computer (Mac) with SMS Backup & Restore?
Step 1. Download this app and install it on your Android phone. Then start it and tap on "Backup".
Step 2. You'll see a prompt with "Create New Backup" on the screen. Now, choose "Text Messages" and enter a name for the backups. You can also tick off the "Include MMS messages" and "Include Emojis/Special characters" if necessary.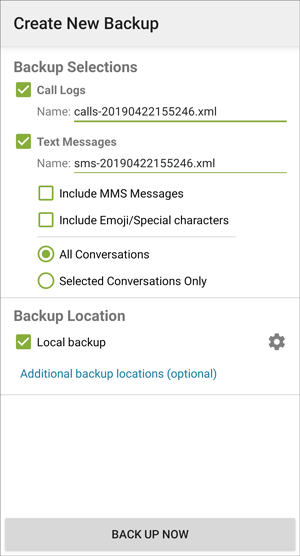 Step 3. Select "Google Drive" and input your Google account for backup, Then tap "OK" button. After that, click on "BACK UP NOW" to initiate this procedure.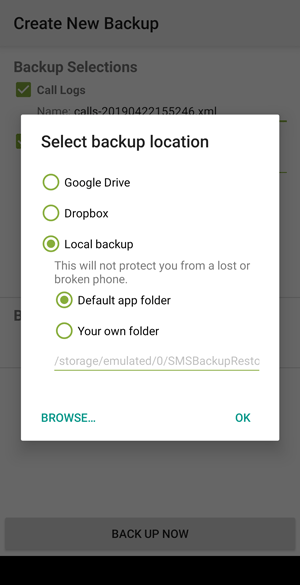 Step 4. After the backup, go to the browser on your Mac and login the same Google account. After that, you are allowed to download the text messages to your MacBook.
#3: How Do I Transfer Text Messages from My Android to My Mac Computer via Email
It is similar to the previous method, but this way is easier. While conducting the task, at first, you should select the desired Android SMS for transfer, and then send them to the designated email account. Finally, log in the account on your Mac and download the attached text messages.
How do I transfer messages from my Android phone to my Mac using Email?
Step 1. Open the "Messages" app on your Android device, and preview and pick the text messages you'd like to transfer.
Step 2. Press the "share" item next to the "trash" icon on the upper-right corner. And tap "Email" from the pop-up window to share the chosen SMS via email.
Step 3. Log in your Email info and click on "Send" button. Then open your MacBook and enter the same email account on the browser from your Mac. Next, download the texts from the email to your Mac computer.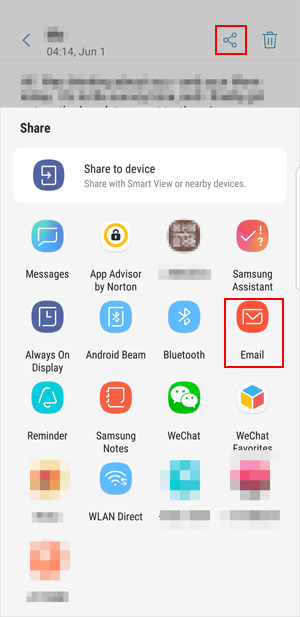 You May Also Like:
#4: How to Transfer Messages from Android onto Mac Computer Using Samsung Kies (Samsung Only)
If the device for SMS transfer is a Samsung, you can try Samsung Kies. As it is not available for a few Samsung devices, advise you to log in "Samsung.com" to search your phone model and try to find a compatible version of Kies. Provided that all goes well, it'll be good to go.
How can I transfer text messages from Samsung to my computer via Samsung Kies?
Step 1. Give this Samsung Kies program a download and install it on your MacBook. Then launch the program and connect your Samsung phone to Mac with a USB cable.
Step 2. After your phone is recognized by this software, select "Backup & Restore" option from the top menu and tap "Backup". You'll see the sections of "Personal information" and "Content".
Step 3. Tick off "Messages" from "Personal information" board. Next, drag the scroll bar on the right to the bottom of the main interface and you'll find "Back Up" button. Just click on it to get the SMS transfer started.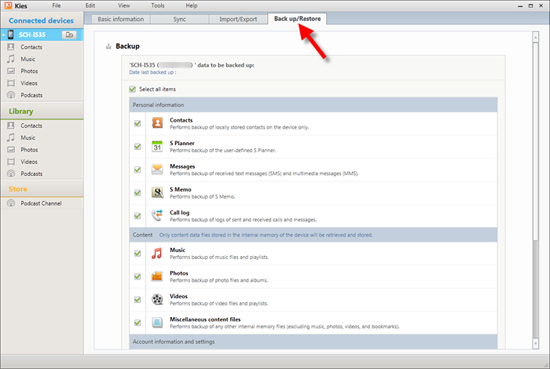 Note: The backed-up messages are the files processed by this program, so it cannot be previewed directly on your Mac.
Concise Summary
This passage is intended to let you know how to transfer messages from Android to Mac in 5 tested ways. Now, if you still have no sense of which one to choose to carry out Android to Mac SMS transfer, you can first take MobiKin Assistant for Android into account. As it can ensure a secure message backup, coupled with giving local database a comprehensive management. Plus, offered with user-friendly interface and easy operation, you will therefore be fascinated by it.
Related Articles:
How to Transfer Text Messages from iPhone to Computer Instantly?
How to Permanently Delete Text Messages from My Android Phone?
How to Transfer Photos from Mac Computer to Samsung Device
How to Retrieve Deleted Text Messages on Android
How to Backup Android to Mac Computer? (4 Easy Ways)