A Simple Way to Transfer Messages from SIM Card to PC
Many busy business people don't have time to sit in a chair at an office desk and work. Instead of staring at a computer from morning to night, they are constantly on the go. Therefore, they are used to communicating with partners or customers on their mobile phones and sending documents through messages. They store important documents on their smartphones and conduct business through this tool.
However, eventually they may need to transfer these files to a computer, for example, transfer messages from SIM card to computer. Because firstly, the storage space of a smartphone is limited and smaller than that of a computer; secondly, the files in the mobile phone are not as safe as those in the computer; Third, editing documents with a computer is more convenient than using a mobile phone.
Recommended Tools to Transfer SMS from Android/iPhone to Computer
Then how to transfer messages from Android phone or iPhone to PC/Mac? MobiKin Assistant for Android (Windows/Mac) or MobiKin Assistant for iOS (Windows/Mac) is the necessity. Because you can not transfer text messages easily without a third party tool and this software is one of top transferring software. It can help you transfer various files including not only the SMS messages but also the contacts, photos, music, books, videos from mobile phone to computer efficiently.
There are two tutorials below. One is to transfer messages from Android SIM card to computer and the other one is to transfer SMS from iPhone to PC.
How to Transfer Messages from Android phone to Computer?
Step 1. Download the software on your personal computer and then connect your Android phone to computer with a USB cable. Don't worry about the brands of Android phones, because the program can support almost all kinds of Android phones.
Step 2. Then you may need to enable the USB debugging if you did not do this before. (Just skip to the next step if you did this before.)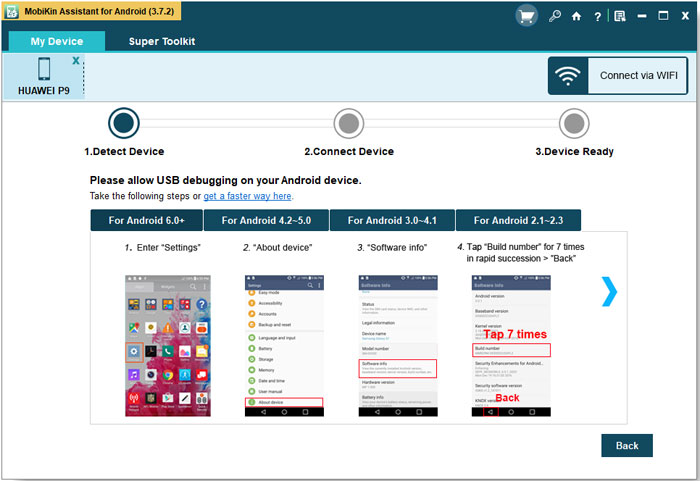 Step 3. The program will detect and scan the files of the connected device and then you will see an interface like this with many options list on the left column.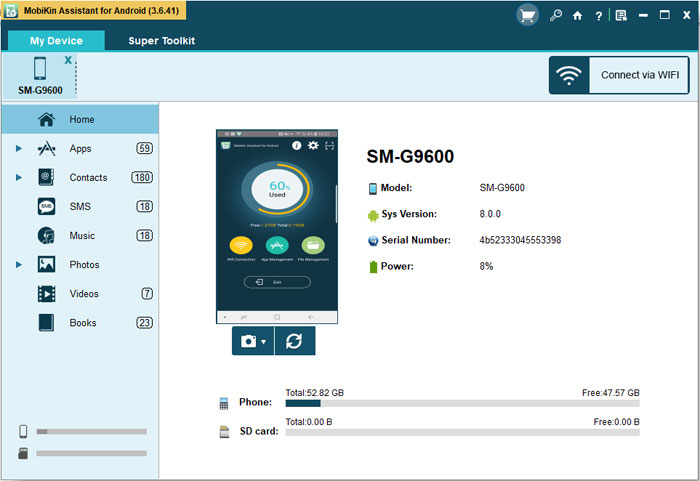 Step 3. Click the Contacts option and you will see two option below to it. Click the SMS to preview the contents and mark the messages you want to transfer. Finally just hit the Export and you can save them on computer.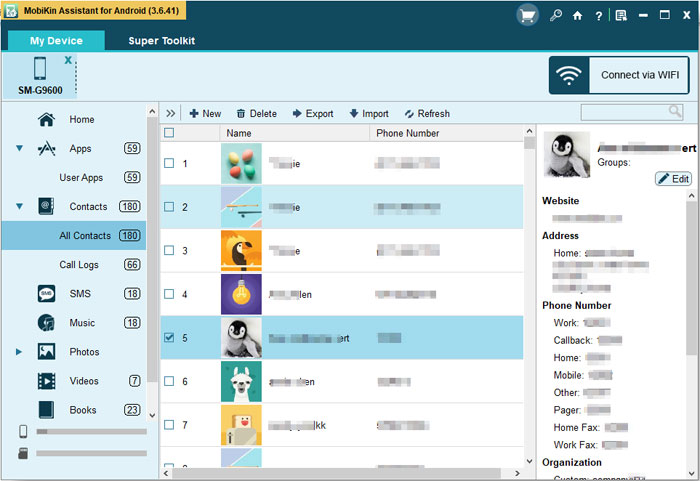 See More:
How to Export SMS from iPhone to PC/Mac?
1.Download the software by clicking the icons below according to the OS of your personal computer. Then connect the iPhone to your computer with the USB cable.
Note: iTunes is needed to be installed on the computer but is not needed to be started.
2.The software will detect the iPhone automatically and scan the files deeply. You can see the window with main parameters on the right part of the window and many options on the left column.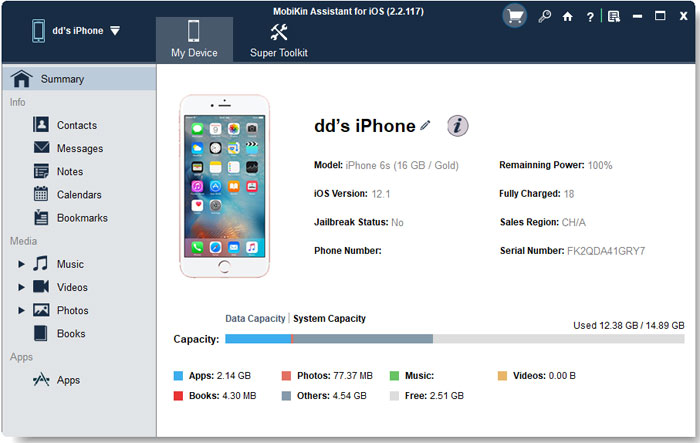 3.Click the Messages option on the left panel to preview the details and content of the SMS. Mark the messages you want to transfer and hit the Export button.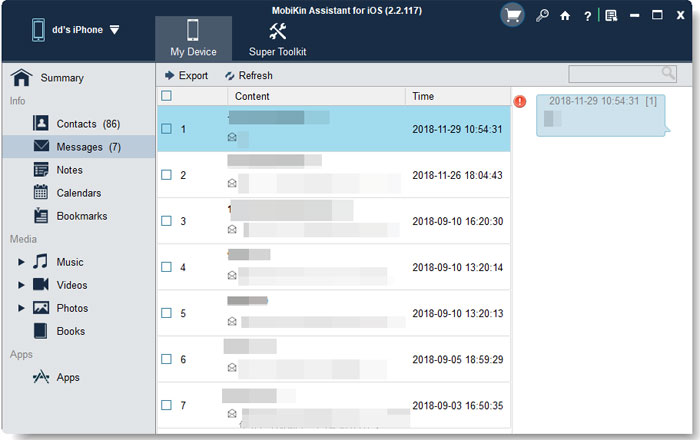 Summary
Once you have transferred SMS messages from your phone to your computer, you can do several things with them depending on your needs. For instance, you can store your transferred messages on your computer as a backup in case you lose or damage your phone, you can use your computer to organize your SMS messages by grouping them by contact, date, or topic. If you need a physical copy of your SMS messages, you can print them out from your computer.
If you encounter any problems in using the above tools, please contact us as soon as possible.
Related Articles:
Transfer Music from iPod touch/nano/shuffle to Mac
How to Transfer Music from iPad to Computer/Mac
How to Transfer, Copy Text Messages from Samsung Galaxy to PC/Mac
How to Back Up Calendar on Android Phone? Most People Don't Know.
6 Best Android Lock Screen Removal Software to Unlock Your Phone Easily
10 Best Android Phone Repair Software and Apps to Fix Android System Issues