Android Call History Recovery - Recover Call Logs on Android
What cases can cause call history lost on your Android phone and why we need to recover them from this phone? Well, it is common that an owner of the phone deletes his call logs intentionally. However, at a later date, he may need the call log back so that he can find a number that he really need again. Or, the users find out that there is a virus on their Android devices and it has to be removed. However, before the virus is removed, it does enough damage to delete or corrupt the call log files. Another situation is that the Android phone is formatted. Once formatted, all data that was not backed up is lost.
So is there any way to recover the call history from your Android? Of course there is an easy way for you to recover your deleted call history from Android. What you need is Android Data Recovery App to download and install on your computer. MobiKin Doctor for Android or Doctor for Android Mac is an almighty tool to help Android users to recover not only call history, but also contacts, text messages, photos, videos, music and more from their phones. It supports Samsung, HTC, LG, Sony, Motorola, Nexus, ZTE and all other Android devices. Some of the more commonly known and used functions of the Doctor for Android involve the transfer of information from one device to another, processes on how to restore data that was lost and much more.
Note: To prevent this kind of thing from happening again, you'd better back up your Android on computer. Here we recommend MobiKin Assistant for Android, an all-around program for Android file management. If you are an iPhone user, you can click this article to learn how to recover lost call history from iPhone.
Recovering Deleted Call Logs from Android with Doctor for Android
The following guide will help you go through the process of retrieving Android call history with the recommended Android Data Recovery software. Before we start the call logs recovery, you should root your Android phone first. If you don't know how to do it, here is a guide to help you: How to root Android devices.
Step1: Run the Doctor for Android program
You will need to connect your Android phone to your desktop computer or to the laptop so that you can use the application to load and manage your phone information. With launching the software that you has already downloaded and installed, you will be able to view the interface that the MobiKin software has provided. Then, follow the instructions to open the USB debugging on your device if you haven't enabled it: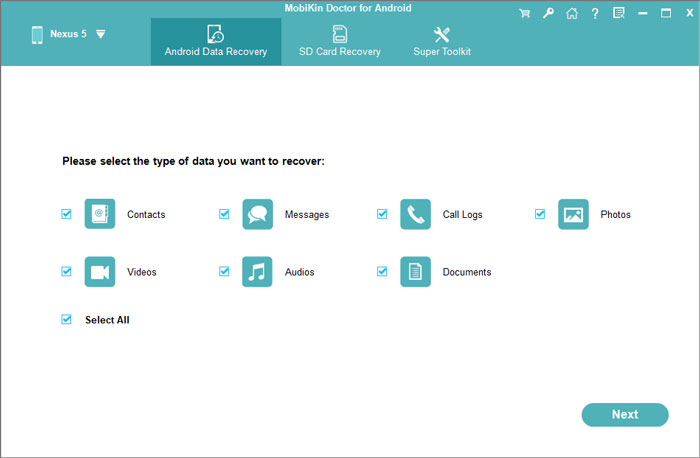 Step 2: Scan call logs deleted on your Android phone
The user will need the Doctor for Android to scan the Android phone for the call logs that you need access to. To get to the call logs that have been deleted, however, a deep scan will need to be completed for recovery. Click on the "Call Logs" option from the left panel and the scanning will be started immediately.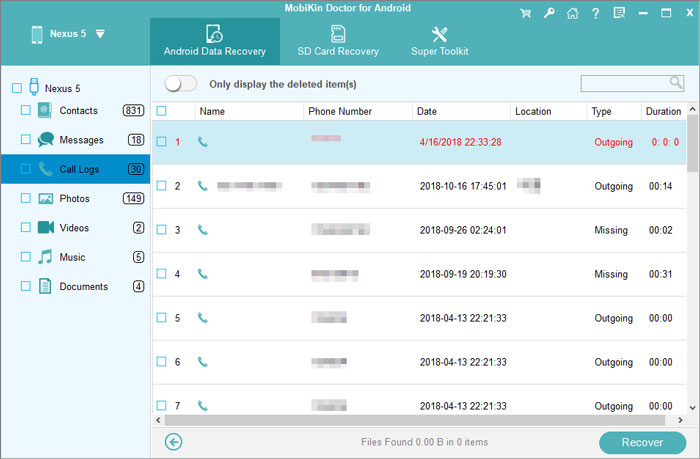 Step 3: Android call history recovery
After the deep scan is completed, all the user has to do are choosing items you want back and giving a click on the "recover" button to retrieve the call history back on your computer.
Related Articles
Call Logs Recovery for Google Nexus
How to Retrieve Deleted Call Logs on HTC