Mi Phone Data Recovery: How to Recover Deleted Files from Mi Phone
Owing to its excellent features and affordable price, Xiaomi is becoming more and more popular. However, no matter you are using a Xiaomi Redmi or Mi smartphone or a Mi Pad, you will face the problem of data loss just like using other brands of mobile phones, and then you will be worried about how to find a good way to recover deleted files from Mi phone. There are many reasons for data loss, including malware and viruses, damaged SD cards, formatted devices, and even operating errors.
But fortunately, the deleted data will not be completely lost but still stored in internal memory. As long as you make sure not to overwrite the lost files with new ones and don't save new files after your phone loses data, the deleted files can still be recovered. Read on, you will learn that Mi phone data recovery is as easy as ABC.
Before we start, ask yourself a question: Is there a backup of your Mi phone? The answer to this question will also guide you to find the most suitable solution for you.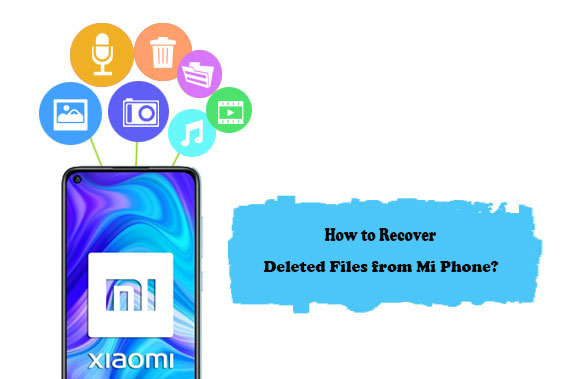 Part 1: How to Restore Lost Data from Mi Cloud
Mi Cloud is a major feature of Xiaomi devices. It works in the same way as Google Drive and iCloud. Users can store data in Mi Cloud and restore deleted data from Mi Cloud. It provides 5GB of storage space and 6 layers of data encryption.
So, if you have backed up your data in Mi Cloud, let's go below and see the way of Mi data recovery from Mi Cloud.
Log in to your Mi account on your device.
Go to Settings > Mi Account > Mi Cloud > Restore from Backup.
Now, you can choose the backup files that you want to restore and then tap on the "Restore" button.
OK, all your wanted data will be restored from Mi Cloud to your phone.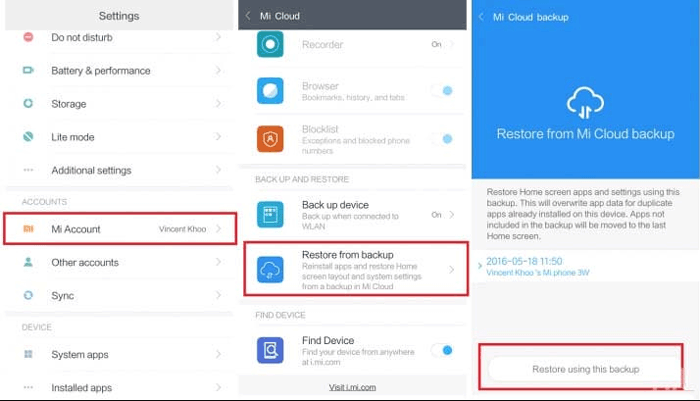 Can't Miss:
Part 2: How to Recover Deleted Files from Mi Phone via Google Drive
Almost every Android user has a Google account. And Google Drive is an excellent alternative to Mi Cloud. Google Drive provides 15GB of storage space, users can back up their important files to Google Drive, and then access them anywhere and on any device. Now we will teach you how to access the backup files and restore the files to the Xiaomi phone.
Access the Google Drive app on your Xiaomi phone or open the site of https://google.com/drive via any browser.
You can see all uploaded files are listed here. You can even search for the file you need by typing the name of it.
Preview the files you have backed up on Google Drive and select the ones you want to restore.
Finally, you can click on the "Download" option to restore lost Mi phone data from Google Drive.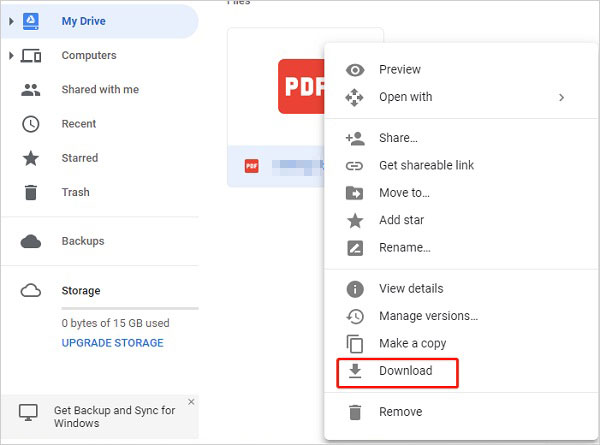 Part 3: How to Perform Mi Phone Data Recovery with Xiaomi Backup App
Xiaomi has provided its users with a dedicated backup application. With this built-in backup service, you can easily back up your data to the program, and then click "Restore" to restore the files you want. This is also one of the easiest ways to retrieve lost data from Xiaomi/Redmi phones. Please follow the steps below:
First of all, run the backup app on your Mi phone.
You can see all backed up files are listed here, which can be recovered.
Select the files you want to restore.
Tap on the "Restore" option to retrieve deleted data from Xiaomi phone.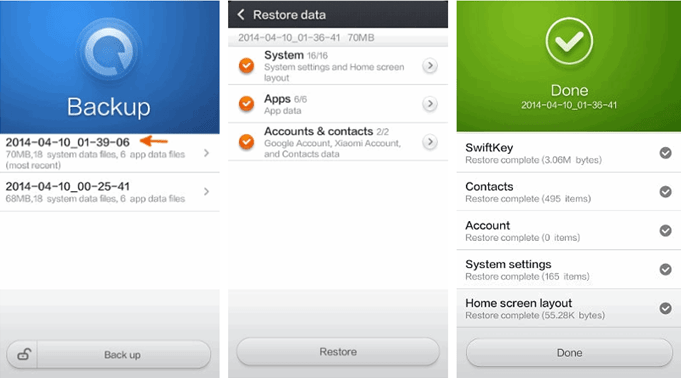 Can't Miss:
Part 4: How to Recover Deleted Files from Mi Phone without Backup
If you have not had time to back up the files in your Xiaomi phone, the above three methods are not effective for you, then MobiKin Doctor for Android, a professional Xiaomi data recovery software, can help you. It will perform a deep scan of your phone, find lost files, and retrieve them with zero loss. In addition to working on Xiaomi devices, it is also applicable to other Android phones. With a very user-friendly interface, you can easily complete the Mi phone data recovery process.
More features of this Mi recovery tool:
It can recover lost contacts, text messages, call logs, photos, videos, music, apps, etc., from Mi phones.
It retrieves lost data from the phone's internal memory, as well as the external SD card.
Wide compatible with various Xiaomi models such as Xiaomi Mi 10/Mi 9/Mi 9 Pro/Mi 9 SE)/Mi 8/ Mi 8 Pro, Mi MIX 3, Mi MIX 2S, Redmi Note 9/Note 8/Note 7/Note 4/Note 5/Note 4, Redmi 8, Redmi 7, Redmi 6, Redmi 6A, etc., and also working for Samsung, LG, Sony, Motorola, Google, OPPO, OnePlus and most Android phones.
Supports all Android OS, Windows and Mac OS.
Just give Doctor for Android a try and then follow the steps below to see how to recover deleted files from Mi phone using this Xiaomi data recovery software.
Step 1: Run the Mi data recovery program
Launch the software and connect your Xiaomi device to the computer using a USB cable. Stand by until your device is detected by the computer successfully. To ensure a stable connection between the Xiaomi phone and your computer, a window will appear asking you to open USB debugging mode on your Xiaomi phone.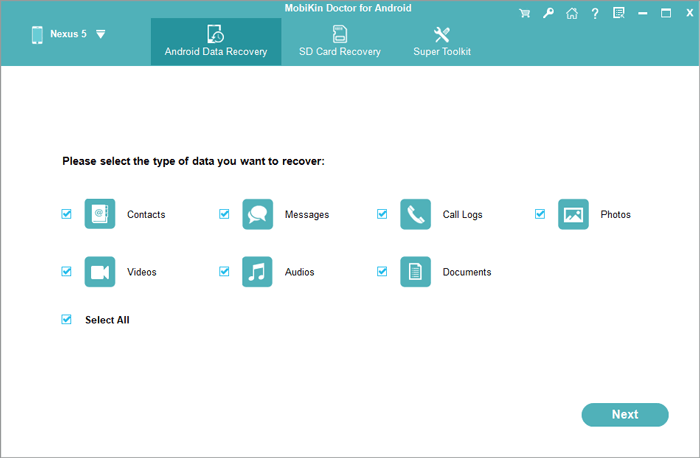 Step 2: Choose which file types you want to recover
You can see a list of file types that you can recover. Tick off the file categories you want to recover and click "Next". This way, the program starts to scan your device and present you with all the scanned out files, with a series of options displayed on the top.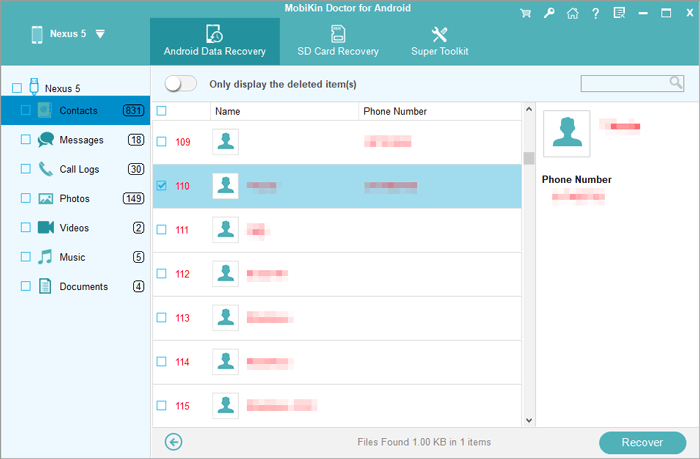 Step 3: Recover selected data to Xiaomi device
Preview the scanned out files and mark on those you want to recover. Then, specify a destination folder where you want the files to be saved and tap the "Recover" button to save the selected files on your computer.
Final Thoughts
Because accidents of data loss can happen at any time, we strongly recommend that you back up your Mi phone regularly. You can use the Mi Cloud, Google Drive, and Xiaomi backup app mentioned above to back up files, or you can transfer data from Xiaomi to computer.
However, if you don't have a backup file, don't worry. You only need to download and install MobiKin Doctor for Android to recover lost data from Xiaomi without backup. It is an efficient, fast and safe solution for recovering lost data from Xiaomi and any Android device.
Related Articles:
Recover Lost Contacts/Text Messages from Xiaomi
Mi Data Transfer: How to Transfer Data from Mi to Mi [Easy Steps]
Huawei to Mac Transfer - 5 Ways to Transfer Files from Huawei to Mac
How to Transfer Music from Computer to Android? (6 Best Ways)
How to Permanently Delete Text Messages from My Android Phone?
[Solved] How to Transfer Text Messages from iPhone to Android?