2 Solutions on How to Recover Data from Dead Phone Internal Memory
Smartphones have become an indeterminable part of our daily lives, and our work and life are inseparable from it. However, due to a lot of unexpected activities, our mobile phone will have an accident, we have been waiting for the device to load normally, but there has been no response, and the most difficult is how to recover data from dead phone. Data recovery has always been one of the most concerned topics for every electronic device user. Today, we will talk about how to recover data from a dead Android phone. Damage to your device is painful for you, but if you can successfully rescue the data on your phone, it is the best out of the worst.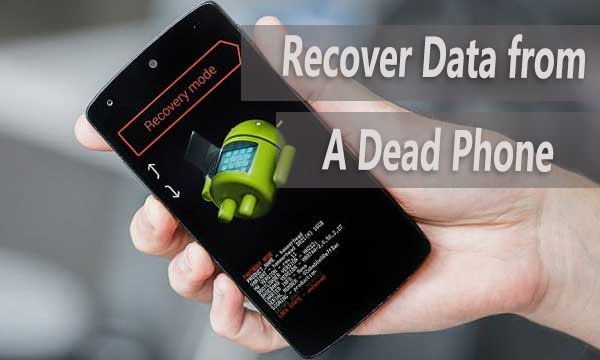 Quick Navigation:
Part 1. Why Do We Need A Dead Phone Data Recovery?
The following reasons can cause your phone, computer or other electronic devices to be locked or frozen, and eventually cause a crash.
Equipment Aging - All electronic products will age and expire like any other product. Even if you do a good maintenance of your phone, it can only delay the aging of the device. The later you get, the more you find that the device is slow to use, or even out of normal use. At this time, you need to replace the new device.
Placement - Many people may overlook this issue. In fact, electronic products, like food, also need a suitable storage location. If you leave your phone in the sun, high temperature, water and humidity for a long time, this will undoubtedly greatly reduce the life of the phone.
Virus Infection - If your phone is infected with a virus, your phone speed and performance will be greatly affected. Generally, viruses will attack the internal storage of the device by freezing and destroying the system, thereby shutting down the mobile phone. There are also viruses that intentionally delete data on your phone, such as photos, videos, and so on.
Incompatible configuration - If you install insecure, that is, untrusted, third-party applications, it can also cause your phone to freeze and crash your system.
Insufficient memory - When your phone runs out of memory, a prompt will pop up to tell you that the memory is seriously insufficient and you need to delete some files. And if you continue to use the phone without cleaning up the memory, it will cause the phone to run slowly, and then freeze and die.
Performing too many tasks at the same time - If you open too many applications at one time, the system may freeze. Because the phone's ability to handle multiple programs is limited, like humans, it can't do work beyond its capabilities. Once overloaded, it freezes or shuts down.
Hardware damage - Mobile phone's electronic parts are very fragile. When they are exposed to high temperature or improper handling, problems will occur, which will cause the phone to freeze and not work properly.
Other problems - Problems with the operating system and system drivers, or problems with updating devices and applications, can also cause the phone to freeze or freeze.
Hot Topics:
Part 2. How to Recover Data from Dead Phone via Backup
Way 1: Recover dead phone data from Google Drive
If you have ever backed up your phone on Google Drive before it crashed, then you are quite lucky. Because now you can easily restore the backup data from google backup to your phone. We all know that we can log in to our google account on any device, whether it is a mobile phone or a computer, so you can log in to a functioning mobile phone with the Google account you used to back up your dead phone, find the files you want and restore them back.
How to get files off a dead phone from Google Drive backup:
Open your new phone and run the Google Drive app.
Log in to your Google account, please note that this account must be the same as the account you used to back up your dead phone.
After successful login, locate the file storage location and browse the backed up files.
Select the files you want to restore, then click the menu button in the upper right corner of the screen, and select "Make Available Offline" or "Download" option to restore the backup files from Google Drive to your new phone.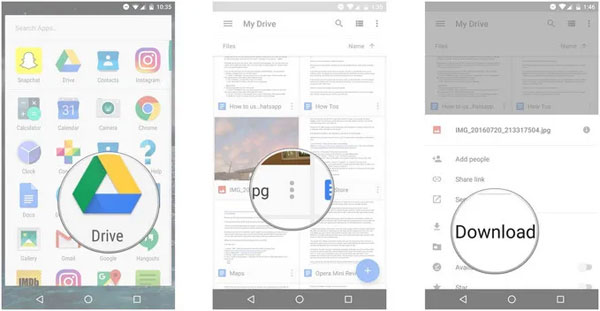 Way 2: Recover dead phone data from PC
If you have ever transferred files from your dead phone to your computer, getting data off dead phone will be much easier. You can connect your new phone to your computer, then copy and paste the backup files into your new phone, or you can use the backed up files directly on your computer.
Related Posts:
Part 3. Data Recovery from Dead Phone Using Android Data Extraction
If you have no backup of your dead phone, then the methods of restoring from backup is helpless to you. But don't panic. How lucky we are to live in an age of rapid technological development. Now we can recover the data you want to rescue directly from the dead phone. Android Data Extraction can recover and transfer data from a dead phone with amazing efficiency and perform data recovery on any crashed Android device without following complicated methods.
How to recover data from dead Android phone internal memory with Android Data Extraction?
Step 1. To start off with the whole process, download the Android Data Extraction from the download button above and install it on your PC. After successfully installing the program, launch it and connect your dead phone to the computer with a USB cable. On the primary interface, choose "Broken Android Data Extraction" from the left.
Choose the state of your device and click "Start" button to continue.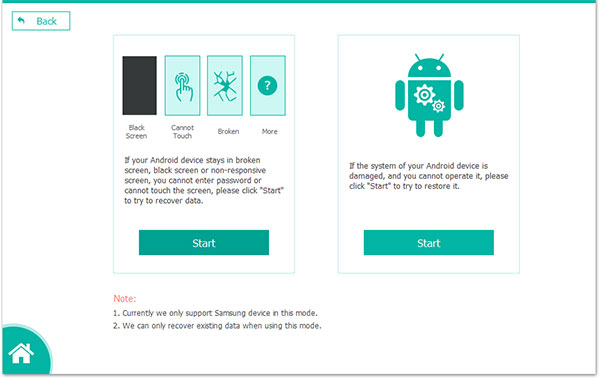 Step 2. Enter the model of your device by clicking the drop-down menu to select your Device Name and Device Model. Make sure the information you entered is correct so that the program can download the right package for your dead phone. Tick off the "I agree" box and click "Confirm" option to go to the next step.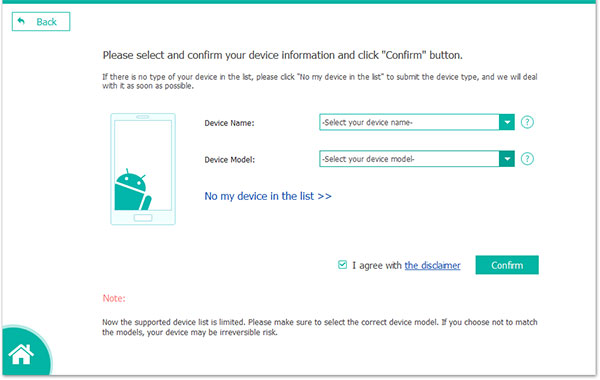 Step 3. Follow the prompts on the program interface to put your dead phone into Download mode. After that, you can click "Start" button to let the program analyze your phone and start downloading the recovery package appropriate to your device.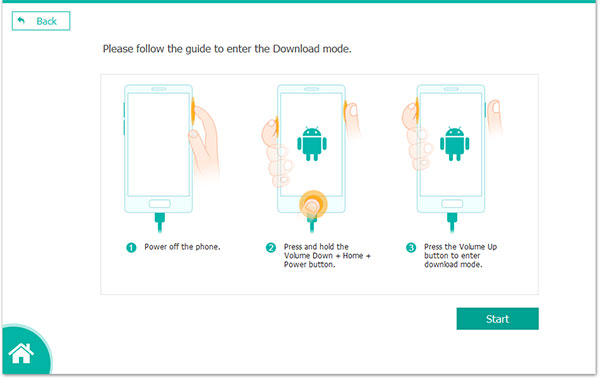 Step 4. Android Data Extraction will scan your phone and show you all your category file types that are all found at the left panel of the screen. Just select the file types you want back and preview the items on each file. Mark those you want to recover from your dead phone and click the "Recover" button to transfer data from dead phone to computer.
You can save the recovered data to a specific folder on your PC and if you get a new phone, you can transfer those data to your new device directly.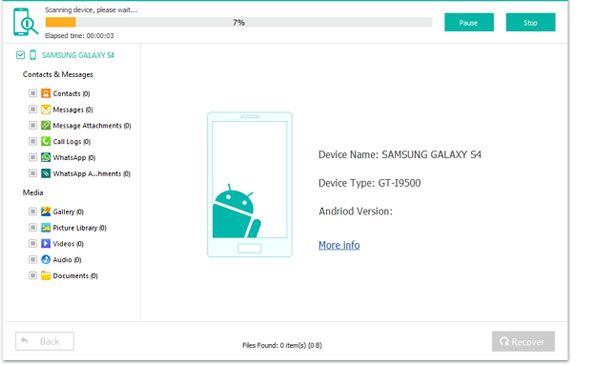 The Bottom Line
In this article, we introduced two solutions to recover data from a crash. One is to restore data from a previous backup, and the other is to use third-party Android data recovery software to directly recover data from a crash. You can choose a solution based on your actual situation. What needs to be emphasized here is that Android Data Extraction is a very safe and effective software, which can access internal memory dead phone to recover your data effortlessly, and it is very simple to use, saving you more time and energy. It is also very secure because it does not overwrite your important data.
Good feedback from users who have used this product. So, when your phone has various problems, don't rush to repair it, you can use Android Data Extraction to try to recover data first. A high success rate will definitely surprise you. If you have any questions when using the software, you can always let us know in the comments. You can also share your solution with us.
Related Articles:
How to Fix Samsung Black Screen of Death? 12 Solutions Here
[2021 Update] How to Recover Deleted Camera Photos from Android
Top 9 Video Recovery Apps/Software for Android [Free & Paid]
Top 5 Powerful Android Data Recovery Apps and Software of 2019
How to Unlock iPad without Passcode? 6 Ways to Solve It!