A Step-by-Step Guide to Retrieve Photos from Samsung Cloud Easily
Samsung Cloud holds precious recollections that we strive to preserve. However, circumstances can arise where these moments are inadvertently lost, deleted, or compromised. Well, here comes a question - how to retrieve photos from Samsung Cloud? Whether due to accidental deletions, device malfunctions, or unexpected data loss, there are instances when users yearn to reclaim their pictures within the confines of Samsung Cloud.
OK, this page acts as your guiding beacon through the realm of Samsung Cloud photo recovery. We'll delve into the current state of this cloud-based storage, shedding light on its capabilities, limitations, and the strategies employed to recover pictures. Beyond that, we also provide you with a better Samsung photo recovery solution.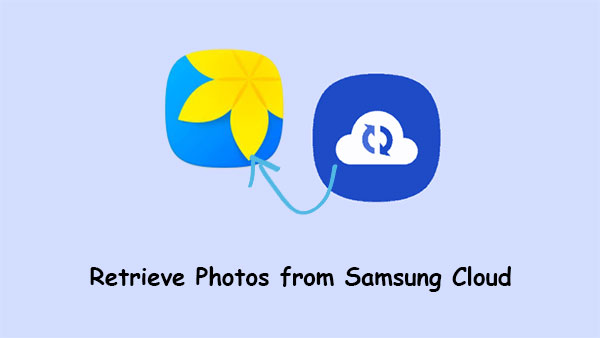 Part 1: Can I Still Retrieve Photos from Samsung Cloud?
As of November 30, 2021, Samsung Cloud no longer allows you to back up photos on Samsung. The Gallery Sync and My Files functionalities have been removed from the service, making it impossible to retrieve content from within in theory.
However, Samsung Cloud provides users with a timeframe to finalize the synchronization of data across their devices. So, if you had previously backed up your photos to Samsung Cloud before this date, you might still be able to access them directly or using alternative methods.
Here, it's recommended to explore options like transferring your data to another cloud service, using a third-party data recovery tool, or utilizing backups from platforms like OneDrive, which has replaced Gallery Sync in Samsung Cloud.
Click to Know:
Part 2: How to Access Samsung Cloud?
Despite there being a recent announcement from Samsung that has revealed the closure of this cloud storage service for photos, users can still access their Samsung Cloud account. The steps below should provide you with access to your Samsung Cloud account, allowing you to manage your data as needed.
For PC users, you can:
Launch your preferred browser, such as Chrome.
In the browser's search box, enter "support.samsungcloud.com" and press "Enter".
Proceed to sign in to your account using the correct login credentials. (Any tips for Samsung account backup?)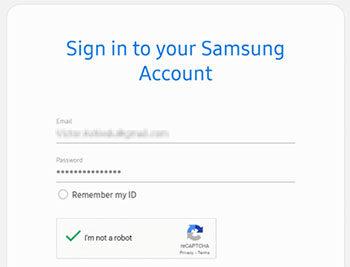 For Samsung Galaxy users, you can:
Navigate to the "Settings" panel by tapping that button on your Samsung home screen.
Scroll down on the ensuing page.
Choose "Account and backup" > "Samsung Cloud".
After getting into the backup of your Galaxy phone, you may wonder how to get photos from Cloud Samsung. And without further ado, we shall guide you through how to make picture recovery from the Cloud.
Part 3: How to Recover Photos from Samsung Cloud
Previously, Samsung Cloud enabled its users to perform Samsung backup and restore. This may be capable of resolving how to restore photos/pictures from Samsung Cloud, even if the original phone suffers damage. But since Gallery Sync has been retired as of now, you could only try to retrieve images from the Cloud with existing backups before it discontinued.
How do I retrieve photos from Samsung Cloud if I don't know when the backup was made? Try the following steps:
Launch the "Settings" application and navigate to "Accounts and backup".
Select "Samsung Cloud" and then choose "Backup and restore".

Tap on "Restore" and opt for "Gallery".
Initiate the downloading process for the backup; please note that if you have a substantial number of files, it might take some time.
Once the process concludes, tap "Done" to finish.
The settings accessible could differ based on your carrier and the version of the software. It's important to note that Samsung Cloud is unavailable on Verizon devices, including phones and tablets. Additionally, there might be limitations in terms of support for certain countries. Further, remember to act promptly if you're seeking to retrieve photos.
Recommended for You:
Part 4: How to Retrieve Samsung Photos without Samsung Cloud [No Backup Required]
What if your photos are absent from platforms like Samsung Cloud or OneDrive? No need for concern; a solution is at hand! Discover recovering lost photos from Samsung using the assistance of MobiKin Doctor for Android (Windows and Mac). This method ranks among the market's top choices for safely recovering deleted photos, along with various other file types. With this versatile tool, you can be confident that your files will be retrieved seamlessly and safely.
Key highlights of MobiKin Doctor for Android:
Quickly retrieve photos from Samsung without backup.
Directly recover images that were deleted from Samsung internal memory or SD card. (How to recover photos from SD card on Android?)
Restore such lost files as photos, videos, movies, audio, music, SMS, call logs, contacts, and more.
Let you preview all images before initiating photo recovery.
Navigational interface, thorough scan, and 98% success rate.
Work well with 8000+ Android devices, including Samsung Galaxy S23/S22/S21/S20/S10/S9/S8/S7/S6/S5/S4, Galaxy Note 20/Note 10/Note 9/Note 8/Note 7/Note 6, Galaxy Tab series, etc.
It won't compromise your privacy.
How to download all photos from Samsung Cloud if no backup is available? That's tough! But you can adhere to the drill below to ease the recovery using MobiKin Doctor for Android without a backup:
Step 1. Have the software identify your Samsung device
Prior to installation, download this Android recovery software before installing and running it on your computer. Establish a connection between Samsung and the computer via USB. Following this, enable USB debugging on your Samsung device to facilitate its recognition by the tool.
Step 2. Scan for lost/deleted pics from Galaxy
Once the recognition is complete, navigate to "Photos" and select "Next" on the screen. The tool will promptly commence scanning your device. If you're unable to locate your desired photos, consider rooting your Samsung phone to enable the program to identify all images.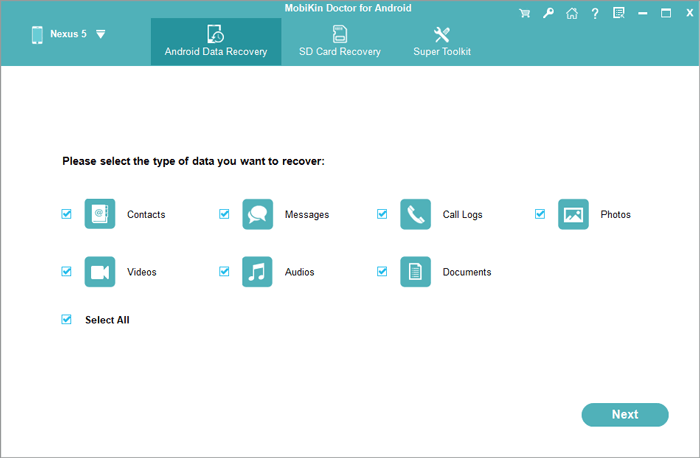 Step 3. Retrieve photos from Samsung Cloud
The tool will subsequently display all your Samsung pictures within its interface. You can then preview and select the items you require before clicking "Recover" to save them onto your computer.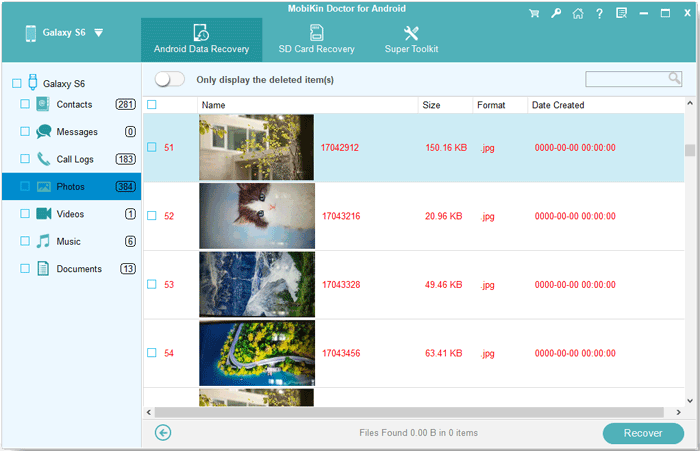 FAQs about Samsung (Cloud) Photos
Q1: What kinds of data can Samsung Cloud recover
Records of calls made and messages exchanged.
Alarms, world clocks, and timer configurations.
Install files and preferences for applications.
Events and tasks that are saved on your device's calendar.
Text messages, multimedia messages, and enhanced messages.
Stored contacts, email addresses, and business cards on your device or USIM card.
Arrangement, wallpapers, and Samsung DeX settings (default wallpapers excluded).
Accessibility, ringtone, Samsung Keyboard, Wi-Fi, and Always on Display preferences (default ringtone not included).
Saved audio clips from the Voice Recorder app.
Personalized content preferences and configurations.
Q2: How much storage space does Samsung Cloud offer
Samsung Cloud provides complimentary storage options with initial 5 GB storage starting at a minimal capacity. Yet, this capacity is expandable, albeit for a fee. (50GB: 0.99$; 200GB: 2.99$)
Q3: How to boost the success rate of Samsung photo recovery
To retrieve photos from Samsung Cloud or any other platform with great efficiency, you can try to take the following measures:
Take swift action: Begin recovery immediately to avoid permanent loss due to overwriting.
Limit phone use: Refrain from taking new photos, downloading apps, or updating until recovery concludes to prevent data overwriting.
Use airplane mode: Activate this mode to prevent background updates and downloads that could overwrite deleted data.
Avoid restarting: Restarting may complicate recovery; prioritize recovery attempts before restarting.
Ensure backups: Regularly back up to Samsung Cloud, Google Photos, or external devices for easier future recovery.
Q4: How to retrieve photos from Samsung Recycle Bin
The Samsung Galaxy recycle bin will save deleted photos for a certain period before they are permanently removed. The specific duration may vary based on the device's settings and configurations. So, you can try to restore them from there by following these steps:
Using your Samsung phone, access the "Gallery" app.
In the upper right corner, tap on "MORE", then proceed to select "Settings".
From the dropdown menu, choose "Recycle bin".

You'll find an assortment of photos within the recently deleted folder on Samsung.
Select the items you wish to recover, then click the "Restore" icon.
Q5: How to back up and restore Samsung photos with OneDrive
Based on the above, the most appropriate thing for Samsung users to do today is to back up and restore Samsung photos with Microsoft OneDrive, which is supported by Samsung.
* Back up photos from Samsung to OneDrive:
Open the Gallery app on your device and tap the "Menu" button at the bottom of the screen.
Select "Settings", then choose "Sync with OneDrive" to initiate the data backup to your OneDrive account.
If prompted, log in to your Microsoft account to enable the upload of your photos to OneDrive.
* Restore Samsung pictures from OneDrive backup:
Access the official OneDrive website via a web browser on your mobile device.
Identify the particular image you intend to restore and click on it.
Commence the restoration process by selecting the "Download" button.
If the download icon isn't visible, click the three vertical dots and choose "Download".
Concluding Thoughts
Judging from the above, we conclude that Samsung Cloud is now fading into history, not to mention its poor compatibility, and newer backup and restore platforms such as OneDrive take over its tasks. But in any case, software like MobiKin Doctor for Android shouldn't be left out in the cold, as it allows you to retrieve deleted photos and other content directly from your device without having to take a backup.
Related Articles:
Samsung Recovery Mode: Tips to Boot into, Exit, and Fix Recovery Mode on Samsung
3 Ingenious Ways to Import Photos from SD Card to Mac/MacBook [Must-read]
Handy Suggestions to Recover Photos from Lost/Stolen Phone without Backup [2023]
4 Techniques to Recover Photos from Old Google Account on Android [2023]
10 Best Samsung Transfer Tools/Apps to Transfer Samsung Data Easily
Network Unlock Code for Samsung: Hot Tips to Unlock Most Samsung Phones/Tablets