Easily Delete Duplicate Apps on Android Phone
There are some cases when you might save or download duplicate apps on your Android phone, which could result in inconvenience to your daily life. For example, you need to identify files that you are exactly looking for by comparing all the duplicate apps one by one. More importantly, the accumulation of duplicate files on your Android phone will take up precious storage files on your phone and slow the operation of your device.
So how can you delete duplicate apps on Android phone within simple clicks? Actually, you can rely on this MobiKin Assistant for Android or Assistant for Android (Mac Version) software to delete duplicate apps on Android phone in a batch. This software is able to detect all duplicate files on your phone and then delete them in one click. More importantly, this software is by no means a single app uninstaller for your Android phone, you can also use it to manage files like backing up data, editing files or exporting them to the computer as needed and wanted. All different files can be perfectly supported by this software, including contacts, messages, photos, videos, movies and many more.
Also Read:
Best Storage Manager for Android Phone
How to Delete Gmail Messages from Android
User Guide to Remove Duplicate Apps from Android
- First of all, you need to download the right version of this software on the computer and then open the installed software. After that, link your Android phone to the computer via the USB cord.
- You will now reach an interface where all different file folders are displayed. You can then enter the User Apps tab to preview more detailed file information.
- Now, you will see that all apps including duplicate ones are arranged on the main interface as pictured in the below. Then you can tick out the wanted files and hit Uninstall option to delete duplicate apps on Android phone as well as other duplicate files within simple clicks.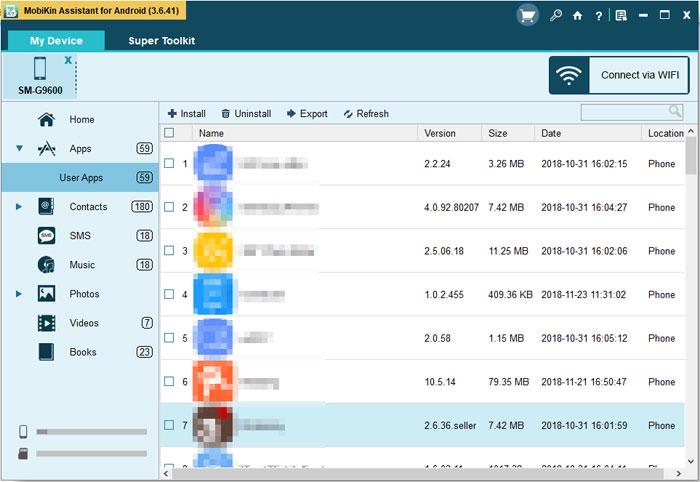 Words in The End: Permanently Delete Duplicate Apps on Android
If you need to wipe out all these duplicated apps once for all, you surely can't miss this MobiKin Eraser for Android (Windows/Mac) software, which enables you to permanently delete duplicate apps on Android phone in 1-2-3 steps. And all deleted files will not be recovered under any circumstances. So want to say a goodbye to all these unwanted files? Just give it a try by yourself! This software surely won't let you down! And this software boasts of a simple user interface, which allows you to easily delete duplicate apps on Android phone within simple steps.
Related Articles:
How to Delete Documents on Android Phone