10 Best File Sharing Apps for Android/iOS/PC/Mac [A Checklist in 2023]
Would you like to back up your Android phone to a PC, share your vacation photos or videos with your friends and family, or simplify your digital life on your device? If so, having the ideal file sharing app readily available could be a turning point. Well, this passage serves as your informative guide to the 10 best file transfer tools, each catering to a unique set of needs.
Top 1: Best File Sharing App - MobiKin Assistant for Android
When handling substantial amounts of data between Android and PC, the most efficient approach is to utilize a specialized tool like MobiKin Assistant for Android (Win and Mac). This dedicated file transfer app streamlines and simplifies the process of sharing files, enabling you to store tons of items on either your computer or various Android devices. Notably, it ensures the integrity and organization of all your Android data while also providing a versatile solution for data backup and management.
How can MobiKin Assistant for Android help you with?
Best file transfer app for Android to PC/Mac.
Copy files from a computer to your Android phone.
One-click to back up and restore your Android device without error.
Work for various data types, including contacts, call logs, SMS, music, photos, videos, books, apps, and more.
Let you manage content on your computer conveniently.
Work well with overall Android devices, including Samsung, Huawei, Xiaomi, Google, LG, Lenovo, OnePlus, HTC, OPPO, Motorola, DELL, etc.
How to transfer files from Android to PC or reversely via MobiKin Assistant for Android?
Step 1. Install and start the software
Feel free to download and install the Assistant for Android on your PC. After that, launch the program and link your Android phone to your computer. If necessary, activate USB debugging on your Android device to establish a virtual connection.
Step 2. Preview and pick the items to share
Upon successful connection, the software will present a main window featuring essential info and data categories from your phone. To proceed, navigate to the left-hand side and select the file types from the program's menu after previewing.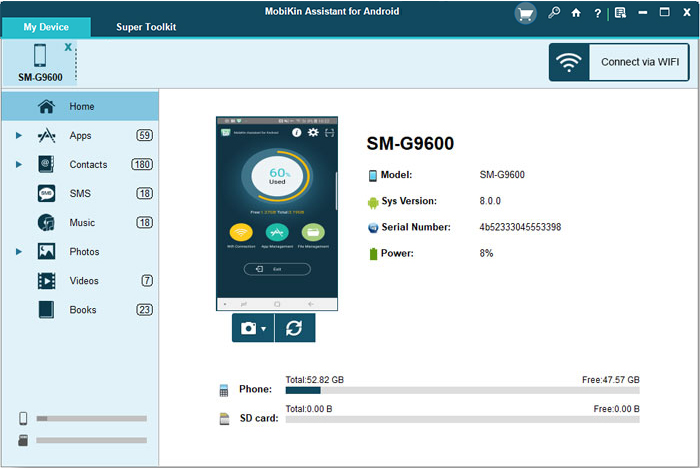 Step 3. Share files between Android and PC/Mac
Once your selection is complete, click on the "Export" button to commence the transfer from Android to your computer. To transfer files from PC to Android, select the "Import" button, and this will open a window, enabling you to browse through the items stored on your computer. Simply pick the ones you require and confirm your choice.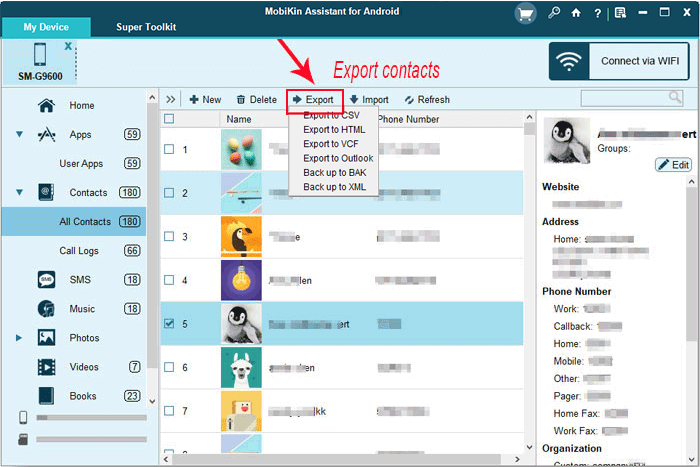 The Good:
USB and Wi-Fi are supported.
Advanced features for data management.
Two-way Transfers.
Convenient backup and restore feature. Broad compatibility (Android/PC/Mac).
Emphasize data security.
Reliable team support.
The bad:
Pricing:
You Might Also Enjoy:
Top 2: MobiKin Transfer for Mobile
Being one of the most reliable file transfer apps, MobiKin Transfer for Mobile (Windows and Mac) allows users to effortlessly move files between two mobile devices, regardless of their operating systems. With this software, operators can confidently transfer their desired data types quickly, making it one of the preferred tools known for its transfer speed and user-friendly interface.
The Good:
Enable data transfer between diverse mobile operating systems.
Support a broad spectrum of data types, including contacts, text messages, call logs, media files, and other privacy data.
Provide an intuitive and user-friendly interface.
Offer a 90-day money-back guarantee.
Ensure 100% secure transmission.
Include complimentary technical support service.
The bad:
Its free version may have limitations in terms of the number of files you can transfer.
Require a purchase for full access to its features.
Pricing: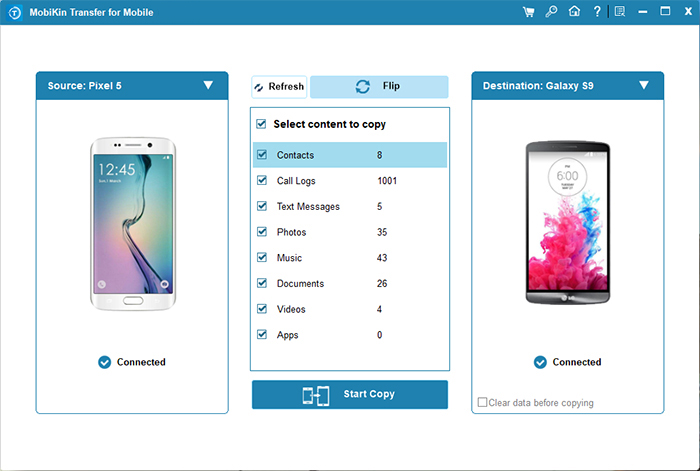 Top 3: Google Drive
Google Drive, a robust mobile file sharing app, provides 15GB of free storage. This app offers file sharing, creation, and editing capabilities. While it boasts security for data transfers, privacy concerns arise due to potential data collection for advertising. Unfortunately, it lacks password protection options for shared files.
The Good:
Utilize link-based file sharing.
Integrate smoothly with various Google services such as Gmail, Google Photos, and Google Workspace.
Provide convenient access to files from anywhere using cloud storage.
Support seamless and simultaneous collaboration.
The Bad:
Google might collect user data for advertising purposes.
Impose limitations on the daily file upload size.
Require an Internet connection for real-time sharing. (Google Drive not working?)
Pricing:
Google Drive Basic: 15GB free storage.
Google One: Additional storage ranging from 100GB for $1.99/month to 30TB for $299.99/month.
Business Starter: 30GB storage per user, $6/user/month, includes business tools.
Business Standard: 2TB storage per user, $12/user/month, with enhanced security and collaboration features.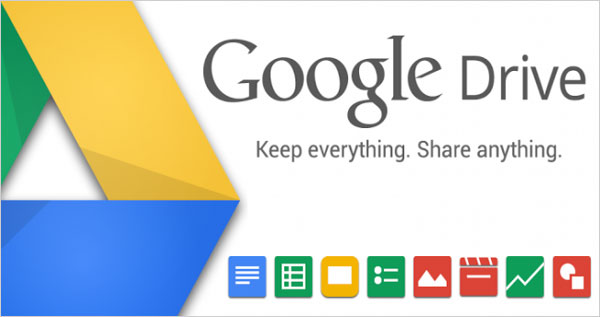 Further Exploration:
Top 4: OneDrive
OneDrive stands out as a high-performing and widely favored file-sharing app in today's market. It offers businesses and teams a secure cloud-based platform, serving as a central repository for storing, sharing, and synchronizing files, documents, business assets, and other work-related data. However, it isn't a totally free file transfer app for Android to PC.
The Good:
Tightly integrated with Microsoft 365.
Clean and lightweight interface.
Offer powerful collaboration tools.
Selective synchronization.
The Bad:
Have a file size limit for uploads.
Some users have reported sync issues, especially when they save files from OneDrive to Android.
Not receiving widespread support from third parties.
Pricing:
OneDrive Basic: 5 GB free storage.
OneDrive 50 GB: $1.99/month.
Office 365 Personal: Include premium OneDrive features at $6.99/month.
Office 365 Home: Include premium OneDrive features at $9.99/month.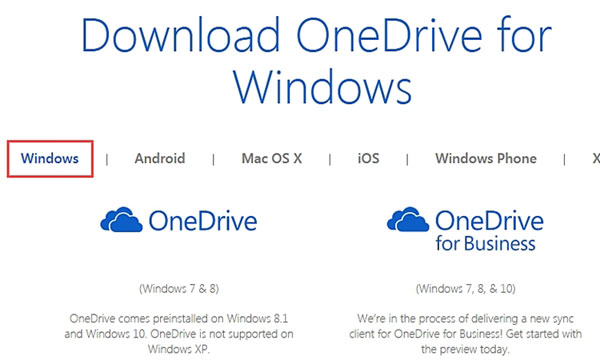 Top 5: Dropbox
Dropbox, a pioneer file sharing app for Android, offers a range of pricing plans for individuals and businesses. Security has been a concern in the past due to its market share and data access policies, but recent improvements include 256-bit encryption for stored files and SSL/TSL encryption during transfers. If you seek a reliable, all-purpose cloud storage solution, this service is a solid choice.
The Good:
Support many popular file formats.
Robust collaboration tools.
Retain file versions for 30 days.
Integrate seamlessly with a wide range of third-party apps.
Automatically upload photos and videos from mobile devices.
The Bad:
Retain the right to decrypt files stored on its servers.
Doesn't offer end-to-end encryption when users need to upload Android files to Dropbox.
Paid plans can be more expensive than similar services.
Pricing:
Basic (Free): 2GB free storage.
Plus: About $9.99/month for 2TB storage, offline access, and advanced sharing.
Standard: Around $15/user/month (min. three users) with 5TB storage, admin controls, and collaboration.
Advanced: Approximately $25/user/month (min. three users) with unlimited storage, advanced security, and priority support.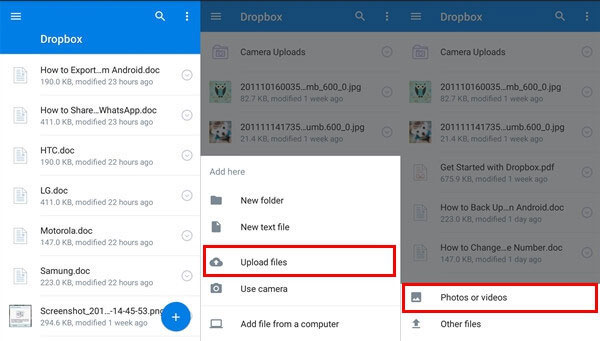 Top 6: SHAREit
As a cross-platform file sharing app, SHAREit enables lightning-fast transfers, up to 200 times faster than Bluetooth, with a maximum speed of 42MB/s and no loss in quality. This app supports various file formats, allowing quick sharing of videos, large files, and music. Plus, it includes built-in video and music players, a music discovery tool, and even offers GIFs, wallpapers, and stickers.
The Good:
Facilitates effortless file sharing across different devices.
Support group sharing.
Offer entertainment features.
Compatible with various platforms.
The Bad:
The app's interface can be cluttered and confusing for some.
Occasionally experiences connectivity issues between devices.
Some users have reported rare updates and a lack of bug fixes.
SHAREit's weaknesses have the potential to result in remote code execution.
Pricing: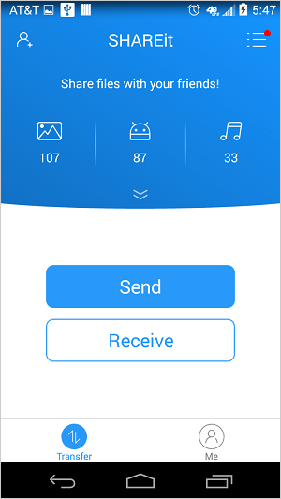 Top 7: Box
Initially, Box was targeted at businesses. However, it now caters to enterprises, offering collaboration features, cloud content management, and robust security. This SHAREit alternative provides a free plan with 10GB storage and limited permissions for file sharing. The 250MB file upload limit can be restrictive for videos, but the 10GB storage is generous. Again, its business plans offer a 14-day free trial.
The Good:
Prioritize security with features like encryption.
Deliver extensive collaboration features.
Offer cloud content management capabilities.
Scale to meet the needs of both small businesses and large enterprises.
The Bad:
Extensive features can be overwhelming for new users.
Have limitations on file upload sizes.
Offline access to files may not be as seamless as some competing solutions.
Some users may find the user interface less intuitive.
Pricing:
Free (Individual): No cost.
Personal Pro: $11.50 per month.
Business Starter: $5.80 per user per month.
Business: $17.30 per user per month.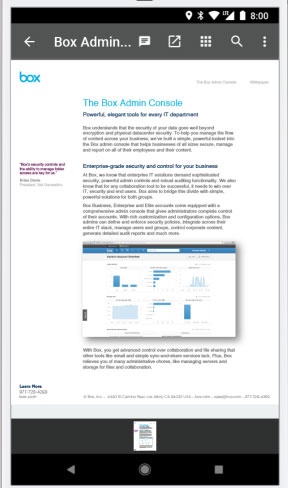 Top 8: Zapya
Zapya is a top Android file-sharing app known for its high-speed capabilities. It's cross-platform, facilitating file transfers between Android, iOS, Windows, Mac, and more. You can share multiple files, connect up to four devices at once, and use QR codes for sharing. Despite not being the fastest file transfer app, this program is recommended and is free to download, offering no in-app purchases.
The Good:
Share content with nearby friends without an Internet connection.
Offer a convenient QR code-based sharing method.
Support the sharing of multiple file formats.
Unlimited file transfers.
The Bad:
Displays ads, which can be intrusive for some users.
Lack of comprehensive documentation or support resources.
It may offer fewer advanced features.
Pricing: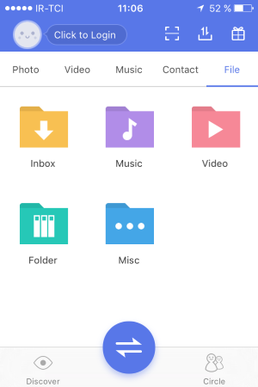 Top 9: Xender
Xender is a top file-sharing app for both Android and iOS. This video/music file sharing app offers high-speed file transfers, supports cross-platform sharing, and can send songs, apps, PDFs, and ZIP files. Notably, it includes extra features like an MP3 converter to extract video files and a social media downloader for WhatsApp, Facebook, and Instagram videos. (Is there any great MP4 video editor available?)
The Good:
Utilize Wi-Fi Direct technology to facilitate swift and effective file transfers.
Demonstrate compatibility across a broad spectrum of platforms.
Provide additional capabilities such as audio and video conversion.
The Bad:
Incorporate games, but their quality may not meet expectations.
Raise potential worries regarding data collection and privacy.
Offer limited documentation and support resources.
Many in-app purchases or ads.
Pricing: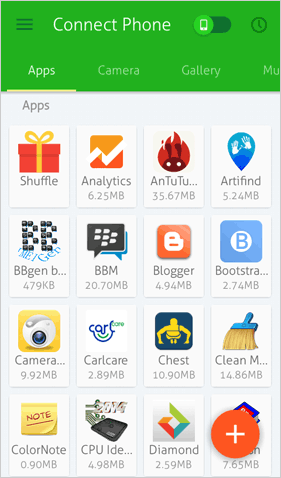 Top 10: Send Anywhere
Send Anywhere is a versatile long-distance app for sharing files that can ensure secure data migration without user accounts. This utility employs a six-digit key for device pairing and allows multiple recipients. It offers web and mobile versions. Notably, it has over 10 million downloads on Google Play Store, showcasing its popularity and effectiveness.
The Good:
Offer numerous file transfer choices.
Provide a secure 6-digit security key for safe file sharing.
Allow receiving files without requiring app installation or registration.
The Bad:
Present an abundance of advertisements during file transfers.
Transfer speed may not meet expected levels.
Incompatible with older operating systems.
Pricing: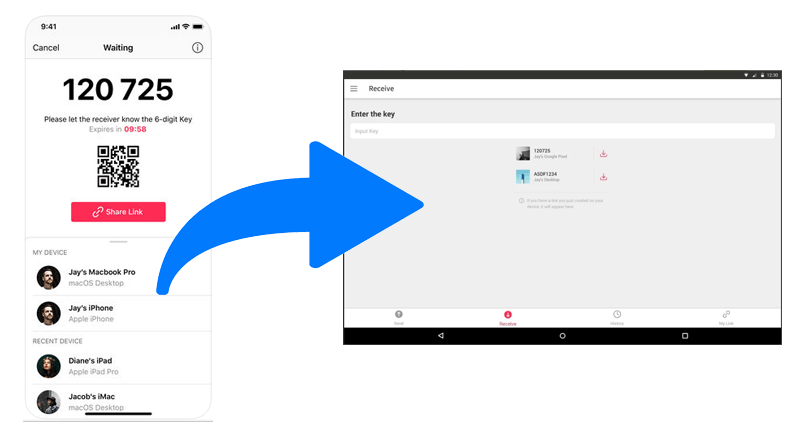 Summary - Which Is the Best App for File Transfer?
OK, that's all for the 10 best apps to share files between Android and iOS/Windows/macOS. It goes without saying that choosing the most desirable one involves considering several factors to meet your specific needs. Here's a guide on how to make the right choice:
Features: Evaluate the app's capabilities, including compatibility, storage, and security.
Security: Prioritize apps with strong encryption and privacy protections.
Usability: Select an app that suits your technical level and offers a user-friendly interface.
Support: Ensure the app offers reliable customer assistance.
Integration: Confirm it supports needed integrations.
Performance: Assess speed and handling of large files.
Offline Access: Consider offline file access.
Updates: Check for regular app updates.
Trial: Use free trials to test functionality.
Budget: Compare prices and features to find an app within your budget.
Community: Join user communities for support and advice.
Reviews: Check user feedback and ratings for insights.
Lastly, we'd love to hear your favorite app! Feel free to share it in the comments below.
Related Articles:
7 Best WhatsApp Transfer Software/Apps to Transfer WhatsApp Chats Smoothly
8 Best Screen Share Apps to Share Screen or Control Your Device Remotely
App Share via Bluetooth: 4 Ways to Transfer Apps from Android to Android via Bluetooth
10 Best Android Phone Repair Software and Apps to Fix Android System Issues
Top 10 Android Screen/SIM Unlock Apps You'd Better Know [Free & Paid]
[100% Success] How to Stop Sharing Location Without Them Knowing