How to Recover Permanently Deleted Notes on iPhone 14/13/12/11/X/8 with or without Backup?
iPhones have become our go-to devices for storing significant info and personal thoughts. Notes, in particular, have been a trusted tool for jotting down ideas, reminders, and cherished memories. However, it's not uncommon to accidentally delete notes, but can you retrieve deleted notes on iPhone?
OK, this guide is to provide you with effective methods to recover permanently deleted notes on iPhone. Whether you have a backup available or not, we will explore reliable approaches to help you reclaim those lost items with great enjoyment.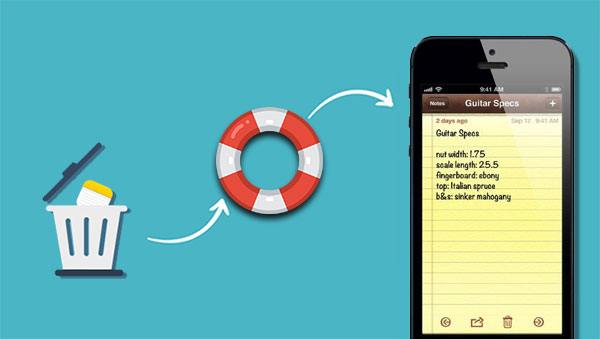 Part 1: Steps to Follow Before You Undo Deleted Notes on iPhone
Phase 1. Check the "Recently Deleted" folder
Accidentally deleted notes on iPhone 14/13/12/11/X/8? You can recover the items from the Recently Deleted folder for 30 days. Here are the steps you can adhere to:
Open the Notes app on your iPhone and navigate to the "Folders" view.
Look for the "Recently Deleted" folder and tap on it.
This folder contains notes that were recently deleted and can be recovered.
Browse through the list of deleted notes and find the one you want to recover.
Then, tap the "Edit" button and select "Move to..." from the options presented.
Choose the folder where you want to recover deleted notes on your iPhone.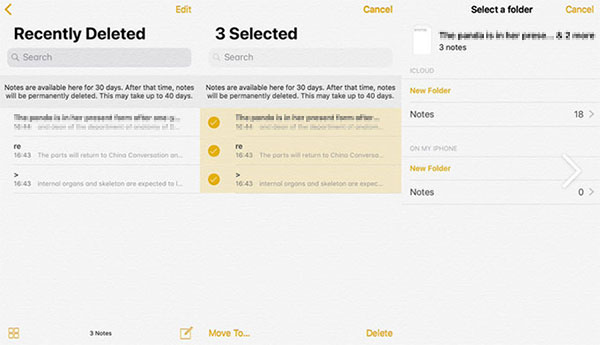 Phase 2. Inspect if there's a backup file available
Assuming you haven't found the deleted note in the "Recently Deleted" folder, you can restore your iPhone from an iCloud or iTunes backup, if any. This will revert your device to a previous state, including the recovered notes. Note that this process erases all data on your device, so ensure you have a recent backup before proceeding.
Phase 3. Refrain from using your iPhone
If you don't have a backup of your iPhone and you've accidentally deleted important notes, it's advisable to stop using your iPhone immediately. Continuing to use it, such as creating new notes, installing apps, or taking photos, increases the likelihood that the deleted notes may be permanently overwritten. Therefore, it's crucial to minimize any further data activity until you can attempt to recover the deleted notes.
To increase your chances of successful data recovery, consider using a reputable third-party data recovery tool designed specifically for iOS devices. These tools can often scan your iPhone's storage and attempt to recover deleted data, including notes. However, keep in mind that the effectiveness of such tools may vary, and there is no guarantee of complete recovery.
You Might Enjoy:
Part 2: How to Recover Permanently Deleted Notes from iPhone with iCloud Backup
Can you get back deleted notes on iPhone from an iCloud backup? That's easy! When using this service, the iOS Notes you create on your iPhone are automatically synced across your iPads, Macs, and iCloud on the web. This means that if you delete a note on one device, it will be removed from all your iCloud-enabled devices.
How to recover permanently deleted notes on iPhone with iCloud backup?
Open the "Settings" app on your iPhone and tap on your Apple ID at the top.
Next, tap on "iCloud" and select "Manage Storage".

Check the backup file by choosing "Backups" from the list of options displayed.
Next, go to your iPhone "Settings".
Tap on "General" followed by "Reset".
From there, select "Erase All Content and Settings" to delete everything on your iPhone.
After resetting your iPhone, restart the device.
When accessing the "Apps & Data" screen, tap "Restore from iCloud Backup".

Sign in to your iCloud account using your Apple ID credentials.
Proceed by selecting "Choose backup" and pick the desired backup from the available list in iCloud.
Part 3: How to Recover Permanently Deleted Notes on iPhone from iCloud.com
Enabling "Notes" with iCloud provides an opportunity to recover permanently deleted notes on your iPhone through iCloud.com. This method applies specifically when your iPhone is disconnected from the Internet at the time the notes are permanently deleted, even from the Recently Deleted folder. Without Internet access, iCloud cannot update the notes' status, allowing them to remain in the folder on iCloud.
Follow the drill below to undo deleted notes on iPhone from iCloud.com:
Visit icloud.com in your web browser.
Sign in using your iCloud credentials (Apple ID and password).
After logging in, you will see various Apple functions available.
Select the "Notes" function from the list of options.

On the left menu, click on the "Recently Deleted" folder.
This will display a list of recently deleted notes.
Choose the specific note you want to recover.
At the top of the interface, click on the "Recover" option to recover deleted notes from iCloud.com.
Alternatively, you can select the "Move To…" option to move the note to a preferred location.
Check More:
Part 4: How to Recover Permanently Deleted Notes on iPhone from iTunes Backup
Before you find deleted notes on iPhone via iTunes backup, please check the following precautions:
Restoring from an iTunes backup will overwrite all the data on your iPhone, replacing it with the content from the selected backup. This means that any data or changes made on your device since the backup was created will be lost.
Unlike some other methods, doing so does not allow you to view iTunes backup files directly.
You will recover the entire backup, including all its data, rather than selectively recovering only the iPhone notes.
How to recover deleted iPhone notes without iCloud backup via iTunes backup?
Use a USB cable to connect your iPhone to the computer that contains the iTunes backup you want to restore from.
Open iTunes on your computer. Ensure you have the latest version of iTunes installed.
If prompted on your iPhone, follow the on-screen instructions to trust the computer you're connected to.
In iTunes, you should see your iPhone icon appear. Click on it to select your device.
Within the "Summary" tab of your iPhone in iTunes, you'll find the "Backups" section.
Under "Manually Back Up and Restore", click on "Restore Backup".

Choose the iTunes backup that contains the deleted notes you want to recover.
Look for the backup with the most recent date or the one that you believe contains the lost notes.
Click on the "Restore" button to initiate the restore process.
Part 5: How to Recover Permanently Deleted Notes on iPhone without iCloud/iTunes
You might find yourself in the situation of searching for a solution to recover deleted iPhone notes because the regular methods are ineffective. To make matters worse, you lack an appropriate iTunes or iCloud backup to restore the lost notes. So, what can you do in such circumstances? Allow us to let you know about the remarkable iPhone notes recovery tool - iPhone Data Recovery, designed to assist you in undeleting notes on your iPhone directly.
Why select iPhone Data Recovery?
Recover permanently deleted notes on iPhone swiftly.
Perform a selective recovery of data from iTunes or iCloud backups for iPhone without overwriting existing data.
Retrieve a wide range of iOS data, such as notes, photos, videos, iMessages, contacts, call records, WhatsApp data, calendar entries, Safari history, voice memos, and voicemails.
Enable you to preview and choose specific files for recovery, ensuring you recover only the desired data.
Work well with almost all Android devices, including iPhone 14/14 Plus/14 Pro (Max), iPhone 13/13 Pro (Max)/13 mini/12/12 Pro (Max)/12 mini, iPhone 11/11 Pro/11 Pro Max, iPhone X/XR/Xs/Xs Max, iPhone 8/8 Plus, iPhone 7/7 Plus, iPhone 6/6S/6 Plus, iPod touch, iPad, etc.
It won't disclose your privacy.
How to recover deleted notes on iPhone without backup via iPhone Data Recovery?
Step 1. Run the program and link your iPhone to a computer
Prior to usage, download and install the software utility on your computer. Launch the program and select the "Recover from iOS Device" mode. Connect your iPhone to the computer via USB to allow automatic detection by the software. Once connected, click "Start Scan" to initiate a scan of your iPhone.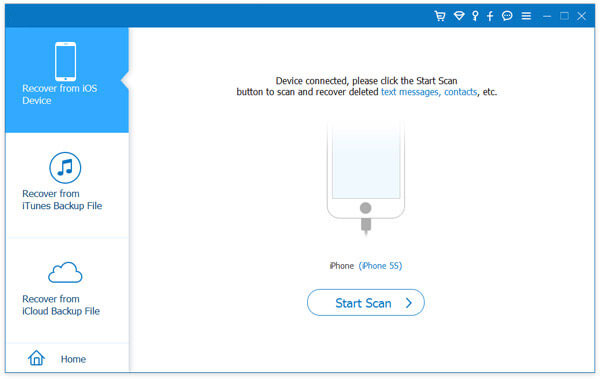 Step 2. Preview and select your lost notes
During the scanning process, all of your iPhone's data will be comprehensively scanned and organized into categories. You can locate and preview specific items by selecting the "Notes" folder from the left sidebar.
Step 3. Recover permanently deleted notes on iPhone
When you have identified the desired notes, please select them accordingly. Lastly, click the "Recover" button to initiate the restoration of the deleted iPhone notes, even without a backup.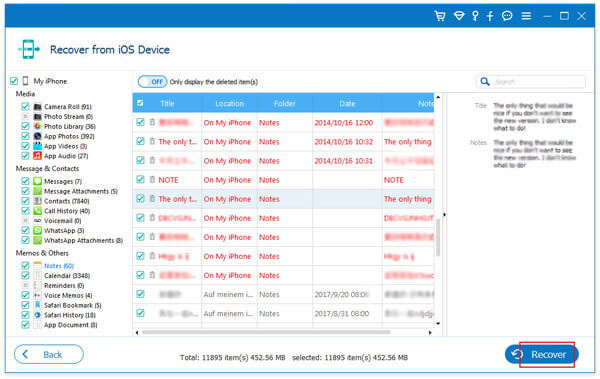 Conclusion & A Concise Comparison Table
To assist you in making an informed decision, we shall prepare a comparison table detailing the main features and benefits of each method discussed. This table will help you assess which approach aligns best with your specific needs and circumstances. With these means at your disposal, you can now embark on the journey to recover your permanently deleted iPhone notes with confidence.
| | | | |
| --- | --- | --- | --- |
| Options | Using iPhone Data Recovery | Using iCloud | Using iTunes |
| No Backup Required | | | |
| Preview iOS Content | | | |
| Selective or Bulk Restore | Selective | Bulk | Bulk |
| Overwrite Existing Data on Your iPhone | | | |
| Efficiency | High | Low | Medium |
| Error Rate | Extremely Low | Medium | Medium |
| Overall Ranking | Convenient & Versatile | Practical But with Many Disadvantages | Mediocre |
| Recommendation Index | 5-start | 2-star | 3-star |
In the future, it's highly recommended to regularly back up your iPhone to ensure you have a copy of your important data. This way, if any accidental deletions or data loss occurs, you can easily restore your device from the backup and retrieve the deleted notes without much hassle.
Related Articles:
4 Flexible Ways to Transfer Notes from One iPhone to Another
How to Fix iPhone Notes Disappeared or Missing in 2023?
How to Lock Notes with Password or Touch ID on iPhone/iPad?
How to Back Up Calendar on Android Phone? Most People Don't Know
[Solved] How to Recover Deleted Photos after Deleting from Recently Deleted?
5 Most Rewarding Ways to Transfer Samsung Notes to iPhone 14/13/12/11/X/8