Stellar Data Recovery for iPhone Review: Is It Really Useful?
Stellar Data Recovery for iPhone is a remarkable data recovery tool used on Windows, Linux, and macOS. It contains powerful features to recover files across multiple data drives and locations. It was generated mainly for iPhone users to recover lost data and files flexibly and safely. You simply need to install the software and connect your iPhone to the computer. Afterward, you can recover iPhone data on the desktop without complex operations. This Stellar Data Recovery review covers all what you want to know.
Part 1. What Is Stellar Data Recovery for iPhone?
Stellar data recovery for iPhone is a remarkable way to help restore lost files. Previously known as Stellar Phoenix Windows Data Recovery, Stellar Data Recovery review handles various aspects of the software. However, its primary focus is on data recovery capabilities. The tool is incredible in retrieving files such as videos, audio, images, and any other document. Stellar data recovery reviews carry various features that ease the data recovery process.
Can't Miss:
Part 2. Stellar Data Recovery for iPhone Main Features
Has Multiple File Formats - If you delete your data accidentally or your device gets physically damaged, Stellar Data Recovery helps you a great deal. You can use it to recover different file formats, including images and photos.
Bootable Recovery Media - The feature enables data restoration from crashed operating systems. It helps you formulate a bootable USB recovery that activates your crashed computer and accesses the storage drive to retrieve lost data. However, this feature is only available with paid software alternatives such as; Stellar Data Recovery Professional.
Corrupted Image Repair- This feature uses Stellar's file repair toolkit to fix damaged image files. The software works remarkably for blurry, distorted, pixelated, grayed-out, or grainy photos.
Corrupted Video Repair - The feature repairs any video file that's corrupted. These are videos captured from major mobile device brands and camera types, including the 4K, 8K, and VR videos.
Recovery From the Corrupted, Lost, or Missing Partition - The Stellar data recovery toolkit allows you to recover the files before reformatting the device. This is contrary to the norm, where you often must reformat the corrupted partitions first before recovery. You can restore data from NTFS, FAT, APFS, exFAT, HFS, HFS+, Ext2, Ext3, or Ext4 partitions. Besides, the Stellar data recovery software can discover the lost or accidentally deleted partitions available on a storage drive. It uses the "Can't Find Drive" and 'Deep Scan ability' alternatives.
Recovery From Crashed Systems - Whenever your computer crashes, Stellar scans your start-up disk or hard drive to locate the data for its recovery. Stellar uses this feature as one of the excellent hard disk recovery software programs to formulate bootable media. It helps access and recover your data from a crashed or unbootable Windows PC or Mac.
Cloning Feature - The exciting cloning feature allows you to duplicate a disk to a different drive. This works best whenever you need to access a failing drive copy before it worsens. The software also backs up the virtual drive recovery, contains dual monitor support, and can retrieve from 4K drives.
Can't Miss:
Part 3. Stellar Data Recovery for iPhone User Guide
How to use the Stellar Data Recovery for iPhone? Its user guide is as follows:
Start by installing and launching Stellar Data Recovery for iPhone on your computer. You then connect your iPhone to the computer using a USB cable.
As soon as the software detects your device, click on the 'Recover from iPhone' tab via the main interface.

Here, you'll see file types that you can recover. Choose the kind of data you wish to restore and click "Next".
Once the scan finishes, preview and select the data you want, and click the "Save" button to save the data files.
Part 4. Stellar Data Recovery for iPhone Pros & Cons
To help you make a wiser decision, we'll look at both the strengths and weaknesses of Stellar Data Recovery for iPhone. (Top 10 Best iPhone Data Recovery Software Reviews)
Pros:
Easy to navigate due to the software's user-friendly interface.
The data recovery process is often fast and reliable because of the cloning and disk-testing features.
Stellar data recovery software is loaded with a rich feature interface.
Offers convenience- You can easily access the help you need through 24/7 customer support.
Cons:
Has poor multi-monitor support.
Lacks ZIP archive support.
Lacks the scanning alternative. This can limit the software's effectiveness.
The available scan times tend to have a lot of differentiation.
For the free version, the software can only restore up to 1 GB of data.
Part 5. Stellar Data Recovery for iPhone Pricing Plans
Stellar offers two common pricing options, including;
Yearly license
Biannual license
The pricing plans are $39.99 for the regular version and $49.99 for the kits alternative. With the pricing options, you get to enjoy unrestricted data recovery. However, you're only allowed to connect five independent devices. The standard plan's license carries a validity period of one year, and it contains the following;
The Toolkit, together with support for iOS repairs
Capacity to eliminate the configured Apple IDs.
Besides, Stellar also has a technician package that goes for $149.99. This works well whenever you wish to restore data from several iPhones. With the Toolkit's Elevated Version, you can fix, restore, and repair different iOS devices.
Part 6. Is Stellar Data Recovery Safe to Use
Many people ask the question; is Stellar Data Recovery safe? The Stellar Developers have taken all measures to ensure that the data recovery for iPhone is very safe to use. Therefore, you're guaranteed that the application doesn't involve activities that can obstruct your iOS. If you recover data from a corrupted iPhone, you can still retain the major iOS.
More so, you don't have to worry about the data erasure features. Usually, Stellar Data Recovery for iPhone deletes every piece of data from your device. Hence, you can be 100% sure of permanent data erasure. In all, security should not be a cause for alarm whenever you're using Stellar Data Recovery for iPhone.
Part 7. Stellar Data Recovery Reviews on Trustpilot
Stellar data recovery reviews from 187 users on Trustpilot point to 4.6 out of a rating of 5. Users report the stellar software as the best bet in their businesses. The consumers endorse the app for its simple interface and fast data recovery.
Part 8. Stellar iPhone Data Recovery Best Alternative
MobiKin Doctor for iOS is recommended as the best alternative for Stellar Data Recovery. Perhaps your essential items were deleted before you backed up your iPhone. In such frustrating scenarios, you can use a recommended tool like MobiKin Doctor for iOS to restore data directly from your smartphone. The iPhone recovery product allows you to fully reinstate your iOS content without the availability of a backup solution. You can also use the iTunes backup flexibly to obtain what you want.
What Can Doctor for iOS Do for You:
Works to retrieve multiple file types such as; videos, audio, photos, call logs, messages, music, voice memos, reminders, and calendars.
It can restore deleted contacts and text messages on an iPhone without a backup.
Safe, with stringent privacy measures.
Allows the preview of the iOS items before recovering them individually.
It's compatible with nearly every iOS device, containing iPhone 14/13/12/11/11 Pro (Max), iPhone X/XS/XR/XS Max, iPhone 8/8 Plus, iPhone 7/7 Plus, iPhone 6/6s/6 Plus, iPad Pro, iPad Air, iPad mini, and iPod touch.
Step-By-Step Guide on How to Use MobiKin Doctor for iOS to Recover Lost iPhone Data:
Step 1: Connect your iPhone to the computer
Have the tool downloaded on your computer, then install it by following the on-screen wizard. Run the software, and it will showcase its primary interface. From the left menu, get to its "Recover from iOS Device" mode and link your iPhone to the computer using the USB cable.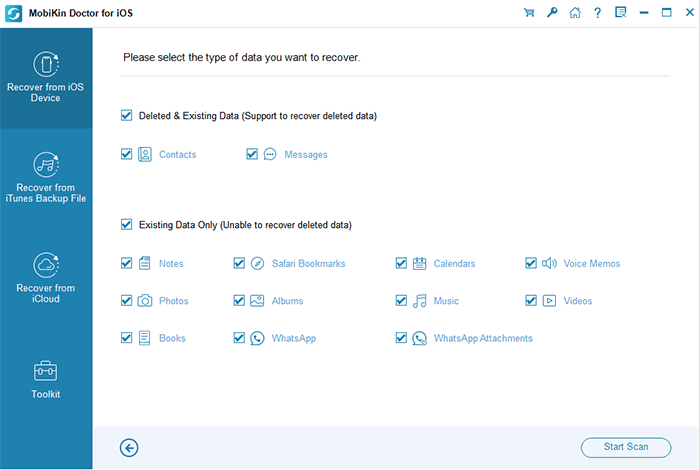 Step 2: Scan iPhone for deleted data
The utility will identify your device automatically. Here, you can select the kind of data you wish to restore and click 'Start Scan.' The program will start scanning the selected items on your iDevice. Later, you can confirm that the files have been deleted. A screen will appear where you should select what you want.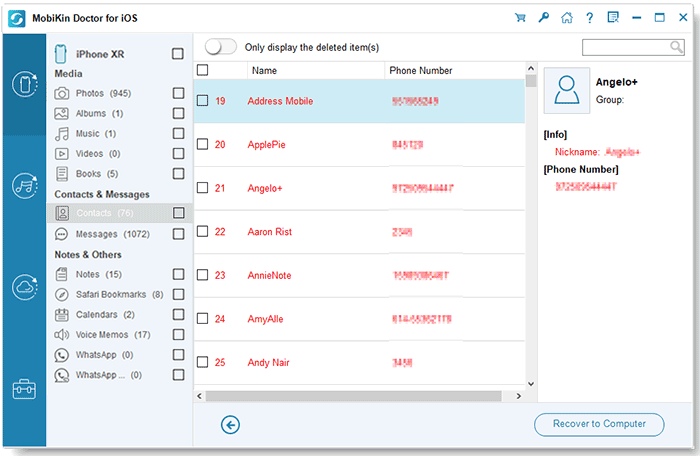 Step 3. Start to recover iPhone data that is not backed up
From the bottom right, click 'Recover to Computer.' Save the selected items on the computer.
Doctor for iOS can also restore iPhone data from iTunes and iCloud backup. Here is how:
Restore from iTunes backup: Choose "Recover from iTunes Backup File" mode > Select the backup file you want > Click "Start Scan" > Preview and select the data you need > Click "Recover to Computer".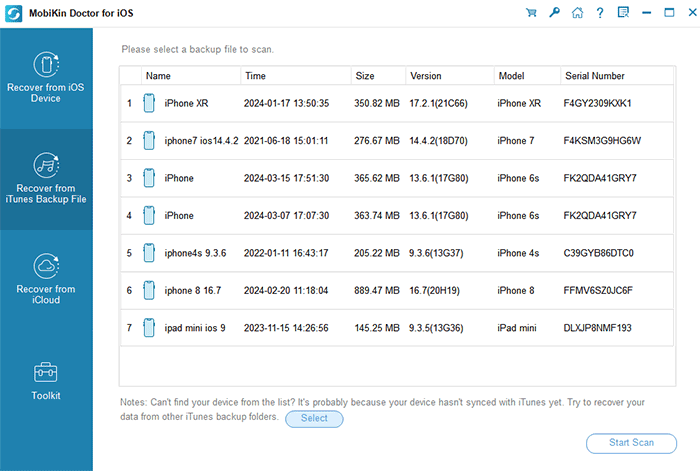 Restore from iCloud backup: Choose "Recover from iCloud" mode > Enter your iCloud account > Download synced iCloud files > Select the backup file you want > Click "Recover to Computer".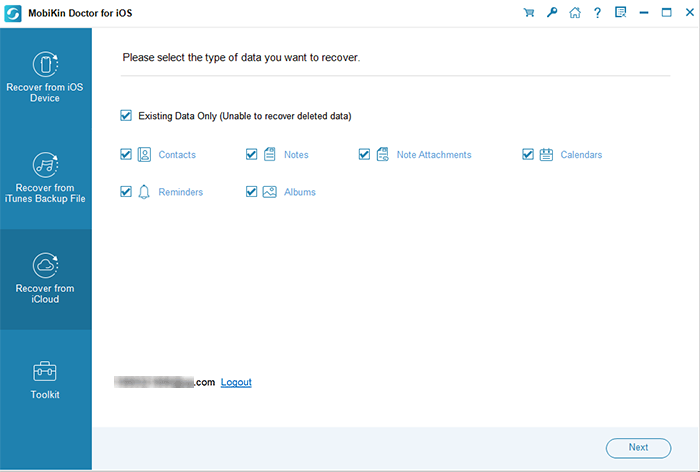 Conclusion
Stellar iPhone data recovery is one of the popular tools singled out to offer efficient data recovery. People also like Stellar's friendly and easy-to-operate user interface (UI). The tool is well-designed for outstanding performance and commendable usability. Stellar data recovery software is also safe to use and can keep you rest assured of data restoration if you delete something from your iPhone accidentally. It's one of the iPhone recovery tools rated for high success after helping thousands of users fully retrieve their lost data. The software also supports all the popular file types and can accurately detect all data saved on iPhone, iCloud, and iTunes backups.
Related Articles
Tips to Restore Deleted SMS Messages from iPhone
How to Recover Lost Data from iPhone 14/13/12/11/Xs Max/8/7 Plus
DiskDigger Alternative Tool for iOS
8 Solutions to Fix Contacts Disappeared from iPhone
What if iPhone Won't Restore? Here Are the Full List of Fixes