Smart Switch for iPhone/iOS: Does Smart Switch Work with iPhone [Answered]
Smart Switch is a powerful tool designed to simplify data transfer to Samsung from another phone. Meanwhile, some may wonder, "Does Samsung design Smart Switch for iPhone to make this reverse transmission possible?" or "Can I use Smart Switch from Samsung to iPhone officially?" This usually occurs when you replace your current Samsung with a new iPhone 14/13/12/11/X. Well, we will now provide helpful tips and tricks to enhance your experience with this topic.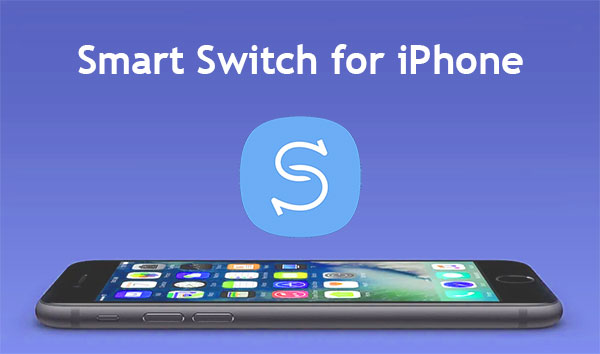 Part 1: Does Smart Switch Work with iPhone?
Can you use Smart Switch from Samsung to iPhone? Regrettably, Samsung Smart Switch cannot be used for Android to iPhone transfer. This tool is primarily designed to work with Samsung devices running the Android operating system. Therefore, if you were considering using Smart Switch to transfer data from an Android device to an iPhone, it is not possible. However, you can effortlessly copy files from your iPhone to a new Android/Samsung device running a version higher than 4.3 with a Smart Switch for iOS alternatives.
Top-rated References:
Part 2: Can Smart Switch Transfer from Samsung to iPhone?
No, Smart Switch cannot directly transfer data from a Samsung device to an iPhone. This product is primarily designed to facilitate data transfer between Galaxy devices or from non-Samsung Android devices to Samsung. When it comes to making the transfer reversely, the process is not as straightforward. Due to differences in operating systems and device ecosystems, direct data transfer from Samsung to iPhone requires alternative methods.
Please note that Smart Switch cannot be utilized with iPhones to receive data from other devices unless you get a replacement for Smart Switch for iPhone app. Now let's start by discussing the file categories that can be transferred using this tool.
Part 3: What Data Types Can Smart Switch Work with?
As of now, when transferring from an Android/Samsung to another Samsung phone, you can receive such files from the source device, including Contacts, Photos and Videos, Calendar, Call Logs, Apps, Settings, Music, Documents, Memos, Messages, etc. (Does Smart Switch transfer WhatsApp messages?) If you wish to migrate data to Samsung from an iPhone, it may apply to these data types, covering Contacts, Messages, Photos, Videos, Calendars, Call Logs, Notes, Bookmarks, Alarms, Music, and Voice Memos.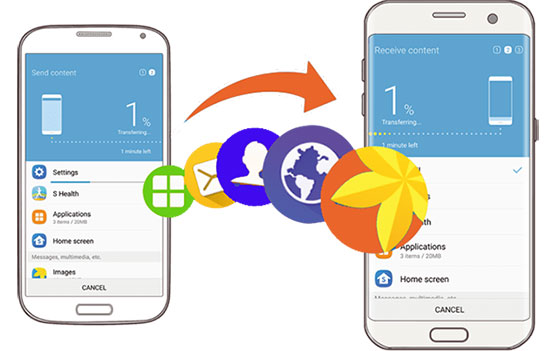 Part 4: How to Transfer Data from iPhone to Samsung with Smart Switch?
Although Samsung Smart Switch for iPhone is not available, you can still access the transfer tool from within the operating system. When setting up your new Samsung phone, you may be prompted to transfer your information. Then you can get started with the transfer from iPhone to Samsung by following the easy guidelines (Samsung Smart Switch stuck?):
Launch the Smart Switch app on your Samsung Galaxy phone.
When opening the app for the first time, agree to the terms of service by tapping "Agree and Allow".
Tap on "Receive data" in the app.
From the list of devices displayed, select your previous device.
Since you're transferring from iOS to Samsung, choose your iPhone.

Opt for wireless data transfer by selecting "Get data from iCloud".
Sign in to your iCloud account and allow access on your iPhone when prompted.
Take note of the verification code on your iPhone and enter it on your Samsung device.
Then, click "Connect" and "OK".
Choose the specific data you want to transfer and initiate the process.
Other Posts You Might Like:
Part 5: Use the Best Smart Switch Alternative to Transfer Data from Samsung to iPhone [Quick]
Since the Smart Switch app for iPhone is not available, transferring content from Samsung or other Android phones to iPhone may turn out to be tricky. Fret not! MobiKin Transfer for Mobile (Win and Mac), a professional 3rd-party software, can help you clear this hurdle and achieve what Smart Switch cannot do.
As a great phone transfer software sought after by hundreds of thousands of people worldwide, it can seamlessly copy data between the same or different platforms and will protect your privacy throughout the task while ensuring that the data is not damaged.
What makes Transfer for Mobile so competent?
Best Smart Switch for iPhone alternative to effortlessly transfer data from Android/Samsung to iPhone.
Seamlessly copy data between different devices, including Android to Android, iPhone to Android, Android to iPhone, and iPhone to iPhone.
Move various data types, including contacts, text messages, call records, music, videos, images, documents, apps, and more.
Let you enjoy a free trial, intuitive interface, quick transfer, and zero data loss.
Get along with overall Android and iOS devices, including Samsung, Xiaomi, LG, Sony, HTC, Google, Motorola, OPPO, iPhone 14/14 Plus/14 Pro (Max), iPhone 13/13 Pro (Max)/13 mini/12/12 Pro (Max)/12 mini, iPhone 11/11 Pro/11 Pro Max, iPhone X/XR/Xs/Xs Max, iPhone 8/8 Plus, iPhone 7/7 Plus, iPhone 6/6S/6 Plus, iPod touch, iPad, etc.
It values your privacy.
How to transfer data from Samsung/Android to iPhone with Transfer for Mobile?
Step 1. Begin by downloading and installing the software on your computer. Connect both your Samsung or other Android phone and iPhone to the computer using USB cables. Follow the on-screen prompts to ensure that the program recognizes both devices.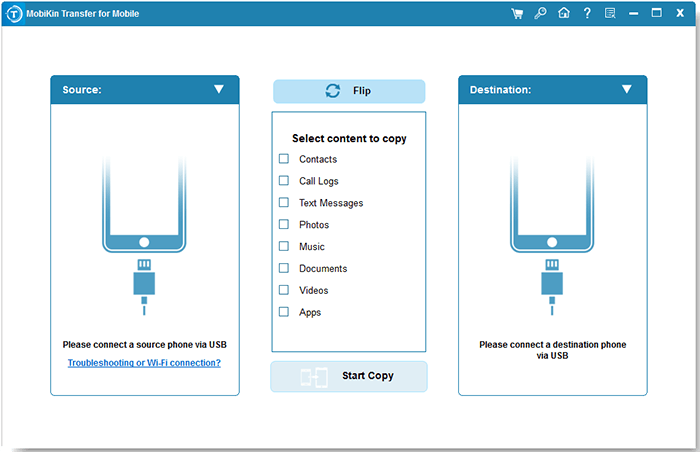 Step 2. Once recognized, you will see the main screen of the software. Ensure the Android phone is selected as the source device on the left side. If it is not, simply click the "Flip" button in the middle of the interface to put them in their place.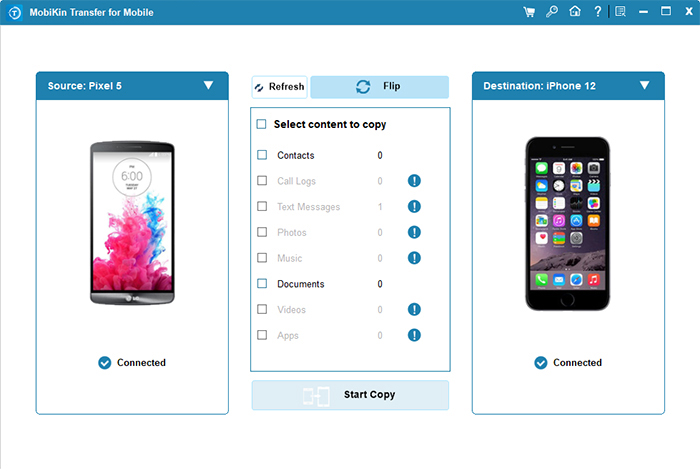 Step 3. On the next screen, choose the data types you wish to transfer. Then, click the "Start Copy" button to initiate the transfer from Android to iPhone. And the transmission will commence immediately.
FAQs on Smart Switch for iPhone
Q1: How long does Smart Switch take when transferring from iPhone to Samsung?
The duration of a Smart Switch transfer from an iPhone to Samsung varies based on factors like data size, device speed, and connection stability. Transfers can take anywhere from a few minutes to several hours. It is important to ensure both devices have a sufficient battery or are connected to a power source and maintain a stable Wi-Fi or data connection. The Smart Switch app provides progress updates, but patience is advised, especially for larger data transfers.
Q2: How to transfer data via Smart Switch when your iPhone screen doesn't work?
If your iPhone screen is unresponsive or not working, transferring data via Smart Switch becomes difficult. (How to unlock iPhone with an unresponsive screen?) In such cases, alternative tools like Google services or the professional program we just mentioned may be a great option. But then again, when your iPhone powers on but the screen fails to work, consider replacing the screen to regain access to your valuable data.
Final Thoughts
Smart Switch offers a powerful solution for transferring data to Samsung from iPhone or other phones. Although it isn't possible to Smart Switch Android to iPhone, we have presented alternative options. It is hopeful that the tips provided throughout this passage have been helpful in understanding and utilizing Smart Switch.
And for those looking for an alternative, MobiKin Transfer for Mobile delivers a reliable solution to easily transfer data between almost any two mobile phones. Let's embark on a smooth data migration journey with this product now!
Related Articles:
[Overview] Top 9 Samsung Smart Switch Alternatives and Similar Apps
Samsung Smart Switch Not Working? Here Are the Solutions & Alternative
How to Fix Unable to Activate iPhone 14/13/12/11/X/8/7 [13 Hot Tips]
Detailed Guide to Transfer WhatsApp from Android to iPhone
5 Most Rewarding Ways to Transfer Samsung Notes to iPhone 14/13/12/11/X/8
3 Brilliant Ways to Transfer Photos from Samsung to USB Stick/Flash Drive