8 Quick Solutions to Fix Move to iOS Stuck on Preparing [2023 Guide]
Are you in the midst of switching from Android to iPhone and stuck in the preparation stage? Fret not, as you're not alone. Move to iOS stuck on preparing can arise due to several factors, such as a weak Wi-Fi connection or a large amount of data to be transferred. Here in this passage, we shall compile a helpful page with all the information you need to troubleshoot and overcome this challenge swiftly. Before that, let's delve into how long the preparing typically takes.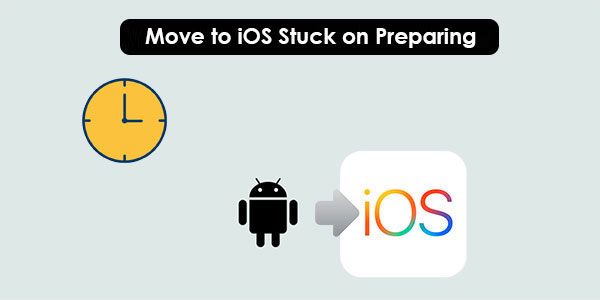 Part 1: How Long Does Move to iOS Preparing Take
Move to iOS is an official app developed by Apple, designed to make the transfer from Android to iPhone a breeze. The duration of the Move to iOS app's preparation stage for data transfer relies on both the Wi-Fi connection and the size of the data being moved from the Android device.
If you have a weak Wi-Fi connection and are transferring a large amount of data, this app will possibly take up to an hour or more. "Move to iOS keeps saying preparing" is normal in certain cases; it's recommended to be patient and monitor the progress. However, if the transfer seems to be taking an excessively long time, don't hesitate to use the solutions provided on this page to resolve the issue promptly.
You May Find Appealing:
Part 2: How to Fix Move to iOS Stuck on Preparing [8 Quick Methods]
Method 1: Check Move to iOS compatibility
To check Move to iOS compatibility, ensure your Android device runs Android 4.0 or later and your iOS device runs iOS 9.0 or later. Confirm the app's availability on the Google Play Store, and connect both devices to the same Wi-Fi network for the transfer process.
Method 2: Inspect your Wi-Fi connection
If "Move to iOS taking forever to prepare" appears repeatedly, check your Wi-Fi router first and try another web-based app on the phone to see if the Internet connection is unstable. (Your iPhone won't connect to Wi-Fi?) If interrupted, reconnect to a smooth Wi-Fi network and restart Move to iOS.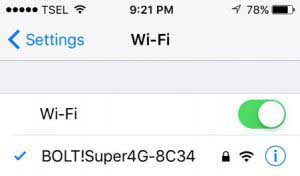 Method 3: Toggle off Connections Optimizer
Android 8.0 or higher version has the feature to switch between Wi-Fi and cellular network automatically. You can now disable this feature to fix Move to iOS stuck preparing:
Go to your phone's "Settings", followed by "Connections".
Press "Mobile networks" > "Connections optimizer".
Turn off the toggle next to "Connections optimizer".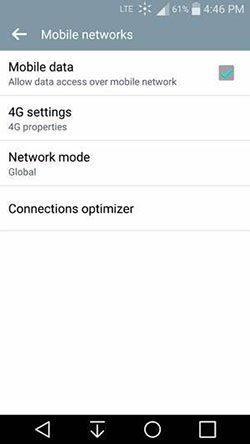 Method 4: Disable Smart Network Switch on Android
To troubleshoot Move to iOS preparing forever, disable Smart Network Switch on Android 4.3 or later. This ensures a stable Wi-Fi connection during the data transfer.
Enable "Mobile Data" on your Android phone to access the "Smart network switch" settings.
Open "Settings" and tap on "Wi-Fi".
Tap "More" or the relevant button at the top right, then select "Smart network switch".
Uncheck the "Smart network switch" option.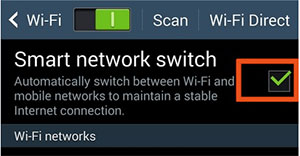 Recommended Reading:
Method 5: Check iPhone storage space
Open "Settings" and go to "General" > "iPhone Storage".
Check the bar to see how much memory you've used. The grey area represents the amount of free space available.
Offload the apps you want to uninstall if your iPhone storage is full.

Alternatively, open the Files app, go to the folder containing the file you want to delete, and hold it down. Then click "Delete" to eliminate "Move to iOS app stuck on preparing".
Method 6: Enable Airplane mode
Enabling Airplane mode on your iPhone can effectively resolve any issues encountered during the "preparing" step. This straightforward trick can save you from resorting to third-party software, making it the preferred solution when Move to iOS just says preparing. You can activate the feature by navigating to the "Control Center" and tapping the "Airplane Mode" button.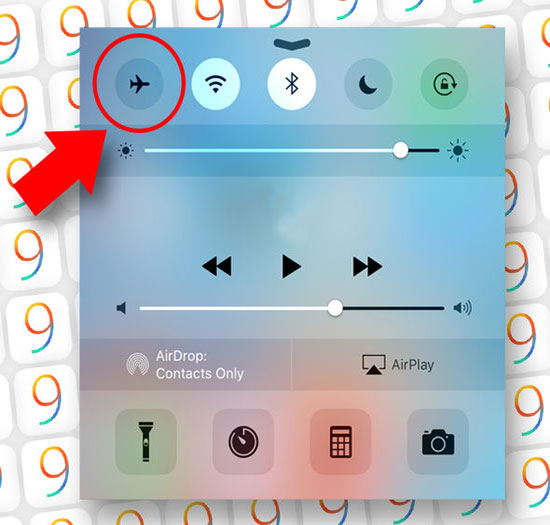 Method 7: Quit all useless apps running on the device
Certain background apps on your Android phone may cause the Move to iOS app to get stuck during preparation. To ensure a smoother transfer, try disabling all background apps:
Open the "Settings" app on your Android phone.
Find and tap on "Apps" and look for any app running in the background on your Android device.
Press that app and select "FORCE STOP" to activate it, or simply uninstall apps on Android.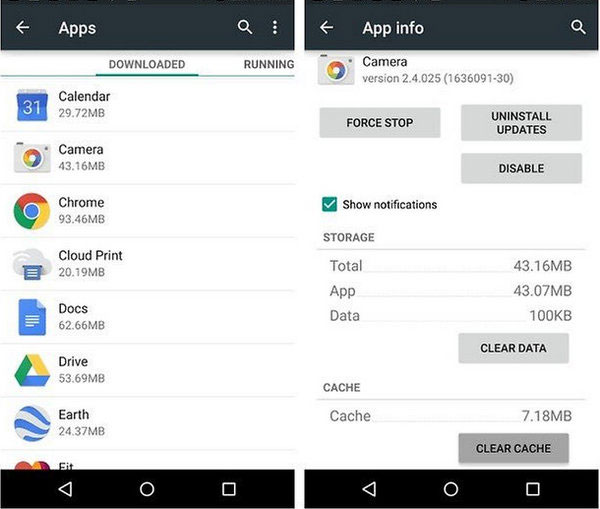 Method 8: Restart your phones
To resolve Move data from Android to iPhone stuck on preparing, simply restart both devices. On Android, tap and hold the "Power" button, then click "Restart". On iPhone, hold down the "Power" button, slide to power off, and turn it on again. This can clear any bugs and facilitate a successful data transfer to iPhone from Android.
Part 3: Use a Move to iOS Alternative to Move Data from Android to iPhone Quickly
Using the above techniques may help you overcome difficulties when you ensure that both of your devices meet the software transmission requirements. But you may also encounter issues such as Move to iOS transfer interrupted.
Therefore, it is imperative to find the best alternative - MobiKin Transfer for Mobile (Windows and Mac). As one of the leaders in the mobile transfer industry, the best part of this tool is that it allows you to transfer various data types without long preparation and also lets you smoothly complete the file migration afterward.
Popular mobile data transfer software - Transfer for Mobile:
Quickly move data from Android to iPhone without being stuck on preparing.
Smoothly copy files between devices, including Android to Android, iPhone to Android, Android to iPhone, and iPhone to iPhone.
Transfer such data types as contacts, messages, call history, music, photos, videos, documents, apps, books, and more.
Offer a reliable data transmission solution without risking data loss.
Work well with almost all Apple devices, including Huawei, LG, Xiaomi/Redmi, OPPO, Sony Xperia, Google Pixel, HTC, Motorola Moto, iPhone 14/14 Plus/14 Pro (Max), iPhone 13/13 Pro (Max)/13 mini/12/12 Pro (Max)/12 mini, iPhone 11/11 Pro/11 Pro Max, iPhone X/XR/Xs/Xs Max, iPhone 8/8 Plus, iPhone 7/7 Plus, iPhone 6/6S/6 Plus, iPod touch, iPad, etc.
It won't let out your privacy.
Here's a step-by-step guide on how to transfer data from your Android to iPhone using this Move to iOS alternative:
Step 1. Begin by downloading and installing the transfer software on your computer. Connect both your Android and iPhone devices to the computer via USB. Follow the on-screen guide to ensure that the program recognizes both smartphones.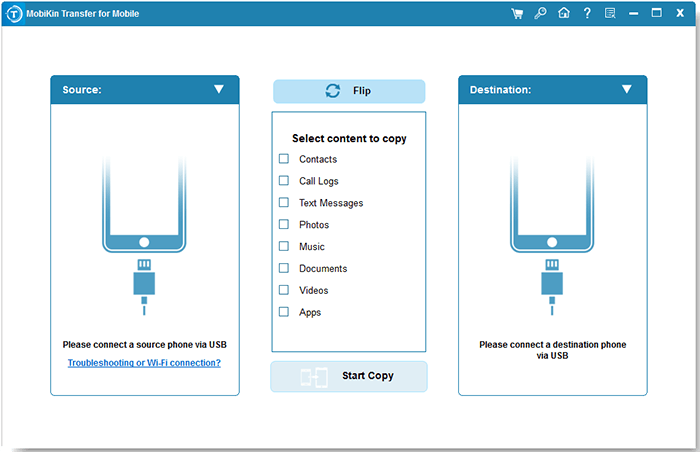 Step 2. After successful detection, you'll see the main screen of the software. Ensure the iPhone is identified as the "Destination" on the right side of the interface. If not, click the "Flip" button at the center to switch the devices.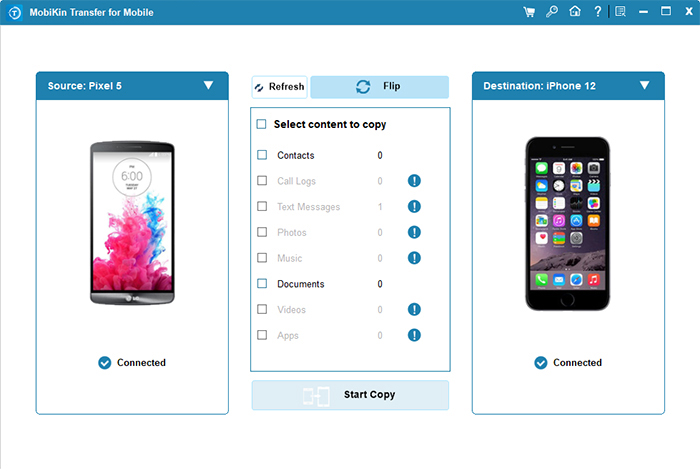 Step 3. Next, select the specific data types you want to transfer. Once you've made your choices, click the "Start Copy" button to initiate the transfer from Android to iPhone immediately.
Concluding Part
Throughout the page, we addressed the crucial aspects of the "Move to iOS stuck on preparing" problem by offering 8 quick solutions. Additionally, we introduced a great alternative - MobiKin Transfer for Mobile to ensure a seamless and successful data transfer, so you can swiftly start enjoying your new iPhone without any hassles. Finally, if you have any questions? Please let us know in the comments below.
Related Articles:
How to Fix Move to iOS Low Battery? 9 Effective Strategies You Should Never Miss
How to Recover Deleted Phone Numbers from Android? 6 Methods You'd Better Know
6 Most Recommended Ways to Transfer Photos from Android to iPhone 14/13/12/11/X/8
8 Ways to Transfer Photos/Pictures from Phone to Computer [Android/iPhone]
4 Methods to Transfer Contacts from Android to Nokia [Simple Clicks]