3 Flexible Ways to Transfer Calendar from Android to iPhone 14/13/12/11/X/8
Keeping track of your schedule is essential in our busy lives, and calendars are one of the most convenient ways. But when you switch from an Android to an iPhone, it might be a big headache to copy the events and manage iPhone calendars afterward. This is where this article comes in. In the following, we shall guide you through how to transfer calendar from Android to iPhone differently. Each avenue is easy to follow and comes with step-by-step instructions. Now, without further ado, let's dive into the first solution.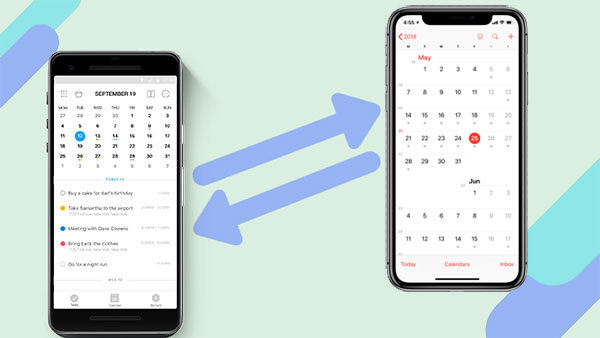 Part 1: How to Transfer Calendar from Android to iPhone with a Professional Program
Phone Transfer is one of the few third-party software on the market that can transfer calendars between Android and iPhone. It has the most advanced and cutting-edge firmware and technology, allowing you to copy various data types between devices freely and losslessly. Fully compatible with practically all Android and iOS versions, this product allows you to enjoy the enjoyable process without interruption.
Core features of Phone Transfer:
Transfer calendar from Android to iPhone flawlessly.
Copy files between Android and iOS, Android and Android, as well as iOS and iOS.
Support various file types, such as calendars, photos, videos, contacts, text messages, bookmarks, voice memos, music, ringtones, and alarm records, among others.
The transfer process is quick and easy with just one single click, and there is no risk of data loss.
Apply to 8000+ mobile phones, including Samsung, HTC, Google, OPPO, Xiaomi, Huawei, LG, Motorola, iPhone 14/14 Plus/14 Pro (Max), iPhone 13/13 Pro (Max)/13 mini/12/12 Pro (Max)/12 mini, iPhone 11/11 Pro/11 Pro Max, iPhone X/XR/Xs/Xs Max, iPhone 8/8 Plus, iPhone 7/7 Plus, iPhone 6/6S/6 Plus, etc.
It won't disclose your privacy.

How to transfer Android Calendar to iPhone via Phone Transfer?
Step 1. Run the program and choose "Phone Transfer"
Install the software on a computer after the free download. Opt for the "Phone Transfer" function and connect your Android and iPhone devices to the machine.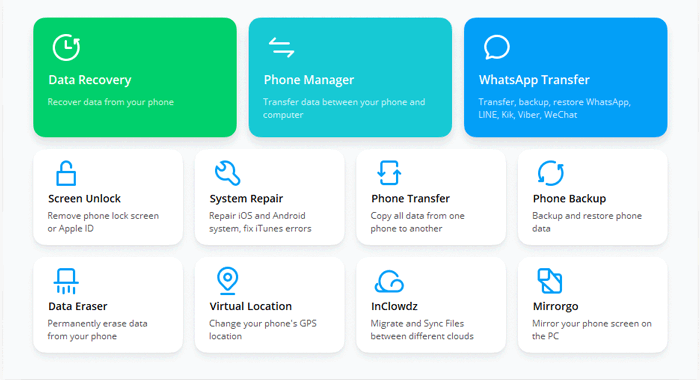 Step 2. Check the positions of both devices
The utility will detect your devices and show them as either the source or destination. Use the "Flip" button to adjust the sending or receiving device as needed.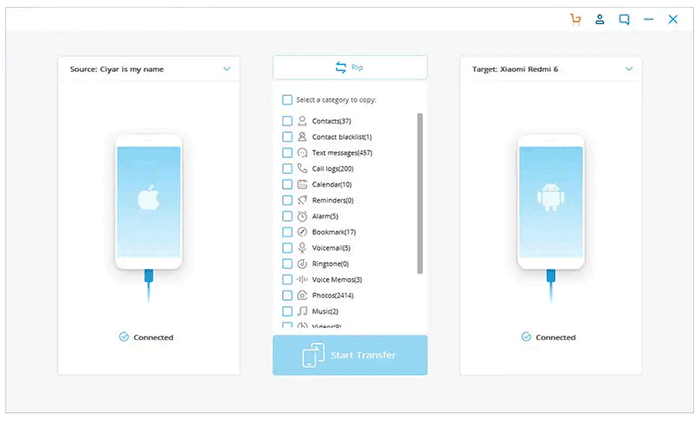 Step 3. Transfer calendar from Android to iPhone instantly
Choose the data you want to copy. To migrate your calendar from Android to iPhone, select the "Calendar" option. Then, click the "Start Transfer" button to begin the process.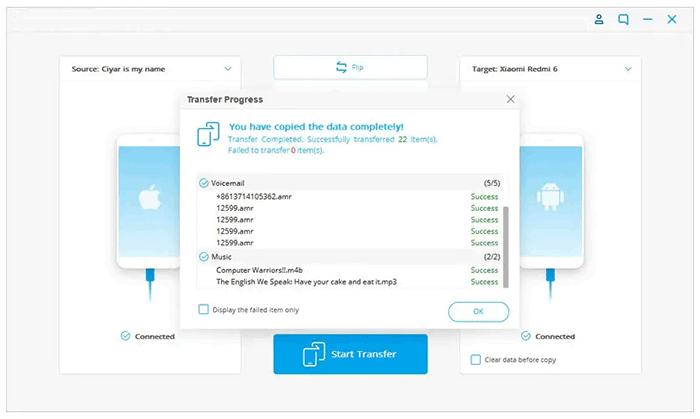 The product will automatically transfer your calendar from Android to iPhone. Ensure that both devices are connected throughout the procedure. Soon, you will receive a message confirming the completion of the task.
Recommended Reading:
Part 2: How to Transfer Android Calendar to iPhone via Move to iOS
The Move to iOS app, developed by Apple, is a great tool for transferring your calendar from Android to iPhone. Before using the app, it's important to perform a factory data reset on your iPhone. To download the app, visit the Google Play Store on your Android device. (What if Move to iOS is unable to migrate?)
Learn how to transfer Samsung/Android calendar to iPhone via Move to iOS:
Download and install Move to iOS from Google Play on your Android device, while on your iPhone, go to "Settings" and navigate to "Apps & Data".
Select "Move from Android" on your iPhone, which will generate a code of random numbers that will enable data transfer between the devices.
Input the code into Move to iOS on Android, tap "Continue", and connect both phones to the same Wi-Fi network to initiate the transfer.

Select "Calendar" to transfer and tap on "Next" in the top-right corner.
Wait for the transfer to complete, and if prompted, enter your Google account password to finalize the transfer of the selected data.
Once accomplished, your calendar events from your Android device should now be visible on your iPhone through the Calendar app. Please note that this method transfers all your calendar data to your iPhone, so you may need to manually delete any duplicates or unwanted events.
Part 3: How to Transfer Samsung/Android Calendar to iPhone with Google Calendar
Google Calendar, a Move to iOS alternative, permits users to effortlessly sync information between multiple devices with the same Google account. The procedure involves using a Google account to transfer, requiring only a single button click. For calendar transfer from Android to iPhone, users must download Google Calendar, an application on Play Store.
Let's see how to transfer Calendar from Android to iPhone via Google Calendar:
Download and open the Google Calendar app on your Android device from Google Play.
In the app's settings, sync your Android calendar with Google.
On your iPhone, access "Settings" and toggle on the "Mail, Contacts, Calendars" option.
Next, tap on "Accounts" and select "Add Account".

Enter the same Google account that you used to sync your Android calendar.
Tap "Next" and toggle on the "Calendar" option from Google's settings.
Your Android calendar will sync to your Google Calendar and be visible on your iPhone's calendar app.
Other Articles You Might Enjoy:
FAQs on Calendar Transfer
Q1: Why Doesn't My Google Calendar Transfer to My iPhone?
There could be multiple reasons why your Google Calendar doesn't transfer to your iPhone, including poor network connection, outdated Google Calendar app, incorrect login credentials, Google server issues, and 3rd-party app conflicts.
Q2: Any Tips to Fix Google Calendar Issues?
Clear browser cache.
Check the Internet connection.
Check system time zone settings.
Disable browser extensions.
Make sure new events are added to Google Calendar.
Check that you're using Google Calendar on your phone.
Check Google Calendar for updates.
Try using a different browser.
If you're still having trouble using Google Calendar on your mobile phone, you can try contacting Google Support or Apple Support for assistance.
Q3: How to Transfer Calendar from iPhone to Android via iCloud & Google?
Go to iPhone's "Settings" > "Password & Account" > "iCloud" > enable "Calendar".
Head to icloud.com, log in to your iCloud account, and select the "Calendar" icon. (How to unlock an iCloud account if you forgot it?)
Choose what you want to share, tick the "Public Calendar" option, and copy the link in the popup.
Then, paste the link into a new browser tab and replace "webcal" with "http".
The browser will download a file to your computer that contains a copy of your iCloud calendar entries. Sign in to "Google Calendar" > "Other calendars" > "Import calendar".
Locate the downloaded "ics" file and hit the "Import" button to transfer all calendar events.

Once the import is complete, the events will be displayed in your Google Calendar, and you can sync them with your Android devices.
Windup
In conclusion, transferring your calendar from Android to iPhone is straightforward, and you have three fantastic methods to choose from. The Move to iOS app and Google Calendar are two popular options, but they may have limitations such as compatibility issues or requiring a stable Internet connection.
While on the contrary, Phone Transfer is recommended for those who want an all-in-one tool to efficiently transfer various data types, including calendars. Moreover, it features a user-friendly interface and extensive compatibility with various mobile devices and operating systems.

Related Articles:
6 Time-tested Ways to Transfer Contacts from Samsung Galaxy to iPhone 15
Ultimate Guide about Outlook to Google Calendar Sync
iPhone Calendar Disappeared? Top 11 Tips Offered to Get Them Back
iPhone Calendar Not Syncing? Here Are 16 Easy Fixes for You!
How to Back Up iPhone to Windows 10/11/8/7? [Way 1 Is the Quickest]