Top 4 Methods to Sync Notes from iPhone to iPad with/without iCloud
The Notes app on an iDevice is convenient for keeping notes, texts, sketches, and lists instead of jotting something important down mechanically. If you get a shiny new iPad, you may want to transfer notes across devices, let's say, from your old iPhone.
Gratefully, when it comes to iPhone and iPad, there're multiple ways of making notes on the former and having it almost magically appear on the latter. This tutorial is directed at how to sync notes from iPhone to iPad in several methods. Just read on for what you want.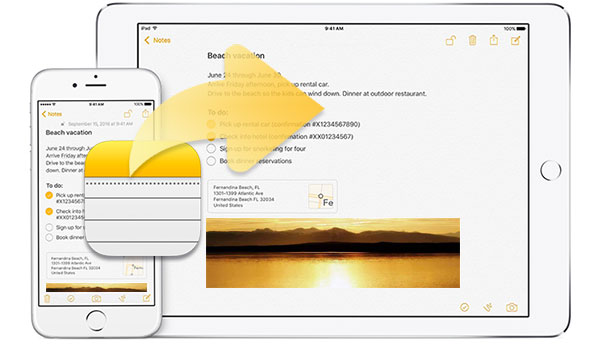 Way 1: How to Sync Notes from iPhone to iPad in One Click
This approach offers a one-touch way to transfer notes to iPad from your iPhone. All you need to do is download MobiKin Transfer for Mobile (Win or Mac) at your disposal. Then just follow the foolproof direction to go further until you get all your notes on your destination device. Before getting started, let's take a quick look at this smart software.
Key highlights of Transfer for Mobile:
Sync notes from iPhone to iPad in seconds.
Transfer data from iOS to iOS, iOS to Android, Android to Android, and Android to iOS.
The supported data types: contacts, notes, calendars, bookmarks, books, text messages, call logs, apps, etc.
Pretty easy to use, quick transfer, and 100% secure.
Play functions on almost all iOS and Android devices, covering iPhone 14/13/13 Pro (Max)/13 mini/12/12 Pro (Max)/12 mini, iPhone 11/11 Pro/11 Pro Max, iPhone X/XR/Xs/Xs Max, iPhone 8/8 Plus, iPhone 7/7 Plus, iPhone 6/6S/6 Plus, iPad Pro, iPad mini, iPad Air, iPad 4/3/2, iPod touch, etc.
It values your privacy.
Note: It should be noted that this program does not support the transfer of notes on iOS 11 and later.
How to synchronize notes between iPhone and iPad via MobiKin Transfer for Mobile?
Step 1. Link both iPhone and iPad to a computer
Launch the program after the download and installation. Use the USB cables to connect both devices to the computer. After the detection, you'll get an interface like the screenshot below.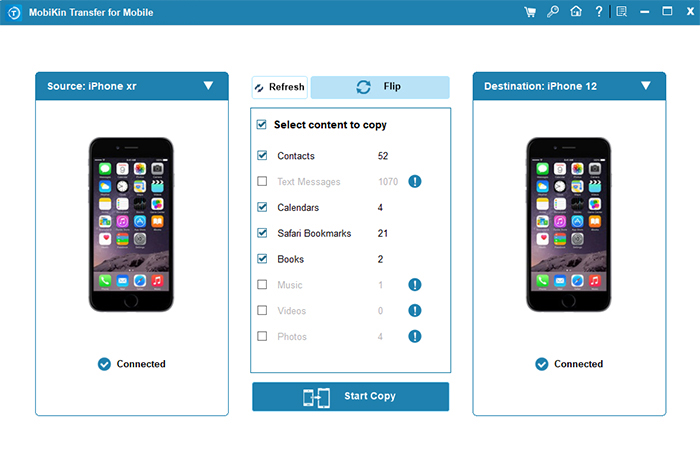 Step 2. Confirm the source and destination device
Make sure you take the iPhone as the source device and the iPad as the destination. If not, please click the "Flip" button to exchange their positions.
Step 3. Sync notes from iPhone to iPad
Select "Notes" in the middle of the panel and click on the "Start Copy" button in the below. Then, the notes transferring process will begin at once.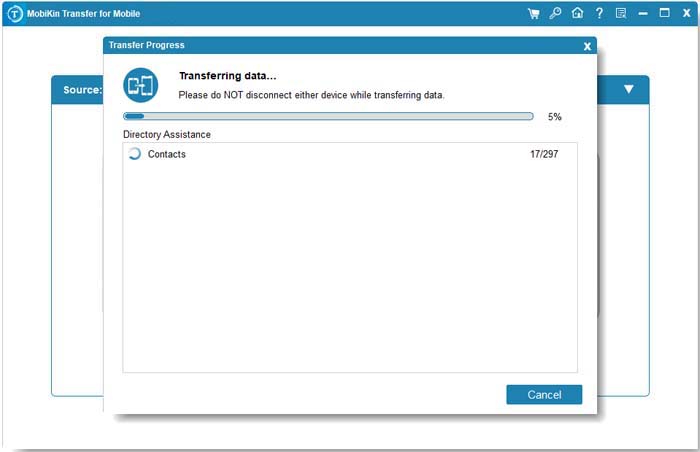 Read Also:
Way 2: How to Sync iPhone Notes to iPad via iCloud
iCloud is a decent way to sync files between the iPhone and iPad. Before we start, make sure it has enough storage space for syncing notes. Besides, this method offers the most versatility in the categories of notes you can create and the formatting options at liberty.
How to share notes between iPhone/iPad and iPad via iCloud?
On your iPhone, open the "Settings" app.
Tap [your name] > "iCloud".
Turn on "Note" from the new page. (iCloud not backing up on iPhone?)
After the sync, please apply the same steps on your iPad.
After that, all the notes will be synchronized to your iPad's notes app.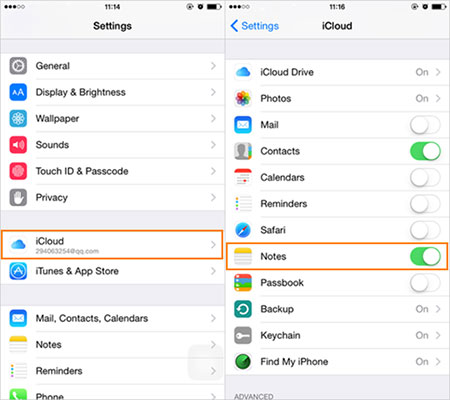 Way 3: How to Transfer Notes from iPhone to iPad via Google
If you only use basic text notes and are not a heavy iCloud user, doing the task through an email service like Gmail might be a great option for you. And it is necessary to have a Gmail account set up on both your iPhone and iPad.
How to sync notes from iPhone to iPad without iCloud via Google?
Launch the "Settings" app on both the iPhone and iPad.
Choose the "Mail, Contents, Calendars" option.
Click "Add Account" > "Gmail". Now you need to input your Gmail account in the pop-up window. (Forget your Gmail password?)

Confirm it when the "iOS would like to" screen appears.
Turn on "Notes" manually.
There will be a "Gmail" folder in the Notes app.
When you connect your iPhone and iPad with the same network connection, it will sync notes from iPhone to iPad with Gmail automatically.
Extended Reading:
Way 4: How to Share Notes between iPhone and iPad via Yahoo
The job for syncing notes from iPhone to iPad in this way is quite similar to that of Gmail. Here's how to transfer notes from iPhone to iPad Pro/Air/mini without iCloud via Yahoo:
Open "Settings" on the screen of your iPhone and iPad.
Click the "Passwords & Accounts" button.
Tap "Add Account", and you can see all cloud storage services available.
Select "Yahoo!" and type the Yahoo account and password.

Confirm it when prompted with "iOS would like to".
Turn on "Notes" manually, and there will be a new folder named "Gmail" in "Notes".
When you link your iPhone and iPad within the same Internet connection, it will automatically transfer notes to your iPad from iPhone with Yahoo.
At Last
That's all for how to sync notes from iPhone to iPad in four easy ways. You can now pick any of them as required. Finally, here's an additional tip on how to AirDrop notes from iPhone to iPad:
On your iPhone, go to the "Control Center".
Long press the Internet window, which delivers "AirPlane", "Mobile Data", "Wlan", and "Bluetooth".
Press on the AirDrop option when a new window pops up.
Choose "Everyone". (You can select "Contacts Only" if you ever saved the iPad in your contacts.)
Open the "Notes" > Click on the "…" on the up-right corner.
Choose "Send a Copy" > Tap "AirDrop".
Hit the target iPad to transfer the notes.
When a window pops up on your iPad, click "Accept" to receive the notes you sent from iPhone.
Related Articles:
Accidentally Deleted Notes from iCloud? 3 Methods to Recover Notes from iCloud
4 Flexible Ways to Transfer Notes from One iPhone to Another
How to Fix iPhone Notes Disappeared or Missing in 2023?
[4 Solutions] How to Sync Calendars Between Two Android Phones?
How to Solve iPhone Notes Icon Missing or Hidden Issue?
How to Sync iPad with New Computer (PC & Mac) without Erasing?